In September 2021, the multinational eCommerce behemoth, Amazon, officially launched its platform in Egypt. That's not the only online presence for Amazon in the Middle East. Amazon previously launched Arabic-language shopping websites in the United Arab Emirates and Saudi Arabia in 2019 and 2020 respectively.

From an online bookseller to a massive online retailer, the journey of Amazon is a fascinating success story, with a new chapter enfolding with its big push in the Middle East. Over the years, Amazon has been tackling its growth strategically. And their marketplace launch in the Middle East and North Africa (MENA) speaks volumes about the transformative growth of the region, driven by its tech and eCommerce boom.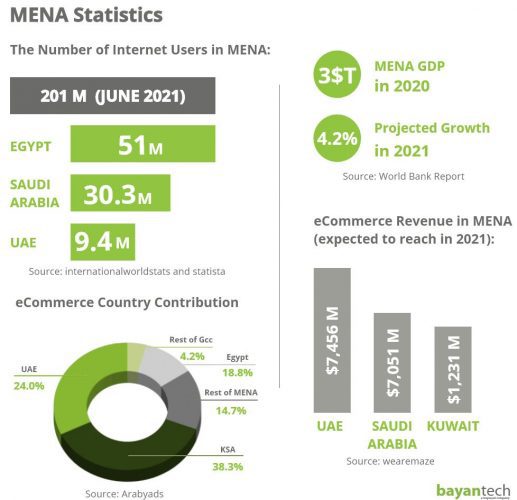 Amazon adopts sophisticated strategies to tap into new markets and engage millions of online shoppers, and the Arabic-speaking market is no exception. They have realized that one of the easiest ways to win their Arabic users' hearts is by speaking their language. One can say that integrating Arabic website translation in their expansion strategy is paying off. It's one reason why they are able to consistently build their regional growth.

If you are considering venturing into the MENA region and hoping to follow in the footsteps of Amazon, you'll need exceptional Arabic translation services. What's more, you'll need a reliable Arabic website translation agency by your side to support your ambitions.

Whether you are doing this for the first time or looking for a new Arabic translation company to take the wheel, searching for the right Arabic website translation agency can give you sleepless nights. This is why, in this article, we provide you with the only 5 tips you need to make your search easier, but starting with some basics first.
Finding the Right Arabic Website Translation Agency Starts with Understanding Website Translation
Before the search for the right Arabic website translation agency starts, you'll need to get some facts straight about website translation.

Let's debunk a misconception here. Website translation, or any other type of translation for that matter, is more than just changing words from any language into Arabic for instance. It's not an end in itself but a means to an end, which is establishing communication between your brand and your audiences, directly reflecting on your brand image, sales, and revenue.

So for this communication to be effective, you need to go beyond being understood by your audience. You need to mold your content to engage, delight, and inspire them to buy your products and services. In other words, you need to take it a step further than accurate word-for-word translation and craft relevant and meaningful messages to connect with them emotionally and move them into action.

But effective communication also transcends the notion of language. This brings us to another essential dimension to website translation, which is User Experience (UX).

Imagine your Arab users visiting your Arabic website. Although the content sounds to be of good quality, it doesn't "look" that way, and your visitor ends up being unable to navigate their way through your website. Text is cluttered, the layout doesn't accommodate Arabic typography, and the website takes too long to respond. It repels your users and makes you out of touch. So, besides smartly translated content, one of the things that makes a great UX is a customized and optimized design that offers smooth usability and maximum functionality. 


In that sense, professional translations of websites that integrate culture, emotional intelligence, as well as marketing and web design practices make the difference between starting a true two-way conversation with your audience and giving a cold or flat presentation of your brand. In order to achieve the former and steer clear of the latter, and if Arabic-speaking countries are your destination, then you need Arabic website translation or even a more holistic approach that is Arabic website localization.
Understanding Arab Audiences
Truth to be told, connecting with Arab audiences is quite complex, because these nations are quite big and diverse. On one hand, the Arabic language itself is a challenge to translate into. Besides its linguistic complexity and 3 different forms, Arabic dialects vary across different regions in the Arab world. In fact, Arabic is an umbrella term for these diverse dialects, which are mostly non mutually intelligible.

For instance, people in Egypt speak Egyptian Arabic, which is the most popular dialect and is understood by almost all Arab nations. However, people in UAE, Saudi Arabia, and Kuwait speak the Gulf dialect. Surprisingly, and even shockingly, despite the fact that the Gulf dialect is spoken in Saudi Arabia and Kuwait, there are still some subtle variations in their speech. There's also the Levantine dialect, spoken in Syria, Lebanon, and Jordan, also with variations.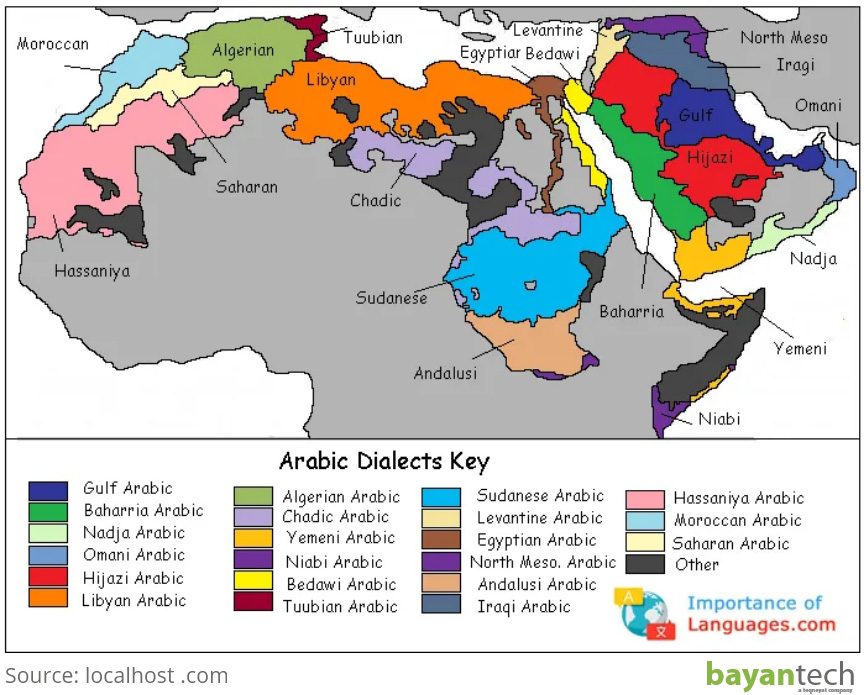 On the other hand, social and cultural traditions are central to the identities and daily lives of Arabs. Known for being a conservative community, Arabs share a set of practices and values that are substantially different from those of the Western communities. It's the reason why accurate translation isn't enough. An accurate word can have overtones, which can be a fine line between relevant and offensive.

Additionally, and much like any other, Arab customers have distinct characteristics and consumer habits that need to be considered and matched, especially in your eCommerce website translation project.

So, now that you have a clear picture of the role of website translation and your target Arab audiences. It's unthinkable to leave your Arabic website translation project in the hands of unqualified translators. You wouldn't afford the poor quality and project delays, let alone the cost overruns, that will cripple your business growth and compromise your reputation.

It's time you get started on your search for an Arabic website translation agency to be your reliable partner. And here are the only 5 tips you'll need.
Sign up to our newsletter to receive the latest blogs and news.
5 Tips to Find the Right Arabic Website Translation Agency
1- Go for a MENA-based Arabic Website Translation Agency
There are thousands of translation companies operating globally. To help you narrow down your choice, you'll need an Arabic website translation agency, specializing in Arabic language pairs, for example, English to Arabic translation.  But most importantly, this agency should be located in an Arab-speaking country.

These companies have large teams of professional native Arabic linguists who combine language fluency with language proficiency. As residents of their Arab home countries, these locals know better than anyone else. They are guaranteed to have deep knowledge of the nuances of their own language and first-hand cultural sensitivity needed to deliver authentic communications.

Whether your Arabic websites are intended for UAE or Egypt, you can trust they use the right language to address your audience, respect the social and cultural context, and consider the market and pop culture trends of their community.

Arabic users are smart and they'll sniff out any unnatural or awkward translation a mile away. The moment they feel the content is irrelevant is the moment they end their session on your website. Customer dissatisfaction is one thing; possible legal repercussions are another. However, that's much less likely to happen, if you trust the local experts. 
2- Team up with Localization Gurus
As previously alluded, website translation is only going to be one piece of the puzzle. Website localization will ensure easy integration with the other pieces.

Website localization allows you to adapt and optimize your website in a way that meets the linguistic, cultural, and technical requirements of your target audience. It involves every aspect of your website, from the textual content, imagery and graphics, and audiovisual materials to the UI, design, and layout, with one thing in mind: personalizing and enriching UX. It goes as far as adopting preferred local conventions for date and time formats, phone numbers, currencies, payment gateways, and more.

One case that demonstrates website localization best practices is the fact that Amazon launched "three" Arabic websites. Looking at them, we can find that each is using the local currency of the country. In Egypt, it's the Egyptian Pound (EGP); in UAE, it's The Emirati Dirham (AED); and in Saudi Arabia, it's the Saudi Riyal (SAR).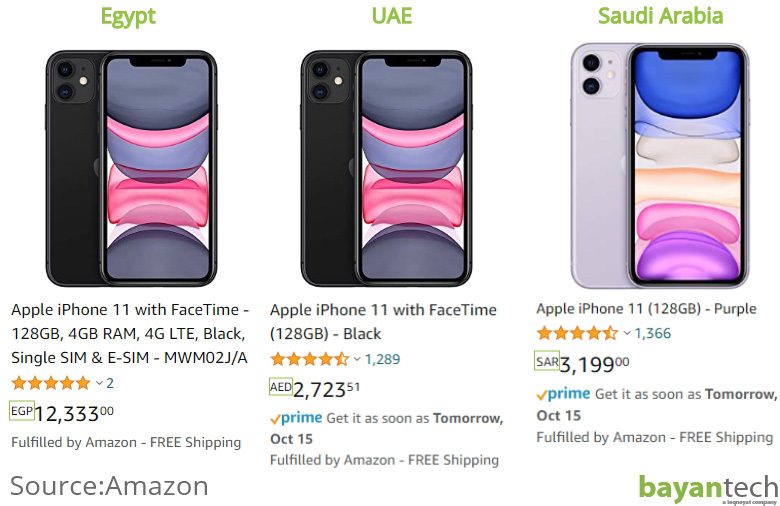 Moreover, in September 2021, Amazon.sa announced a seven-day sale to celebrate the National Day in Saudi Arabia.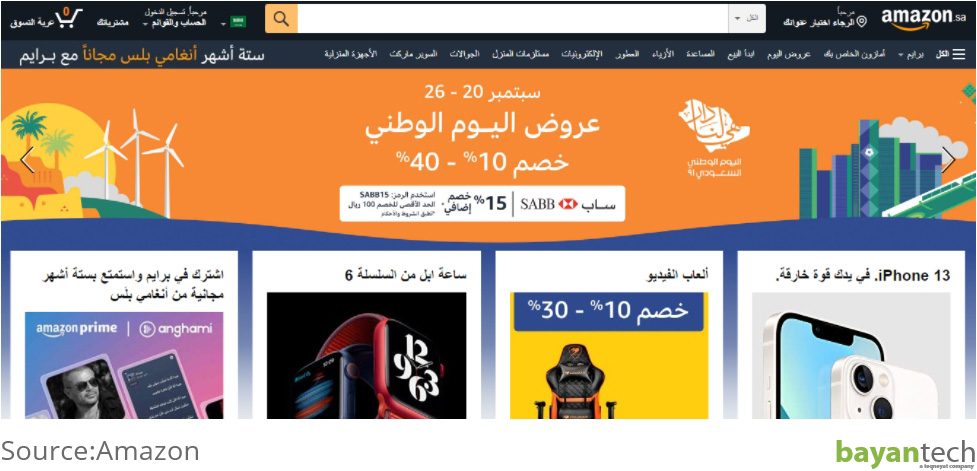 Amazon here went out of its way to show empathy and create a deeper connection with its users in Saudi Arabia. If this is the kind of effort you are willing to make for the sake of your audience and brand, make sure to find an Arabic website translation company that offers robust Arabic website localization services, powered by a cross-functional team of website translation specialists, localization engineers, and subject-matter experts.

A professional Arabic translation agency will be an extension of your team, providing advice on the best translation strategy, for instance, whether a website translation proxy is an ideal option for you, implementing internationalization to ensure your website is global-ready and localization-friendly, and carrying out full localization of your website.

Last, but certainly not least, you can't launch your website without testing, and only an experienced Arabic website translation agency can offer extensive localization QA testing, as a core part of their operations.
A Cheat Sheet for Choosing A Trustworthy Arabic Website Translation Agency
Finding a trustworthy Arabic website translation has never been easier. We've put together a cheat sheet that can be used as a clear roadmap ahead of you before starting a partnership.
3- Consider A Full-Service Arabic Website Translation Agency
If you intend to go big and plan on full localization of your website and your entire online presence, this requires a professional language services partner that offers a full range of the highest quality Arabic translation services.

Desktop publishing, for instance, is one of the complementary services that is essentially required to maximize the quality and aesthetics of your localized website. This is due to the fact that Arabic has a distinct writing system. It's a bi-directional language that's written from right to left and has a unique character set. This will require managing text expansion or contraction and mirroring your website's UI elements to accommodate the Arabic script. 
In Amazon's case, below, you can find the differences between the English and Arabic versions of the website. The entire UI is flipped for language to display properly. This includes text, icons, and navigation buttons and excludes numbers. All while maintaining the brand's original layout.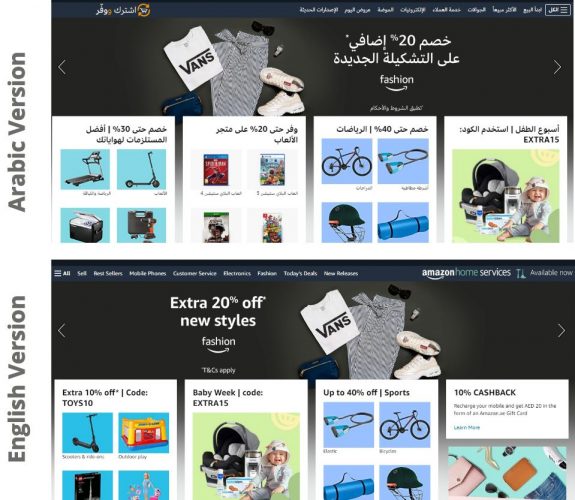 Additionally, if your website includes video and audio content, then video localization, subtitling, and voice over services are necessary. Ever heard about international search engine optimization? ISEO is the cherry on the top. It sets the stage for your perfectly localized website to rank higher in search engines and reach the right audience.

You see, having an eCommerce website localization project can be daunting and stressful, and you don't want to make it more difficult burdening yourself with the hassle of communicating with different agencies that handle different aspects of your project. Find one partner with expertise and capabilities to manage all your needs in one place.
4- Look for the Powerful Combination of Quality and Technology
The role that your website translation plays is indispensable in expanding your footprint in the Arab world, but only when done right, which makes world-class quality indispensable in turn.

For this very reason, you should only ever trust an Arabic website translation agency that complies with the requirements of ISO 9001 and ISO 17100 certifications. It's the quality assurance stamp that they uphold the highest standards of professionalism, integrity, and ethical business practices, from vetting experts and having a robust quality management system as well as dynamic tools and processes in place to guaranteeing your confidentiality. This way you can rest assured that your project is in safe (and expert) hands.
On a related note, a company's technological capabilities are one of the biggest indicators of efficient performance and capacity. Arabic website translation and localization are multi-layered and strategically demanding, and if you have a large-scale project, complexity is multiplied. Without the integration of cutting-edge translation and localization tools, such as translation management systems, CAT tools, translation memories, DTP tools, and localization engineering software, it gets less feasible, time-consuming, and most certainly error-prone. 
5- Don't Overlook these Two Crucial Factors
Experience and Industry Specialization It's obvious but worth restating. Always find an Arabic website translation agency that has been around in the field for a decent amount of years. As the old saying goes, practice makes perfect. Additionally, it's important that you choose an agency with specific expertise in your niche. Check their clients' list, read their testimonials, and ask for case studies if possible.
Project Management Make sure that you are going to be assigned a specialized project manager who acts as a single point-of-contact (and speaks your language) to communicate and coordinate during the entire process. An expert project manager who grasps every technicality asks the right questions and that's the best gauge of a company's professional services.
Without giving out names, we have seen many brands fail to build a connection with their audiences. Poor translation and localization that have frustrated and even offended their audiences have got them trapped, and consequently they have lost their credibility as a reliable brand. That's not something you would want.

You have already made the right decision to hire an Arabic website translation agency. It's a big step in growing your business in MENA. Finding the right agency is only a matter of time and research. Take your time to seek as much information as you need and know the agency better. With these tips we offered, you'll be on the right path.


With almost two decades of experience and a prestigious portfolio of clients, bayantech is your partner of choice. We have offices in UAE, Saudi Arabia, and Egypt and specialize in Arabic translation services, from Arabic document translation to website and app localization services. Our services are powered by the finest Arabic teams and advanced technologies to handle all kinds of content and file formats with expertise and deliver the highest quality possible.

Find out how bayantech can build and promote your digital presence in the Arab world. Get a free quote and let's start today.