Expanding a company internationally comes with a battery of legal challenges. Some are tightly connected to culture and can be addressed by adapting your product to the customs and preferences of your new target audiences.
But necessary processes such as registering patents, legally establishing your company in your target country, and signing multilingual contracts with foreign partners will require the assistance of a professional legal translation company.
If you're expanding your business abroad, you'll deal with a lot of paperwork, and the right translation service company will make a world of difference. Especially if there are considerable cultural and linguistic differences between your home country and your target market.
In this post, we'll dive into how to find the best legal translation services in Dubai, UAE.
The 6 Traits of Quality Legal Translation Services
Legal translation services aren't as simple as one might assume. Legal translators work across formats, facilitating communication and guaranteeing legal compliance. Their work involves decoding and translating jargon, seeing past cultural mannerisms, conventions, and legalese getting to the essence of a statement, all while keeping the translation precise.
Especially if you're new to your target culture, it can be hard to tell between unreliable legal translators and interpreters, and experts. That's why, in this section, we'll share the key traits you should look for in your legal translation services provider.
These traits are:
Legal expertise

Highly-qualified native professionals

A multidisciplinary team

Strategic automation

ISO-certified quality assurance

Confidentiality
Not every translator knows how to translate legal documents. This type of translation requires significant subject domain expertise. All translators, at the end of the day, need to have some basic knowledge of the discipline they're translating for. An uncommon example would be literary translation. It's often believed that literary translators don't need subject matter expertise, just bilingual knowledge, and creativity. That is false.
A literary translator needs to know how prose styles work, what are the elements of a prose style, and how to convey them across languages, so the foreign reader gets to experience the text fully. A literary translator should also be well-read in the type of literature they're translating. Direct and indirect references to other literary works within a piece are common. And, a translator that isn't in on the joke will translate these references poorly.
When it comes to legal translation, knowing how the legal systems in question work, will make an enormous difference. When reaching out to a legal translation company in Dubai, ask about their legal translators' background. Are they experienced in the type of document you'd need them to translate? Do they have some legal background? Have they worked in the legal field before?
2. Native Professional Translators
Native language linguists usually have a competitive edge when compared to non-natives. If you're looking for the best legal translation services in Dubai, your company of choice should offer you a team of native Arabic speakers.
Native speakers will be able to decipher the cultural nuances of an agreement or document in a way that's not possible for non-natives working from abroad. Alternatively, your translation services provider may offer you the assistance of non-natives who have lived in your target market. In this case, in the UAE
In some instances, these translators have the same level of cultural insight as natives. And working with these translators can be extremely beneficial if they also have a relevant legal background.
Sign up to our newsletter to receive the latest blogs and news.
3. A Multidisciplinary Team
The best legal translation services in Dubai don't just offer document translation. You'll want your translation company to deliver you a document that's ready to be sent to your business partners or submitted to government departments or local authorities. This can't be achieved through translation alone. Your language services provider should also be able to adapt the document's formatting to fit its new translated contents. This is achieved through desktop publishing services, which are often included in legal and business translation packages.
The best legal translation services in Dubai and beyond, count on multidisciplinary teams who can address your project on different levels.
4. The Right Dose of Automation
As you can imagine, legal translation requires extreme attention to detail and context sensitivity. Hence, it's unthinkable to leave such a delicate process in the hands of an automated translation tool. There are, however, many circumstances where you can use machine translation to your advantage: legal literature is repetitive, monotonous, and subject-specific jargon is always used consistently.
Translation memories need to be built by professional legal translators, and it's always mandatory to manually verify if the output of the translation software is correct. But having a machine carrying most of the repetitive tasks leaves room for humans to focus on the overall text quality. The best legal translation services in Dubai rely on a combination of human talent and strategically implemented technology.
5. ISO-Certified QA Processes
A translation project is only as successful as its quality assurance process. The companies behind the best legal translation services in Dubai have quality control mechanisms embedded in their workflow and perform what's usually called 3-EYE TEP.
3-EYE TEP consists of putting three different linguists (or teams) in charge of translation, editing, and proofreading. With 3-EYE TEP, translation companies guarantee a diversity of criteria. Teams look at the project from different angles guaranteeing that nothing slips through the cracks.
The translator (or translation team) renders the document from one language into another, carrying out some internal editing to guarantee a quality baseline. The editing team will suggest and implement changes, in direct collaboration with the translators, reducing ambiguity and guaranteeing a functional translation.

Once their high standards have been met, these teams will forward the text to the desktop publishing team, who will recreate the document's layout and adapt it to the new content, local conventions, and more. Finally, the proofreading team will make sure that the text has been integrated into the layout without errors. For instance, they will check that no sentences were left out.
This process is conducted with the help of translation tools that make it dynamic, confidential, and secure. And it's overseen by the project manager, who establishes the project's goals in accordance with the legal translation company's standards.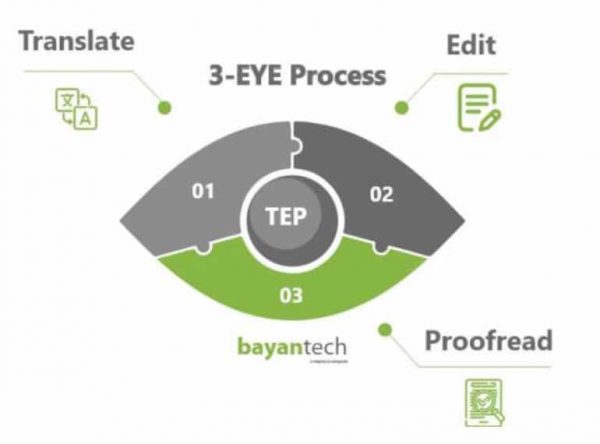 Deeply linked to the need for ISO-certified processes, is the need for confidentiality. Legal documents are extremely delicate and often include key business information that shouldn't be revealed to competitors, or the public. That's why finding a legal translation services provider involves far more than finding someone who can translate legal texts.
Your language partner shouldn't manage your precious documents through unsafe networks or unreliable cloud-based tools. The best legal translation services in Dubai implement solid security measures to ensure that your information is never leaked, misappropriated, or stolen. One of the least technical but most important of these measures has to do with pre-vetting the linguists who will be in charge of your project.
The need for extreme confidentiality is one of the reasons why a legal language services provider will be a better choice for your business than an individual translator. An LSP that's used to working with large enterprises will effortlessly provide an NDA that fits your project and will have the tools to fulfill their side of the agreement.
In need of high-quality legal translation services in Dubai? Search no more.

In this quick guide you'll find everything you need.

Your Search for the Best Legal Translation Services in Dubai Is Over
Looking for professional legal translation in Dubai? Your search is over. At bayantech, we're a leading translation company, with two decades of experience. We work with the largest companies in the world, facilitating their entry into new markets, in the MENA region and beyond.
As a UAE-based translation services provider, we're a regional leader, powered by top technology, carefully selected native language translators, developers, designers, and more.