Delivering powerful communications in Somali
with unmatched quality, efficiency, and speed.
Professional, Fast, and Affordable Somali Translation services
bayantech provides professional translation and localization services into the Somali language, which is part of our African language services. We offer you accurate Somali language services at fair prices. Our high-quality ISO-certified Somali language translation is powered by our team of reliable highly selected translators. They are native speakers, locally-based linguists who also have exceptional subject matter expertise.
We use recent technologies as well as a customized Translation Memory (TM) in order to give you the best translation at affordable prices. bayantech complies with industry standards and guidelines to guarantee you exceptional-quality professional Somali translation services.
bayantech Somali Translation Expertise
In 1973, Somalia started adopting its official orthography, which is based on the Latin alphabet. The Somali language has three different linguistic varieties: Maay, Benadir, as well as Afsoomali. In order to be sure that you have an accurate translation from and into Somali, you need a team experienced in the Somali language as well as its linguistic variations. Moreover, you need to ensure that you'll get a flawless content that has zero mistakes. At bayantech, an expert team of native language professionals will translate and localize your content taking into account the language variations and nuances. Your translated content will also be revised by our locally-based linguists carrying our 3-eye Quality Assurance (QA) TEP system: translate, edit, and proofread to ensure the highest quality possible.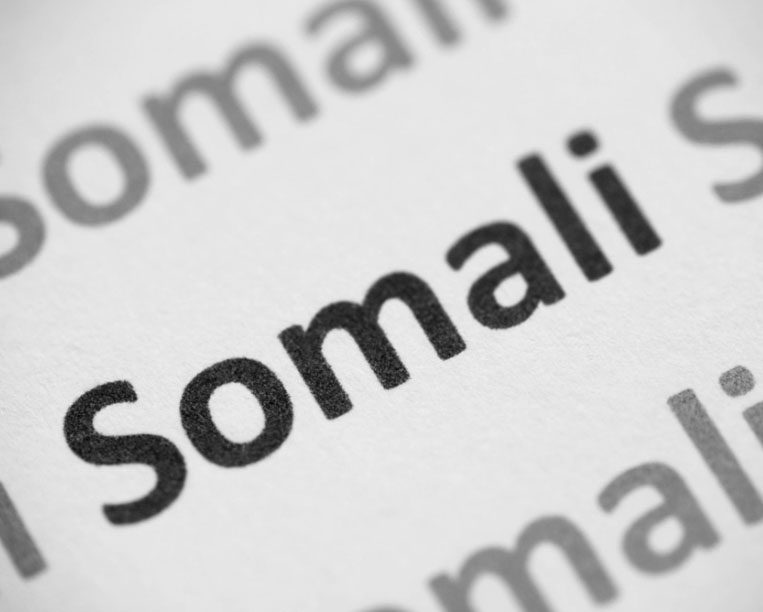 The success of your business in Africa hinges on accurate Somali communications – let bayantech help you!
bayantech team is well-aware of the importance of the Somali language. Somali is the official used language in Somalia as well as Somaliland. Additionally, it is a national language in Djibouti. It is also used in the Ethiopian Somali Region and North Eastern Kenya as a working language. In 2016, it has been estimated that approximately 36.6 million people speak Somali. The Somali language adopted words from different languages. For example, it uses modern Arabic words to deal with government and finance. Meanwhile, it uses ancient Arabic words to address religion and international trade.
What Makes bayantech Different?

Professional Services

+15 Years of Experience

Flexible Turnarounds Timely Delivery

Certified Quality Assurance

24/7
Support

100% Quality Guarantee

Affordable
Rates

Complete
Security

Customer Satisfaction

Technological Advantage
bayantech Somali Translation Services
We provide accurate translation from Somali to other languages including English and Arabic and vice versa. We also offer you top Somali language translation services in several industries such as medical translation from English to Somali.
bayantech manages all your localization and translation projects with an uncompromised commitment to quality and excellence. This commitment spans from the moment you request a project as we carefully choose locally-based, in-house Somali translators. Our translators who have extensive subject-matter expertise carry out our 3-eye QA principle which meets the rigorous ISO 900:2015 and 17100:2015 certified QA systems. Additionally, bayantech relies on state-of-the-art translation tools, up-to-date style guides, and terminology glossaries to ensure delivering an accurate and consistent translation.
It's a fast-paced world and we understand how tight your schedules might be. bayantech optimizes the whole translation and localization process through the implementation of innovative technology and strategies. These technologies, including Translation Memory (TM) tools, provide you with an ideal balance between the highest quality and fast turnarounds.
We pride ourselves on providing you with superb Somali translation and localization services at the most competitive rates in the industry. Using high-tech tools, we do not only save your time, but we also offer the best value for your money. Meanwhile, we deliver the highest quality possible.
bayantech Somali Translation
and Localization Services
bayantech provides comprehensive and expert Somali Language Translation and localization solutions
for all types of content, including:
Professional Translation Services for All Industries
bayantech offers innovative translation and localization services across a range of industries.
Languages we translate into
We help you expand your business with our professional language translation service,
supporting the most challenging languages.
If you have a big project that needs to be translated,
we are here for you
order a quote now to have an instant assistance
we will quickly back to you
Subscribe to our newsletter and see the latest industry news, stats and trends right in your inbox.