Interpretation has been important for hospitals for years. In multicultural regions and countries, it's common to see professional interpreters accompany patients and the medical staff to facilitate communication between everyone and help hospitals provide exceptional medical care support.
However, in the past few years, due to the fast-paced development in digital technologies, we have seen Remote Interpretation and especially video interpreting in hospitals going on the rise. It has quickly replaced traditional interpretation that required the physical presence of the interpreter in the hospital and instead opened the door to faster, more efficient, and contactless virtual interpretation services.
The recent COVID-19 pandemic has also contributed to pointing more hospitals around the world to the importance of remote access to interpretation solutions, especially in crisis times. 
If you are considering or planning to integrate video interpreting in your hospital and medical facility, this article is for you. We explore the practice and the benefits it offers to your facility, medical staff, and patients and provide you with tips to choose the right interpretation services provider.
What Is Video Interpreting In Hospitals?
Video Remote Interpreting (VRI) is a video telecommunication interpretation service that's delivered off-site or online, using videoconferencing equipment, such as web cameras and smartphones or computers.
Unlike traditional on-site interpretation, VRI allows hospitals and other medical entities to take advantage of real-time access to interpretation services for spoken and sign languages. 
The interpretation service provider, which usually operates through a call center, is responsible for assigning various certified interpreters to the job either instantly or at some scheduled time.
Today, healthcare interpretation is in higher demand than ever. Besides the fact that it's faster, more convenient, and more cost-effective, video interpreting in hospitals is a legal requirement. It is also required in other medical facilities like nursing homes and clinics. 

Section 1557 of the US Affordable Act Care, for instance, mandates healthcare organizations and facilities to provide language access and hire qualified medical interpreters for individuals with Limited English Proficiency (LEP).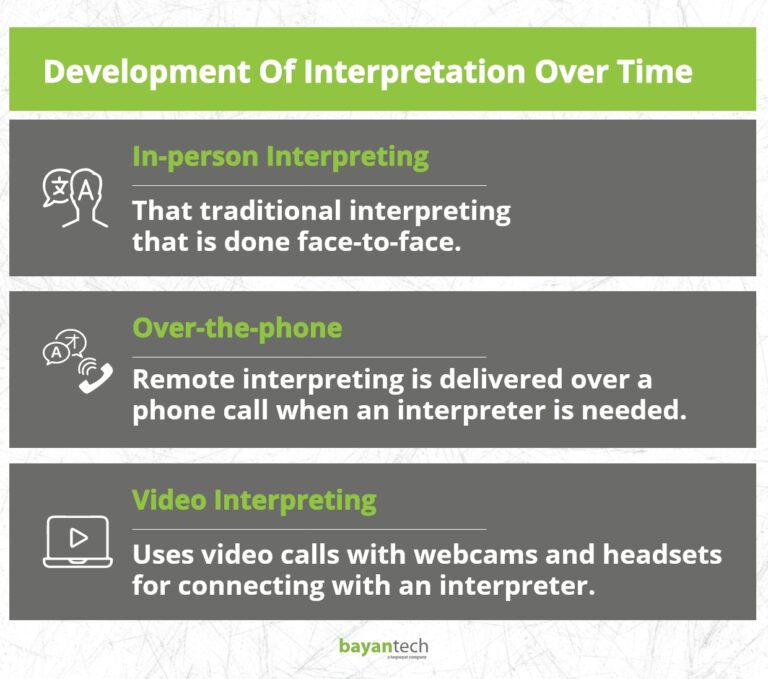 Use Cases Of Video Interpreting in Hospitals
Besides being a regulatory requirement, remote interpretation in hospitals is a powerful way to enhance the patient experience. As a hospital offering your Limited English Proficiency (LEP) patients or deaf and hard-of-hearing professional language access that's truly on-demand at any time, through video interpreting, you take your patients' safety, comfort, and convenience to the next level.

Knowing that they can be connected to a skilled interpreter in a matter of seconds to make them heard and understood can make their experience in your hospital easier and less stressful and ensure greater patient satisfaction.

When it comes to situations when video interpreting can be used, they are limitless. Nearly every situation where interpretation is needed, video interpreting can help and deliver outstanding communication, from diagnosis to treatment and medication adherence. And this on-demand service can benefit any hospital of any size, as well as any other healthcare entity.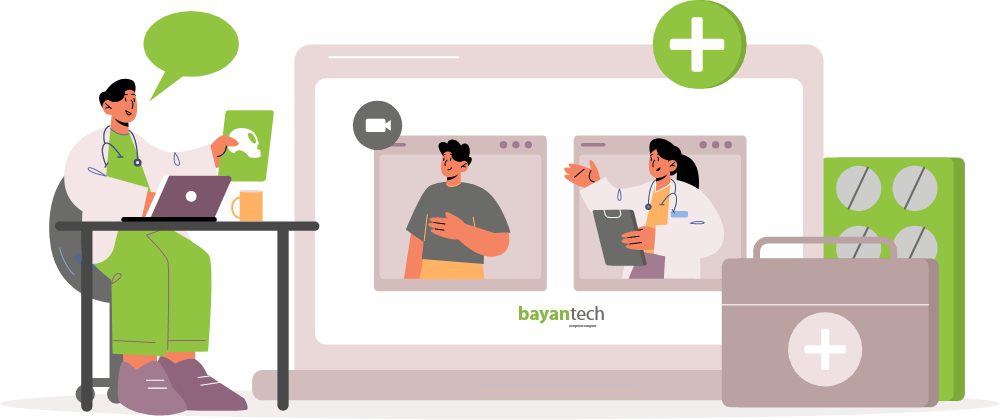 Here are examples of medical activities where your patients need remote healthcare interpretation:

These high-risk unscheduled visits come at the top of video interpreting priority. VRI helps patients communicate clearly and accurately their condition and gives the medical staff more control and confidence over their medical decisions. 

They might not have the urgency factor of ER visits, but these medical appointments require efficient video interpreting just as much to provide a seamless medical journey for the patients.
With professional video interpreting, both spoken and body language are communicated to ensure no medical errors, more understanding, and more patient safety.
We can't stress enough the importance of video interpreting in hospitals when it comes to mental evaluations and therapy sessions. People generally have difficulty expressing themselves, let alone in foreign languages. Besides, in these kinds of settings, every word, gesture, and facial and body expression matters.

Clinical trials are becoming increasingly global, and it's both a regulatory requirement and moral obligation to ensure that trial participants are fully and adequately informed (and agree) about the trial, its purpose, benefits, and risks.

Unlike in-person interpreting, with video interpreting, you won't have to deal with the hassle of having participants and interpreters on your premises. All will be performed virtually with the same precision, efficiency, and confidentiality.
In-person Interpretation vs. Video Interpreting In Hospitals
If you still can't decide whether to go for the traditional way of on-site interpretation, also known as in-person or face-to-face interpretation and remote interpretation, here is a quick comparison that can help you make an informed decision.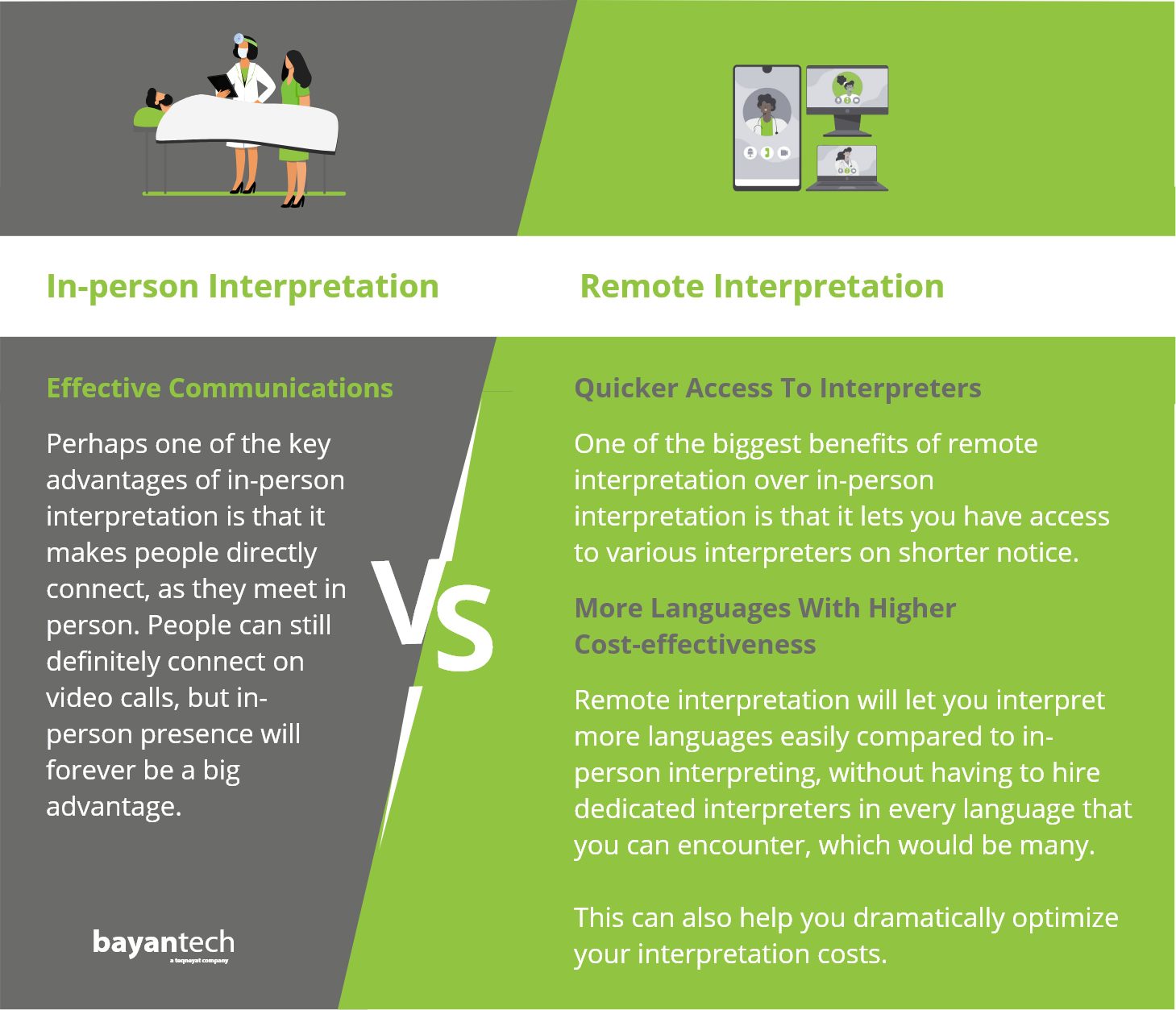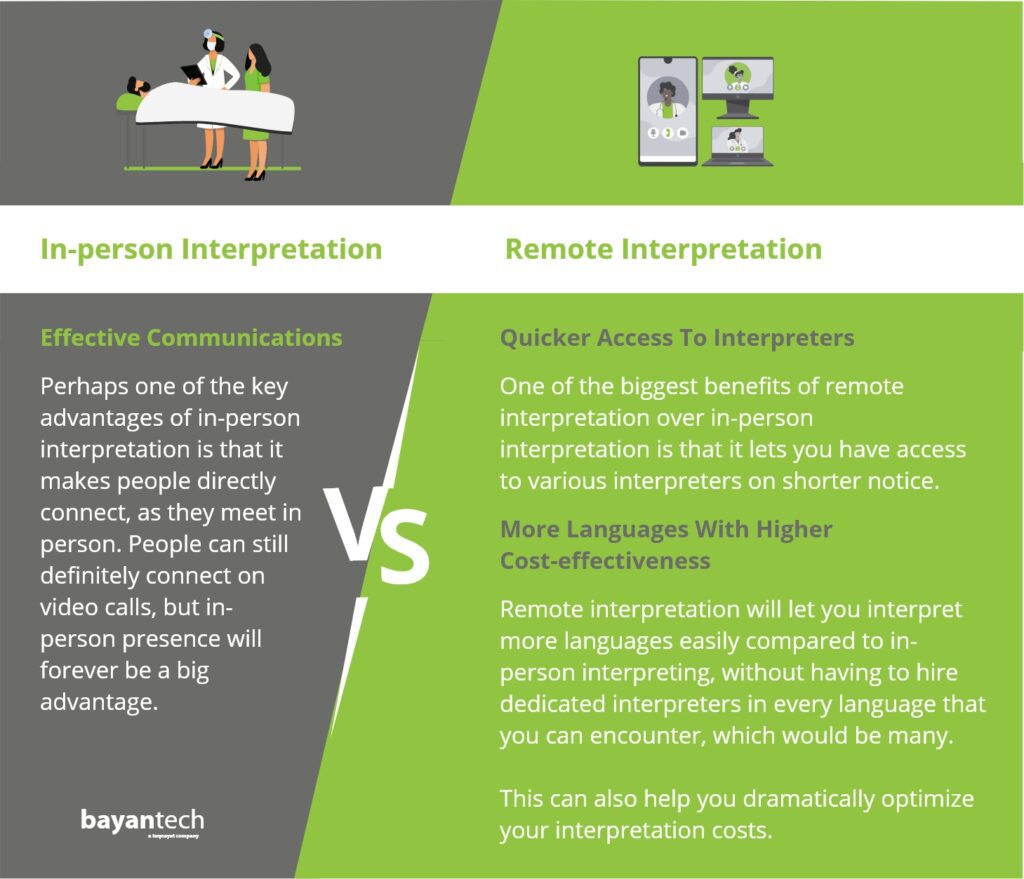 6 Key Benefits Of Video Interpreting In Hospitals
There are many benefits of remote healthcare interpretation for healthcare entities. Here are some of the most prominent advantages that should drive your entity to shift to video interpreting.

Faster Response In Emergency Situations
The flexible nature of video interpreting in hospitals makes it a real life-saver in cases of emergency. In a few seconds, your patients can connect with certified interpreters who will have backups at any moment. 
Video interpreting in hospitals is always delivered through an on-demand model of service, so that you can get to connect with an interpreter in any language at any moment, 24/7/365, giving it a clear advantage over traditional interpretation for such critical situations.

Visual Communication and Assistance
Video interpreting in hospitals allows patients, medical staff and interpreters to all connect visually, making interpretation more accurate and free of misunderstanding or miscommunication that can be life-threatening. 
It can also be easily and directly assisted by Sign Languages, subtitles or any other type of visual or audio assistance for deaf, hearing impaired, or blind patients.
Sign up to our newsletter to receive the latest blogs and news.

Broader Access to Languages
There are a lot of spoken languages around the world, with many accents on top. This makes it very hard for hospitals to be able to have interpreters for every language on-premises.
Some languages are also spoken by very few people in general. This means also that your hospital can host a speaker of this language every month, year or even a few years depending on your location. 
The on-demand flexibility of video interpreting in hospitals solves this problem, as the interpreters of these languages aren't dedicated full-time to your hospital, yet can be connected with whenever needed. 
This makes remote interpretation a perfect solution for hospitals that expect patients speaking different languages no matter how rare they are. 

Enhanced Cost-effectiveness
Not having to hire an interpreter for every spoken language is clearly a way to save costs, while taking advantage of a better service. Additionally, there is no wait time, minimum charges, or travel charges. 
When reaching out to a video interpreting service provider, make sure you ask about the budget and the included services and features for it. 
When it comes to the pricing model for the service, there are different ones that you can find or ask your healthcare interpreting service provider about. Here are some of the most common ones: 
Per minute

: the interpreting company can charge you a flat rate per minute for its video interpretation service. This is very common as it is cost-effective for many cases when only a few minutes of interpretation are needed. 

Per hour

: instead of a rate per minute, an hourly rate is also available for video interpreting in hospitals. It sometimes works through shifts where each interpreter takes a 2-hour shift then a 2-hour break. 

Per day

: when interpreters are needed for full days, some service providers allow hospitals to have access to an interpreter or more for a whole day for pre-specified fees. 

Per assignment

: you can also agree with the interpreting company to hire them for a fixed assignment with fees that you agree on. 
Those models mentioned, you can expect providers to set minimum fees depending on the model, so the service provided is feasible for them.
If you're interested in medical interpretation
or if you are even starting your way into it,
this FREE mini-guide is for you!

Less Complicated Workflows
Instead of having to call an interpreter to check availability, getting to wait for them, or asking the existing one to come over for work, video interpreting lets you digitally connect with an interpreter instantly. No paperwork, no preparations, and no surprises.

And in a world where medical care should always be available and accessible, minus any hassle at delivery, video interpreting in hospitals can bring them and their patients exactly that, a hassle-free experience.

Compliance With Regulations
In some countries, remote interpretation, and interpretation in general, is more than a matter of convenience. This includes, for instance, the above-mentioned US Affordable Care Act (ACA)'s section 1557 and Health Insurance Portability and Accountability Act (HIPAA).

As a medical facility, you are obliged to comply with this set of regulations to meet the highest quality standards, ensure patient safety and confidentiality, and maintain a regulatory-compliant environment. And video interpreting in hospitals is one way to do that as well as to build your hospital's reputation and credibility in the healthcare industry and in the community.

Choosing A Video Interpreting Provider For Your Hospital
Getting to choose an interpretation provider that offers video interpreting in hospitals can be puzzling with many choices available. Here are some of the aspects to put into consideration to be able to hire the perfect provider for your hospital or healthcare entity.
Researching the interpretation service provider's reputation should be a crucial step for choosing the ideal partner. If your hospital is already an established one, you definitely want a capable partner. 
You can both check online reviews from trusted sources and get in touch with former clients of theirs to learn about their experience with them as an interpretation service provider.
You can check if the company is specialized in medical interpretation and has certified medical interpreters in different languages. Ethics should be also considered, so you may need to ask about their code of ethics as it will let you know the standard of the delivered interpretation service. 
When it comes to video interpreting in hospitals, the technologies the company delivers will be an important aspect. What is the quality of video streaming? What equipment do they use? Do they deliver real-time subtitles with advanced technology? Those are a few questions that can be asked about the video interpreting service delivered by any company. 
You can also ask about their backup plans in cases of a failed connection or any other problem that can stop the video interpretation streaming.
Getting Started With Video Interpreting In Hospitals
When you are reaching out to a video interpreting service provider,
make sure that you:
Expert Video Interpreting Services by bayantech
bayantech delivers a full-fledged remote interpreting solution, backed up by in-person interpreting services. Get access to carefully vetted and qualified medical interpreters that are all certified in more than 100 languages around the clock. You can always contact us for more. 
bayantech is a leading company in translation services and interpreting services in the region. We have been supporting businesses and organizations in diverse industries since 2004, growing our comprehensive list of specialized linguistic services, powered by our professional multidisciplinary teams. You can request a translation service quote anytime and we'll be in touch as soon as possible. 
Our solutions in healthcare cover all the requirements for interpreting and translation. You can discover our medical translation services and learn the benefits anytime.