You already know the benefits of website localization services for your expanding international business. In short, website translation and localization services adapt your businesses' greatest digital tool to the expectations and needs of your new target audience.
But before you move forward and hire a language services provider (LSP), you might be pondering a very important question: How much does it cost to translate a website?
In this post, we'll dive into website translation costs, what goes into the website translation process, and how translation agencies calculate their project rates.
Website Translation Costs vs. Website Localization Costs
A good first step to understanding pricing is understanding what a price includes.
In this instance, it's useful to make a distinction between website translation and website localization.
Website translation services aim to fully adapt your website's written content to the linguistic and cultural standards of your target locale. Meanwhile, website localization services adopt a holistic and business-minded approach.
The goal of website translation is to adapt your content to your target language, so it can be understood by your new audience.
Website localization goes beyond translating content, focusing on providing your new target audience with an evocative and engaging experience.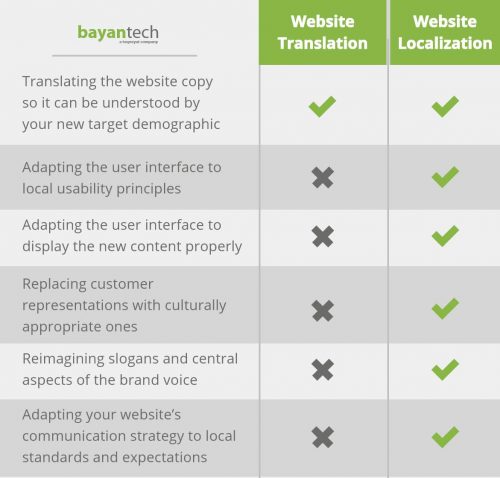 Consequently, website translation services cost less than website localization services. They involve fewer translators (in fact, a single human translator could translate a small website by his or herself), and cross-disciplinary knowledge isn't as crucial. For instance, a website translation project could be carried out without a developer. 
With fewer resources and a narrower view of the project, website translation costs are reasonably lower than website localization costs. 
Website translation services are best suited if your source and target cultures are so similar that you don't need to change your website layout. In that case, you might even be able to keep your translated website updated via a website translation proxy, with the help of your LSP.
On the other hand, if for example, you're a Canadian brand planning to expand to the MENA region, you'll need more than Arabic translation services or Arabic website translation. Arabic localization will be crucial to bridge profound cultural and linguistic differences. And, in this case, your LSP will need to count on not only professional native-speaking linguists but also designers and developers who can mirror your interface and adapt it to display content in Arabic.
Beyond the difference between website translation and website localization, there are several factors that will affect your final website localization or website translation costs.
In the next section, we'll explore some of the most common.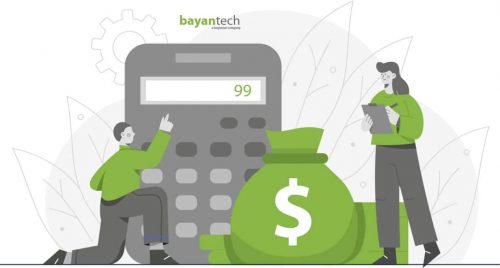 Key Factors that Affect your Website Translation Costs
Your website localization pricing ranges will be determined by:
Your website's size

What type of website you run

How widely spoken your target and source language are
You can expect your LSP to establish a per-word rate for your project's translation stage. So, depending on whether your website has five pages, fifty, or five hundred,  the cost will vary. If your website is on the larger end of the spectrum, expect your LSP to take the project step-by-step and aim for an MVP (minimum viable product) or beta version of the site first. 
On the other hand, what type of website you run will also affect your website localization or website translation costs. For example, an eCommerce website localization project will have basic requirements that a landing page won't. 
In the case of an eCommerce website, your localization team may need to carry out some of the following tasks:
Localizing your pricing automatically

Setting up a new payment gateway that's relevant to your new market

Conducting SEO research to make sure your new product descriptions have the same ranking power as their predecessors.

Helping you strategize around the integration/decoupling of your CMS.
Another factor that will impact your website translation costs is how popular the languages in question are. It's easier and less costly to translate across popular language pairs than it is to translate across rarer languages. If you're translating from Czech to Japanese, you can expect a higher per-word rate than if you're translating from English to Spanish. 
How Translation Tools Impact your Website Translation Costs
Translation software is essential for language services providers. You can also expect your website translation costs to be indirectly affected by the tools your LSP uses. Every translation tool carries a cost, which is indirectly transferred to the client. But, these tools don't necessarily elevate website translation prices. 
In fact, these tools can lower your website translation costs by allowing the translation team to shift their attention towards key tasks that can't be automated. For instance, competitive LSPs often use machine translation solutions and translation memory management tools to carry out repetitive tasks. This allows their teams to focus on cultural, contextual, and strategic aspects of the translation, rather than spend countless hours making sure terminology management is consistent across pages and pages of copy. 
The Cost of Cheap Website Translation
When a business is expanding abroad, creating a multilingual website is just one among many projects. While your website is a key strategic asset, it's not the only one, and you can't funnel your entire expansion budget into website translation costs. Some issues can seem far more pressing. So, you might be wondering if you can save on website translation.
If you're thinking of cutting costs, website localization is pretty much out of the picture. While localization comes with a high return on investment, it demands a considerable investment.
Companies looking to reduce their website translation costs usually go for one of  two options: 
Google Translate or another free automated solution

A freelance translator with suspiciously low rates
Let's analyze the shortcomings of both of these options.
Free automated website translation solutions
Professional-grade machine translation doesn't produce top-quality outputs. Editing and fine-tuning from a team of professional translators is still necessary. In light of this fact, you can't expect great translation quality from a free online solution. 
Poorly translated copy could confuse or offend your potential customers, rendering your website translation efforts useless or counterproductive. In this case, free is too expensive. 
A handy guide to website translation costs
Simplify your search for an LSP with a brief and solutions-oriented guide.
Freelance translators with low rates
Freelance translators with low rates (for instance, those available on gig platforms) may not have the level of expertise necessary to deliver good results. And, even those who are experts might not have the tools and resources to conduct a large-scale project.
For instance, an individual freelancer will not be able to perform 3-EYE TEP. 
3- EYE TEP consists of translation, editing, and proofreading, carried out by three different professionals. This gives the project a diversity of outlooks that guarantees a solid quality level. A freelancer will also lack automation tools, extensively elaborated glossaries, and the infrastructure to guarantee that key information doesn't leak.
On the other hand, if you want to turn your translated website into a fully localized one, in this case, you'll need to hire other freelancers to handle design and development. This approach may translate into savings, but you'll be at risk of jeopardizing your project quality, and you'll spend too much time dealing with individual vendors, working separately.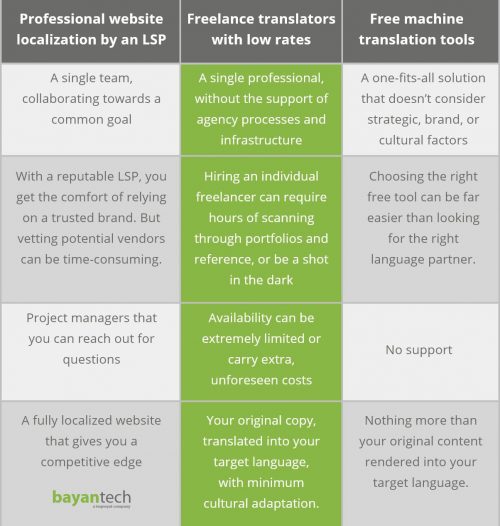 In this post, we discussed website translation rates. You probably got here because you're wondering how much it may cost to translate a website. There is no universal answer to that question. There is no fixed number. That's why we especially focused on how website translation costs are determined. 
There are several factors that go into your website translation costs, including:
Salaries and rates for the professionals involved

Essential tools that the team needs to guarantee an effective project

Website size and content density

Website type and special requirements 

Language pair rarity

Cultural and technical differences between the cultures at hand
Sign up to our newsletter to receive the latest blogs and news.
With those factors in mind, we recommend you request a quote from an experienced LSP, and share any doubts about pricing from a frank and goal-focused standpoint. 
According to research compiled by InVision, 88% of users will never return to a company website after a bad experience. Meanwhile, 75% will judge your company by your website's aesthetics. Having easy-to-read, culturally appropriate content and going the extra mile by implementing localization will produce results. This makes website localization an essential marketing investment. 
Work with a Website Translation Leader
At bayantech, we make sure your website localization investment goes a long way. Our strategy combines quality, speed, and cost-efficiency. That's why, for the last two decades, we've been the language partner of choice for leading brands in the MENA region and beyond.