bayantech's Translation and Localization Processes Your Project's Journey From Submission to Delivery
We adopt a holistic approach to organizing workflow, backed by a productive working environment that puts the efforts of each member of our dedicated in-house team to perfect use. With goal-oriented methodologies and industry standards strictly conforming to our ISO 9001:2015 and 17100:2015 certified quality management standards, we guarantee a seamless workflow.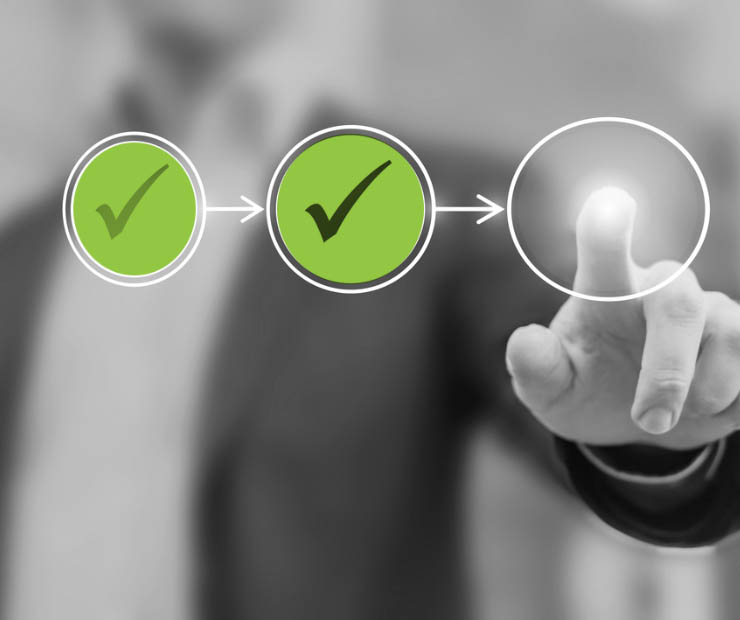 Our highly qualified project managers clearly communicate to clients the scope of the project, carefully laying out work plans that match our clients' budgets, requirements, and timeframes.

Once the project schedule is set, the project is to be handed to our proficient localization engineers who work on analyzing files and extracting texts. These extracted texts are then assigned to our native-speaking linguists who are specialized in the subject matter, setting the foundation for a successful start of the project.

During the translation/localization phase, effective internal communication is maintained across departments (DTP, Localization Engineering, Translation, Graphics, etc.), with our talented project managers leading the communication cycle and acting as one focal point internally and externally with our clients. Moreover, ongoing quality assurance steps are implemented throughout the translation/localization stage in order to ensure quality and avoid costly delays

As soon as the localization stage is successfully completed, our quality assurance procedures swing into action.

Hawk Eyes: Quality Assurance Procedures bayantech applies a meticulous 3-eye TEP (Translate, Edit, and Proofread) quality assurance process. All our reviewers and proofreaders are native speakers with wide expertise in the subject matter and who work with their full attention to detail. Upon completion of the translation/localization step, the project is handed to our hawk-eyed reviewers who diligently revise the source against the translated/localized product, ensuring absolute accuracy and consistency. Only after the completion of the Editing process do proofreaders start fine-tuning the localized text to refine the language cultural aspects, and stylistic features, making certain the text runs smoothly and naturally.

Our localization engineers then insert the translated text back. Additional QA steps are implemented in the final stage to make sure the completed translated version reads perfectly and the layout is properly displayed.
As we make sure our workflow adheres to industry best practices, we customize our workflow procedures to each client's specific requirements, delivering localization/translation services of the highest quality and in a timely manner.
If you have a big project that needs to be translated,
we are here for you
order a quote now to have an instant assistance
we will quickly back to you
Subscribe to our newsletter and see the latest industry news, stats and trends right in your inbox.