For several years now, Middle East markets have been incredibly promising, not only for global companies but also for emerging startups and small and mid-size businesses in the region. Emerging markets within Middle East countries are expected to grow at an annual rate of
3.5% by 2023
.  
This is partly thanks to the demographic structure of the region, given that
60% of the population is under 25 years old
. And we already know how this works: the online presence and consumer habits of youth mark the trajectory and future of most businesses.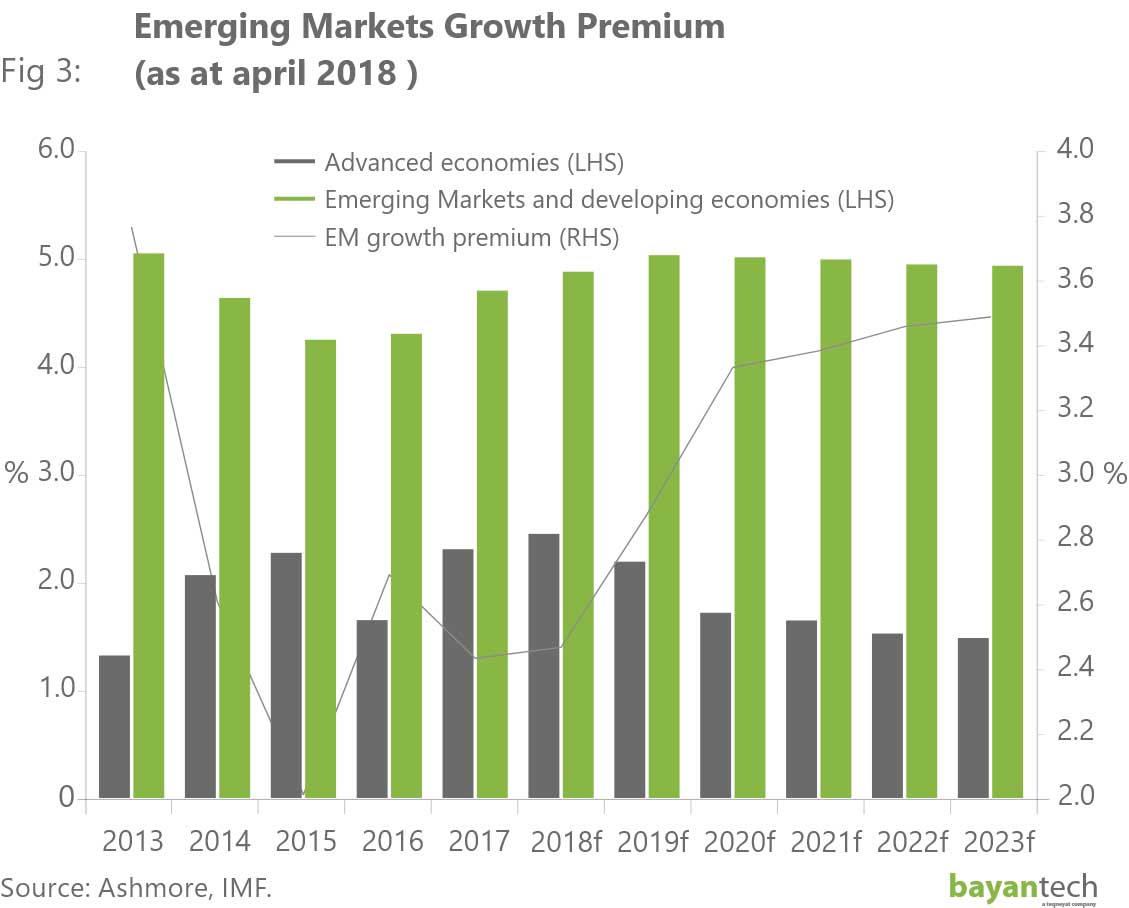 The best strategy to engage with this vibrant and dynamic audience is to do it in their own language. This way you can get your message heard and understood on a deeper level. And to do so, you'll need high-quality translation services that implement the best DTP solutions to localize your content.

And since Arabic is the language they speak mainly, this may pose a multidimensional challenge.  
In this post, we'll tackle the main challenges that Arabic represents for DTP processes, some best practices to ensure success, and who is best qualified to face those challenges. Let's begin.
Why Arabic Desktop Publishing is Necessary
As we previously mentioned in one of our latest articles, Multilingual Desktop Publishing is a historically rich and complex discipline. But, in the context of our guides, we focus on the role of DTP in a translation or localization process. 
With this in mind, DTP is the creation or adaptation of highly visual content to meet the cultural and technical aspects of the target language. Some common document formats that may undergo DTP are:
When we talk about Arabic Desktop Publishing, we're referring to the process by which this highly visual content is translated into Arabic and adapted to fit perfectly with the page layout design of your choice.
However, Arabic is one of the most complex languages ​​out there to learn and speak, even more so when translating and adapting content from Arabic to another language or vice versa.
The first thing to understand here is that Arabic is part of the Semitic language family, as well as one of the most spoken and culturally prominent right-to-left languages in the world, amongst Hebrew, Persian, and Urdu. But there are also different regional dialects of Arabic, Classical Arabic and Modern Standard Arabic (MSA). MSA is the one used for written communication on social media.
When it comes to the challenges of translating and adapting content from any language into Arabic, one faces a crossroads. First, there are linguistic challenges, including morphology, syntax problems, lexicon, rhetorical issues, structure in the text, and pragmatic factors.
Then there are the cultural challenges. Here you encounter not only phrases or expressions that can't be translated from one language to another, but also the visual part of the content: images, colors, fonts, symbols, and so on.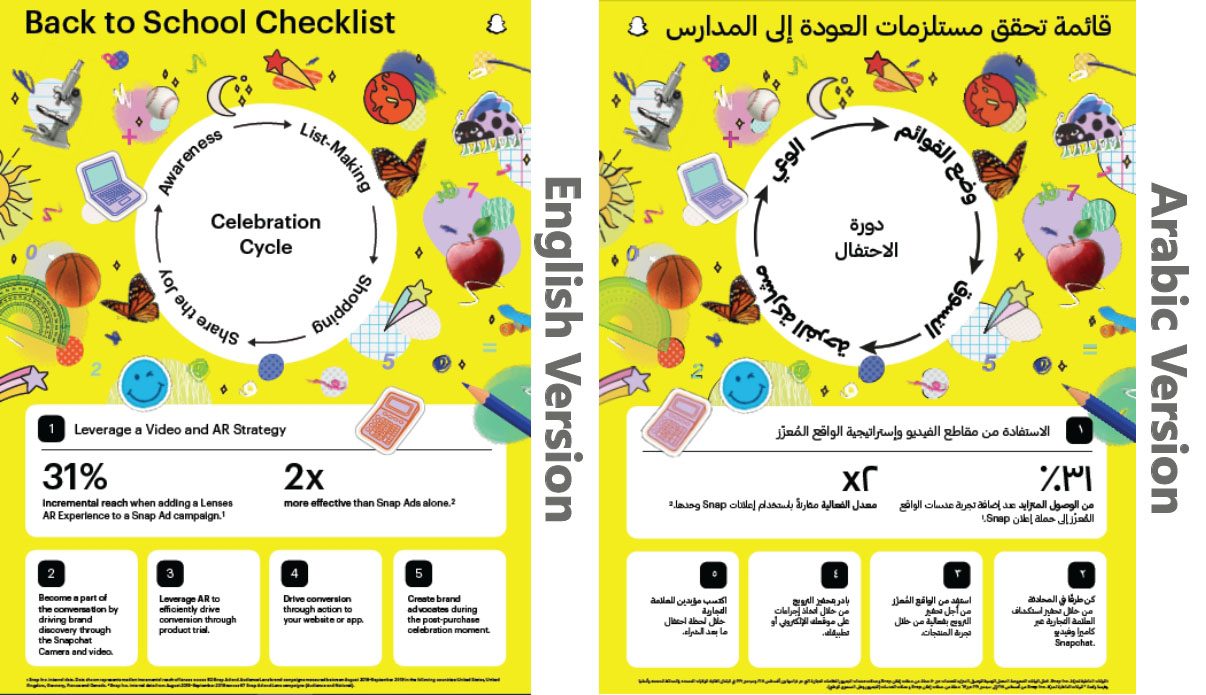 The Most Common Challenges of Arabic Desktop Publishing
Low-quality translation and DTP projects can result in content that doesn't hold any value to your target audience, or worse, that offends them. The entire composition of your message needs to make sense in the target language, in terms of readability. But it also needs to be culturally relevant so they can resonate with your content and connect with your brand.
The most common Arabic Desktop Publishing challenges are deeply connected to the translation process. We can pinpoint four of them:
Grammar Structures Differ Significantly
In English, compound sentences that are considered grammatically correct usually follow the subject > verb > object structure. For instance: "Roger plays his cello" is a grammatically correct sentence with more than one component.  It's essentially a verbal sentence. However, in Arabic, the structure that sentences follow can be either nominal or verbal.
This is why one of the most common mistakes in translations from English to Arabic, or vice versa, is translating words in the exact same order. A professional translator will know how to adapt verbal sentences to nominals or vice versa while preserving the meaning of a phrase.
These linguistic differences directly affect the design of your content. Like all Semitic languages, Arabic tends to expand, increasing the word count in your translated document. Errors and inconsistencies in the page layout will be all over the place if the file format wasn't adapted to accommodate a longer text.
Arabic is home to more than 11 million unique words. Arabic vocabulary is incredibly rich, especially when compared to the more modest English vocabulary, which only has around 1 million words.
For its part, the Arabic alphabet has 28 letters. This may not seem like a major difference from the 26-letter English alphabet. But nothing could be further from the truth. 
Some Arabic characters simply don't have an English equivalent. For example, غ is usually translated as "gh", or ع as "aa". And yet these approximations have different points of articulation to the original Arabic letters.
In Arabic, the appearance of any letter will depend on where the letter is (beginning, middle or end of the word) as well as the ones that accompany them. Arabic glyphs can create over 100 shapes for a single letter. By needing a large number of glyphs to adapt the letter to the context, not all fonts will support this characteristic. Here is where typesetting enters the game. Commonly, any desktop publishing software will include a typesetter feature to create the best reading experience possible.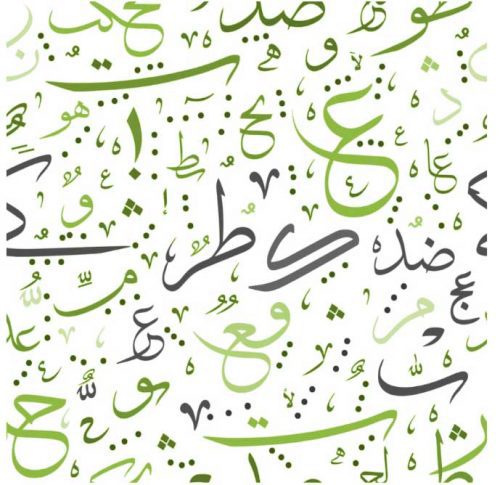 Internal Differences Between Arab Culture
According to a report by UNESCO, 422 million people around the globe speak Arabic. However, if you hear how Arabic is pronounced from the Middle East to North Africa, or even in different areas of the same country, you might think you're hearing different languages.
Yes, accents can be a tricky thing in the English-speaking world. But the Arabic-speaking world is an entirely different story. Each country of this region has developed its specific dialects. Each one has its peculiarities and complexities that characterize it. In this context, it's really easy to get lost in translation.
Diglossia is Real & It's Challenging
Diglossia is a phenomenon that happens when the written form of a language varies significantly from the spoken form. And yes, Arabic is one of these languages. Of course, an Iraqi and a Moroccan can easily communicate in MSA, but in everyday life and intimacy, each one will express themselves in their own dialects.
When one seeks to engage with specific local cultures, reliable and competent
translation services
will know how to identify these subtleties and differences between each dialect according to the audience you're targeting, being able to configure the translated text accordingly.
Arabic Desktop Publishing Best Practices
If you found this post looking for Arabic Translation Services that implement DTP solutions as part of their strategy, or you're a translator in training hoping to become an Arabic DTPier yourself, this section on Arabic Desktop Publishing Best Practices may hold great value for you.
Below, we'll pinpoint 4 insightful tips when you're dealing with Arabic translation and DTP projects:
1- Partner Up With a Reliable Translation Agency That Has an In-house Team of Desktop Publishers
You can easily find desktop publishers working at advertising agencies or publishing houses, but when you need to tackle Arabic translation, the best option is to rely on a language service provider that has an in-house team of multilingual DTP experts, with extensive knowledge of file engineering.
As you should know, visual content, whether online or offline, can increase your presence and make your brand look desirable, or it can severely damage it. Therefore, the fundamental role that comprehensive multilingua

l
DTP services
play here becomes evident.
Sometimes translation, whether EnglishArabic, won't be enough. To engage with multilingual audiences worldwide, you'll need
multilingual
desktop services
with the most intensive quality controls. And, when the goal is maintaining consistency in the tone and style, the best strategy is to partner up with a language service provider with an in-house team of desktop publishing specialists.
Mainly because they have the experience, technology, and infrastructure to overcome the challenges unique to Arabic Desktop Publishing, conveying high-quality renderings that meet your specific needs as a client, saving you valuable time and money. 
We invite you to visit our
Quality Assurance
Policy to find out how we work and what values drive us to build remarkable and flawless Arabic Desktop Publishing solutions through the years so that your content can have an unprecedented impact out there. 
Last but not least, it's worth mentioning that while one consumes a lot of online content, printed publications are still a valuable form of marketing. That's why any Arabic Desktop Publishing Service will provide the client with their documents ready to print if necessary.
Multilingual DTP Best Practices Cheat Sheet

Pitching multilingual DTP within your company?
Our multilingual DTP cheat sheet is the tool for you.

2- Define Your Target Audience & Understand Each Local Culture
Previously it was mentioned that Arabic is a language that cuts across different local cultures within the region and, as a result, there's a rich variety of dialects, accents, and styles. In this sense, it becomes key to define and deeply understand the audience you're targeting and localize your message accordingly.
Cultural correctness is important, not only to be relevant to your audience but to avoid any offense. For instance, some images commonly used for hotel advertisement (bikinis or couples embracing) are rather sensitive to the Arabic culture. This may go unnoticed for some people, but you must be aware of these details to prevent your brand from damage.
Sign up to our newsletter to receive the latest blogs and news.
3- Create an Arabic Up-to-date Glossary
Since many sentences can end up being translated ambiguously due to the grammatical complexities of Arabic, the best option is to create an up-to-date glossary with specific regional and local terms, how they're written, in what contexts they're used, and so on.
In this way, you'll ensure that certain words are always translated accurately and uniformly, either Arabic> English, or English <Arabic. TMS (Translation Management System) will become your best ally. It'll provide you with features such as CAT tools, Translation Memory, and a personalized, in-depth glossary with all the terms you'll require.
4- Customize Your Original Layout to Fit With Arabic Requirements
As mentioned, Arabic is a right-to-left (RTL) language, which affects the direction of the layout design. For instance, in the case of website blueprints, this will also affect the user interface (UI), navigation display, and menus. This will require certain modifications such as:
Leave your Arabic Desktop Publishing Project to the Experts
Arabic Desktop Publishing can be difficult to tackle. Fortunately, you don't have to face these challenges on your own. At
bayantech
, we're a reliable and trustworthy
translation company
, working alongside leaders across industries to nail their translation & localization processes. With almost two decades of experience, we set the standard for quality translation & localization services in the MENA region and beyond.
As a United Arab Emirates-based agency, we recognize that desktop publishing is a crucial stage in our clients' projects – especially those projects in Arabic language- and we work with the best
DTP tools
to achieve a flawless page layout design according to your needs.