Streaming platforms have experienced a boom in recent years, allowing millions to watch audiovisual content from all over the world regularly. Netflix has made multilingual content a core part of its expansion strategy. Netflix commissions a lot of products to foreign producers. This allows the platform to deliver foreign films, series, and documentaries to a global audience, with a wide variety of source languages and cultural codes.
Our unprecedented access to culturally diverse content brings back an old question: What is the most efficient way to deliver content to an audience that speaks a foreign language?
Nowadays, choosing to watch a dubbed film is usually a matter of preference, as many streaming platforms offer both. But, what are the pros and cons of dubbing and subtitling, from both a business and an artistic perspective?
Before we face the question of subtitling or dubbing, it's important to define our terms. In the context of language services, dubbing consists of recording voice actors interpreting a translated version of the script of a piece of media, and synchronizing it with the source material, replacing the original audio.
Meanwhile, subtitling consists of rendering the auditive dimension of a piece of content into text. This text will be superposed on the content, so it can be read as part of the viewing experience. When we talk about subtitling, we're often referring to interlinguistic subtitling, but it can also be intralinguistic.
Intralinguistic subtitling (also known as "closed captioning") is the practice of elaborating subtitles in the same language as that of the source material. These subtitles usually acknowledge the audible dimension of the work outside of the script. For instance, if a scene includes a cell phone ringing, the subtitles will probably read "(cell phone rings)". Intralinguistic subtitling guarantees that a piece of media is accessible to the audibly impaired.
The difference between subtitling and dubbing is simple. Dubbing allows us to hear a translated and reenacted version of the source audio. Meanwhile, subtitles give us the chance to read a translation of what is being said on-screen, while listening to the voices of the original actors.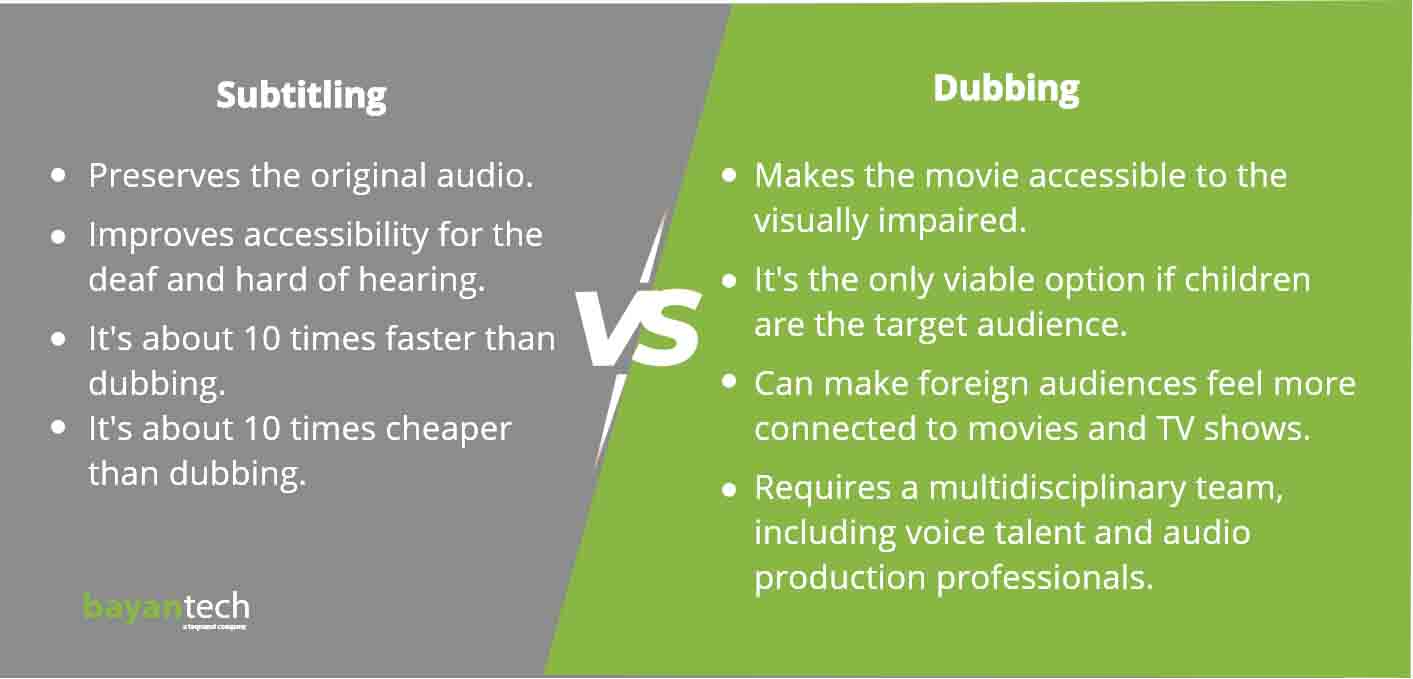 In principle, not everyone can read and not everyone can see subtitles. Dubbing allows a wide audience to enjoy a film, by lowering its barrier of entry. This is why foreign animated movies made for children are almost always dubbed.
Dubbed movies make for a more immersive viewing experience. Dubbing also allows for a more profound adaptation of the content across local cultures. For companies like Disney, dubbing carries great marketing opportunities. Disney films usually come with localized songs that then become hits in their target markets.
But dubbing isn't just for children or the visually impaired. It can also invite audiences to overcome a daunting cultural barrier and discover new media. A recent example is the Oscar-winning Korean film Parasite whose dubbed version was a hit in the US.
Dubbing is a complex art. It involves translation as much as transcreation, acting, and sound design. Each project employs up to hundreds of people. While some audiences prefer dubbing, it's not uncommon for films to be available to foreign audiences only through subtitling. This is especially the case for low-budget, indie, or limited-distribution content.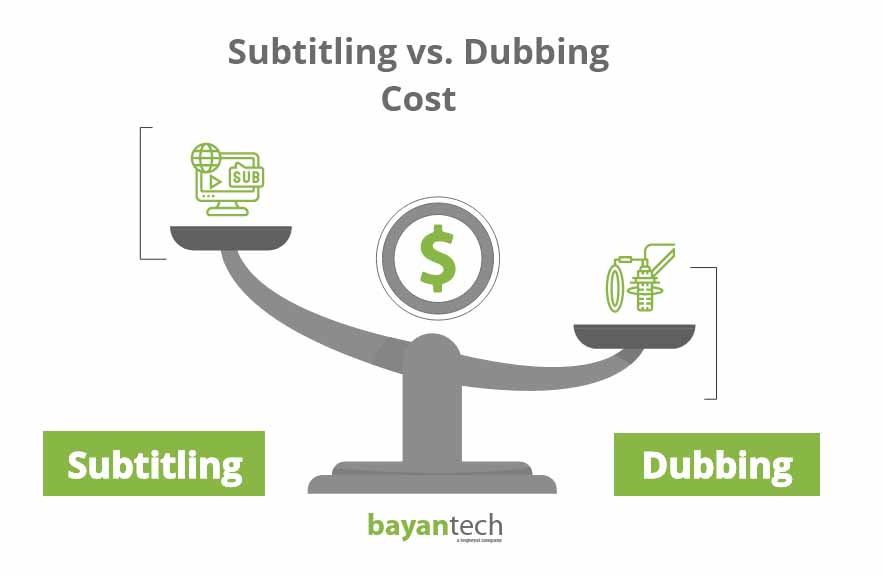 The Pros of Professional Subtitling
A key difference between subtitling and dubbing is cost. The subtitling process involves a lot of skilled people from voice actors to linguists, technical equipment to record them, and time, which sometimes doesn't pay off. The industry average is that a professional dubbing for a full-length movie costs 10 times more than subtitling, and takes between 6 and 12 weeks of hard work for a very talented team. And even top-quality work can result in a poor viewing experience. Almost always there's a need to change words to make them fit into the lip movements of the actors, and thus, some context can be lost in translation. It's also worth noting that there's a tension between how time-demanding the dubbing process is and business expectations regarding time-to-market. Dubbing takes a long time, but it also has to be cost-efficient and fast enough to not hinder a movie's distribution process. Subtitling is a more flexible approach for the majority of audiovisual content.
Accessibility matters. And audibly impaired viewers may rely on subtitles for an integral viewing experience. In fact, subtitles that level-up the viewing experience of disabled audiences are legally mandatory in some countries. For instance, in the U.S., the 21st Century Communications and Video Accessibility Act (CVAA) forces television programs to include accurate, complete, and synchronized closed captions.
Another important aspect of subtitles is that they preserve the voice and expressivity of the original actors, and this is key when talking about fiction films, or when we want to appreciate the talent of an A-list celebrity.
The fact that subtitling isn't as expensive as dubbing shouldn't be an excuse to choose our subtitling partner based on price alone. The cost of subtitling may vary depending on the format and length of the source material, its quality, the desired format of the subtitles, and the target language. For starters, it's wise to limit your search to reputable language services providers. Make a shortlist of potential partners and reach out to them for a subtitling quote. The more information you provide them with, the more accurate the quote will be.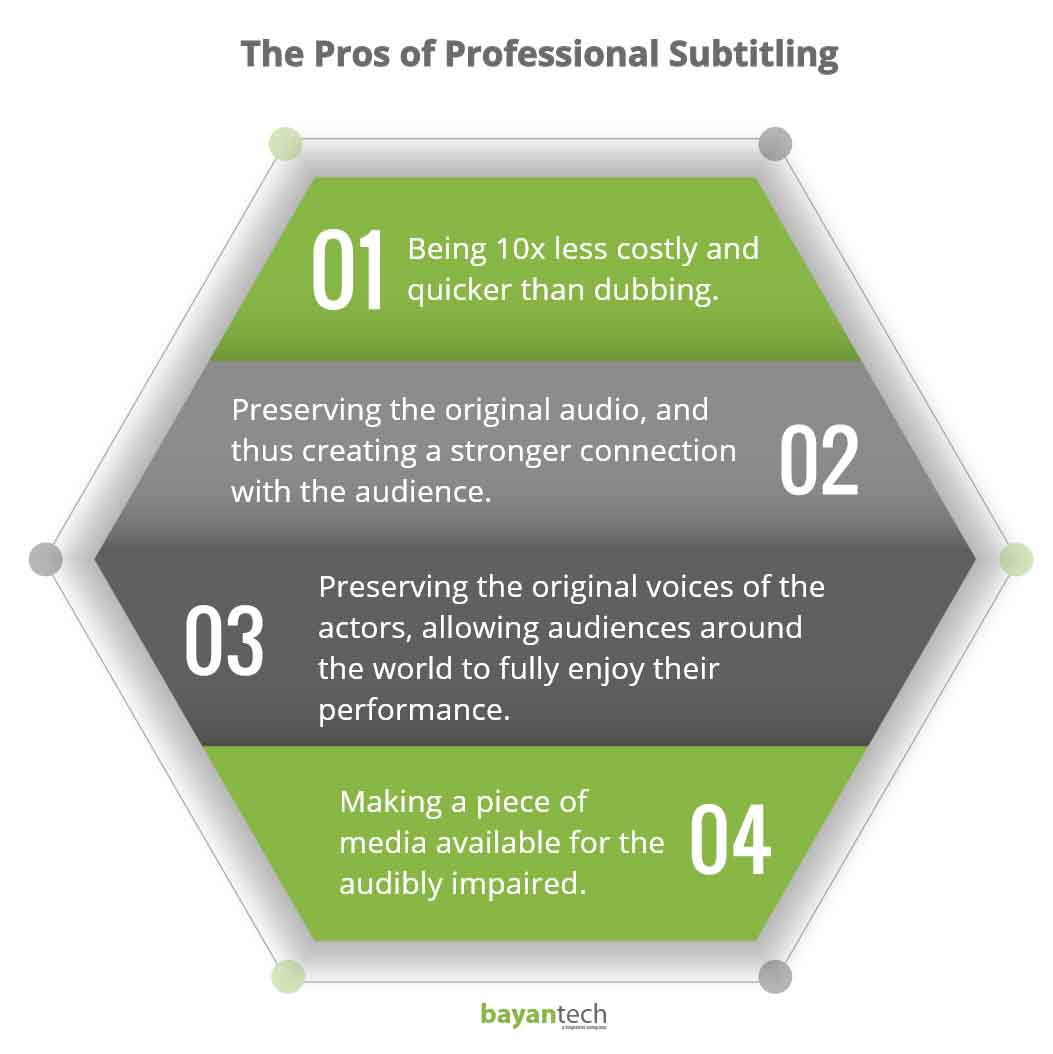 It is widely accepted that most people prefer subtitles rather than dubbed versions when watching a film. While this is self-evident when talking about content in foreign languages, this also applies to native speakers. A 2006 study made by Ofcom -the UK communications regulation agency- showed that more than 70% of the English speaking people who use subtitles do not have any hearing impairment. Subtitling can even enhance the viewing experience of local audiences.
There is a huge online community of amateur subtitlers, and while their work may be acceptable, the reality is that when you're dealing with professional subtitling projects you'll need top-notch results, as well as accomplishing those results quickly. The use of proper tools for the job, like professional subtitling software which saves time and effort, and the experience of highly trained transcriptionists can be the difference between subtitles that barely help us to understand a movie, and coherent, easily readable ones.
Sign up to our newsletter to receive the latest blogs and news
In this post, we evaluated the differences between subtitling and dubbing. Dubbing can be essential to attract a wide audience to a foreign film. It can make the viewing experience more accessible, while also paving the road for a highly targeted marketing campaign. But dubbing can be very expensive, and purge the source material of a layer of meaning.
Subtitling is the best option for indie projects or media for adult audiences.  Subtitling allows media to be enjoyed by international viewers while keeping the costs of expansion low. Subtitling can also make a piece of content accessible to the disabled.
As Herik Gottlieb notes in Subtitling: Diagonal Translation, subtitling is a far more complex process than we as viewers may understand. Not only does it change language, but it also "switches from spoken to written mode", showing us the written equivalent of what's being said in real-time. As a text, subtitles are dynamic. Not only do subtitles need to match the pace of the movie's dialogues, but also the pace of editing. They need to fit neatly within the screen, presenting a challenge similar to that which we face during an interface translation process. Subtitles also need to be accurate while stylistically matching the original script, so what should come across as funny is understood as funny, and what should come across as profound is understood as such.
While subtitling is a far less costly process than dubbing, it could still go wrong. Make sure you always put your subtitling projects in the hands of a professional subtitling agency.
 Adding Subtitles to Your Content Just Got Easier
Request Subtitles For Your Media Files!