According to 2021 research, over half of the world's internet users are from Asia. English is often seen as the lingua franca of the internet. But most users speak English as a second language – if they do so at all. Additionally, most users will only make purchases on websites in their native language.
Whether you're planning to reach new mobile users with your app or your company website, localization and localization testing will be key to reaching your goals.
In this post, we'll discuss localization testing in software testing, why it's so essential, and how to succeed at it. Let's dive in.
What Does Localization Testing Mean?
Localization testing is a type of software testing process that is performed with the goal of making sure that the software in question meets the cultural, legal, and usability-related standards of a new target audience.
There are several different types of testing. Each type has a specific focus and serves a specific purpose. By implementing different types of testing, development teams can make sure their product meets the mark in all dimensions. For example, accessibility testing analyzes the elements of a digital product that make it accessible (or inaccessible) to the disabled.
When Is Localization Testing Necessary?
Adapting your website so it meets the needs of foreign customers isn't just about translating to a certain targeted language. It's about your product's look and feel, usability, visual content, and much more.
Localization is a holistic process that involves several dimensions of your product. And, in that process, it's easy for things to get chaotic and a lot can go wrong.
Localization testing makes sure that the final result of your localization process meets your expectations and needs. Localization testing is necessary whenever localization is necessary. And localization is key for all growing digital products and platforms.
Of course, the complexity of the process will vary depending on a lot of factors.
For example:
Regardless of these qualities, there are some common traits that the localization testing process should always have.
The 6 Most Common Localization Testing Priorities
In this section, we'll take a look at the basic priorities that should guide all localization testing projects.
These priorities are:
Sign up to our newsletter to receive the latest blogs and news.
If you're localizing your platform across writing systems, you'll probably have to change your website's layout quite significantly.
For instance, let's say you're expanding your US-based company to the UAE. You'll probably have to reimagine your entire website's layout so it accommodates new Arabic copy.
That would involve mirroring your entire UI, changing the location of some navigation items, etcetera. Localization testing will involve making sure the entire layout is usable and easy to navigate for your new users. Even for those with disabilities, or using uncommon mobile devices.
Phone Numbers, Date & Time Formats
Every specific region has its own formatting conventions for dates and phone numbers. While the formatting of a date might seem minor at first sight, it's not. We'll explain it with an example.
Let's say that you're operating an online store selling extremely customized products. These products can take time. So, before the customer makes their purchase, you let them know that the product will be delivered to their doorstep by a certain date. Let's say, two months in the future. So, before a client makes a purchase, they'll see "If you buy today, you'll receive this product by DD/MM/YY".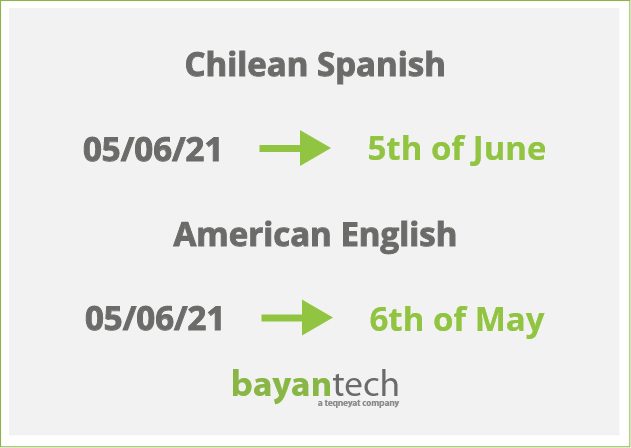 If you're localizing your online store from Chilean Spanish to American English, for example, you'll need to make sure to change your date's format. Americans aren't used to DD/MM/YY formatting, but to MM/DD/YY formatting. Consequently, if you tell an American customer that their product will arrive by 05/06/21, they'll believe that their product will arrive by the 6th of May. If you've meant that the product will arrive by the 5th of June, you'll be dealing with a disappointed customer.
It's essential to have these tiny details in mind when testing your localization.
Make sure all prices are in your target audience's national currency. When customers see that your prices are in a foreign currency, they're likely to assume that you're not targeting them. And, additionally, they might not be equipped to evaluate your pricing in a foreign currency.
On the other hand, if you're localizing an online store, it's essential that you provide payment methods that adapt to your customer's possibilities and preferences. Testing your currency localization is every bit as important as testing whether your payment gateways work for your new target locale.
Localizing your digital platform might involve changing the font your website uses, so it can display a different writing system. Localization testing involves scanning through your entire platform/product, to make sure that all special characters are properly shown.
Aside from making your site look unprofessional, broken special characters can make your copy harder for screen readers to render. Thus, it can hurt accessibility.
Your localization testing process should involve checking whether the hyperlinks on your site (whether inbound or outbound) send users to relevant places.
You don't want to lose users to broken links. But you don't want to send them to third-party content that they can't enjoy either. An in-depth localization testing process should involve evaluating your hyperlinks and replacing them when necessary. It's all about taking a strategic look at the customer journey.
Jokes and cultural references help you connect with your target audience. A mistranslated cultural reference or a flat joke can have the exact opposite effect. Your localization testers should make sure that all your cultural references can be enjoyed by your new users.
Especially if your source and target cultures are very different, you may find that some of your audiovisual content needs to be revamped, adapted, or remade. A proper localization testing process will involve evaluating whether any of your videos or images could offend or alienate your target audience.
Get our Localization Testing Cheat Sheet
 Want to share this information with colleagues or keep it handy?
Download a summary.
The Benefits of Localization Testing
True, the process can be tedious and time-consuming. It also adds up to your localization budget. But it's absolutely worth it.
A product is only as good as its quality assurance process. And localization testing is a hyper-specific QA process, designed to make sure your digital product has the impact it deserves.
Localization testing helps you:
Thanks to localization testing, you can prevent the extra costs and hassle of having to roll back your product or debug it after it has launched.
Should You Outsource Localization Testing?
Now that we know what localization testing is, and how it can benefit your business, you might be wondering how to get it done.
Especially if some of your team members are from your target locale, you might be tempted to handle the process in-house. But that's a surefire way to stress out your team without getting the results you're looking for.
But, it isn't just about putting yourself in the shoes of your target user. Localization testers and i18n-savvy linguists know what to look for. They're experts in the common pitfalls of localization projects. So, they can detect and fix them on the spot.
There's a lot at stake in localization. It's not a quick and inexpensive process. It demands research, talent, time, and resources. It's the consequence of a strategic decision, and when done correctly, it pays off significantly.
Hire a language services company that can carry out the localization process and test the results.
Fully outsourcing your localization process to a professional is the most cost-effective and safe way to get it done. And, if you'll partner up with an industry leader, localization success is practically guaranteed.
Work with a Localization Testing Services Leader
At bayantech, we represent the highest standards in localization testing. As the MENA region's leading localization and translation company, we provide cutting-edge language solutions to industry leaders, in over 100 languages.
Our multidisciplinary teams include pre-vetted professional translators, designers, and engineers. We work with state-of-the-art technology and ISO-certified best practices. The results are competitive digital products, delivered within the strictest deadlines, at extremely competitive rates.
Contact us today, and take your localization project to the next level.