Wondering how to choose the best company providing medical translation in Dubai? This post is for you.
Dubai's healthcare industry has a promising future. The demand for competitive medical services is growing exponentially, driven by patients from all latitudes. Having the world's largest medical free zone and transforming into a major hub for the global healthcare industry have attracted leading international companies to seek out investment opportunities and partnerships in the country.
If you're considering expanding to Dubai or the UAE, language and cultural differences are an unavoidable challenge that you will have to face. And there's only one effective strategy: getting medical translation from a professional company.  
In this post, we'll discuss the importance of medical translation & dive into the main challenges you'll face when choosing the best service in Dubai, Abu Dhabi, or Ras Al Khaimah.
The Simple Formula Behind Great Medical Translation
Roughly speaking, Medical translation is the translation of medical content in the healthcare industry, and that includes all types of medical documents and software. One of the defining characteristics of medical translation is that the linguist who's in charge needs to find the right balance between text accessibility and technical precision. This is especially the case when working with client-facing documentation.
Great medical translation is defined by 3 factors: 
In the medical sector, a mistranslated text can have devastating results, from hindering medical trials to endangering lives.

That's why, unlike other types of translation, an imprecise medical translation can be a legal liability.
There is no doubt that, when it comes to scientific and technical translation, the right thing to do is to leave it in the hands of a medical translator. 
But how do you know if the service you're being offered is high-quality? And, how can you figure it out if you're in a foreign market?
How to Choose the Best Company Providing Medical Translation in Dubai
Medical translation in Dubai, or medical translation as a whole, has two approaches. The first provides informative content and the second advertises companies, their services, and products. 
Since accuracy is essential in this kind of translation, it is clear that it cannot be a just one-person task. But don't settle for just anything. Language service providers that work with a team of medical translators should be able to offer you:
Precise Terminology Management
Precision is one of the pillars of life science translation. In medical document translation, this is achieved through a combination of human language proficiency and world-class translation tools. That is, by automating repetitive tasks, using a glossary, and applying a human eye to the final product. 
Here are a few terminology issues every medical translator should consider:
Native Language Professionals
For an effective process, medical translators must be native speakers to guarantee fluency. But besides being able to speak the language fluently, competent linguists should have insider insight into the culture of the source and target language, which may include the Arabic culture.

They should bring context to cultural particularities, keeping up with local culture trends, how the target audience expresses itself, and how it's best to reach them. And in that case, who could handle that better than the locals? 
Although medical documents aren't sometimes as culturally resonant as marketing texts, medical marketing content does exist. Even when translating the instructions for a medical device or a medication package insert, it's important to know how people use their language in real-life. And these details can only be provided by a native medical interpreter. So, make sure your translation company in Dubai works with local experts.
Sign up to our newsletter to receive the latest blogs and news.
A Global Team of Professionals for Global Languages Support
English has established itself as a predominant language for business in the UAE. This is also the case in the Dubai medical field. Especially, since the U.S. has entered into multiple alliances with the UAE healthcare system (e.g., through Children's National Medical Center). 
However, several more common languages are spoken in Dubai, including German and Hindi. The diversity of nationalities present in Dubai demands that the certified medical translation service translates documentation across a wide variety of languages. And this is why you'll find that the best companies providing medical translation in Dubai can do far more than just English <> Arabic translation. 
Language proficiency isn't the only thing that matters, especially in the medical field. A linguist may have the most needed native fluency and translation expertise but may not have any experience in the medical field, which can severely affect the translation quality and integrity. So, if you're looking for the best companies providing medical translation in Dubai, keep an eye on their medical expertise and their policies for hiring medical translators. It is a must.
These translators must have a solid medical background and specialized knowledge to clearly and accurately communicate the complexities and nuances of the field.
But that's not all, they also need to stay on the cutting edge, constantly learning about the latest developments in the medical field, with its new concepts and definitions. A medical translator who's in the dark about medical changes and trends is as good as any other non-specialized translator. Both wouldn't be able to do the job right. 
What's more, medicine is an immense discipline. And the truth is that a translator with medical training does not necessarily know about every area. A linguist with expertise in psychiatry, for example, will not be the right candidate in a medical translation project about traumatology.

A translation company with experience in the medical field provides a double benefit:
It guarantees great terminology management on the part of human translators.

It implies that the company has relevant glossaries and MT engines properly trained for medical translation.
These factors profoundly contribute to your translation results. These competitive advantages aren't built overnight. They're the product of extensive training, years of translation experience, and constant reinvestment. 
Want to Share This Information With Your Team?
We've created an exclusive guide with essential content on medical translation. 
It's clear that medical translation, being as sensitive as it is, can't be 100% delegated to translation tools. But they can be an excellent ally for the translator. In fact, they are essential for translating the bulk of the information. The translator then takes care of editing errors and refining style. This combination, known as Machine Translation Post Editing, provides a quality result, with consistent terminology management, at a lower cost.
Machine translation meets expectations, as long as it is accompanied by human expertise. And it is key that the translation company you choose works with state-of-the-art technologies.
A good point of reference for checking your LSP's quality control is asking about back translation. Back translation is the process of translating a document, which has been previously translated, back into its original (source) language. 
So, for example, if a source document in German is translated into Arabic (the target language), a back-translation involves reversing the process and translating this Arabic document back into German (the source language).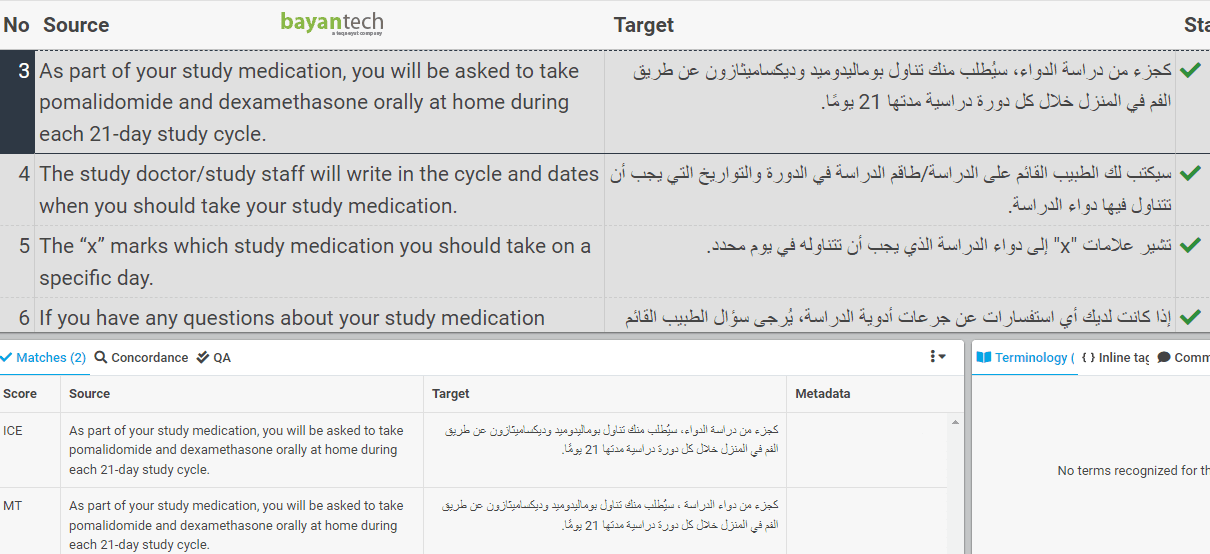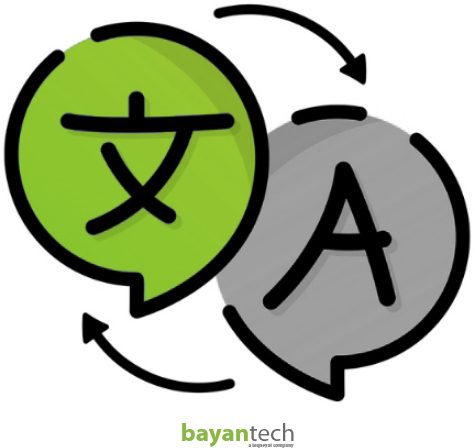 Familiarity with relevant legislation is also an important factor you should consider when choosing your translation services company. 
When linguists translate medical documents into Arabic, or any other language, they should contemplate local, national, and international regulations. Medical materials are specific and complex. Some, such as pharmaceutical documents, are intended to preserve the integrity of the medications. And, put in different terms, the integrity of the patient. 
In some cases, even if you work in the medical sector, you should reach out to the best legal translation service in Dubai, instead of looking for a company that only has medical expertise. For example, a legal translation company may be your best ally to translate a patent filing for a medical device.
Effective Project Management
Sometimes, in the medical field, accurate translations are needed urgently. But a shorter deadline doesn't necessarily mean a bad result. Project managers must be efficient in terms of time, without sacrificing quality control.
In addition, your LSP's internal processes must be orderly and sustained by dynamic strategies. Technology-driven LSPs have a clear competitive advantage in this dimension.
This may seem like a small detail, but it isn't. The translation team should be in constant contact with you. A solid line of communication can make the final result more precise, as professional translators can benefit from your insight and expertise.
Although it is the LSP that is in charge of the translation, you should be involved in the process. Your medical translation service provider has to answer all your questions and listen to your feedback.
An expert medical translation team must be committed to confidentiality. Primarily when dealing with private patient information. This includes adhering to established procedures for keeping records secure and disposing them at the client's request.
Confidentiality agreements are a central factor in the safeguarding of client and patient privacy.  But, it must be used in conjunction with a solid technological structure to protect against external risks. This is key, as data leakage is a common risk in this field.
Work with a Leading Medical Translation Service Provider
Medical translation challenges are inevitable, but we have the tools and the people to address them successfully.
Looking for a medical translator in Dubai? At bayantech, we deliver medical translation solutions that combine accuracy and efficiency. From simple document translation to more complex medical software localization, we guarantee clear and effective communications on an international scale. 
Our team is made up of native speakers from the UAE with extensive experience in medical translation and an excellent understanding of your culture and target audience. While working tirelessly to deliver your certified translation, we comply with ISO 9001:2015 and 17100:2015 certification standards, as well as all industry-mandated confidentiality standards.
Contact us and get the best medical translation in Dubai.