In 2021, 230 billion apps were downloaded, which is more than 63% from 140.7 billion app downloads in 2016. The total mobile app revenue also jumped from $218.2 billion in 2016 to a staggering $693 billion in 2021. And with 6.6 billion smartphone users, spending a third of their day using apps, it's not surprising that the popularity of mobile apps has been steadily growing over the last years.
From games and education to fintech, retail, and grocery, the list is diverse and endless, and mobile apps are becoming increasingly more of a need than a trend. 
However, a significant percentage of users will uninstall your app because of an unsatisfactory experience. And while "unsatisfactory experience" is a broad concept and umbrella term for a list of issues that compel users to abandon your app, the language of your app probably comes on top of these issues.
Excluding the United States, these countries don't use English as their native language and have varying English proficiency levels. It's the reason why the launch of your mobile app in multiple languages is definitely something to consider.

However, translating it will not be enough. If you want your mobile application to satisfy an international audience, all content has to be localized, and it must be carefully planned. Otherwise, one little mistake can lead to big headaches and future costs. 
In this matter, mobile app localization testing is key to achieving smooth and easy navigation for smartphone users around the world. And this can be the doorway to international success for your mobile app.

Do you want to learn more about effective Mobile App Localization Testing? In this post, we'll dive deep into why it matters, its features, and how to perform it. Plus, we'll uncover the key tips to software localization you should include during the process.
Let's begin.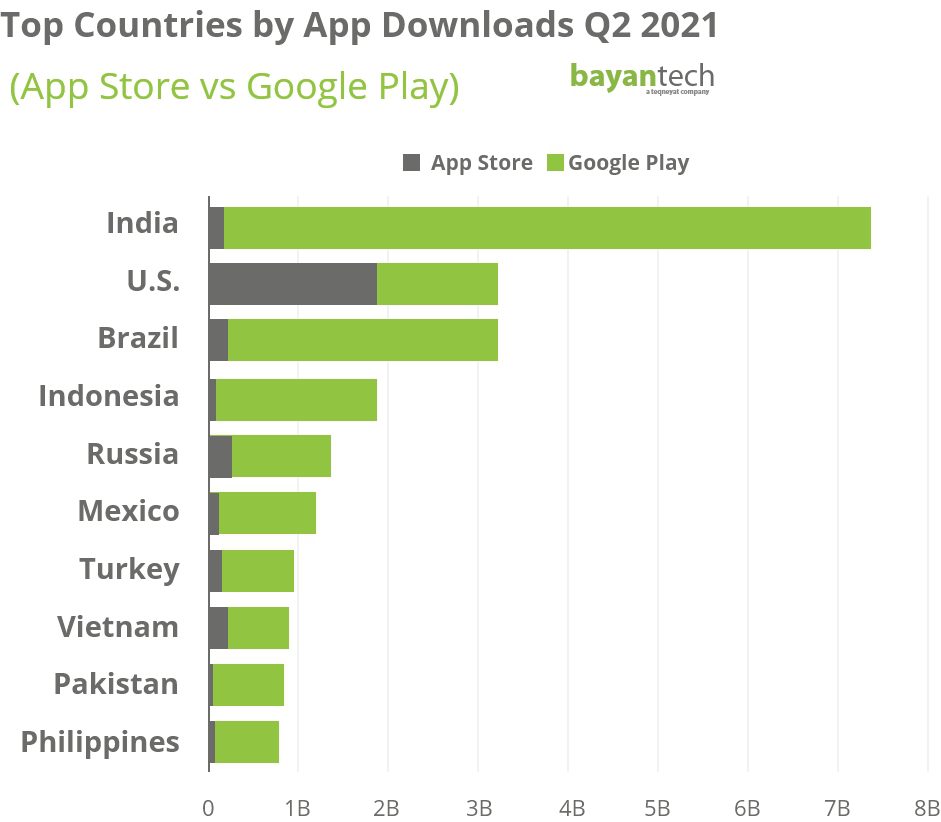 That said, let's address some items:
Without further ado, let's get started.
What Is Mobile App Localization Testing?
Localization testing is essentially performed to verify that the content of your app complies with the linguistic, cultural, and regional requirements of a specific locale. Thus providing perfect functionality and user experience (UX) for users in these locales.
It is a lot more than just standard language translation. While the testing process  includes language review (where the emphasis is placed on how accurately the translation captures the linguistic and cultural subtleties), it also encompasses the regional adaptation of all software to ensure that the foreign user experience is first-rate. That includes setting time and date format, graphics, color schemes, as well as adjusting the app's user interface to accommodate the preferences of the audience.
This is why translation services work in conjunction with localization services to deliver multilingual apps that appeal to users in terms of content, design, and usability. 
The next level of your mobile app localization is localization app testing. It is a fundamental type of quality control, where the main goal is to verify the quality and performance of the app through eliminating translation errors and technical bugs in all localized versions of the app before it reaches the hands of users around the world.
Now that you know the meaning of localization testing. Let's talk about why localizing apps are a bottom-line requirement.
Importance & Benefits Of Mobile App Localization Testing: A Recap
Technological advancement has made localization of mobile applications the most effective option for businesses around the world to thrive. And although English is considered to be today's lingua franca, smartphone users prefer to consume products in their native language. Here are some key takeaways that confirm this premise: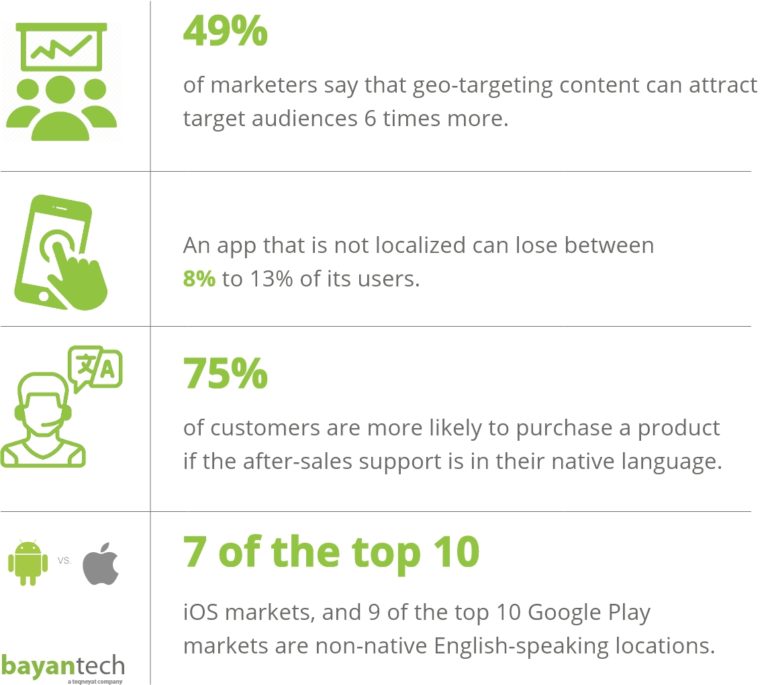 Users around the world are not likely to keep on using your app if they cannot effectively interact with your content. Speaking their native language and fully understanding the culture of your target audience is essential to build trust, increase user flow, and boost the conversion rates. 
Fluid and immersive user experiences have also become key. Businesses can't ignore the need to craft apps specially made for their target audiences — this includes everything from the software components to the app store optimization on an international basis. That's why app localization and localization testing are so important.
Moreover, mobile app localization takes care of a complete contextual check to make your application look native, thus ensuring high-quality content localization.  This includes, for instance, adjusting the visual assets of your app to all targeted languages. That way if you develop an app with English, Portuguese and Arabic versions. You won't need to worry about the text protruding from certain buttons in the Arabic one, for being a language with a right-to-left (RTL) writing system. 
Therefore, localized versions of an app increase the quality of your product and provide a more positive user experience in the long run.
All in all, mobile app localization testing:
In the following section, we'll take a closer look at the best practices that App Localization Services providers consider to be key to achieving global success.
Interested in Learning About Software
Localization Process in a Short & Clear Way?
We create a checklist for clients like you.
Mobile App Localization Testing: How To Do It
It's evident that when a project is planned and executed professionally, the results are significantly better. We often decide to be self-sufficient in fields we don't master to save money, but in the long run, the results that we expected don't materialize. Due to this, professional services are more equipped and prepared to provide the expected level considering all aspects.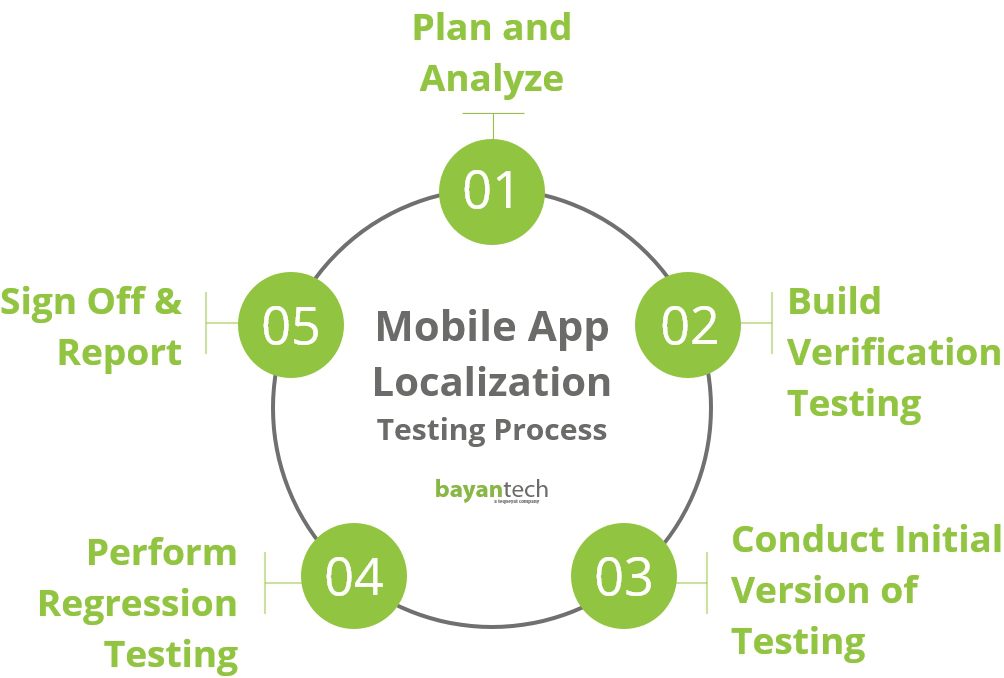 The localization testing of mobile apps follows the same principles. Expert localization services providers offer superior technology and greater localization testing capabilities than self-sufficient in-house efforts. It's simple: mobile app localization testing is complex and requires a specific area of specialization, which not anyone can master, in order to yield optimal and durable results that save you both money and time, over time.

Below are 5 key steps in the mobile app localization testing process.
The best plan is always to have one. And that should be your priority before launching tests. Perform a thorough project analysis, compiling all relevant information, objectives, and requirements. Accordingly, create a detailed and tailored plan for your localization testing, with the utmost degree of detail and precision.
2. Build Verification Testing
Before testing can begin, it's vital to perform build verification testing (BVT). By checking all elements of the mobile app software, this test ensures that everything is prepared for further testing. Put simply, BVT examines the stability of an app.
3. Conduct Initial Version of Testing
In the initial version of testing, every aspect of the mobile app software is thoroughly tested against multiple test cases to detect and fix defects. So, to execute this initial testing version, you'll need to:
.    Design Test Cases
Test cases are essential for determining how users interact with an application. An example of how the app works in the real world is the closest thing to proving its effectiveness.
.    Run Test Cases
Once the test cases are ready, it's time to get started. Make sure to take the necessary measures and note each key aspect in order to ensure that all defects are clearly outlined and documented to be resolved.
4. Perform Regression Testing
The regression test is performed when a bug is detected and the developers are responsible for fixing it. After the fix has been made, regression testing checks that the changes did not modify the application's functionality.
Prior to delivering the application to the client, localization agencies meet with all the professionals involved in the process for a final check. That's when quality control kicks in. When the quality assurance (QA) process is completed, a report with the test results is delivered to the client.
As mentioned above, these are the basic steps of a successful mobile app localization testing, but what are the most important aspects to keep in mind?
In the following section, we'll take a closer look at the best practices that App Localization Services consider to be key to achieving global success.
Localization Testing For Mobile Applications: 6 Essential Tips
Localization testing must be considered from the very beginning of mobile app development. So, If you want to provide users with a top-notch experience, here are some essential tips to keep in mind.
1. Provide Information for Localization Testing
Before starting this quality control process, it is essential to:
Facilitate context to your collaborators.

This means providing references and documents with information about the app and screenshots that give context to the testers, so they can efficiently perform localization tests.
Use glossaries

.

Create glossaries to help testers understand specific terminology. This is useful to keep your mobile app content consistent.
Include previous versions.

If your app has been previously localized, attach documents with those versions to help improve the tester's workflow.
2. Think about Region and Culture
This is a key step in the localization testing process for the app to be in line with the target markets. By using screenshots of the localized version of the app, you have to check that:
The user interface (UI) is coded in such a way that accommodates the new language, its characters and fonts, especially if this language is radically different from the source language, for example English to Arabic or Japanese. 
The content (including text, visuals, and formatting conventions) is accurately translated, appropriately adapted, and properly displayed.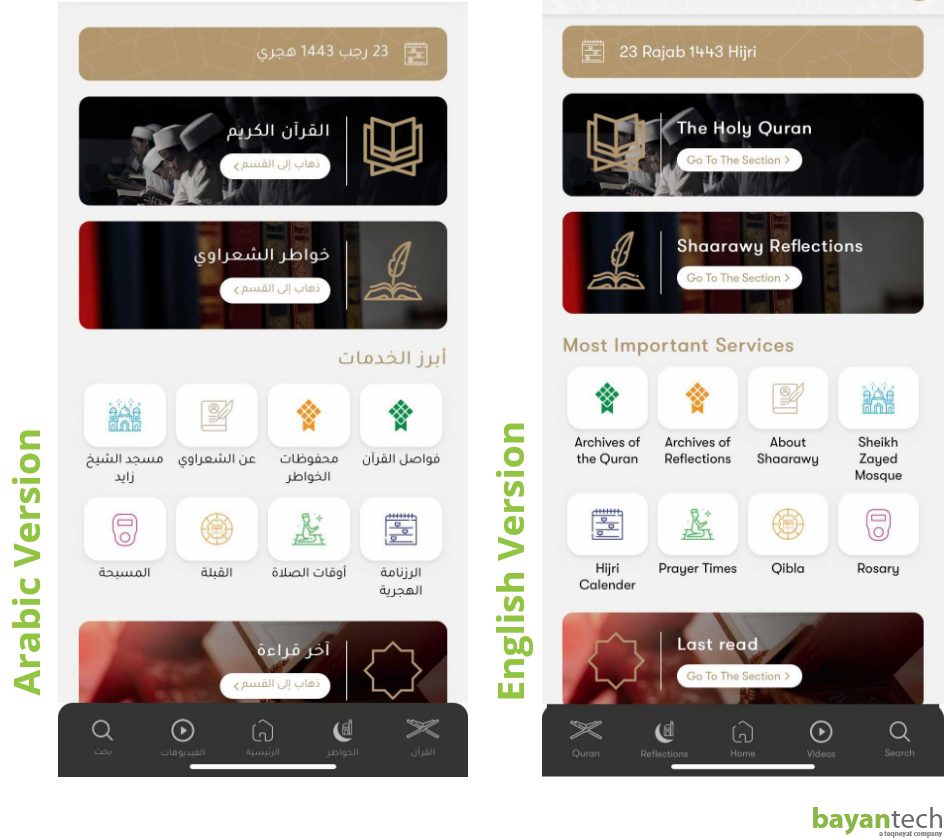 3. Implement In-Depth Linguistic Control
Translation mistakes are no joke; that's why rigorous linguistic control is imperative. This is the right moment to take into account language peculiarities and nuances, while also:
4. Ensure a Smooth User Interface
Proper UI design is essential for your mobile app to look flawless in any language version. UI testing, which is also part of localization testing in software testing, is designed to correct potential errors in software elements, such as changing buttons or text size depending on the target language. 
UI testing makes sure that:
All images that have embedded text are localized. To make sure the localization of images is a less tedious and more efficient task, it's highly recommended that you make your images more accessible by avoiding embedding text in images.
Hyphens and line breaks, on pages and screens, are perfectly placed.
Dialogue boxes, pop-ups, and notifications appear without any visual or functional errors.
The layout of the text space must be respected, without affecting the mobile app's design. Different languages require different layout spaces in order to convey the same message. For example, a text translated from English into German will expand by 30%. While a text translated from English into Swedish will contract by 20-35%.

Sign up to our newsletter to receive the latest blogs and news.
5. Perform Functionality Testing
Despite the language change, does the user interface function as expected? Is input within the user interface supported by region-specific characters? Are hyperlinks working properly? Does the input support multiple languages? 
How can you determine that? By functionality testing.
Functionality testing is an essential requirement for effective localization testing for mobile apps. This testing is particularly responsible for testing the usability of software components, such as the UI, APIs, databases, security, and fluid communication between the client and server. 
Functionality testing ensures that
6. Run Mobile Localization Testing by Platform
Professional testers understand that different operating systems have unique complexities that may influence the testing process. So, when performing the localization tests on one platform or the other you must consider:
.  For iOS
In terms of audience targeting, iOS offers fewer language options than Android. Language variations for iOS are limited not because of the platform but because of the App Store. Even though iOS allows localization in 100 languages, the App Store only supports 40 languages. 
In order to localize your mobile app effectively, you can use Apple's tools such as Xcode 11, Apple APIs, and Unicode APIs.  But when testing on this platform, you must consider the iOS App localization best practices. Should you implement localization solutions correctly, you will be able to save the time and effort that would otherwise be wasted on refactoring code and removing redundant or unused text.
.  For Android
The Google Play Store allows localization into 49 different languages. And in terms of testing, Android offers better support options for developers to include the use of emulators. Plus, it even allows them to perform localization tests in languages that are not available for the platform yet.
Android App localization is a simple process and a recommended option to start to determine the basic framework of the localization strategy.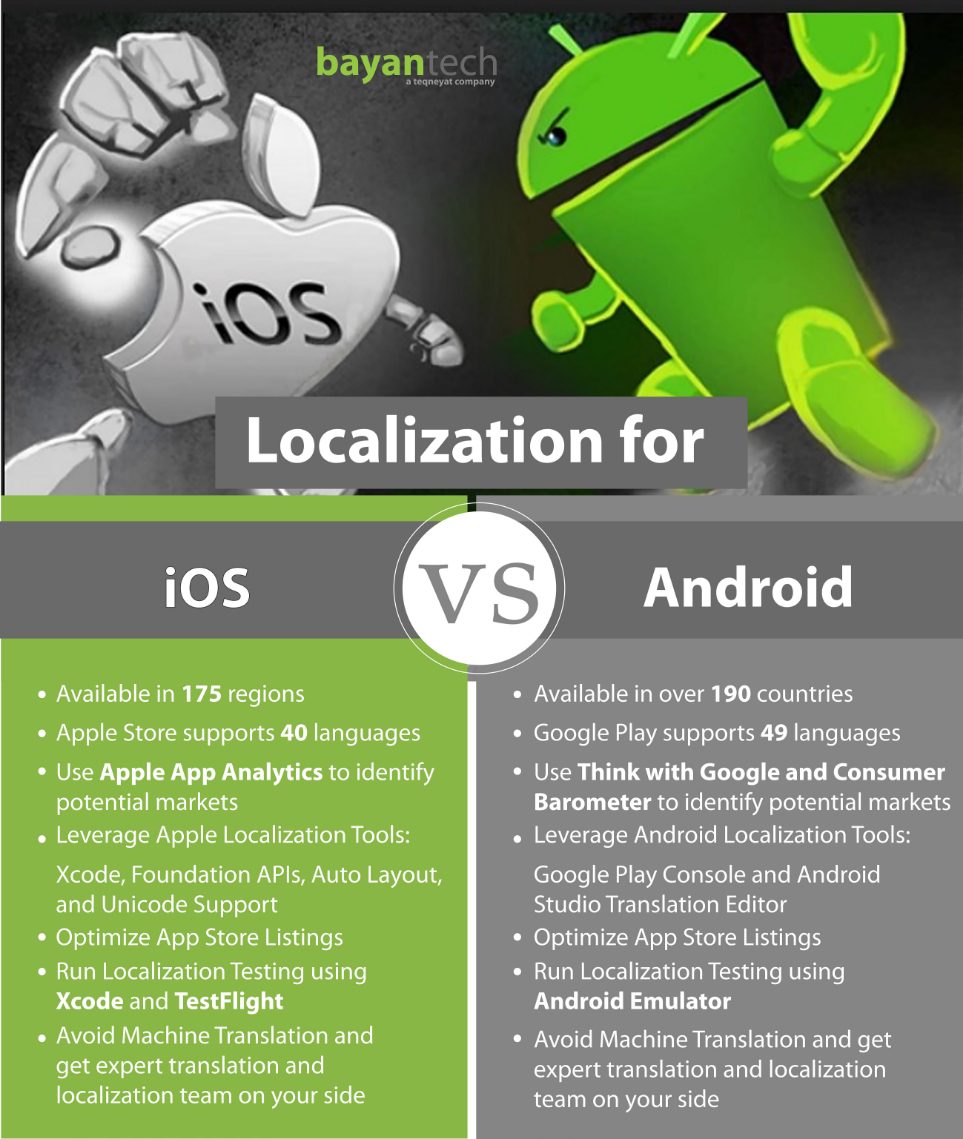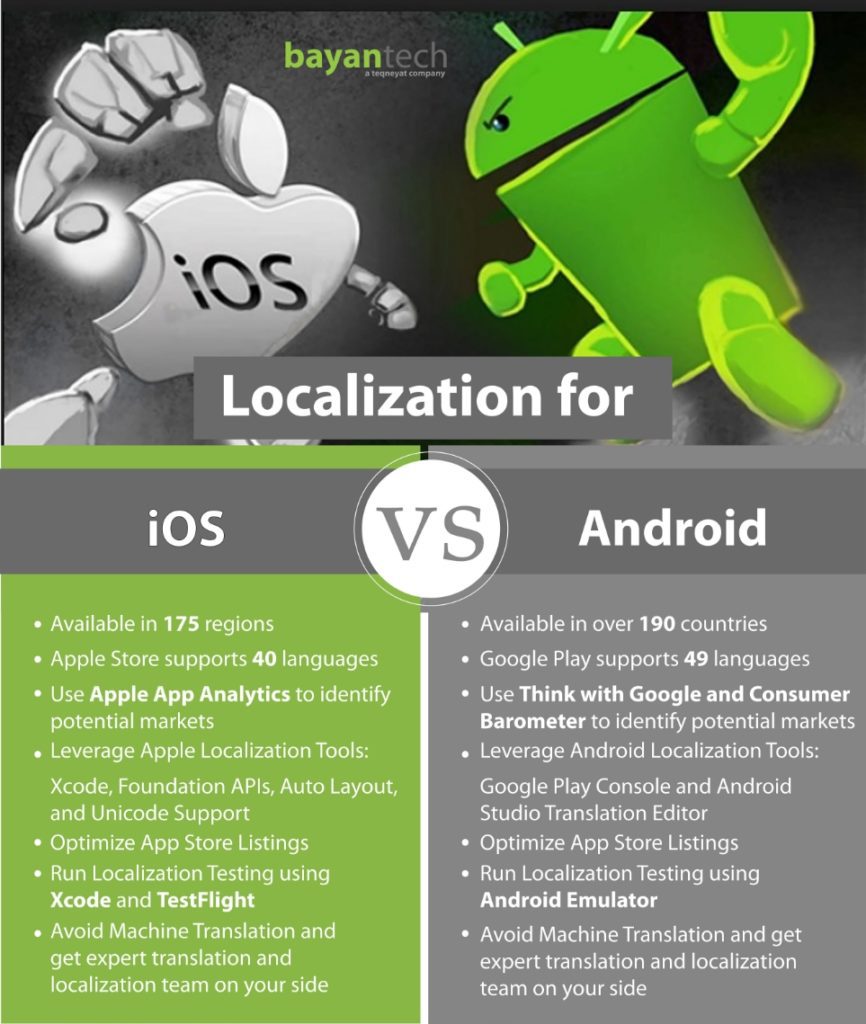 Localization Testing For Mobile Applications: 6 Essential Tips
bayantech is a professional translation company with almost twenty years of experience in the field. We are proficient at mobile app localization testing for both iOS and Android, and we know for a fact that the localization process does not end until the product reaches the market. 
We have the tools and know-how to streamline the localization process while achieving the perfect balance between efficiency, accuracy, and cost. By working with a multidisciplinary team that includes native-speaking translators, innovative editors and designers, and experienced localizers and testers, you can be assured that your app will be a top-notch experience for all international markets. Get a free instant quote.