Computers, games, devices, and software need user manuals that explain how the product works, how it should be set up, and how to maintain it. Product manuals are extremely important for the correct functioning of devices, both for personal and professional use. They are written by technical writers who specialize in their respective fields.

Translating user manuals into the native language of the potential buyers is an essential aspect of marketing a product, and, in some cases, a law requirement. Because they are highly specialized and detailed, user manual translations are complex projects that require the work of expert technical translators. The best way to find such translators is by contacting a reliable translation company.


The Importance of User Manuals
How to Translate User Manuals
Best Practices for User Manuals
The Importance of User Manuals
To compete globally, companies need to adapt to local markets. Brands that communicate in more languages consider user manual translations as a continuous need of the company.
Professionally translated instruction manuals are important for a number of reasons, such as
1. Proper Functioning of Products
Every company wants its products to function properly and its users to make full use of the products. To that end, all instruction manuals should be specific, clear, and easy to understand – and, in turn, so should user manuals translations. To ensure this, user manuals translations take into account the specific terms and particularities of the target language. Localization is also an essential element to be considered, as user guides should adapt to the particular needs and expectations of each target country. One example could be the type of electrical plugging used in every country. As most electrical appliances require plugging in, manufacturers should always specify which type of plugging is suitable for their products, and accordingly, any technical manual translation should localize this aspect according to the country's electrical plugging system.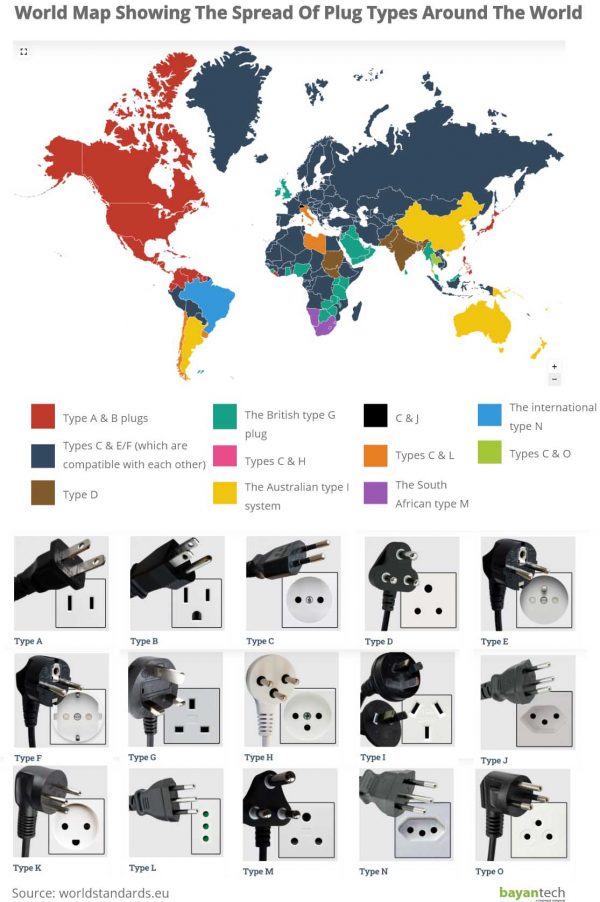 When it comes to your users' safety, you want to make sure that nothing could ever go wrong. Users shouldn't guess or speculate about the safety features or possible hazards of a device. You'll need to provide them with user manuals that are clear and easily understood, with no room for interpretation. You'll also need to provide your international users with accurate user manuals translations where nothing gets lost or mixed up.

For all appliances and devices, you should translate and adapt user manual's safety instructions to local languages and cultures. English proficiency levels vary from one region to another, with Europe having the highest proficiency scores, followed by Asia and Africa with varying scores of low and moderate proficiency. This means that you can't risk not communicating your product's safety instructions in your users' native languages. It is also worth mentioning that localizing user instructions and maintenance manuals represents an advantage even for those fluent in English, helping you effectively prevent any accidents or injuries that could threaten their lives.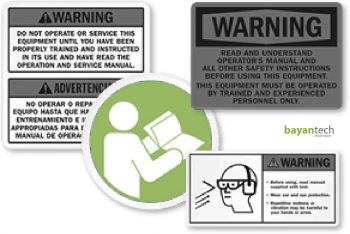 3. Expanding Customer Base
Translation enables companies to access a larger portion of the market beyond their home markets, targeting countries with a growing customer base –  and user manuals translations are no exception. When targeting specific countries, your company should consider the kind of buyer you are seeking, the type of product you are selling, and how well the product resonates with a market's requirements. Developing a smart growth strategy will then necessarily involve adapting every aspect of your product, including the product itself, marketing assets, and most importantly your product's documentation.

Expanding to international audiences and increasing your customer base also means establishing trust in your brand and building brand loyalty. Investing in accurate and effective user manuals translations, for instance, ensures an ideal user experience that not only makes your product easy to use but also solves your users' problems and delights them. With such a positive experience, you guarantee that your users choose you over the others again and again. A single typo or a small mistake, on the other hand, can cost a company its image and the customers' trust. So always make sure you partner up with the best translation services to support your expansion endeavors with accurate translations.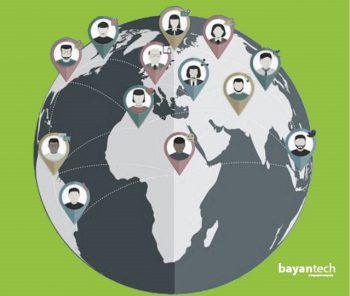 4. Avoiding Mistakes and Legal Issues
Improperly translated user manuals can become reasons for legal liability, if it can be proven that mistranslation was the cause of an accident or an injury to a user. This makes a mistake in user manual translation more than just an inconvenience to a user; it becomes a potential safety risk, causing a product's malfunction or a threat to the user's safety. With this in mind, your company should deliver user instructions accurately translated into local languages. You should also consider working with a translation agency where the translation process follows the highest standards to achieve linguistic accuracy as well as proper cultural and technical adaptation.
How to Translate User Manuals
Whether you choose to hire a freelancer (or a team of freelancers) or a translation agency for user manual translation, there are certain steps to take into account in the process. When hiring a freelance translator, verify that they have all necessary qualifications and knowledge of the field. However, be aware that hiring a freelancer, no matter how knowledgeable, won't be similar to working with a multi-disciplinary team in a translation agency.

Translation agencies have strict selection processes that ensure their teams have both the language and technical expertise necessary to deliver a more precise outcome. When working with an agency, find out about their translation technology and tools they integrate and how advanced they are. These tools include CAT (Computer-Assisted Translation), Translation Management System, Translation Memories.

The more advanced their tools and the more experienced and specialized the translators employed in a project, the better and more accurate the translation. Also, ask the agency about their translation process and their typical workflows. A proficient translation agency will always be able to communicate this  to you clearly.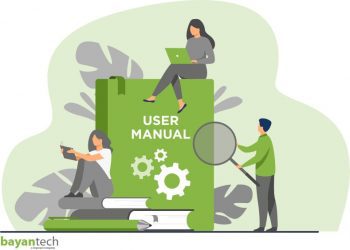 These are some of the considerations translators keep in mind when translating user manuals:
The subject matter of all user guides is instructions,   Translating these guides and manuals requires specialized translators who have an equally deep understanding of this field of translation and the industry they are dealing with, whether medical, automotive, or any other technical field. Their subject-matter expertise is an invaluable aspect of delivering precise and concise translations.

Additionally, these translators should fully understand the message they are conveying about the product. If some functions or assembly instructions are unclear to translators, they should do adequate research on the product (and the manufacturing company) to gain insights into the context of the translation. They are also recommended to directly communicate with the client for clarification. Having a full grasp of the product and the message intended, they can render the message correctly and accurately for users to read and consume .
Add pictures for different types of manuals.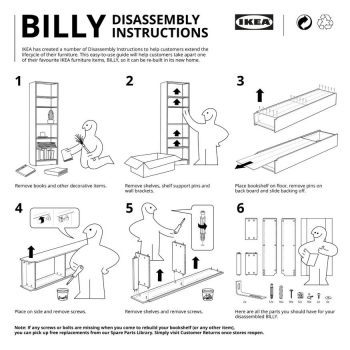 6. Specialized Terminology
User guides and manuals are rich with specialized terminology, and when it comes to translating them, clarity, accuracy, and consistency are imperative. This is where working with subject-matter experts comes in handy. Their thorough knowledge of industry-specific terms and terminology makes it easy for them to choose the right and most fitting terminology. And they carefully keep an eye on consistency. They never use two different words when referring to the same thing, which tends to confuse readers. As opposed to literary or marketing translations, where using synonyms is encouraged for a diverse text, manuals of industrial equipment or maintenance manuals don't need the same diversity.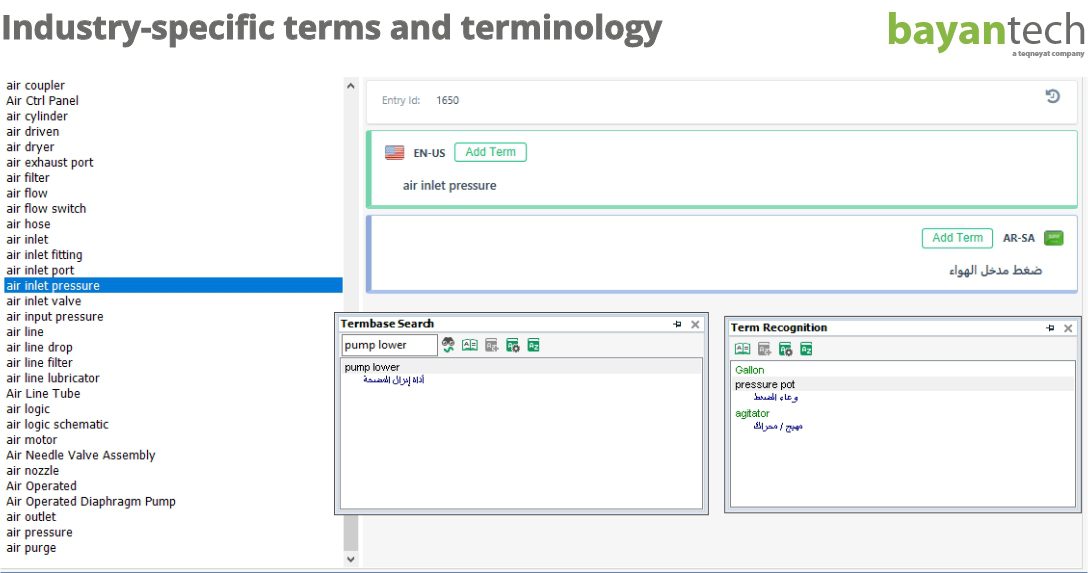 Additionally, expert translation agencies use style guides and glossaries to resolve this matter. These are internal documents consisting of lists of translation terms approved by companies for each language the user manual is translated into. A professional technical translation will adhere to the terminology in the glossary and use it consistently, in a correct manner.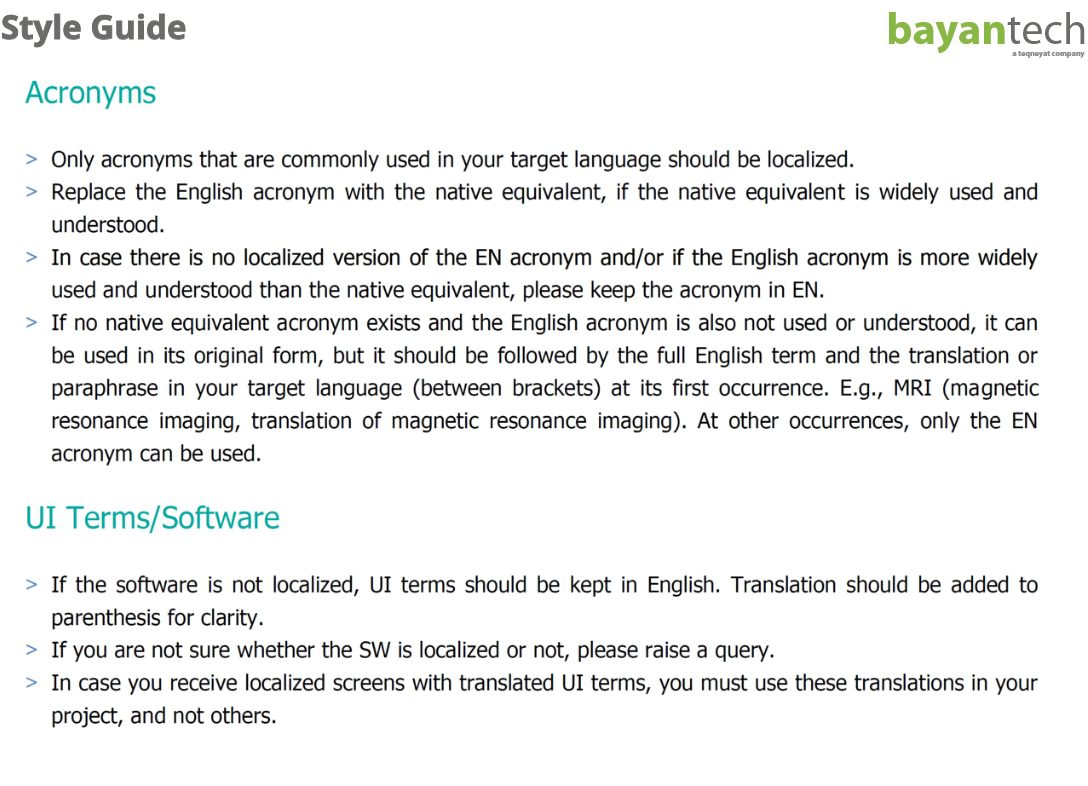 Translating User Manuals?
Whether you're a product owner in need of a user manual
translation or a linguist working on a project, check out
our quick guide to user manual translations.
Certain aspects of languages factor in professional translation, such as specialized terminology, language development, and style.
Languages develop at different paces, and sometimes technical terms are borrowed from English, because some languages don't have an equivalent word for the term. For instance, the video games industry has its own set of terminology, jargon, and slang terms that sometimes have no equivalent in some languages. Gamers will then expect instructions that use the English terms, not forced equivalents. So, for this target audience, translating all specialized terminology would seem foreign and unprofessional. This is why a user manual translator, besides all the linguistic aspects, should essentially take into account the target audience's preferences of experiencing the game.
Sign up to our newsletter to receive the latest blogs and news.
8. DTP (Desktop Publishing)
Every translation alters the original layout of the documents. Depending on the source and target language, the differences can range from minor to considerable, as certain languages and types of characters take up a lot more space than others. For example, a short text translated from English to Italian may expand by 300%. On the other hand, because of character width, a text translated from English to Korean, Chinese, or Japanese may expand considerably even if it has the same number of characters.       
Things become even more complicated with user manual translations, as these include design schemes, tables, symbols, and mathematical values. This is why the most proficient translation companies have DTP and editing teams, who adapt the post-translation material, making sure that the layout of the original document is preserved so that the manual can be published or printed. Usually, DTP teams work with graphic publishing tools, which help structure the format of a document. These include Word, PowerPoint, Excel, InDesign, Photoshop, Illustrator, FrameMaker, Corel, and Quark. The files can be in editable formats, such as DOC, PPT, Excel, InDesign, etc., and non-editable formats, like PDF, JPG, PNG, TIFF, EPS, etc.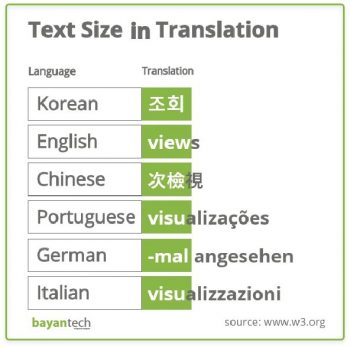 9. Additional Considerations
There are certain additional services that can ease the process of user manual translations. A project manager can opt for one or more of these services, considering that using them ensures better quality, saves time, and sometimes lowers translation costs. These services include:
Glossary Creation and Management
Glossary creation and management aims at creating and maintaining terminological standardization across projects. Glossaries are the result of analyzing manual translations and extracting certain equivalent terms that are definitory to the domain. After the client's approval, the terms in glossaries become definitive, meaning that any future translation in the respective fields is bound to follow the glossary.
Extraction is necessary when the source file is non-editable, such as PDF. Using efficient software, the text is extracted from the PDF format and transferred into a Word document or another editable format. The visual elements, graphs, and tables are thus eliminated from the manual, and only simple text remains, ready to be translated.
This is the operation opposite to extraction. It is a very complex technical process that is handled by skilled professionals with access to advanced tools. After translation, the translated text and localized visual elements are reintegrated in the original format. The end file will have exactly the same layout as the original document, but it will be in another language. Also, by redesigning, the client will obtain an editable version of a non-editable file format.
Consistency and Language Checks
A consistency check refers to maintaining a style-defined identity for each client across all files that form a translation project. During a consistency check, user manuals are verified to ensure that the translated text is coherent and consistent in terminology and style, a process that is typically performed by a language professional. On the other hand, a language check is either automated (done with the help of quality control tools) or manual (done by a linguist),  where typing, verbal agreement, and grammatical structures are reviewed for adhering to language norms.
Reviewing means checking the material for any error, whether it is linguistic or technical. This ensures that no technical-level errors will appear in the translated version of the user manual, but also that native language sentence structure is followed and that the language flows naturally. Reviews are usually done by native speakers of the language, who also have technical expertise. The most effective reviews are performed by specialists who read the text for the first time and are not part of the original translation team. This way no error goes undetected.
Best Practices for User Manual Translations
There is one aspect upon which translators, agencies, and clients alike agree: there are certain things that make user manual translation and guide translation[1] [2]  easier for all parties implied. Following these simple tips, any company seeking user manual translation services will obtain professionally translated documents by expert translators and will save time and costs.
Here are the aspects to take into account:
Although this may seem counterintuitive, translating the product's interface before the user manual translation is more cost-effective than first translating the manual. Because the interface comes with a lot of character space limits and special requirements, it will set the tone for many exact translations and abbreviations that will also appear in the user manual. Also, a translated interface will enable you to provide screenshots in native languages, which will make an excellent addition to the user manual.
In any type of documents, be it printed or online, pictures and diagrams have a stronger impact than text descriptions. They are easier to understand and less culture-dependent than language, so many end-users are tempted to follow diagram descriptions rather than sentence descriptions. Some examples of best practices for user manual translations based on diagrams are the signature  , which are almost entirely based on diagrams and pictures and keep text to a minimum.
12. Graphic Files and Text
When text is embedded within graphic files, translating it becomes extremely difficult, adding lots of time and increasing translation cost. As a principle, text in a technical manual or user guide should be placed separately from images in the document. For MS Word, text boxes are a good way to go. If the project requires multiple language translations, use letters or numbers in the graphic and leave space for a table below. With image design software, avoid embedding text in the graphics, otherwise it will have to be manually extracted and then reinserted.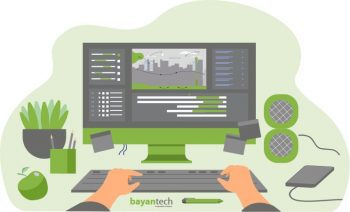 White space ensures that users are not overwhelmed with information and dense text. It is easier for any reader, no matter how familiarized with the terminology and domain, to read a text with larger portions of white space. It is also easier to translate a text with lots of white space as, in the case of some languages, the translated text will expand, so it will need more space. If the original version of the user manual leaves no white space, that means that, by translation, the allotted space could be exceeded.
Supplying the translator or translation agency with files in an editable format is one of the most cost-effective best practices for user manual translation. Extracting text and sending it to the translation agency as an Excel file, rather than sending, for instance, a CAD technical drawing or an entire software interface, will surely minimize costs and the time required for the translation.
15. Revising and Finalizing
An internal reviewer can offer a very good insight in the user manual translation process. Given that many companies use acronyms or terminology that are not commonly understood, instructions on their definitions and translating them are very useful for translators. Also, always provide only finalized documents to translation teams. Apart from writing them in clear, simple language, make sure that you don't send documents that are not final, as this may lead to errors, mistranslation, or project delays.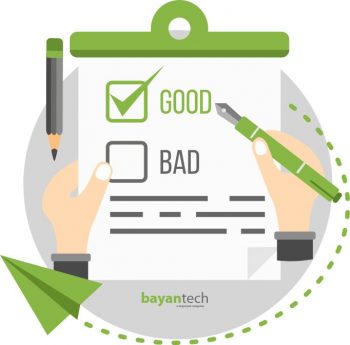 To ensure that the user manual translation process is smooth and has a great end result, every manufacturer or company should consider certain steps.
1. Create a glossary containing the most important technical terms that should be translated.
2. Agree upon the style your company prefers for instructions, graphic files, and layout.
3. Establish what local  languages you target and make sure you study the local market and its specific requirements.
4. Finally, upon choosing a translation agency, make sure that all communication is clear, that you understand the internal workflow, and that the agency understands your requirements.
bayantech is a company with almost two decades of experience in translating user manuals for leading tech companies and manufacturing giants all over the globe. Our expertise is the result of industry-based knowledge, quality assurance processes, and state-of-the-art technology.