Book translations play a significant role in educating people, shaping cultures, and spreading ideas and insights all over the world. That's the universal perspective of things. But from a more individual perspective, authors translate their books, looking to unlock great opportunities for international exposure and growth possibilities in new markets. 
If the idea excites you, then it's time to consider translating your book into one or more new languages. But while you are taking this one step forward, one thing can make you take two steps back and that is: book translation services cost.
While planning your book translation strategy, the cost of professional translation services for your book can be intimidating. The truth is pricing can be complex. There are different factors and pricing models that determine book translation services' costs. How can you make the right decision and get the best quality of your book translation? How can you know that you got a fair price?
In this post, we will walk you through book translation service costs, what factors determine the pricing, how to calculate its costs, and how to choose the right language service provider  (LSP) to help you.
Firstly, What Are Book Translation Services?
Book translation services are professional services that translate and adapt books from one language to a new one. These services are employed to help authors and publishers expand their best works into new markets and explore new areas of growth and profit. 
Much to most people's dismay, book translation is a tremendously demanding type of translation. It's not usually categorized as a specialized field of translation, but it requires the same expertise, dexterity, and extraordinary eye for details, as specialized translation – probably with relatively more room for creativity.
Book translation requires that the translator respects and honors the original work, remaining faithful to the author's spirit, intent, and style.

But book translation isn't always synonymous with literal translation.

The translator has to convey the author's art and wording to a completely new language, while taking into account the cultural and contextual nuances of the target readers. This allows these new audiences to understand and resonate with the publisher's or author's message and perspective, but without detracting from the original text's essence and beauty.
Such delicate balance is what makes the difference between good book translations and GREAT book translations.
But before we explore the cost of such greatness, here's a reminder of why it's all worth it.
Why You Should Consider Book Translation Service
Publishing a book is a great, prestigious accomplishment in itself, however translating it opens up a huge range of opportunities. Here is a glimpse into a few of them.
.Give You the Power to Share Your Story. Translated books pave the way to introduce new ideas and points of view to the world, making voices, suffering, needs, and rights heard, seen, and supported in new larger markets. 
.Increase Chances for Your Book Success. Foreign, untapped markets present less competition and better performance for your book, especially if it tackles the most trending knowledge areas such as information technology and digital marketing. 
.Boost Readership, helping authors increase their visibility globally and connect with readers in different regions around the world.
.Achieve Global Recognition, with book translation, writers can transcend borders, making their books available and easily accessible by global readers and eventually gaining the most desired appreciation and recognition of their talent and work.

.Maximize Book Profit, new markets mean hundreds of thousands of readers, and essentially sales.
Need more convincing? These numbers will do.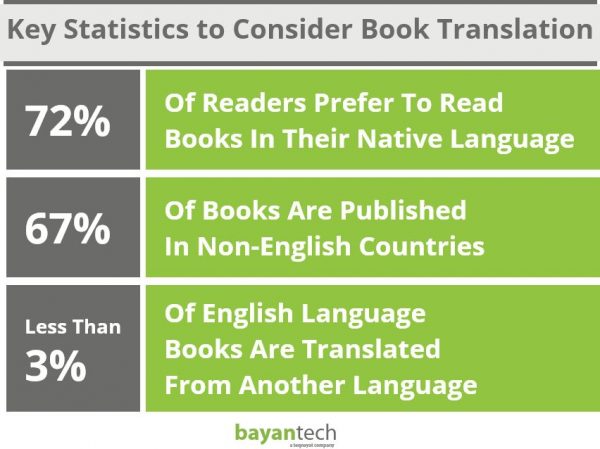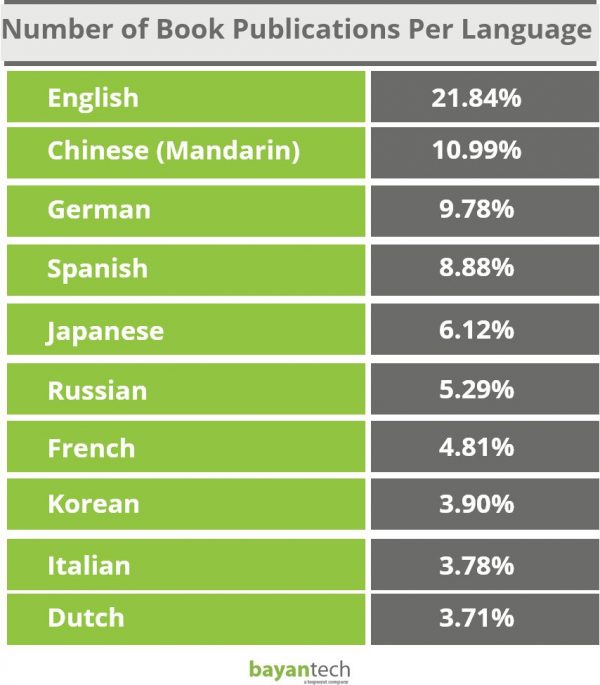 And stating the obvious, people won't read your book or any book for that matter if it's written in a language they don't know or they aren't fluent in. And even if they do, whether it is for pleasure or education, nothing's like consuming art and content in one's native language. In fact, statistics have shown that 72% of readers prefer to read books in their native language.

It's no surprise then to know that 67% of books are published in non-English countries, and the potential readership in those countries is over 500% higher.

But you'll be surprised to know that less than 3% of English language books are translated from another language, that's not a lot. It's different in Europe.
5 Factors that Affect Book Translation Service Cost
Now, let's get to business. As you are getting started with your book translation, you find that pricing varies greatly. But what do they vary? Is it fair and right for you? To answer that, you need to learn about the different factors that affect pricing.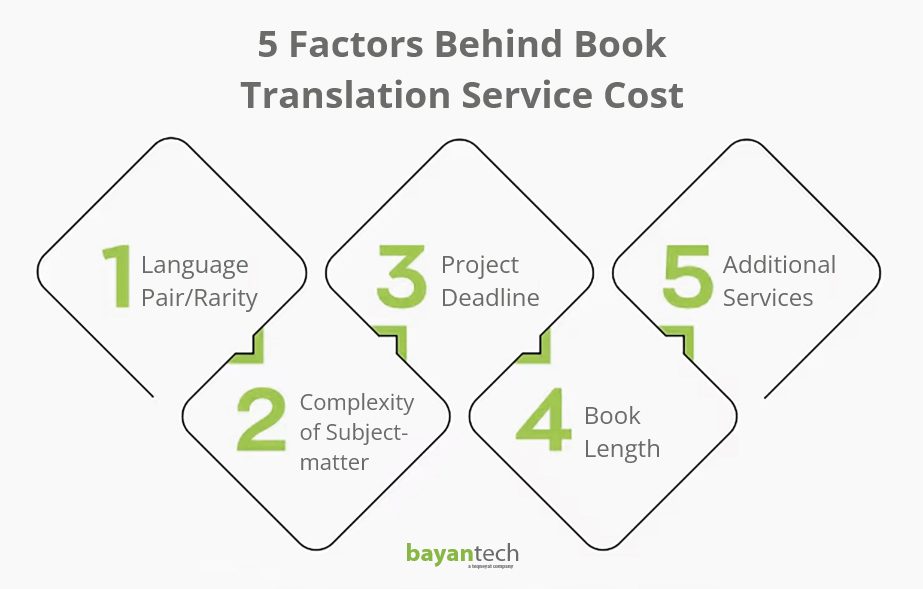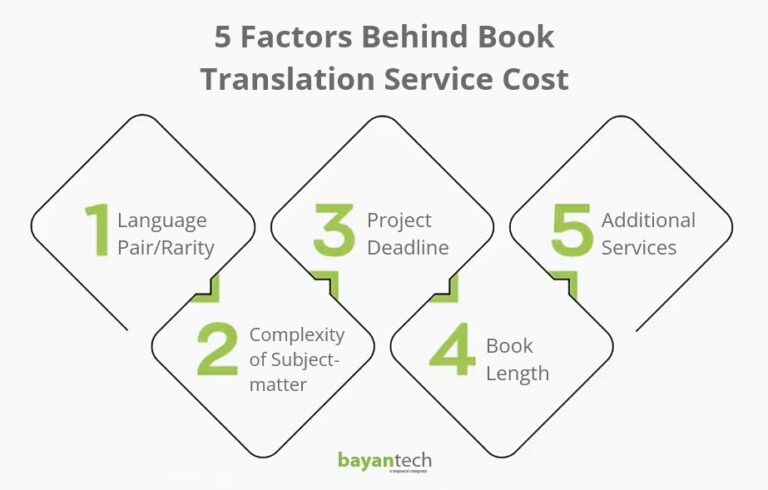 Book translation service costs might vary according to the language combination and/or language rarity. As a rule of thumb, the more common and widely used the source and target languages, the more affordable your translation project.
Also the more common the language pair, the more affordable your project is. For instance, translating an English book into French or Spanish will be more affordable than translating a book from Lithuanian into Swahili. Because Lithuanian and Swahili are rare language combinations.
The reason behind the higher book translation service cost for rare languages combination is that there are few qualified translators experienced in speaking or translating those languages.
Subject matter in book translation refers to the translator's expertise and knowledge of the field and genre of the book. The technical translation cost of a book translation can increase if your book complexity is high, which requires a genre/industry expert translator. 
For example, if you wrote a book about the Covid-19 pandemic and its effect on the world's economy, you will need a translator who has expertise in economic book translation, not a literary translator. Specialized book translation service cost is double more than non-specialized translation projects.
Sign up to our newsletter to receive the latest blogs and news.
A project's time frame affects book translation service costs greatly. Requesting a translation project on a tight deadline raises the cost of book translation services, because that requires flexible turnaround time, wide resources, thorough research, and dedication. 
To avoid higher translation costs, plan ahead before your intended publishing time. This way you can receive better quality and pay fair, reasonable book translation expenses.
One of the main factors determining book translation service cost is book length. 
A book's length will affect the time and effort it requires from the translator to deliver it. For instance, a book that has 200,000 words and +500 pages is more costly than a book with 50,000 words and 150 pages.
Depending on your specific needs, there are many categories of services that you can request. When it comes to book translation services cost, Translation Services Providers often offer different types of extra services, each with its features to meet the unique requirements of each book translation project.
A Handy Guide to Technical Translation Rates
Get this article's core concepts, in a portable and convenient format.
How to Calculate Book Translation Service Cost?
There are common pricing models to calculate book translation service costs.

It is the most used pricing model for book translation service costs and varies depending on the source and target language of the book, among other things.

But put in mind that it can be tricky to count based on the number of words in the original text for books in languages with more words than the source language. That's because the number of the original and the translated text words might differ from one language to another; for example, Japanese and Chinese use significantly more words than English to communicate the same meaning. 
This model in book translation service cost is based on the number of pages of a book. Usually used with books with heavy graphics, although it's uncommon, some translation service providers base their prices on the number of book pages. Calculating the cost of translation per page can be challenging because a page's word count might vary greatly. 
But How Much Does a Book Translation Service Cost?
Here's 2023 estimated book translation service cost range.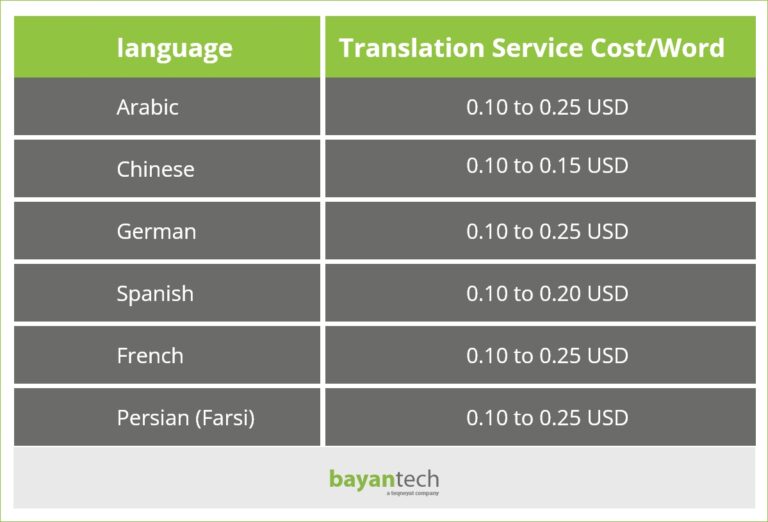 *Note: This is an estimate only, based on the market, and may be subject to variation.
How To Choose The Right Book Translation Company?
Not only the book translation service cost that should determine the decision of your translation company but also other metrics to put in mind. 
The last thing an author or publisher wants is for their message to be lost in translation. 
Machine translation might be cheaper. But it doesn't guarantee the quality of the outcome, nor the originality of the art in the source material. 
With machine translation you might be risking mistranslating the meaning or not expressing the literary aspect of your book, losing the sense of humanity and voice of the book. 

When choosing your LSP, think about a reputable translation company that can assure to maintain accurate, consistent, and error-free translation. Furthermore, a professional translation service provider with a reasonable translation service cost makes an ideal choice.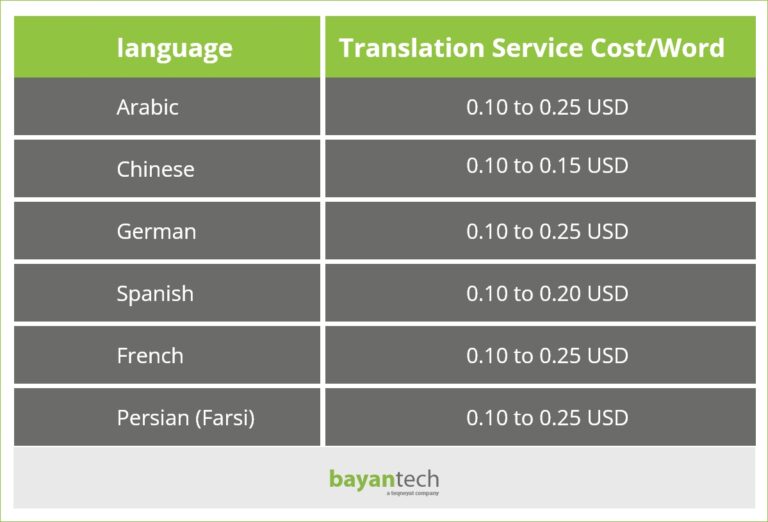 *Note: This is an estimate only, based on the market, and may be subject to variation.
How to Know if your LSPs Will Achieve the Desired Quality?
Book translation quality, if not done right can drastically affect the reception of your book and its sales. Here's what determines the level of quality assurance LSPs can produce:
.ISO Certifications 
To guarantee a higher quality for your book translation projects, you need to search for translation companies that follow high standards of translation industry regulations like the ISO Certifications. These certifications are the international standard that defines certain requirements for quality assurance of translation services. So always go for ISO 17100 and ISO 9001 certified LSPs.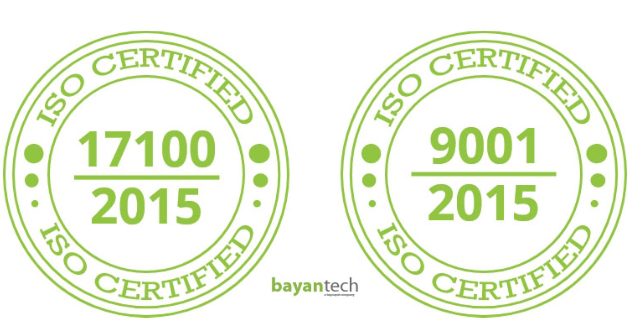 .The TEP Process 
TEP is an abbreviation for the translation, editing, and proofreading process. TEP is an industry-standard practice that is acknowledged to maintain the utmost quality and accuracy of any book translation workflow, protecting the spirit and meaning carried from the original language.

Reputable language service providers who follow TEP process standards can guarantee to offer the highest-quality translations because of the multiple reviewing and editing rounds by 3 or more experienced editors.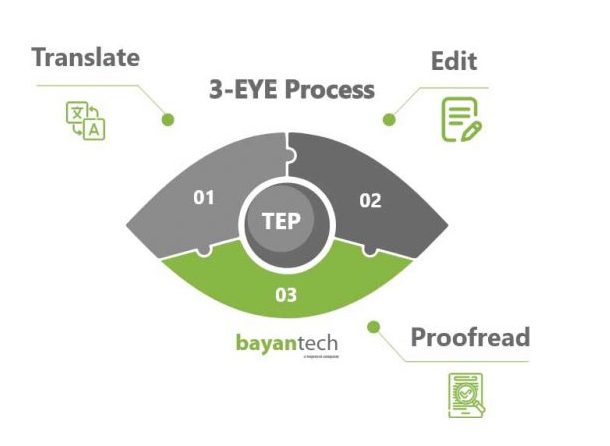 .Translation Technology 
When choosing your LSP for your upcoming book translation project, you need to consider if your service provider uses the latest translation tools and technologies.

These tools are very efficient to help complete the translation project in less time, lowering the cost of translation, and producing the final product with more accuracy. These technologies necessarily include an advanced Translation Management System (TMS), translation memories, CAT Tools, and more.

CAT Tools, for instance, ensure more consistency and accuracy in translation projects, where segments of text that have been translated previously can be stored and reused for future translation projects.
bayantech: Your Expert Book Translation Services Provider
You have come this far to attain the great benefits of book translation services and get the full picture of book translation service costs.
With almost two decades of experience, bayantech has been successfully providing the highest quality book translation services, collaborating with top-tier publishers and book authors in all book genres in 120 languages, making bayantech the first choice for book/literary translation services. 
Our gifted linguists, who have years of expertise in translating different book genres will go above and beyond to fulfill your request for book localization. We don't just translate word to word; we also adjust the words, images, and visuals to match the target nations' cultural preferences.

Our book translation services combine unparalleled quality with confidentiality and competitive pricing. See it in action.
Ready to translate your book? Contact us to get our book translation services quote with one click!