Now, that you have decided to incorporate translation services as part of your global business expansion strategy, the cost of professional translation is something that might hold you back.
Many businesses understand how important translation is in expanding their global presence but the misconception that translation comes with a price tag can put them off. 
And for those confident enough to invest in translation, another challenge awaits – finding the right balance between quality and cost, especially since translation rates vary significantly!
But is it really that challenging? 
If you're contemplating translation services, you are probably seeking answers to some burning questions: how much do translations cost, how do they vary greatly, and why? This article will be your guide, giving you some clarity and helping you make an informed decision.
So, let's get started.
How Much Does Translation Cost? [Calculator]
If you want the most accurate estimates for your upcoming translation project, we recommend you use bayantech's free online calculator. It's easy. All you need to do is fill out this form and you'll get an estimate for how much the project is likely to cost, within a few minutes.
Translation Services: A Cost Or An Investment?
Many businesses view translation as an expense; others recognize the significance of investing in translation as a revenue-generating strategy.
The first ones aren't wrong. The second ones get the big picture.

Let's be honest: translation does involve financial costs. And businesses naturally have an aversion to expenses that they don't see a direct value of. But this traditional mindset can hinder your business growth.  
Businesses invest in professional translation services to scale their business globally, tap into new markets, and target more potential customers. This diverse market penetration and broad customer base lead to impressive sales and return on investment (ROI). 
Come to think of it, the upfront cost of translation can be seen as a means to unlock long-term profitability and sustainable business expansion.
But translation in itself isn't an investment, high-quality translation is. Opting for low-quality language services to cut costs turns the money you pay into mere expenses your business incurs.

And, sooner or later, you will start to taste the bitterness of poor quality long after the allure of low prices fades.

But if you truly want to know whether translation is helping your business meet its goals and whether it's a true investment, sometimes all it takes is to measure your translation ROI.
Here are 3 Key Metrics to Measure Your Translation ROI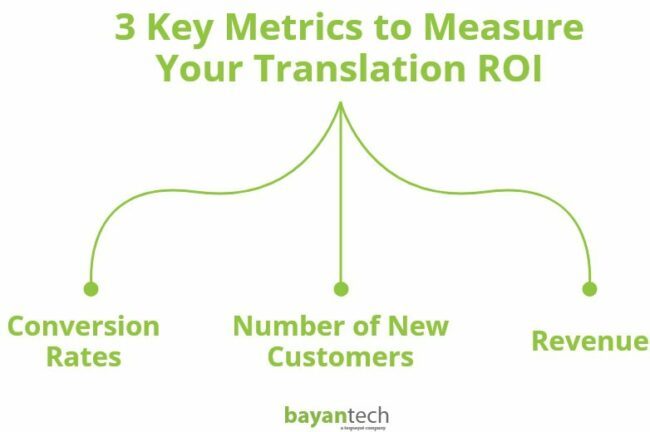 So, let us explore how high-quality translation services can improve your business's ROI.
How High-quality Translation Can Improve Your ROI
With translation, you convey, communicate, and connect – the 3Cs.

You convey your business content in different languages, communicate your brand's message clearly and effectively, and eventually connect with your target audience in their native language and on a personal level. 
This is how you build a broader customer base on a global scale. And this is a key indicator that your investment in translation is paying off.

Translation makes it easy for your multilingual customers to use your services and products properly, which streamlines their experience and boosts their satisfaction. The thing that drives them to take action and make a purchase.
In fact, a positive customer experience is believed to yield 20% higher customer satisfaction rates and a 10% to 15% boost in sales conversion rates.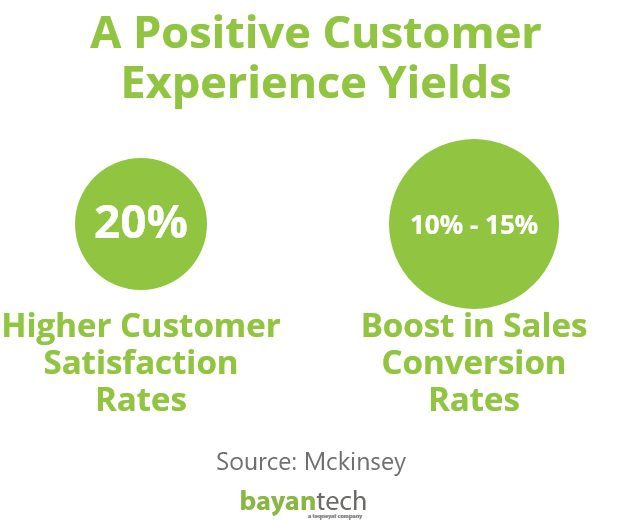 This is another key metric that can help you determine whether or not translation was a successful investment.
According to CSA's survey of 500 Fortune companies, businesses that augment their translation budget were 1.5 times more likely to report an increase in revenue. So why?

Since translation has the magical ability to foster customer loyalty, it definitely contributes to a significant increase in revenue. Research has been showing for years how translation plays a critical role in customer decision-making, boosting engagement and fostering customer loyalty significantly.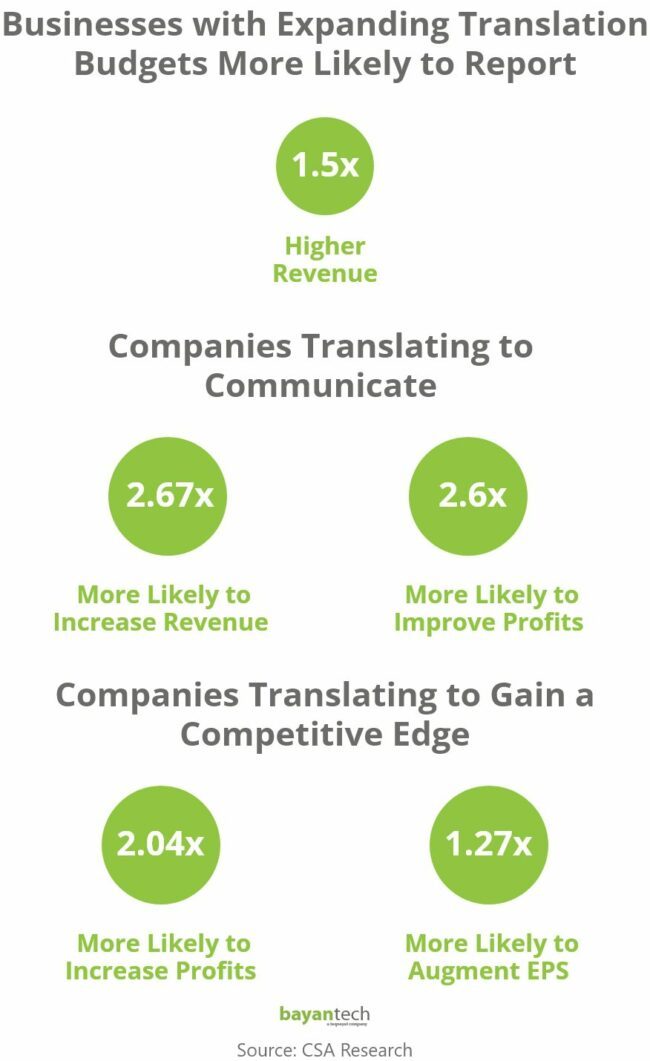 As you offer them information in their language, you are tailoring your communications and driving personalized experiences, which foster a sense of connection. This connection and relevance increase the likelihood of customers making and repeating purchases as well as spending more per transaction.

Not only that, but customers are then more likely to share their positive experiences with others, driving your revenue growth without significant marketing expenses.

Ultimately, this improves your profitability and increases your market share.
Now, want to know how much you should pay for your next translation project? Find everything below.
8 Steps Every Medical Interpreter Takes
Looking for a medical interpreter? Discover the career path of medical interpreters and qualifications they need to acquire to take on interpreting jobs.
Sign up to our newsletter to receive the latest blogs and news.
Translation Services Cost: Average Translation Rates In 2023
Translation rates are commonly priced on per-word, per-page, or per-hour bases. 
In 2023, the average translation rate per word falls between a minimum of $0.9 to a maximum of $0.50, depending on various factors including language pair, subject matter, and turnaround time.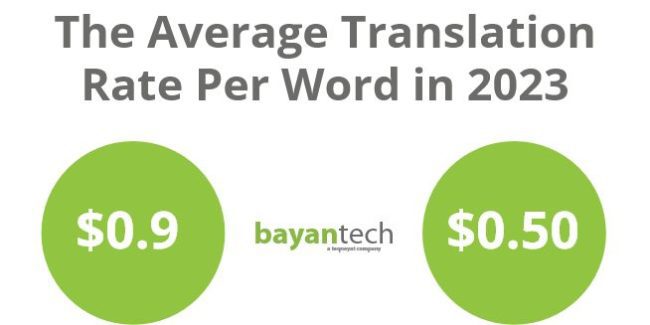 Language pairs that are more widely used tend to be more cost-effective. So, the more common the language pair, the more cost-effective it is.

For example, English and Spanish or English and Chinese are low-cost language pairs. Arabic and Japanese, while relatively less common, are still reasonably priced. However, certain Central and Eastern Europe CCE languages can be more expensive.

For websites, translation rates per word are slightly higher, compared to document translation rates. The cost may increase if the website contains multimedia content and may require additional services such as subtitling, transcription, multilingual SEO, and UI/UX localization.
However, calculating the word count for website translation is not a straightforward process. Localization specialists must identify and extract translatable content, referred to as strings, in resource files. They then remove non-translatable elements such as code snippets, tags, or special characters to determine the final word count.

On the other hand, Desktop Publishing DTP costs are typically calculated on an hourly basis, ranging from $30 to $70 per hour, determined by the complexity of the files and the tools required to complete the project.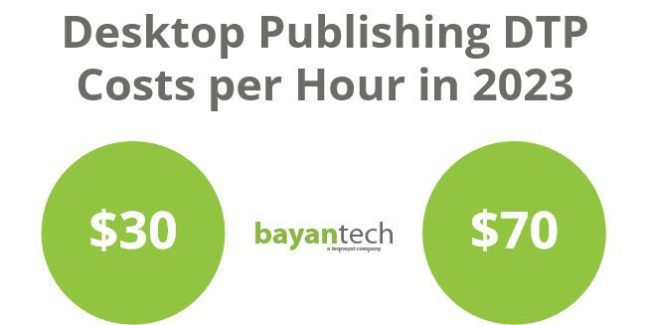 It's worth mentioning that rush translations and specialized translations rates are usually higher, sometimes up to 100% more.
How To Strike A Balance Between Quality and Cost 
When seeking translation services, businesses want professional, fast, and cheap. And the challenge of balancing quality and cost becomes a nagging concern. But the undeniable truth is, trade-offs do occur between these three elements.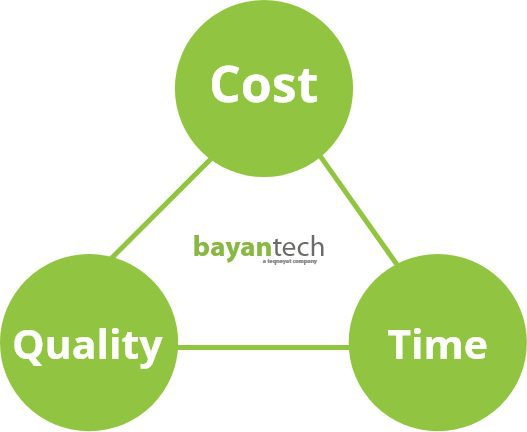 Affordability is a key translation decision-making factor, yet falling for suspiciously cheap translations often leads to subpar quality that can negatively impact communication effectiveness and brand reputation, which may cost you even higher than the initial cost.

On the other hand, investing heavily in expensive translation services that promise outstanding quality, may strain budgets, hinder profitability, and potentially halt translation efforts altogether.

However, there are effective ways you can strike that balance. One effective approach is to collaborate with a reputable translation agency.

Such agencies take the time to understand your business, determine your priorities, and recommend cost-reduction strategies to choose the right solutions for you, without breaking the bank.
For one thing, they put professional native-speaking teams of translators, language professionals, and subject-matter experts in charge of your projects.
Second, they have rigorous quality assurance in place, especially those conforming to ISO 9001 and 17100.

And lastly, they are equipped with the latest translation technology to maximize the efficiency, accuracy, and consistency of your translation.

Need help finding the Post Machine Editing service for you?
Get our client guide to machine translation post-editing rates and take your search to the next level.
With strong teams and certified quality assurance, you can have complete peace of mind they can actually do the job right the first time.

This eliminates the risk of poor or offensive translation that could impact your sales, jeopardize your credibility and reputation, put you at risk of legal action, or necessitate costly corrective measures.

What's more, translation technology, such as a Translation Management System, CAT tools, Translation Memories, and more, can cut costs drastically.
Now, in the golden age of AI, some businesses are opting for machine translation for its speed and cost-efficiency benefits. However, since the output quality is still not on par with that of expert human translation, Machine Translation Post-Editing has emerged. 
When considering the cost of Machine Translation Post-Editing, translation rates can vary, ranging from as low as $0.05 per word to as high as $0.30 per word. The exact rate depends on factors such as the language pair, the complexity of the content, and the level of post-editing required.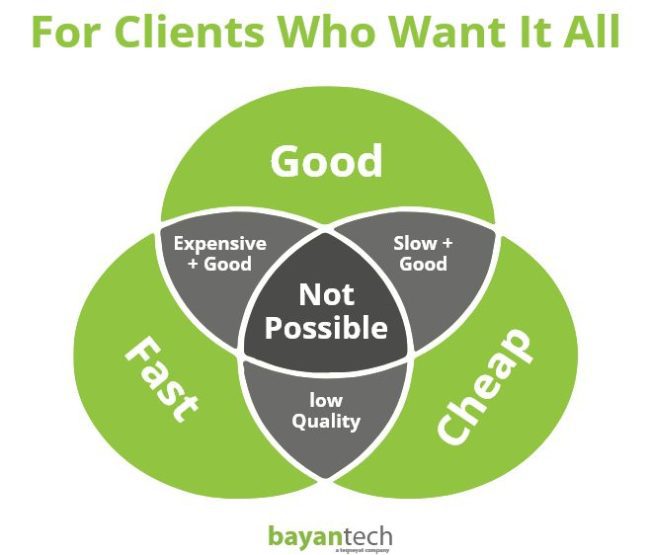 Tips & Tricks To Minimize Translation Costs and Maximize Quality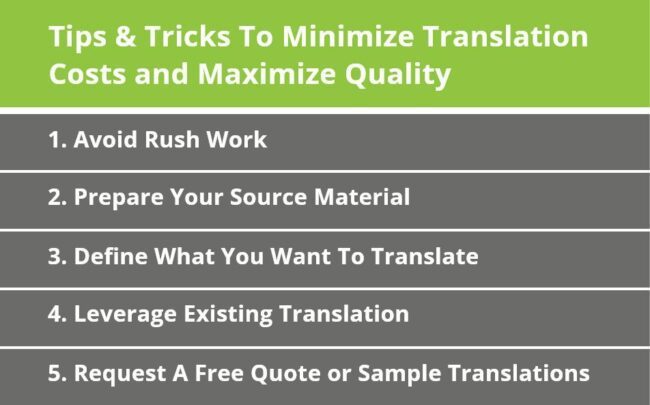 If you are not really in need of rush translation services, try to steer clear of requesting tight deadlines. Rush work often incurs additional costs. Allow your translation services provider sufficient time because this will work both ways, reducing expenses and enhancing translation quality.
You should always be very precise about what you want to translate. Prioritize key business content and make sure you are not translating duplicated files or repetitive content. 
This improves the quality of your translation early on while ensuring significant cost reduction.
When searching for translation companies and looking for the best value for your money, you can request a free quote from different providers. This way, you can compare the services, quality, and translation rates of each provider, which empowers you to make an informed decision that aligns with your quality standards and budget constraints.

Make sure to provide detailed information about your project. This includes the language pair, the type of content you want to translate, the word count, the subject matter, and your expected turnaround time to receive an accurate and customized quote.
You can get your free and instant translation service quote from bayantech here.

You can also request sample translations or a small initial project to evaluate the quality of their work firsthand.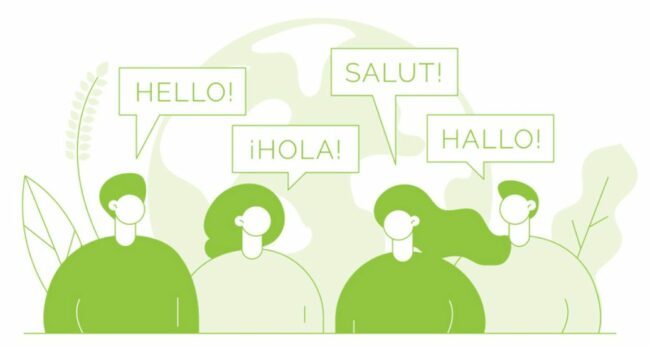 Choose an Experienced Translation Agency
The article started with: how much do translations cost? But the real question is how to find the right balance between quality and cost. All it takes is a reliable translation agency.

At bayantech, the right balance is possible. We understand that while cost is a significant consideration, compromising on quality is not an option. At bayantech, you get both.
As a leading translation company in MENA, bayantech provides a full range of translation and localization services that conform to the international ISO 9001 and 17100 certifications.  Our teams of expert native-speaking translators and language professionals, robust quality assurance, and advanced translation technologies empower us to deliver the highest quality possible.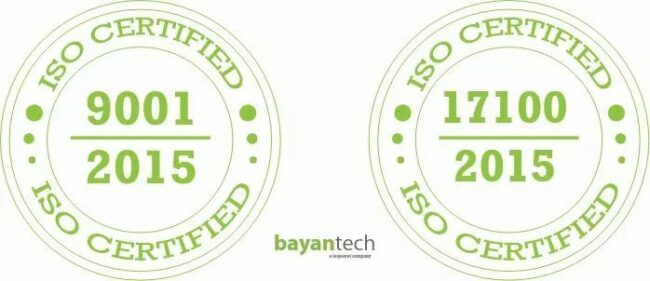 Thanks to our customized, transparent pricing plans, bayantech has the most competitive rates in the translation industry, delivering high-quality translations at affordable rates.
If you find yourself asking, "How much do translations cost?", get a FREE translation quote now. Compare pricing, and see how much you can save with bayantech. Or contact us to talk to our experts and let us guide you through the process.