For global decision makers in the financial industry, this is a time of great growth. Following the economic shock of the Covid-19 crisis, many companies are refocusing on their growth expansion after the progressive dilution of the new normal's constraints. Over the next few years, the market is expected to reach $28,529.29 billion at a CAGR of 6%. 
One of the top players in the financial sector is China, whose GDP is poised to grow around 5.5% in 2022. Currently, China is tending to open its financial market to attract more foreign investment, and investors have demonstrated to be greatly keen on this recent movement.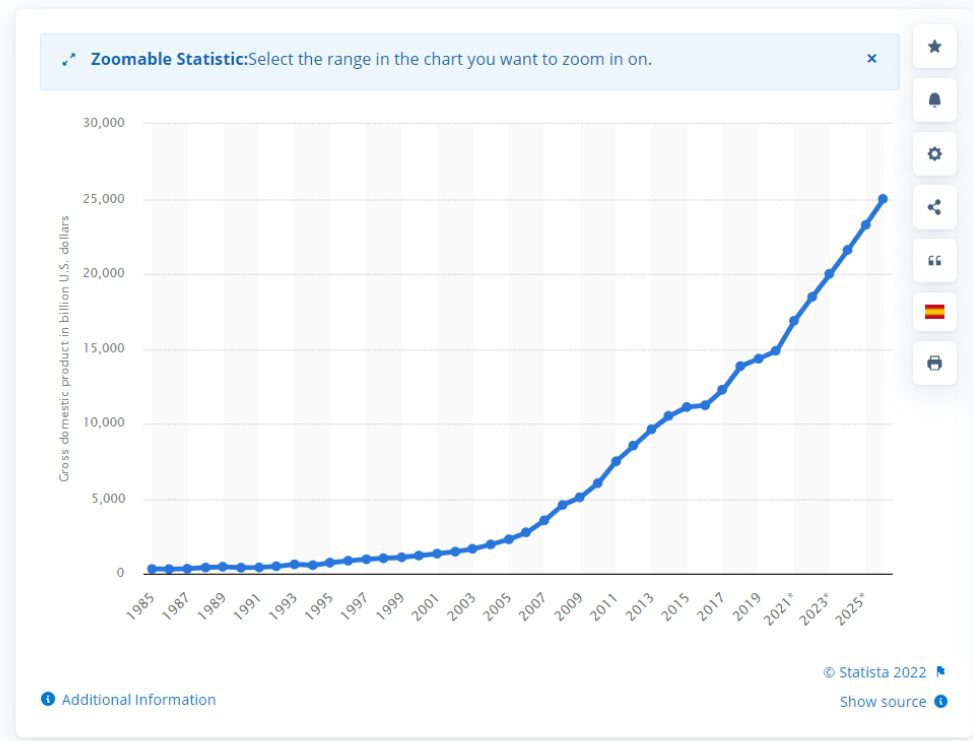 But there's one thing. As you know, any company entering a foreign market must provide financial statements for investors, suppliers..etc. And these documents are to be set down in the business market's language. In the Chinese market, for instance, this is a particularly important requirement to observe.
That said, financial statement translation is quite a challenging process. Detailed financial documents require a certified and reputable financial translation service to provide a precise translation. So now you may be asking yourself: how can someone be sure to choose the right service provider?
Well, this post is for you.
We will explore the importance of professional financial statement translation, as well as the different types and challenges involved. Furthermore, we'll discuss some key tips to consider when selecting a language service provider for a high-quality financial statement translation.
Let's get started.
The Chinese Business Environment: A Brief Overview
China is currently facing a
remarkable
boom in its business sector. The country's government has taken substantial measures for international funds to establish in its territory. Besides the recent design of the
Foreign Investment Law
that initiates a vigorous promotion of foreign investments, three factors explain China's boom:

Expectations:
China's fund management firms will top the 5.6 trillion US dollars in AUM by 2025, making it the world's second-largest market after the US.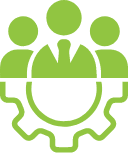 Liberalization:
China's bid to further expand its capital market's opening-up has proved to benefit greatly Non-Chinese asset managers greatly.
Resilience:
China has already shown signs of growth post Covid-19, as evidenced by the launching of multibillion-dollar retail funds. The country is ahead of almost every other on the road to recovery after the pandemic.
And if that wasn't enough, China also has a population of more than 1.4 billion people making it one of the world's largest consumer markets. A country's strong consumer base, alongside its social, economic, and political stability, proves to be a great investment opportunity. It's why foreign companies are increasingly invested to settle in the country, especially with the  Chinese government's desire to expand the financial sector. 
So, yes, the Chinese market offers enormous business chances. Nevertheless, gaining a foothold in a foreign market is always challenging. It may sound basic, but one of the most difficult things is to be understood. The people you need to deal with speak a different language and share a distinct cultural background. As a business owner, you must thoroughly take this into account. And in the case of financial statements, this is even more imperious. 
To take your business to the next level, you need to appropriately translate your financial statements to the required target languages. And that's where translation services become so important. 
Chinese Financial Statement Translation: Why Does It Matter?
When documents aren't translated properly, it can be hard for your Chinese business partners to comprehend any of your company's information: be it financial statements, future prospects, or data about risk factors. To guarantee fluid communication, it's imperative to leave your financial document's translation in expert hands.
Yet, we still need to answer the following question: Why is it so important to translate financial statements in China? There are three main reasons:
Language accessibility is closely tied to wider reach and impact, and eventually business growth. And effectively communicating with all stakeholders in their own language is essential if you desire to meet success in any international market. Financial translation services are the tool of preference to articulate your company with local investors and partners in the world's second-largest economy. Transparent communications demonstrate the commitment of a company in a foreign country, which instills credibility and respect
Cultural & Linguistic Familiarity
The Chinese language is one of the oldest and most complex languages. Yet, Chinese, considering all its variants, is currently the most widely spoken language in the world with over 1.31 billion speakers, according to Statista.
Yes, it may sound obvious to say that everyone prefers to communicate in their native tongue. But see it this way: without a deep understanding of Chinese culture and language, your company may lose customers, partners, and investors.
Chinese business partners and investors will also always prefer to read your company's financial documents in their native language.
So, the best financial native chinese translator should not only offer accuracy, precision, and a deep understanding of financial terminology but also have deep knowledge of Chinese linguistic and cultural nuances.
To round up, it's important to communicate your company's financial statements effectively, sharing a common communication modality. And language is the pivotal factor of any strategy design. English and Chinese financial translation agencies play a key role in an industry as complex as the financial sector.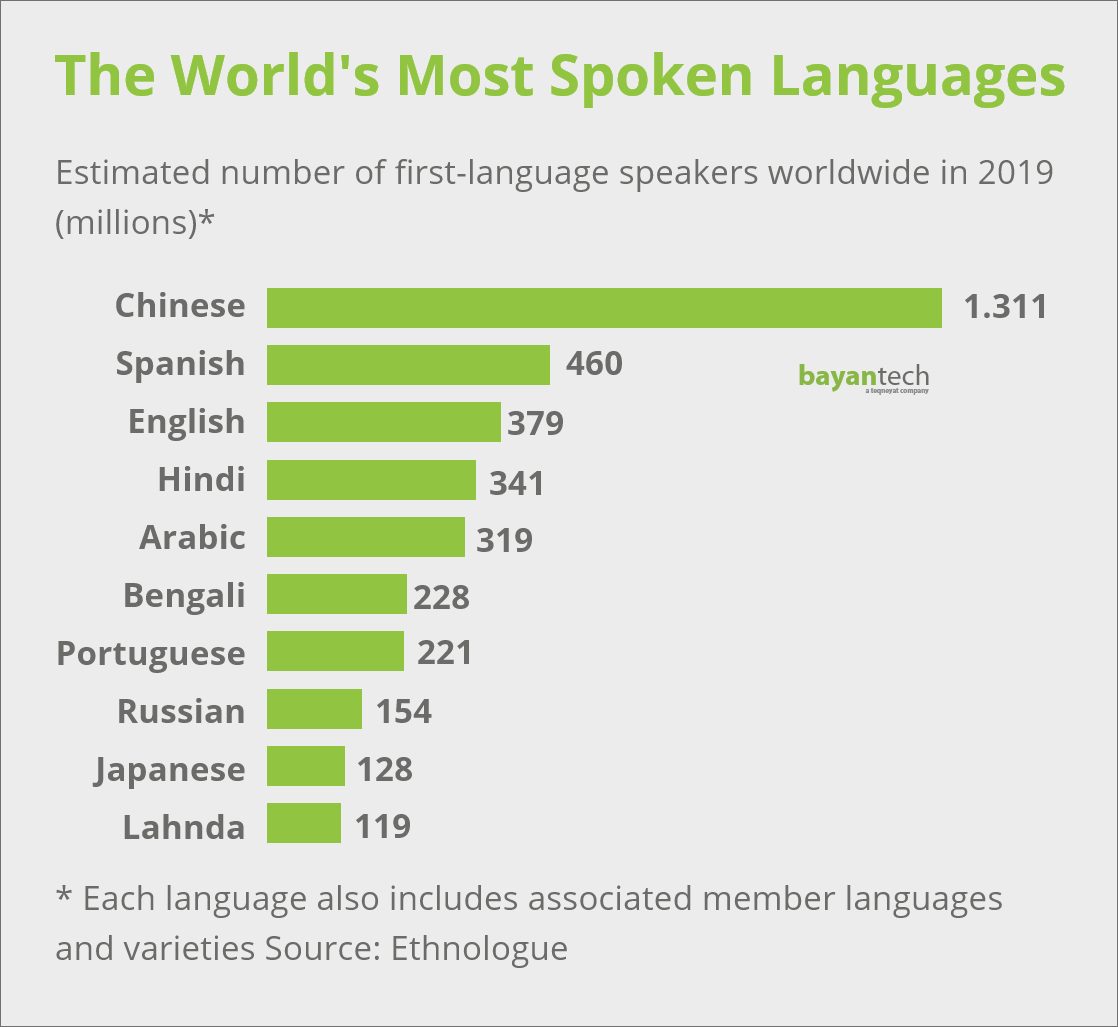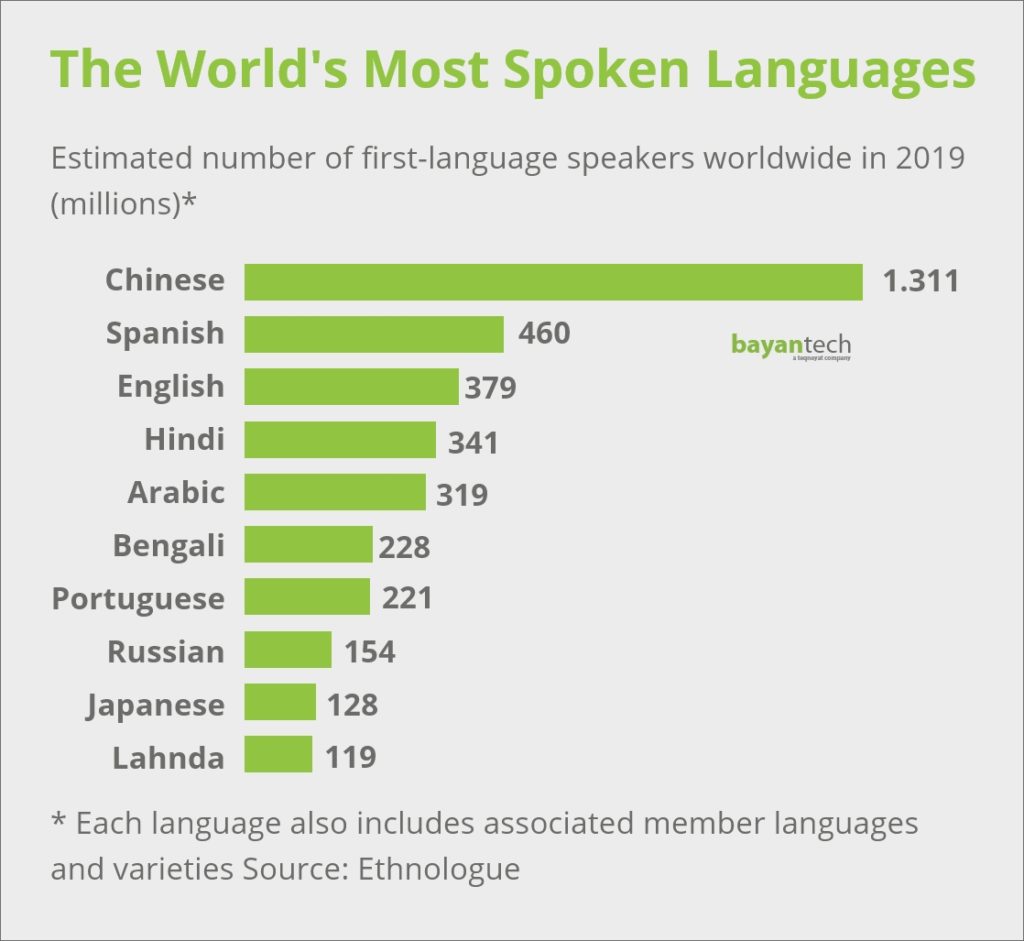 Chinese companies must follow a series of annual requirements to comply with PRC regulations. These include submitting annual reports to the Ministry of Commerce (MOFCOM), the State Administration for Industry and Commerce Market Regulation (SAMR), the State Administration of Foreign Exchange (SAFE), as well as the Financial Authority, and the Customs Authority. Consequently, documents of such magnitude of relevance must be translated carefully.
International Accounting Standards Boards (IASB) and Generally Accepted Accounting Principles (GAAP) are among the most important standards to consider. To adapt these standards to Chinese requirements, a financial translator must, first of all, be familiar with these standards.
Are You Interested in Translating Financial Statements?
We created this cheat sheet exclusively for clients like you.
Common Types of Financial Statements That Require Translation
So, by now, you realize that companies need to translate financial statements. It isn't just to conscientiously keep track of the business finances, translating financial statements is essentially a matter of compliance with regulations. Some of the documents that need to be translated include:
The annual financial reports are a type of document in which the company makes a summary of its financial situation and all the operations carried out during the previous year.
A balance sheet shows a company's assets, liabilities, and shareholders' equity at a given point in time. This is one of the three basic financial statements used to measure the financial health of a business.
A firm's cash flow notes how much cash and cash equivalents enter and leave the company. Inflows are cash received; outflows are cash spent.
A company's income statement summarizes the earnings and cash receipts of the company. Income statements can also be known as profit and loss statements, which include information about a company's earnings and expenses for a given period.
5. Note to Financial Statements
A company must ensure compliance with all standards and regulations by including notes in its financial statements. The purpose of these notes is to add context data to the information presented in the other financial statement documents as per IFRS (International Financial Reporting Standards).
A Look at the Big Challenges in Chinese Financial Statement Translation
Translating Chinese financial statements presents two complexities: the Chinese language particularities and the multiple concerns to bear in mind in the financial translation field. These challenges stem from the fact that a professional translator must be able to translate financial statements accurately, and with the correct tone, while keeping in mind the financial regulations of each country. 
Regarding the Chinese language's complexities, you should know:
Chinese has Characters Instead of Letters
Unlike any other modern language, Chinese is completely character-based. And its comprehension is extremely complex. Chinese has over 50,000 characters. In financial translation, one character can represent a concept, word, or even several concepts in some cases. In Chinese, a term such as "balance" is written 餘額, 收支平衡, or 結存.

Professional financial translators should possess an in-depth understanding of the number of syllables in every Chinese financial term, as well as the written character that corresponds to each syllable. It's also important to know which Chinese characters can be used independently and which only in conjunction with other characters.
It has Distinctive Grammatical Rules
When it comes to understanding Chinese grammar, context is everything. Chinese doesn't have the concept of singular or plural forms, nor is there a conjugation of verbs to indicate tenses (since each verb has only one form). It is the translator's responsibility to discern this from the context.
Now more than 300 dialects are spoken in China. Furthermore, as if standard Chinese was not convoluted enough, these dialects have their unique vocabulary and are usually quite distinct from each other. 
Although financial statements are usually translated into standard Chinese, you may eventually need to translate them into other dialects. A translator typically specializes in one or two dialects, so it is nearly impossible for a lone professional to master all potential dialects. A seasoned Chinese translation service that works with a team of disciplinary experts can be a great help for you.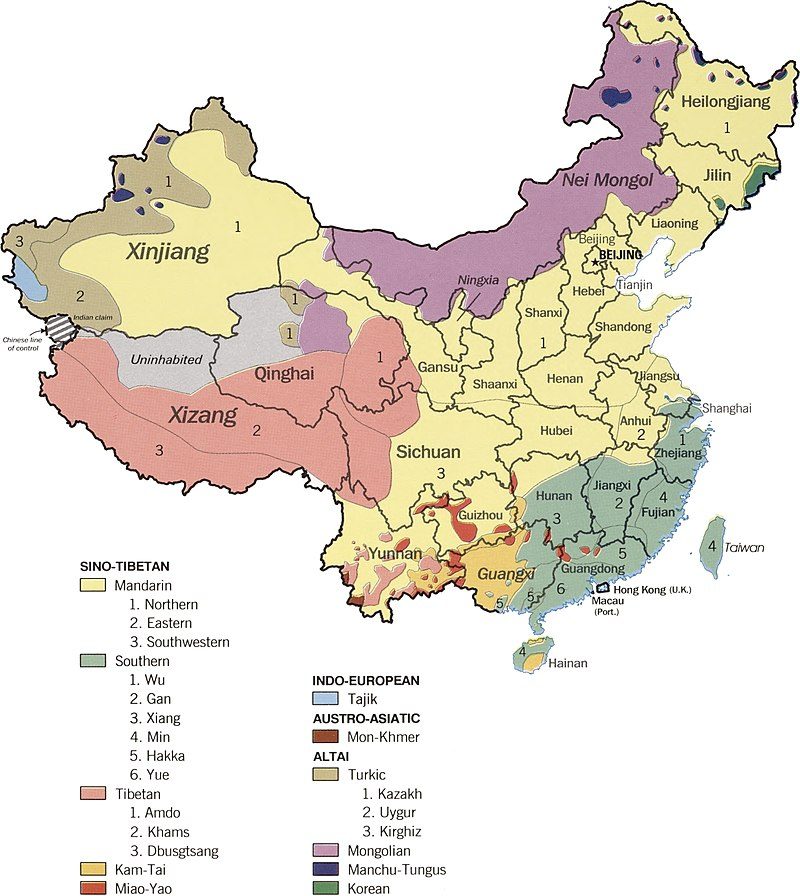 Financial Statement Translation: Key Tips on Hiring the Right LSP

In a recent post, we covered financial translation best practices. Let's now explore the fundamental factors you should consider when hiring a Chinese financial translation service. These tips will always come in handy:
The process of an accurate translation goes hand in hand with seasoned terminological and financial language competence. Also, the translation must be consistent, because there is almost no scope for the use of idioms and synonyms in the financial world. When Chinese is translated from English, concepts such as "financial assets" should be translated as "金融資產 , 財務資產", but one term should be consistently used throughout the financial statement document any confusion.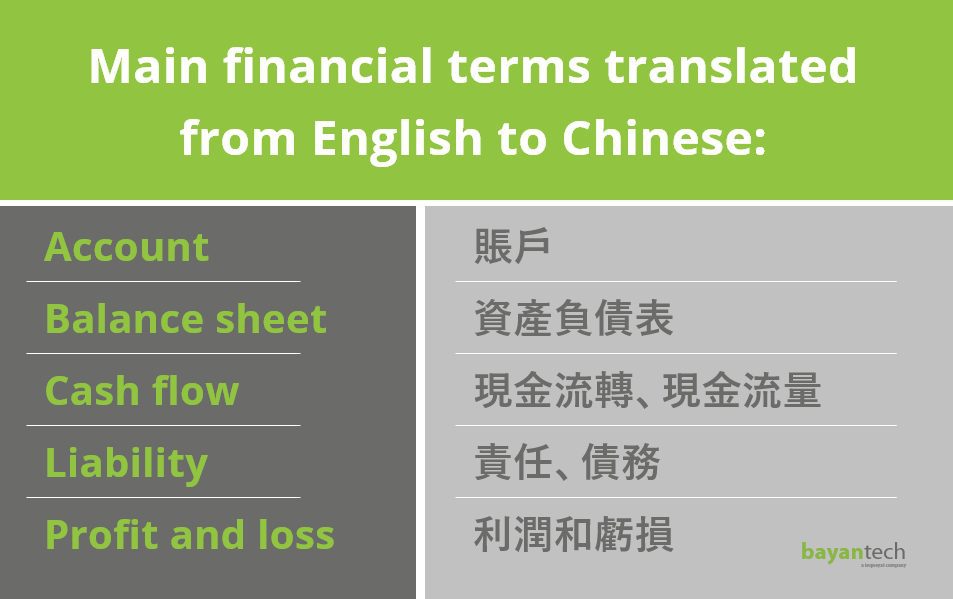 Make sure you hire an LSP who has a proven track record in the Chinese financial sector. Since financial documents contain valuable data and confidential information, a small mistake of this sort can cost companies a loss of money and reputation.
Financial statements should be translated by experienced translators with a background in academic translation particularly related to the field in question. This task is so intricate because translators must also gather deep knowledge in global finances matters. 
Each financial statement has its format and style. A balance sheet translation is different from translating an annual report. So, consider hiring a Chinese financial translation company that specializes in translating every financial related document.
Professional financial translators must be aware of all differences between economies and understand how to manage foreign currency denominations and currency exchange rates, among many other aspects. For instance, local companies in China operate with yuan, the Chinese currency. Translation professionals should be equipped and qualified to translate quantities, assets, liabilities, revenues, expenses, gains and losses.
The use of CAT tools with translation memories that include financial terminology enhances workflow and speeds up turnaround times for Chinese translators. But obviously, machines cannot replace humans to the whole extent. These are just useful tools; experts do the rest.
Expert translators use glossaries, and these are a go-to resource when translating financial statements. All translators can resort to the aid of this prepared lexicon and use it as a reference, regardless of which language pair they are working with. Partnering with an agency that works with an extensive glossary of financial statement terms in Chinese, and updates its terminology following the industry's progress, is no doubt a good idea.
Sign up to our newsletter to receive the latest blogs and news.
The use of CAT tools with translation memories that include financial terminology enhances workflow and speeds up turnaround times for Chinese translators. But obviously, machines cannot replace humans to the whole extent. These are just useful tools; experts do the rest.
Expert translators use glossaries, and these are a go-to resource when translating financial statements. All translators can resort to the aid of this prepared lexicon and use it as a reference, regardless of which language pair they are working with. Partnering with an agency that works with an extensive glossary of financial statement terms in Chinese, and updates its terminology following the industry's progress, is no doubt a good idea.
One of the most important aspects of a financial document is its confidentiality. Any breach of security could lead to costly lawsuits and huge financial losses. That is why professional financial translation companies keep data completely private and secure at all times. Therefore, when selecting a translation service provider, consider its security aspects: if it is trustworthy and reputable, and has an effective security management system.
Find the Best Translation Company for Your Financial Statements

Looking for high-quality translation services? Look no further. You came the right way.
bayantech provides the best-rated Chinese financial translation services: accuracy, reliability, and strict compliance with Chinese regulations. Those are the rules that guide us.
We work with a team of linguists who have extensive experience in the field of finances you need. Trust the provider with almost two decades of experience and operating under ISO 9001 certification. 
Request a financial statement translation services quote today!