In 2021, the number of digital buyers jumped to over two billion people, which, with a little math, is almost 50% of internet users around the world. eCommerce is the new normal, and after the intense year we had in 2020, eCommerce is here to stay.
But in this fast-paced world of business, new trends are shaping the future of eCommerce. And while some trends are fleeting, others are stronger and last longer than expected. eCommerce Website Translation is one of the latter, being a powerful opportunity that businesses are now taking advantage and seeing the benefits of.
It makes sense, multilingual eCommerce means more languages to reach more customers and drive more traffic to your website, which in turn translates to higher sales and greater profits. It's more of a chain reaction.
So, the question is: are you geared up for eCommerce website translation? Here's some help to get you started.
Why is eCommerce Website Translation Important?
Any professional business wishes to grow. And in the global market, online sales are increasing steadily year after year. According to Statista.com, in 2020, retail eCommerce sales reached 4.2  trillion US dollars worldwide and are poised to grow by over 5.4 trillion US dollars in 2022.

If you're an entrepreneur, after creating a good online front for your brand and achieving success at a small scale, you will most probably feel inspired to expand your sales beyond the borders of your country. eCommerce website translation is the path to take.
Here's more inspiration. Ever wondered what brands like Amazon, IKEA, and Nike have in common? These highly successful and trusted brands have multilingual eCommerce websites. Their international expansion didn't happen overnight and wasn't merely a stroke of luck.
Perhaps a remarkable example is the one of the now iconic Amazon.com. Amazon's journey started from a local bookstore to a global phenomenon and the largest eCommerce platform, fueled by translation and localization. Besides the diverse set of products, Amazon provides an incredibly convenient shopping experience to its global users, through multilingual websites and mobile apps with innovative features that appeal to the preferences and expectations of the users.
The lesson is that, in this day and age, to go international, you need a solid platform that supports several languages for your worldwide audience.
Why? Because each new language builds a bridge between your products or services and those who would've been denied access otherwise. And employing the services of a translation company may be just what your company needs to reach the next level.
This particular section is mostly aimed at online entrepreneurs, but anyone interested in how to translate online commerce may find inspiration among its insights.
Benefits of eCommerce Website Translation
There are many, but we will focus on two:
Why do hotels include welcome signs in different languages? Welkom. Bienvenido. أهلا بك. Bienvenu. स्वागत हे. Is it because they're trying to be friendly? Polite? Well, yes. But also because they're trying to show as many people as possible that they'd love to have their patronage.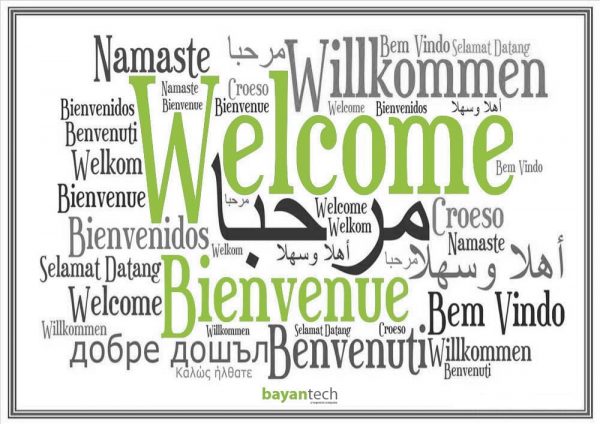 They're looking at a wider reach and sales. They understand that language is a barrier that needs to be overcome. In the virtual world, it's pretty much the same. Your website, app, social media, and all types of digital communication should be available in multiple languages to make sure your online store reaches and attracts potential customers, not just in your local region but from other parts of the world. 
This is the power of eCommerce website translation and eCommerce localization. Every language and dialect in a multilingual eCommerce platform expands its customer base and helps solidify actual sales.
Consider the struggles of a foreign entrepreneur setting up business in another country. Even if the premises are kept clean and bright, products offer great value, and employees are very kind, it will be hard to compete with local stores.
Because retail is not only about products. It's an experience that goes beyond language. Local stores enjoy several advantages over foreigners:
The good news is: eCommerce website translation and localization gives you the advantages of local presence. Effective translation and localization will make visitors feel right at home online, at a place that gives them a warm welcome in their own language and respects the subtleties of their culture.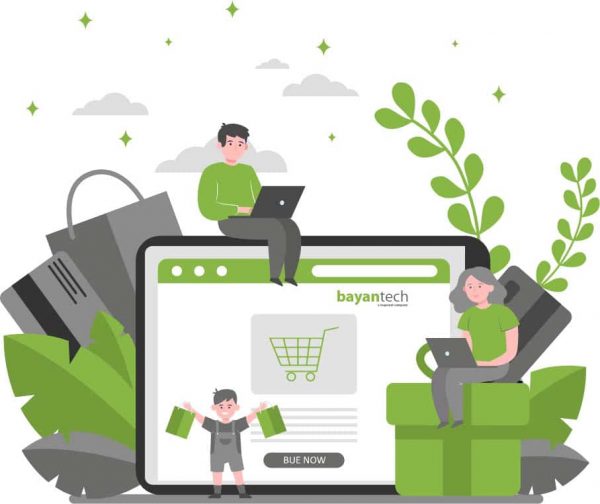 eCommerce website translation and localization are more than a practical necessity. They're cornerstones on which successful and respected modern businesses are built.
While it certainly is a matter of profit, it's also a matter of public perception. If you own a retail website with multilingual eCommerce support, it shows that you're serious and professional about what you do.
Customers will immediately look at your online store in a different light.
One thing, for example, that boosts public image and sales is multilingual customer reviews. Reviews are a source of trust and make a company look transparent and professional. On the Internet, this bears particular relevance. Making sure that not only product descriptions and promotions are translated, but also reviews. This gives your international clients the confidence needed to trust you and complete a purchase.
eCommerce Website Translation Best Practices
As in every field, being mindful of and adhering to best practices ensure high standards in eCommerce website translation.
Below are several tips for entrepreneurs and translators to help them gain a clear understanding of what eCommerce translation and localization entails and streamline multilingual translation work. 
5 Key Tips for Entrepreneurs to Make a Strong Start in eCommerce Website Translation
1. Start with the 5 Most Spoken Languages
If your website has been originally published in English, consider having it translated into at least 4 other languages: Chinese, Spanish, Hindi and Arabic. If, on the other hand, it had been published in any other language, let's say Arabic, what are you waiting for? English reaches more customers than any other language.

Get started with your Arabic Website Translation and you'll reap the benefits of eCommerce website translation sooner than you can imagine.
You can use these numbers to help guide your efforts and decide on languages that will give you the best chance to expand your reach. Naturally, then you could add some more to include a broader demographic. The Linguistic Society of America estimates the existence of more than 6 thousand distinct languages in the whole wide world. But don't panic, only 23 account for half the population of the Earth.

2. Prioritize SEO Optimization
As an entrepreneur just getting started with eCommerce website translation, you'll benefit from performing several types of analysis on your online website. Something that will greatly improve the traffic that passes through your website is carrying out a keyword analysis to determine how customers find it. What product or service are they looking for? Which words do they input in Google or the search engine of their choice to try and identify where to buy that product or get that service?
You may have performed this analysis already using the original language of your website. But make sure to enlist the help of a team of experts to do it again in several languages when you're ready to kickstart your eCommerce website translation.
3. Consider the Importance of Customer Support
eCommerce website translation is not only about translating landing pages, menus and product descriptions. Unexpected issues always take place and that's when customer support comes in.
According to HubSpot, 60% of customers become so distraught after an inadequate business experience, that they decide to cut ties with the company altogether.
Alternatively, clients who were able to locate what they wished to purchase and complete a transaction without issue, returned to do business with the company 50% of the time.
These numbers are huge. Customer support is not a luxury but a necessity for every website hoping to succeed.
Also, it makes a great difference for a person to be able to write a message in their own language, and be addressed back in that same language. In the field of eCommerce website translation, this can be achieved in a variety of manners, most notably by employing multilingual staff members to resolve queries. However, in large companies that manage thousands of queries 24/7, some kind of automation may be needed for practical reasons.
Steven Van Belleghem, in his brilliant paper "The Self Serving Economy", explains how 70% of customers would prefer to find answers themselves rather than place a formal query with a customer service representative. This remains true throughout the globe.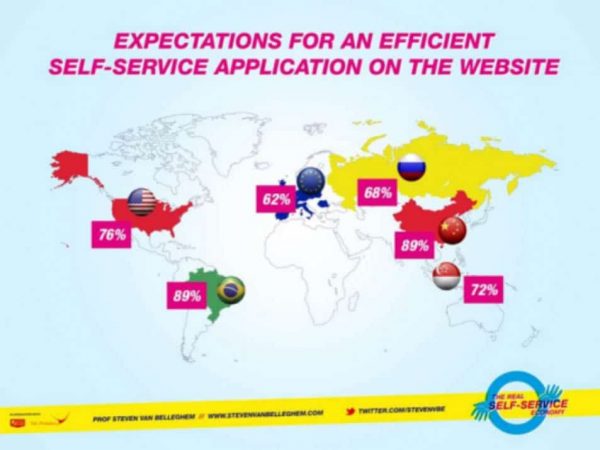 For an online business, this can mean setting up a webpage with Frequently Asked Questions or even joining the latest trend, multilingual chatbots.
Most times, an intelligent chatbot should be able to:
And remember whether it's going to be an FAQ page or a chatbot, translation and localization are your go-to strategy to help bridge any communication (language) gap.
4. Implement a System of Multilingual Reviews
Machine Translation is not often encouraged, as it may lead to unfortunate misunderstandings. However, it might play a useful role in translating content at scale and speed. It gives you the kick start you need, translating thousands of words in way less time than human translation. And in eCommerce, it's understandable that this is what you might be looking for.
For instance, this especially comes in handy with user reviews. Having user reviews manually translated would be the best option but it might not be the most realistic. A machine-aided system may be what you need to have reviews loaded onto your website in any language and automatically translated into whatever language other customers are currently reading.
Truth is, in terms of quality, there's still a long road ahead to rely on machine translation solely. For concerns of poor quality, using machine translation only isn't the greatest idea. Machine translation and human machine translation post-editing, however, is the perfect combination that will bring the best of both worlds: the speed and scale of MT, and the polished and professional touch of human linguists.
Sign up to our newsletter to receive the latest blogs and news.
5. Collaborate With Experts
In any eCommerce website translation project, working with experts is crucial, not only because you can guarantee professional outcomes, but also because they understand that eCommerce translation is multidimensional. A translation agency will translate your text and audio into several different languages, but they'll also localize the content to fit each culture.  They'll work on desktop publishing (DTP) to adjust your website where needed, so that it can appropriately accommodate the new text and/or localization ideas. Plus, they'll manage international SEO to position your website high among search engine results.
On a different note, they'll establish open lines of communications. They'll ask the right questions, and it's your job to make sure that project managers understand that you're there to provide them with answers, helping them create a clear roadmap. You've hired an agency to work for you but individuals are actually working with you. The more you open up to them, the better they will understand you, your business, and the better they will be able to come up with creative and appropriate solutions to any challenges that arise.

5 Essential Tips For Translators to Provide Quality eCommerce Website Translation
1. Choose Commonly-used Words
You'd be surprised at how much of a difference it makes to choose familiar words, used every day in life, over obscure dictionary terms. Internet searches do not usually involve complicated vocabulary. Actually, complicated words push search engine results further and further away from your client's online business. In eCommerce, picking out words is a matter of strategy over art.
Basically, try to put yourself in the consumer's shoes and write in the words in which they would write. Also, ask your client about which keywords they'd like to have prioritized on their website (a process called SEO optimization, and which will be discussed further below).
2. Shorten Your Sentences
Nobody wants to wade through long sentences when shopping online. In the context of an online store, the text is simply a means to an end. That is why, in eCommerce website translation, you should get rid of superfluous adjectives, metaphors and linguistic extravaganzas. Don't overcomplicate what should be simple.
Nowadays, shopping happens often in mere seconds. People go to a website, type in search keywords, locate what they need, briefly glance through descriptions and reviews, make a split-second decision and either quit the process or move on to the payment screen. Try to keep in mind that clients may do it because of a habit, or because they simply really are in a hurry, for whatever reason. And rich prose shouldn't be an obstacle on their way to making a purchase.
There is nothing worse, when shopping online, than to come across ambiguous or otherwise unclear information. A less than ideal byproduct of faulty eCommerce website translation. This can lead to all sorts of unnecessary misunderstandings. Your words, as a translator, should be as clear as pure running water. No eldritch synonyms, no blurry descriptions. Anyone should be able to glance at a product description and understand exactly what it is without having to pause and think about it. That pause, that doubt, is often what makes a potential client leave and get the product from somewhere else, perhaps another website with unambiguous information.
Do your research into the business you're translating for; consider the products on offer. Make sure you understand the particulars of its customers, especially the age group to which they belong. Pay attention to any slang you should be aware of. Every eCommerce website translation presents challenges of its own.
Computer-Assisted Translations tools are always useful for translators, but more so in certain contexts. eCommerce website translation  is one of those contexts. Imagine your client sells fashionable clothing. There may exist multiple ways to refer to the same item of clothing: jacket, blazer, coat, jumper, anorak. You'll want to use the same word—exactly the same word—for the same type of item every time it shows up on the website. Otherwise, you might create confusion, and confusion leads to lost sales and/or unsatisfied customers.

A reliable Translation Memory loaded in a CAT tool will spare you of inconsistencies or memory gaps. Even more so if you're working as part of a team of translators. As part of your management system, a shared TM will ensure that all of you are on the same page in terms of terminology.

How an eCommerce Translation Agency can Help Your eCommerce Business
Translation and localization agencies are a great way to connect clients with professional translators. Usually, agencies have a full roster of translators to choose from. Depending on each individual's level of skill and specialization, they'll be selected by the translation management team for some projects and not others.
Success starts with a good overall plan, and a professional eCommerce translation agency will streamline the process:
And this is just to name a few of the fundamental responsibilities that translation agencies take on when making a website ready for the international stage. It's not only about translation, but about managing a complex procedure while ensuring quality, speed, and cost-efficiency.
Picture an actual store front: merchandise is displayed along with information. Shelves arrayed in a pleasing manner. And when you enter the store, you're greeted by friendly people who've been prepared to answer your questions and assist you during your shopping experience. 
An online store is no different. Wooden shelves may become virtual shelves, but this doesn't change the fact that they serve the same purpose. Information is also attached to each product: images, video, text.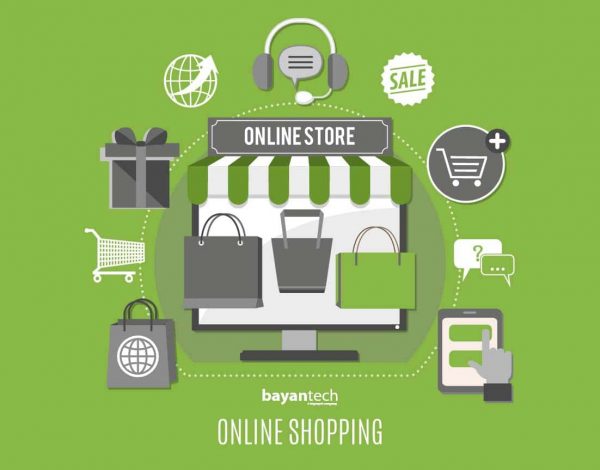 Think of how much detail goes into planning all the above. Time and money well spent, really, because in marketing, image is nearly everything. Of course, actual products are important as well. If a customer loves your eCommerce website, purchases an item, and then when that item arrives at their home they feel betrayed by the lack of quality or the inconsistency of what they bought vs. what they got, they'll probably never purchase from you again. But a good store front image is what gets the wheels turning in the first place.
With their translation and  eCommerce website localization services, global eCommerce website translation companies make sure that your online store looks and works the way it's supposed to for all customers, no matter where they're from. Quality assurance techniques are put into action to guarantee exceptional results. Designing a beautiful experience and then skipping on eCommerce website translation and eCommerce localization is like letting all of your previous hard work go to waste.
eCommerce website translation services will consider everything included in this article and more. Website localization services are a must in any serious endeavor, as professional translators will help you redirect your business to a global audience. They'll use the translation and localization platform that's more appropriate for the project, focus on how to translate product descriptions in a concise and clear manner, and provide customer support for everybody.
Ready to invest in eCommerce translation services?
Get in touch with our team of professionals and get ready to go international. bayantech is an eCommerce translation company that will boost your product offering with high quality localization work. If you're looking for the best translation and localization for eCommerce, look no further.
This is our trade. Contact us and we will help you take your online company to the next level with the eCommerce website translation and localization that you deserve.