It is a popular belief that engineering document translation is about merely translating documents to a target language with the adding up of some engineering terms. However, this couldn't be further from the truth. 
This type of translation has various features that discern it from all others. Given the fact that the engineering industry is so far-reaching and complex and involves multiple developing sectors, the types of technical document translation are numerous. And so, the demand for impeccable translation services, in addition to great expertise in this field, is at its peak. 
With that in mind, professional engineering translators must have thorough industry knowledge, a profound terminology understanding, as well as be constantly trained. They should go beyond the general engineering knowledge and be experts in specific branches of the industry.
The reason is simple: the engineering industry doesn't admit any errors. A little mistake in your documents could result in extra costs, threaten the employees' working conditions, affect the project's reputation, or even cause legal liability. It's then fair to say that when it comes to translation services for technical documents, precision, accuracy, and confidentiality are non-negotiable. 
In this post, we'll dive into engineering document translation, its vital importance, and the 5 best practices to achieve exceptional translation solutions.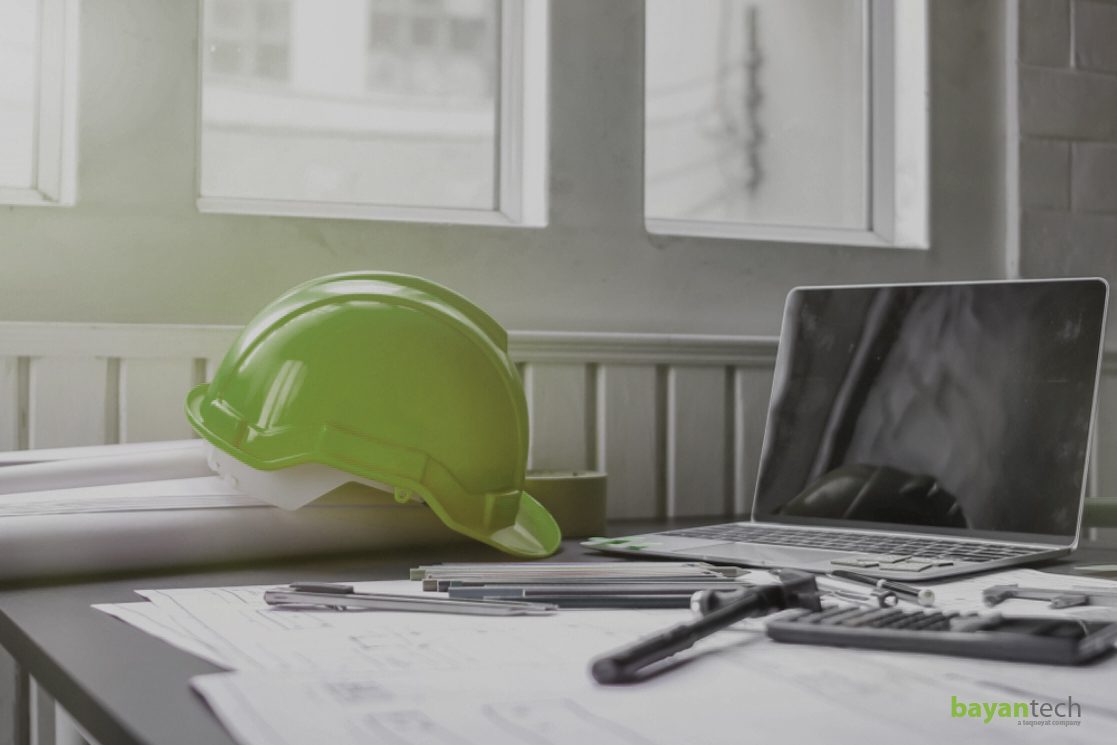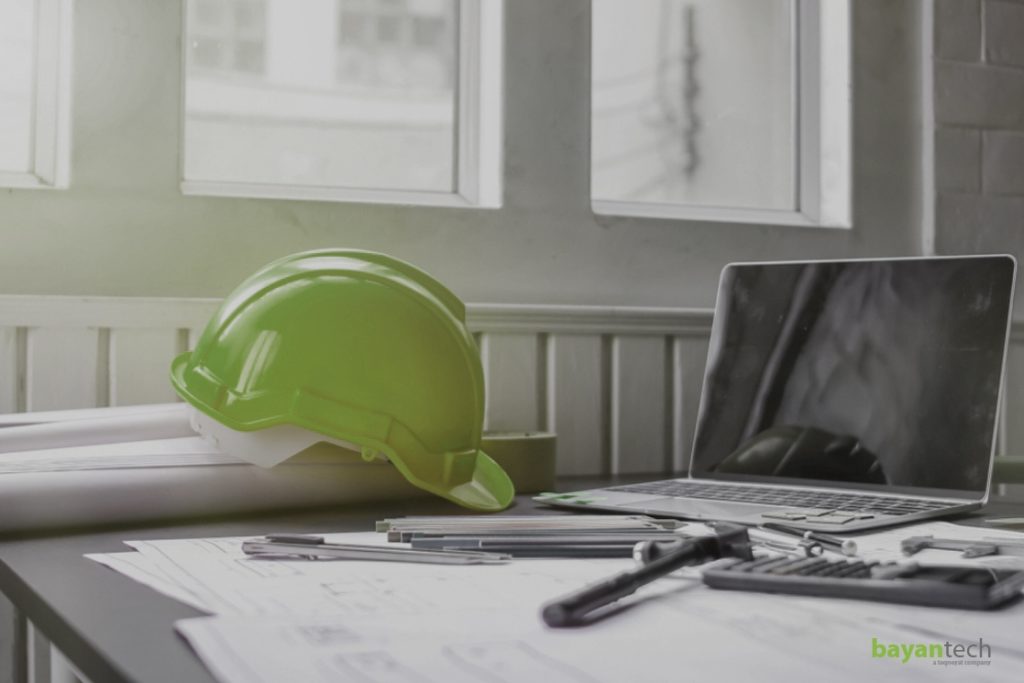 What Is Engineering Document Translation?

In simple words, it is the process of taking the technical documents from their source language to the target language, and making them sound and look as if they were written locally. This means that while translating, the translator will not only mind linguistic issues but will also consider cultural and norm nuances of the target locale (e.g legal regulations) to avoid misconceptions and potential conflicts. 
This kind of translation can be related to metallurgy, mechanics, agriculture, construction, and more. And each area will require the use of a specific set of specialized subject-matter terminology. Therefore, it takes only a highly-qualified translator to flawlessly complete the task, and a certified translation company with a deep know-how on automotive translation services, translation services for the manufacturing industry…etc. 
The most common engineering branches that require different types of engineering translation services are
As aforementioned, engineering document translation doesn't only imply a perfect linguistic and abstract approach by the professional translator, but also of the legal and regulatory nuances of the local culture. High-quality translation and a keen eye for technical details have never been as relevant in the engineering field and for companies worldwide.
Why Does Engineering Translation Matter?
Due to the fact that engineering companies work hand-in-hand with foreign suppliers, they have to constantly translate all kinds of documents into multiple languages to make the job smooth. This is why engineering translation is one of the most required types of technical document translation of all time.

A good translation in engineering is important to be part of the current globalized reality. It's no news that companies around the world are becoming progressively interconnected and getting closer every day. Certainly, you don't want to be left out of a party full of business opportunities, and so multiculturalism can't come as a second priority.
A good example is the aviation industry after being affected by the drastic changes brought by the Covid-19 pandemic. This industry saw a niche in the advent of vaccines, and thanks to its increasing demand, it's been able to recover. This post-pandemic growth provided unparalleled opportunities for aviation companies to restart business on a global scale. And here is where aviation translation services showed their groundbreaking relevance.
This is one example of many, where engineering translation was a vital tool to help companies stay ahead of the curve, by quickly implementing multilingual content in as many languages as necessary.
Last but not least, engineering translation is essential since it is an industry requirement. Engineering documents must adhere to the laws and regulations of each country.

To register your business in the United States, for instance, you will need to comply with the legal guidelines of the Occupational Safety and Health Organization (OSHA) and translate all your documents into the native languages of your employees. It's impossible to register your company in the US without an engineering translation that respects the specific language of your team. For instance, if you have German employees in the US, the documents must also be in German.
To sum things up, if you have an engineering business, you should know that language translation in engineering is fundamental because it
In conclusion, you need to provide accurate information about your product, service, or equipment to your employees and potential customers in the major languages they speak. But proper engineering translation can be a daunting task… So, what's the best way to carry out your engineering translation project?
In the following section we'll unfold engineering translation best practices.
Technical Translation Rates Cheat Sheet
If you have an engineering or other technical translation project, get this
handy guide and learn everything you need to know about technical
translation rates.
5 Key Best Practices for Outstanding Engineering
Document Translation
To ensure high-quality, accurate, and flawless engineering document translation, implementing best practices is essential. 
Here are 5 engineering document translation best practices to guide a successful translation project: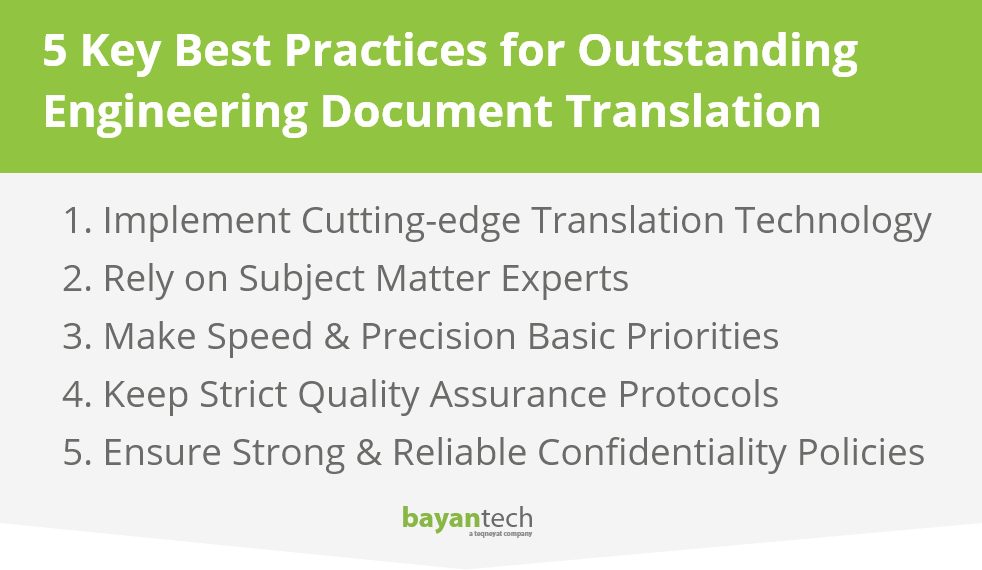 Implement Cutting-edge Translation Technology
Accurate engineering translations should always rely on the keen eye of experienced translators. However, translation technologies can be great allies, which allow for a high degree of precision while saving valuable time.
Thanks to Translation Memories (MT) and CAT tools, large percentages of text containing specific and repetitive terminology are stored and systematized. This allows the translation team to save time and pay incremental attention to detail, ensuring the outcome is as faithful as the source text.


But, what about Machine Translation?

In a world where online translators are the order of the day, opting for machine translation solutions is a natural move for many. Nevertheless, when it comes to technical translation, the resulting text can only be misleading. 
And as a matter of fact, engineering translation can be quite tricky. For instance, abbreviations are encyclopedic and even the same abbreviation can have several interpretations.
Machine Translation has indeed improved significantly over the past few years, however, the outputs aren't flawless, especially in engineering projects, where niche specificity is a key factor.

Without human translators skilled in engineering who can perform the appropriate quality assurance proofreading and post-editing, a document is more likely to be translated automatically with incorrect terminology, and even sentences may lose their significance. Particularly in a complex area such as engineering, this can have extremely negative consequences.
It's at this point that Machine Translation Post-Editing (MTPE) enters the picture.  MTPE represents the best of both worlds: the speed of machine translation and the professionalism of a human translator. The combination of machine translation with human expertise makes sense when translating engineering documents, which frequently require strict deadlines in fast turnaround times.

Once the machine translation has been completed, a human engineering translator will compare the source and target documents in order to detect even the smallest grammatical, syntactic, terminological, and cultural errors. 
For instance, there are lots of technical engineering words that may contain two or more contradictory meanings depending on their context. One good example is the word 'efficiency'. Efficiency has distinct meanings depending on the discipline. One thing is energy efficiency (used to denote the engineering sense of the word) and another is economic efficiency.
. Engineering efficiency: In engineering, efficiency refers to maximizing the usefulness of design or process while minimizing resources (raw materials, time, labor, etc.).
. Economic efficiency: The definition of efficiency in economics refers to the ability of an organization to sustainably return the greatest profit in the shortest time.
2. Rely on Subject-Matter Experts
It's imperative that all engineering translation projects are carried out by professional translators who are native speakers of the required target languages, assuring quality translation services for engineering documentation. 
A native translator is able to identify the cultural, legal, and even political nuances of the target country or region while maintaining impeccable linguistic quality.
But relying on native translators alone isn't enough. An experienced, highly-trained language professional must also be a subject-matter expert. 
This implies knowledge of your specific industry niche, since translating materials for chemical engineering isn't the same as translating materials for civil engineering.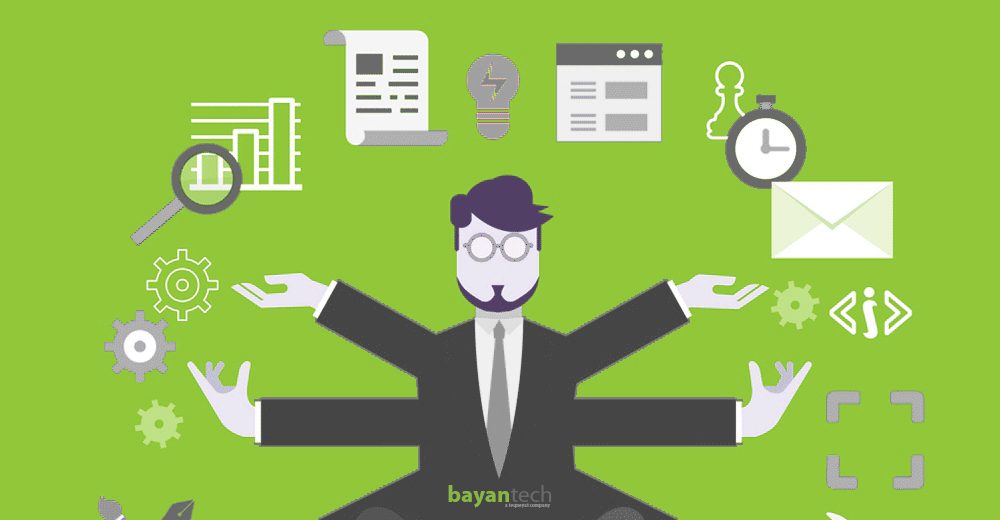 3. Make Speed & Precision Basic Priorities
As previously mentioned, the engineering industry is a hub for innovation and new ideas. This means that all documents must be translated within fast and flexible turnaround times. Ensuring the ultimate technology and infrastructure in place to reduce costs and translation times is a top priority in order to meet the tight deadlines demanded by this ever-evolving industry. 
A competent and reliable Technical Translation Services company will work with a team of qualified translators, editors, and proofreaders. Their experience and knowledge are exactly what these engineering translation projects need. It's not only because, this way, accuracy is assured. It's because, along the way, they'll come across translation challenges that require that they make quick and effective decisions, without affecting the efficiency of the translation process or the scheduled turnaround time. 
4. Keep Strict Quality Assurance Protocols
Quality control protocols ensure that each step of your translation project is executed correctly, guaranteeing high-quality, ready-to-use documents. This control involves certifying that everyone, from the linguistic team (translators, editors and proofreaders) to project management, is performing flawlessly.
To guarantee a high-quality translation, professional engineering translation services design holistic strategies to empower their teams and promote engineering translation best practices. Besides, they use the ultimate translation tools, articulating the perfect mix between professional human translation and top-notch technology. 
And, of course, a reliable translation company implements ISO 9001 certification, guaranteeing maximum quality in every project.
5. Ensure Strong & Reliable Confidentiality Policies
Committing to maintaining client privacy is a mandatory responsibility of any translation company.
To assure and preserve trust between the client and the translation agency, Non-Disclosure Agreements (NDAs) are often signed by both parties. A qualified translation company understands that document security is non-negotiable.
Besides, professional engineering translation services require the signing of a NDA between all team members, regardless of hierarchical level. This guarantees that no oversight takes place, putting the client's information in the foreground.
Sign up to our newsletter to receive the latest blogs and news.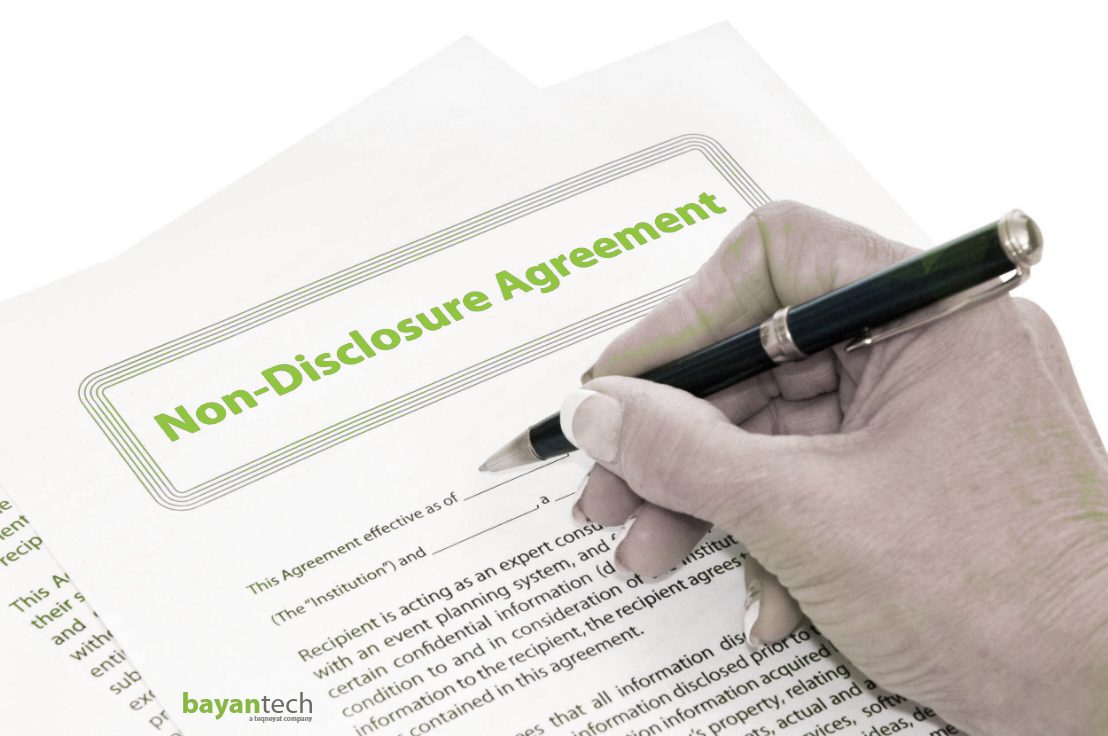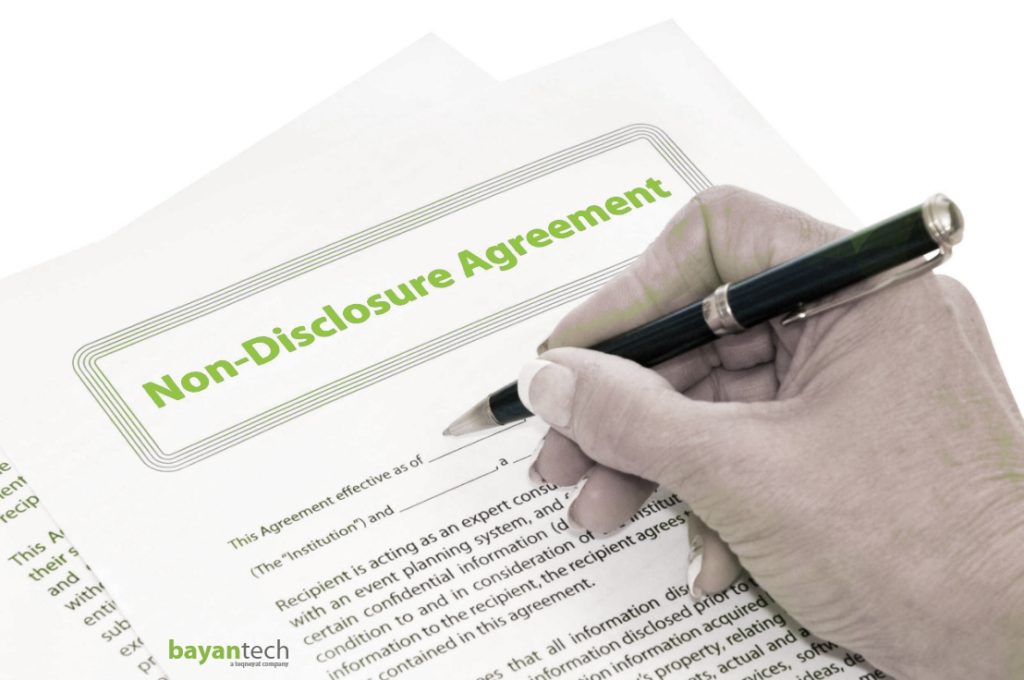 Work With a Reliable and High Specialized Engineering Translation Company
Are you looking for high-quality and accurate engineering translation services? Look no further.
At bayantech, we've partnered up with renowned companies in the engineering industry, helping them conquer international markets.
With almost two decades of experience, we implement the latest in translation technologies and all of our projects are ISO-certified. Through the perfect blend of human expertise and technological advancement, we create professional, accurate, flawless technical translations.
Contact us and take your engineering documents translation project to the next level..