In today's world, numerous nationalities co-live, collaborate, and communicate in different languages. And since medical treatment must be equally provided to all people, the healthcare industry has to reach out and cater to all these people with their different nationalities and cultures and work on bridging these language barriers.
In a hospital with no professional medical interpreters, gaps in communication and misunderstandings are just the norm. That unquestionably leads to patients' dissatisfaction, waste of money, lack of trust; and even most dreadfully, penalties and lawsuits. And ultimately, these hospitals might just be driving people away and their credibility and reputation downhill.
Luckily, interpreters in the medical field are here to help bring accurate, effective multilingual communications in the most sensitive medical settings. Their job is essential, yet challenging. That's why not just anyone can be an interpreter in the medical field. If you are speaking two languages, good, but it takes more than just that.
If you are willing to go as far as it takes, here's a detailed guide on how to become an interpreter in the medical field.
Let's get started.
FAQ: What Is a Medical Interpreter?
The CERTIFICATION COMMISSION FOR HEALTHCARE INTERPRETERS (CCHI) – a US nonprofit organization established in 2009 – defines an interpreter in the medical field to be:
" A person who is able to perform the functions of a healthcare interpreter competently, independently, and unsupervised in any setting and in any modality where healthcare is provided, with the knowledge, skill, and ability required to relay messages accurately from a source language to a target language in a culturally competent manner and in accordance with established ethical standards."
And according to the University of New Mexico, an interpreter in the medical field:
"provides accurate interpretation and translation of critical medical information in direct service to physicians and/or other health care providers who are seeing patients who cannot speak or understand English, when specifically required by the provider."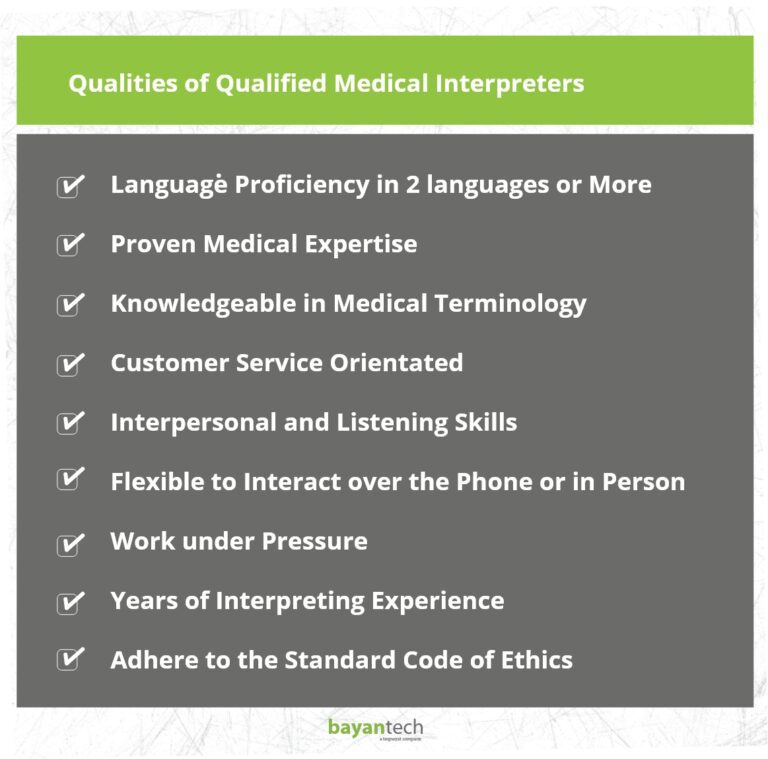 Ditto, a professional interpreter in the medical field translates medical content to facilitate communication in a medical context; paying attention to all related regulations and social practices.
Why Is a Medical Interpreter Essential to Healthcare?
In the US, Melody K. Schiaffino, an Assistant Professor/epidemiologist at San Diego State University, says: "People have a right to hear a cancer diagnosis in a language they understand, not through hand gestures."
Reuters Health states that almost one-third of hospitals in the United States offer no interpretation to limited English proficient (LEP) individuals, although the federal law mandates it! And as a result, one in every 10 people has to struggle with huge language barriers.
For such a reason, and many others, a professional interpreter in the medical field is essential and beyond measure. Those reasons range from being humanistic to social, legal, and even financial. To name a few, please read on: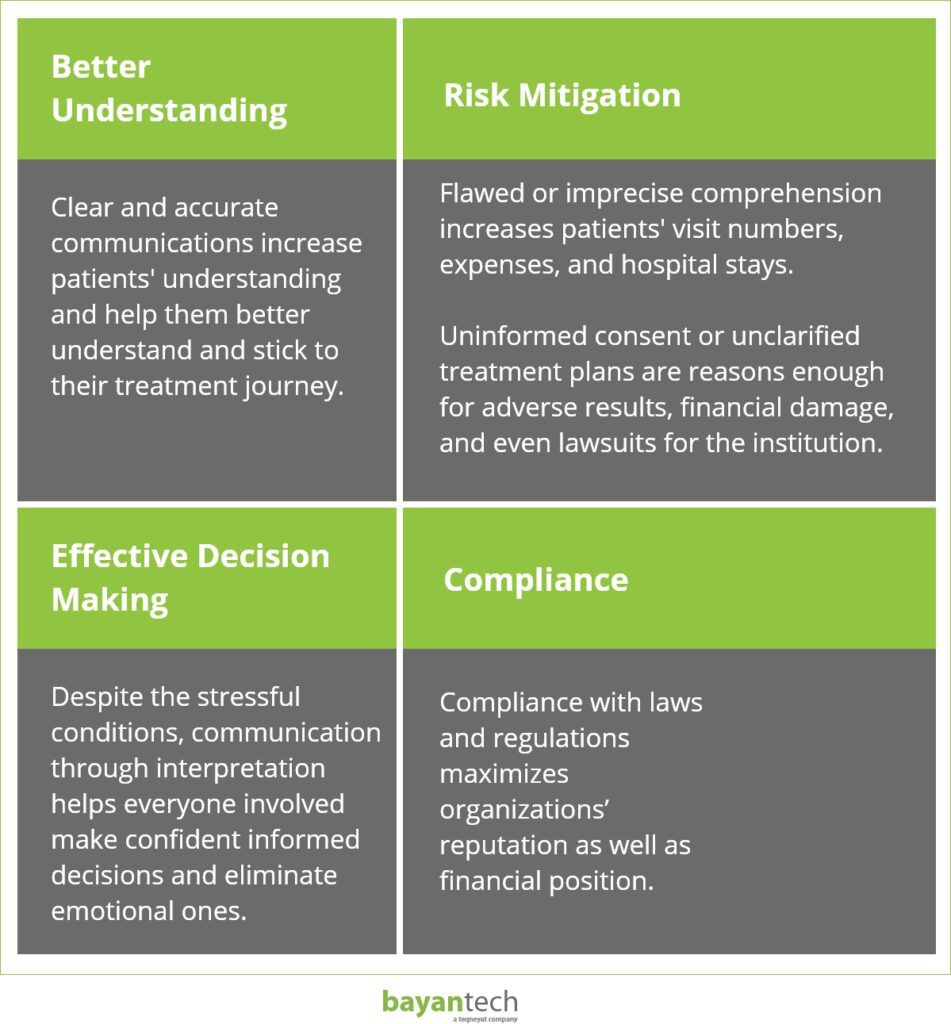 FAQ: How to Become a Medical Interpreter in a Hospital?
Becoming a certified interpreter in the medical field with the right set of qualifications, knowledge of medical terminology, and interpreting skills requires a lot.
In some countries, you can become accredited only if you have acquired a diploma or degree. In others, you can pass for an interpreter in the medical field only through intensive courses. In some others, there are time-bound, to-be-renewed types of accreditation that serve as a sole requirement for a medical translator.
Among the renowned entities worldwide offering certifications are the CCHI with its two certification training programs for interpreters in the medical field; The International Medical Interpreters Association (IMIA) and the AUC.

The National Board of Certification for Medical Interpreters (IMIA) as well offers two programs: CMI Certification (for specific languages) and HUB-CMI Credential (for any language). However, we're sure you will find many more available at global universities and field-specific entities in your country/region.
A medical background or acquiring in-depth medical knowledge is one of the key prerequisites to being part of the medical interpreting world.
Such a requirement for expert proficiency is not a luxury.

Medical interpreters have to demonstrate, quite masterfully, their medical expertise. By that we mean, they have to have studied or worked intensely in the medical field. Remember, in highly intense medical situations, there is no room for misunderstanding. An interpreter would have to show exceptional knowledge of medical terminology and jargon.
Additionally, certification training programs for interpreters in the medical field still serve as your credible and vendor-neutral licenses into the profession and provide you with the necessary knowledge and terminology of the medical field.
As you move on and start your applications, some medical entities require an interpreter in the medical field to complete the requirement of at least 40 hours of training. Some even go higher to 2 years of hands-on experience. It really depends on the nature and vision of every entity, though.
Among the other requirements to land a medical interpreter job is passing a written exam or other various oral exams that simulate real-life situations and accordingly require impeccable interpreting skills.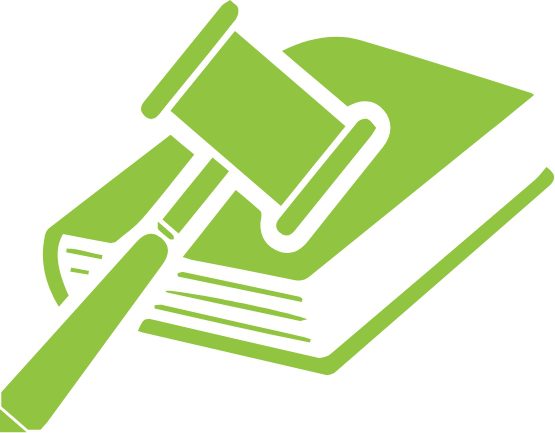 Code of Ethics for Medical Interpreters
The medical practice involves moral dilemmas and heaps of decision-making. Besides, when in action, an interpreter in the medical field possesses sole power over the situation. They, alone, understand everyone, whilst everyone else simply doesn't. That's their superpower.
Therefore, a code of ethics needs to be in place, representing the expected ethical and professional standards that professional medical interpreters must live up to.
And here we have many examples, including The International Medical Interpreters Association's (IMIA) Code of Ethics "Guide on Medical Interpreter Ethical Conduct" by Eva Hernandez-Iverson, which came first of its kind and serves as a professional quality assurance tool.
Today, translated into 11 languages, it ushers interpreters towards their good standing.
From there comes the six must-adhere-to categories that the IMIA code boils down to are: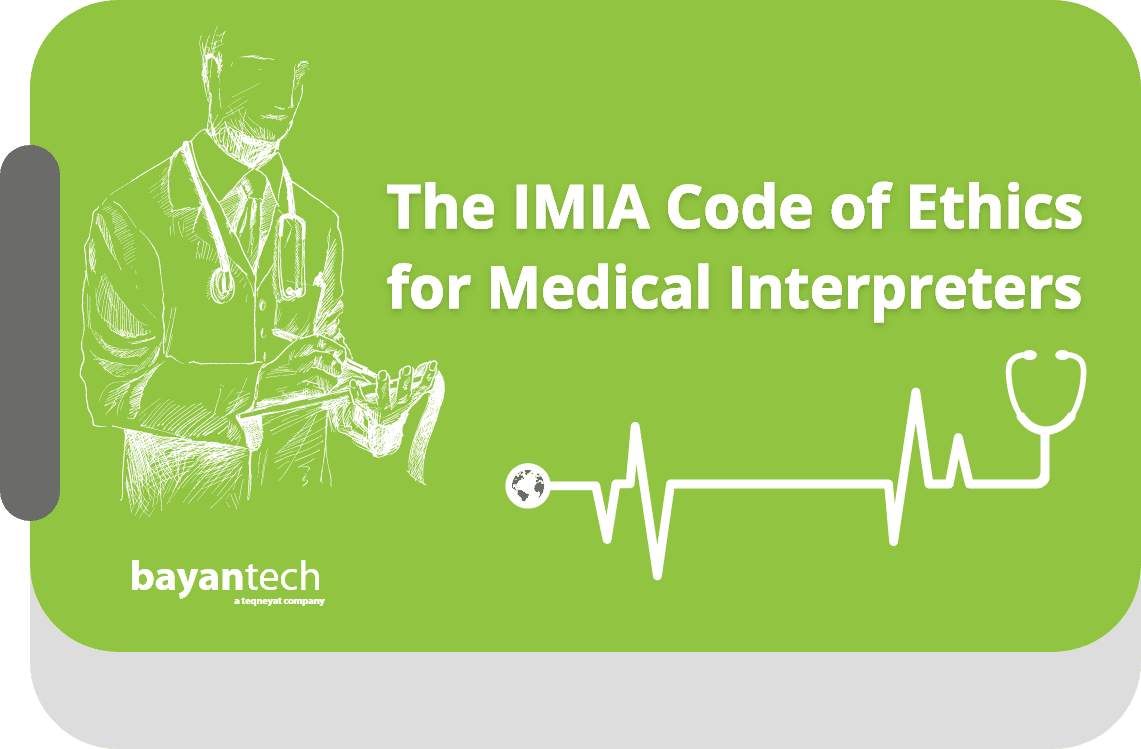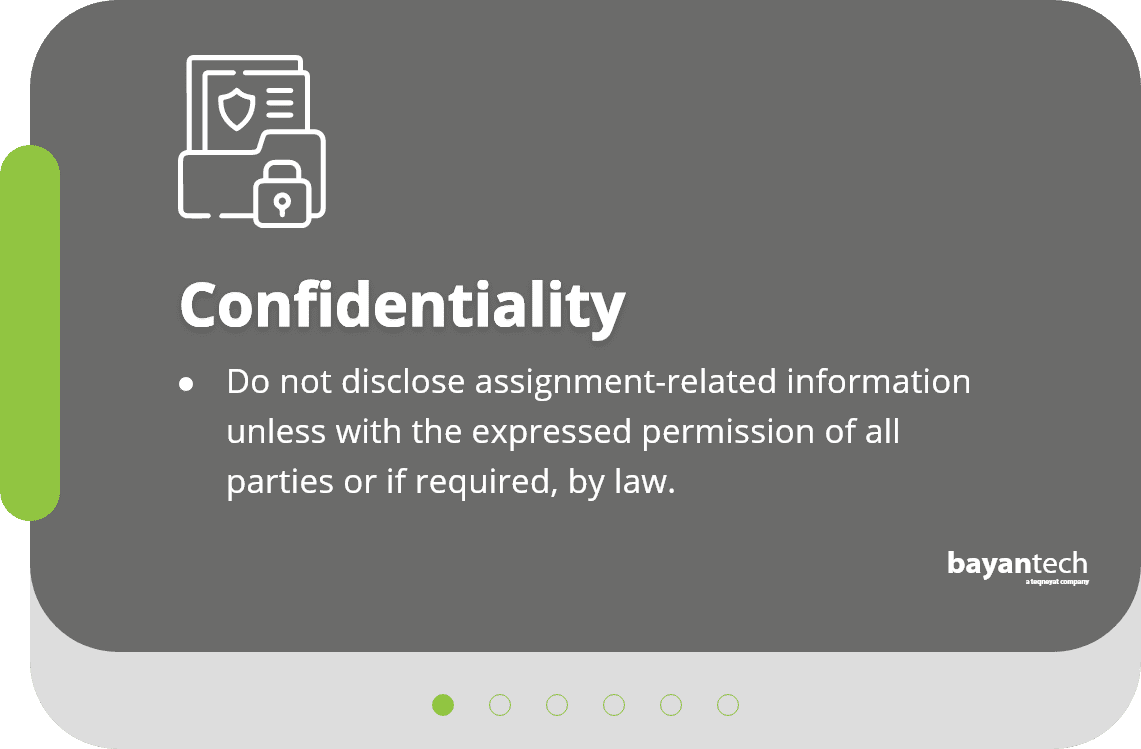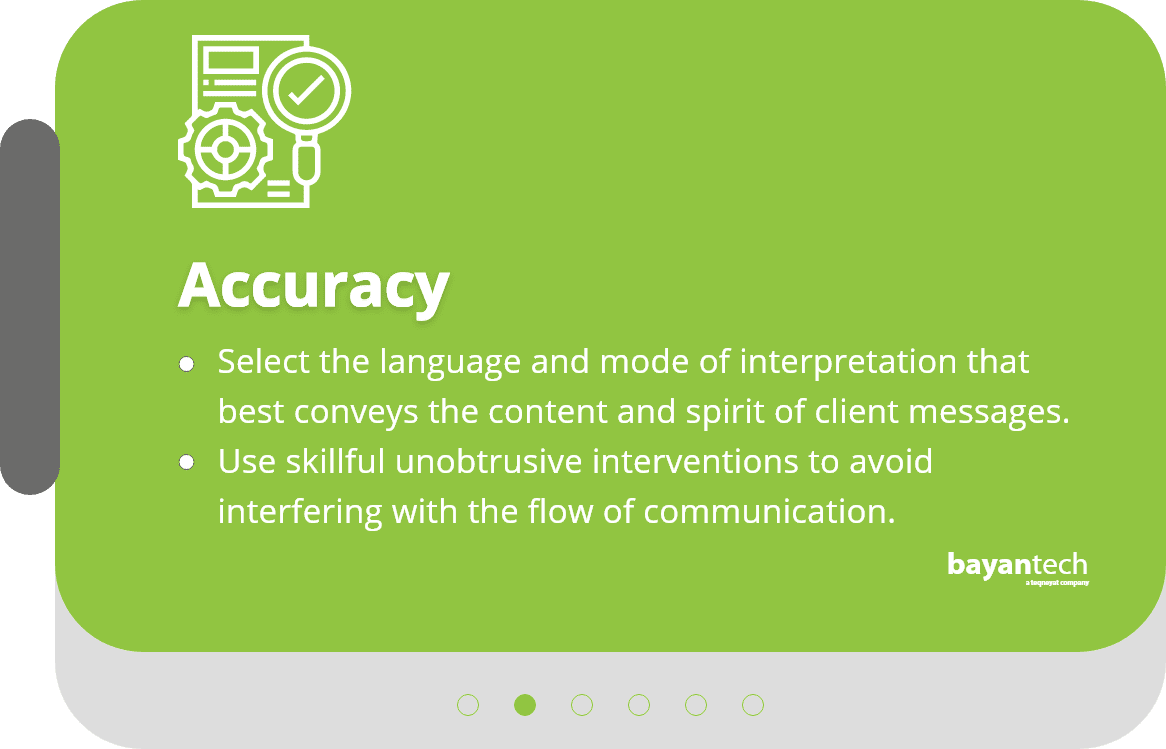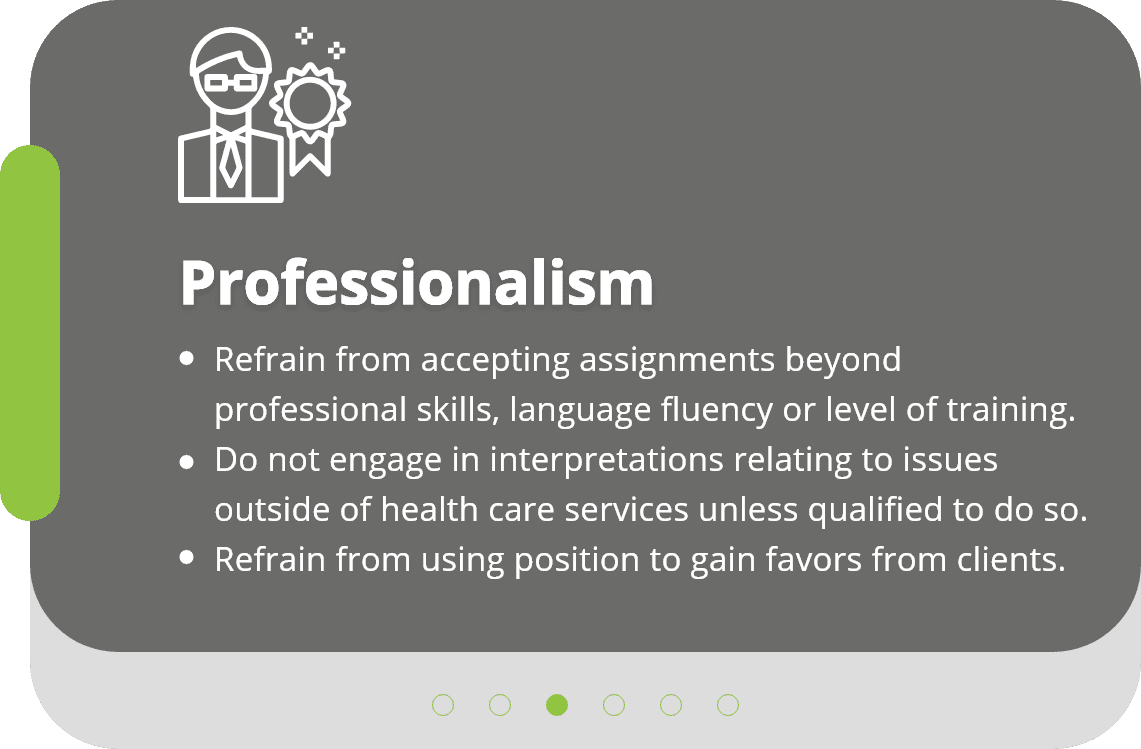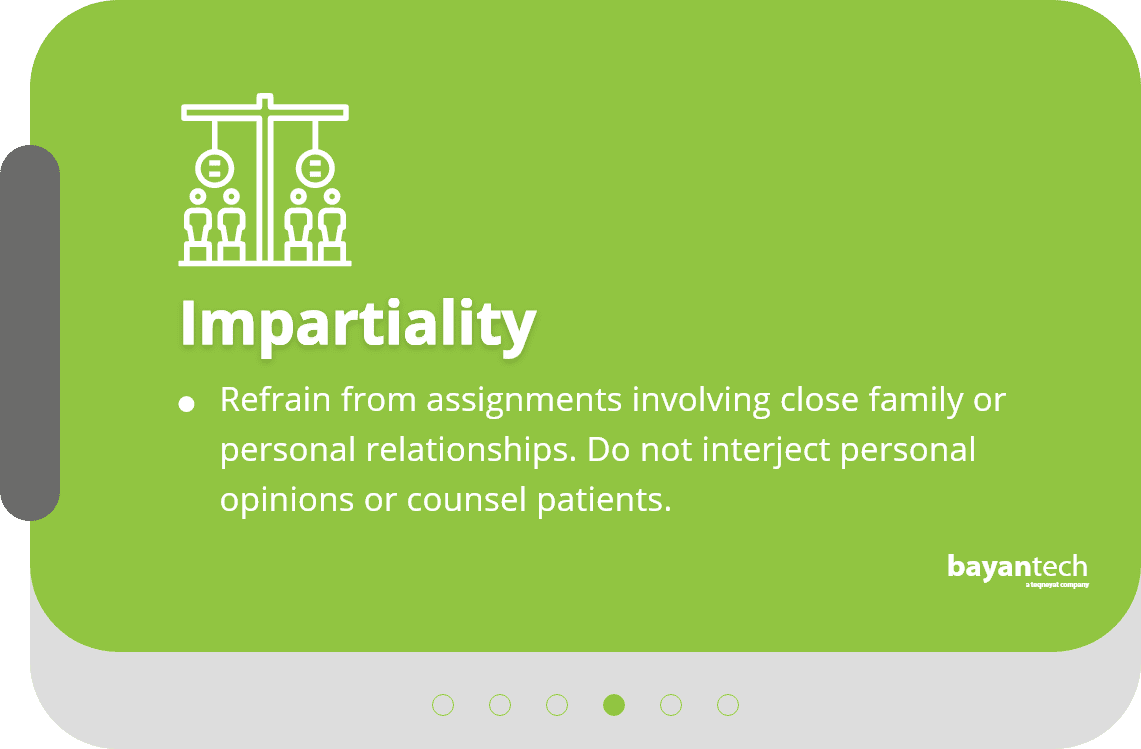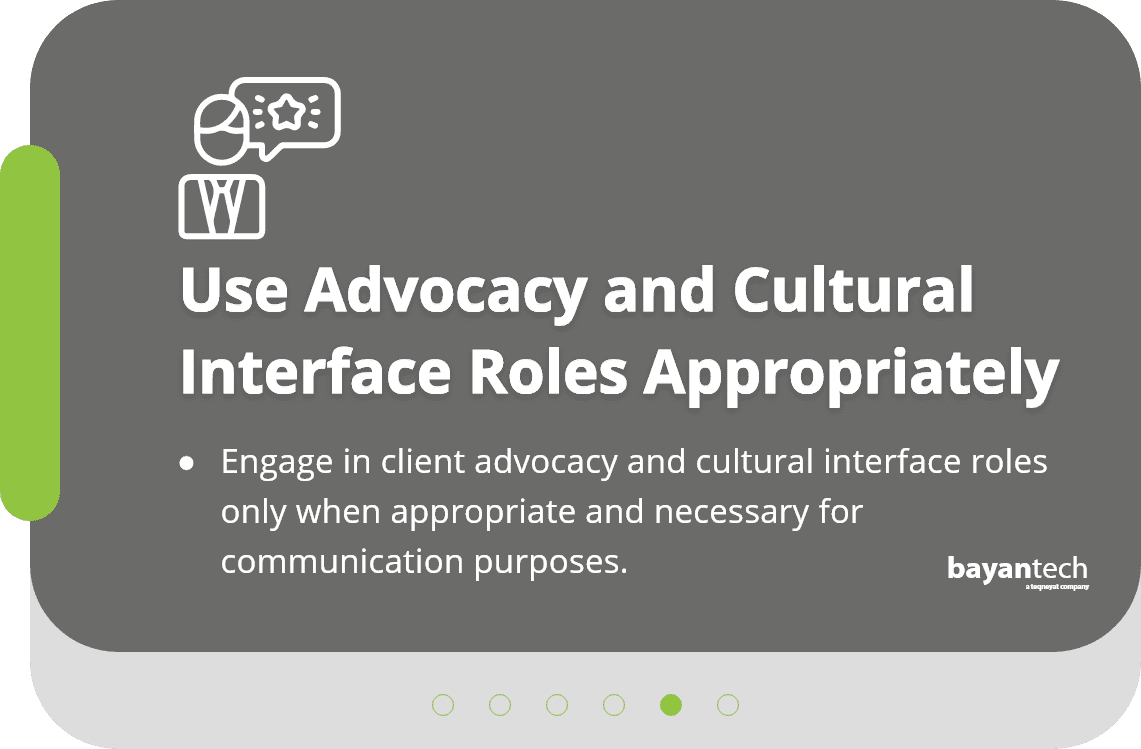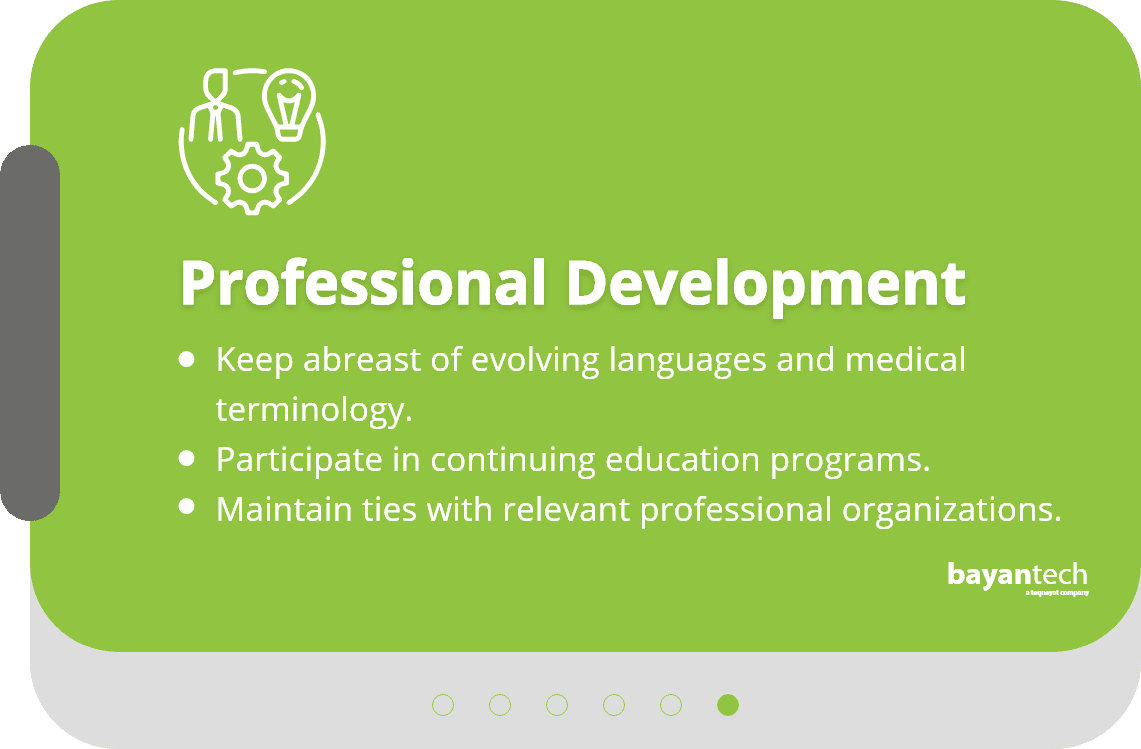 What is the Certified Interpreter's Oath?
A professional medical interpreter's oath derives, obviously, from the medical interpreter's code of ethics. It provides the interpreter in the medical field with the foundation on which they build their conduct.
In 2015, for example, CCHI took on medical interpreters' oath responsibility. That is to say, it became the body administering interpreters' taking the oath on various healthcare professional occasions.
If you're asking what the reason behind that may be, well it is to certify compliance of all interpreters in the medical field with the adopted code of ethics.
Here is how, as previewed on CCHI's website, the certified medical language interpreter oath reads: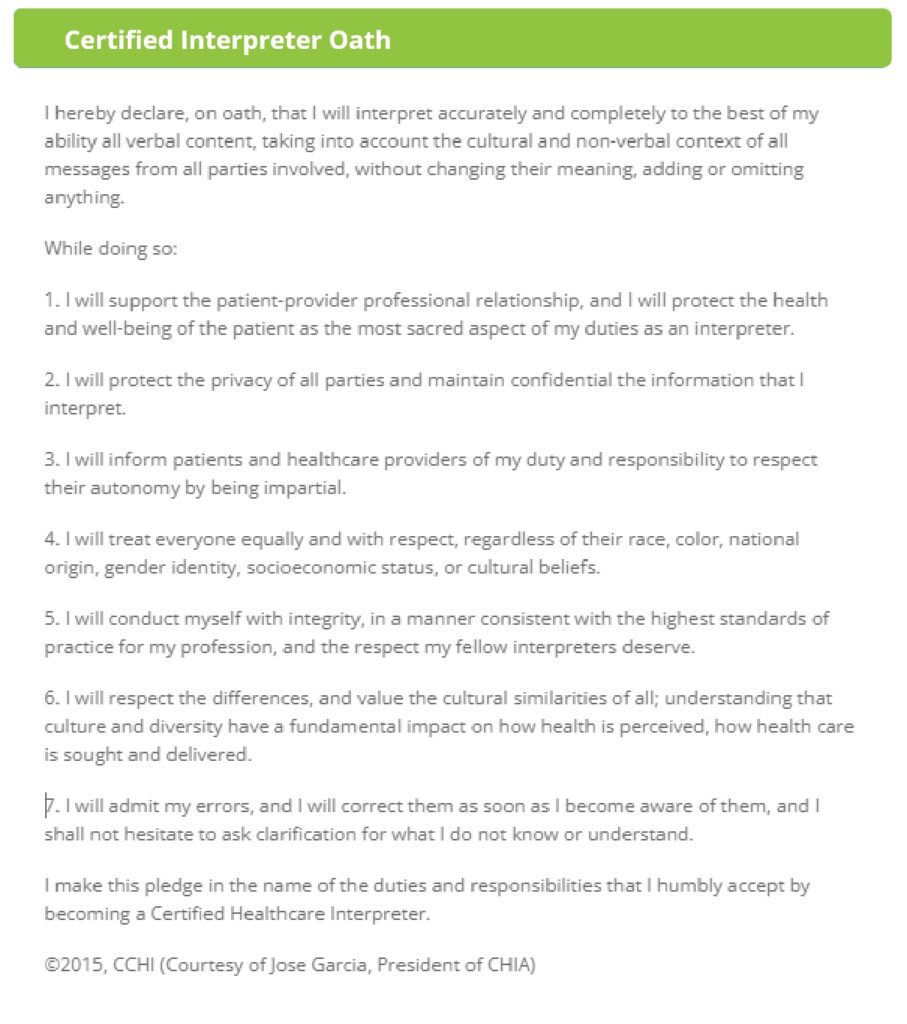 A Medical Language Interpreter's Duties and Responsibilities
Building on this, it is now easy to stand on some essential duties and responsibilities of medical language interpreters.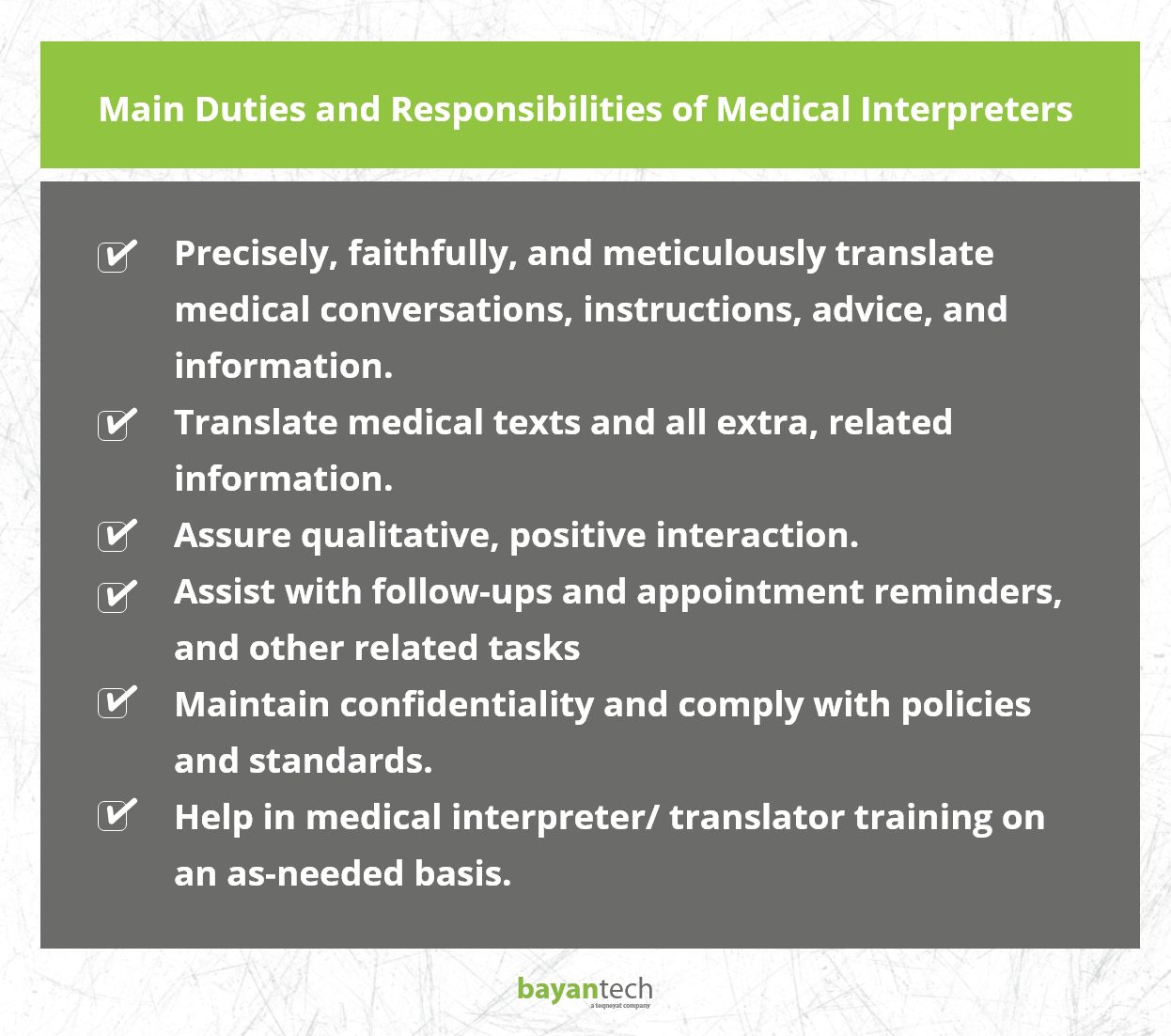 The Medical Interpreter's Protocol
In various healthcare entities, you will find protocols are typically planned, outlined, and systematically followed. Therefore, you will find medical language interpreters setting some pre-session guidelines to first establish a rapport with the patients and doctors. This helps in paving them in, facilitating the process, and reassuring them as well.
Here is an example of a protocol, conducted by an interpreter individually with a patient/caregiver:

1) Greetings & Mini Self-introductions
2) Ensuring Utmost Confidentiality
3) Ensuring Completeness of Interpretation
4) Ensuring Direct Communication Between Doctor and Patient
5) Agreeing initially to 2 or 3 Sentences at a Time and Frequent Pauses for Sound Interpretation.
6) Allowing Intervention for Clarification or Repetition… etc.
7) Asking If There Is Any Important Information They Want Disclosed Beforehand?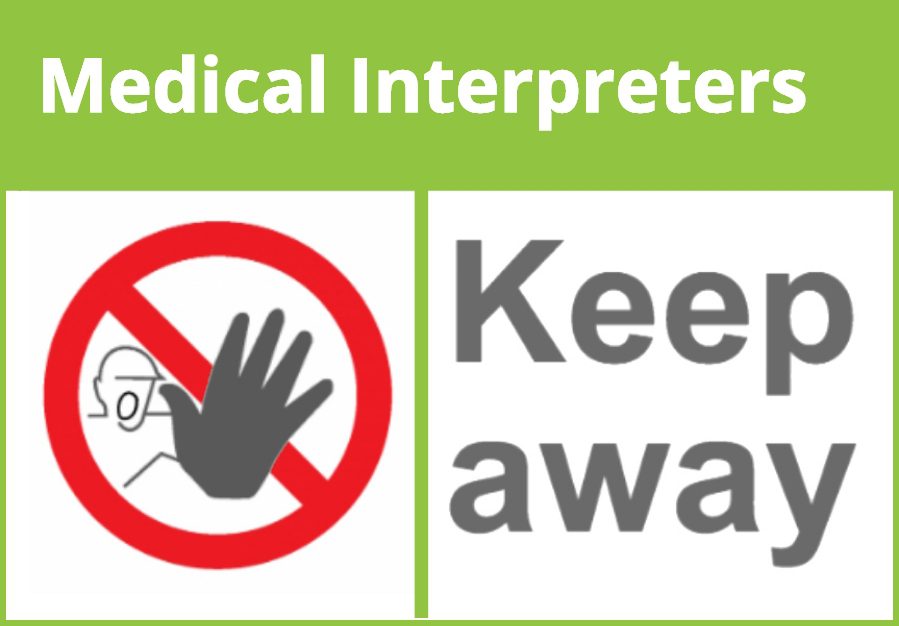 If you're done with your TO-DOs, well it's time you read your NOT-TO-DOs as a professional medical language interpreter:
Medical language interpreters are

not assistants.

You are not the doctor or the nurse. As an interpreter in the medical field, you are required to serve as a conduit between patients and doctors.

But remember that as humane as what you're doing is, you cannot make decisions for the patients nor help them with medical procedures.

 A medical language interpreter is not entitled to

any alterations or even corrections

to any part of the medical conversation.


Many reasons foreshadow that. For example, the slightest mistakes in the patient's speech could really bear meaning for the doctors and nurses. And those little reflexes or abnormal movements could reveal even more. And truly we cannot afford to lose that. This is why the engagement of all parties is vital.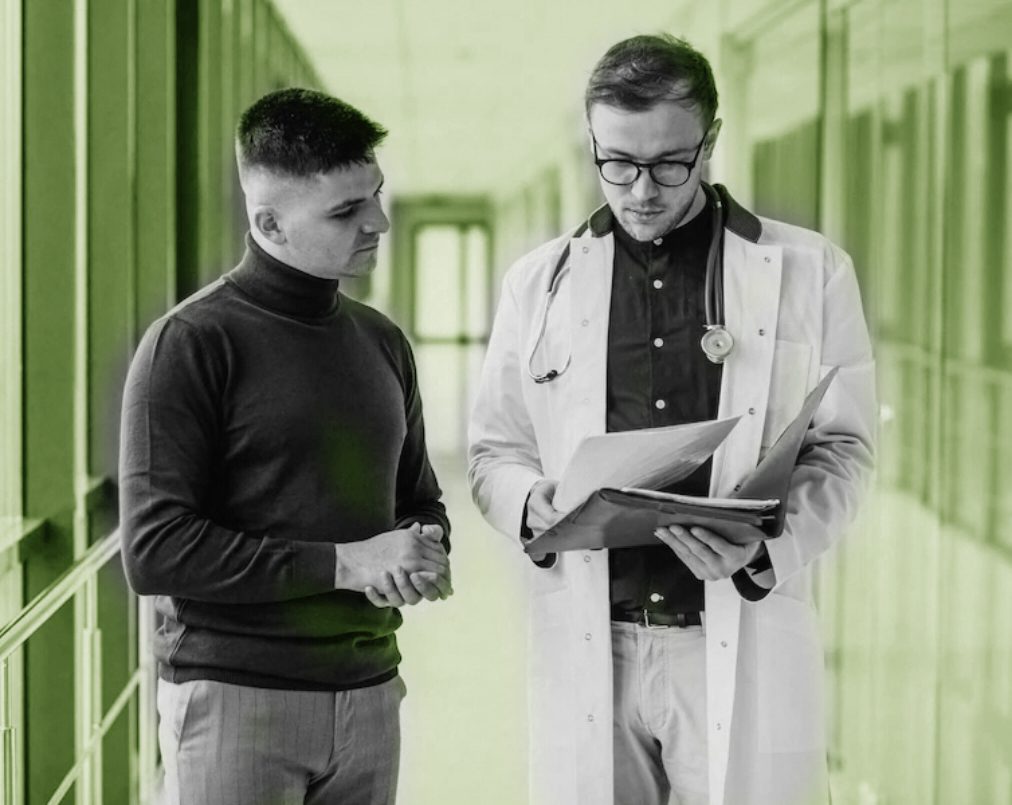 A medical language interpreter is not entitled to

any alterations or even corrections

to any part of the medical conversation.


Many reasons foreshadow that. For example, the slightest mistakes in the patient's speech could really bear meaning for the doctors and nurses. And those little reflexes or abnormal movements could reveal even more. And truly we cannot afford to lose that. This is why the engagement of all parties is vital.
Assuming!!!

One role of an interpreter in the medical field is to ensure the patient gets equal medical access as a country's native speaker. If as a medical interpreter you opt for assumptions in vague areas, you actually take away the patients' power as a human being to express themselves as they desire.

By that, you play a role in matching different registers, not falsifying them – right before their owners.

A medical interpreter does not

jump to conclusions

. They don't extra-explain the doctor or the patient. What we mean is that if there is something that needs clarification, a medical language interpreter should wait for a fuller idea rather than go for a fill-in-the-hole type of interpretation.

This type of covering up what's missing is easily deciphered by patients and doctors alike, and it just never plays in anyone's favor.

An interpreter in the medical field does not

leave out information or take responsibility for them

. For some, there could be real challenges such as interpreting flirtatious or swearing content. Yet, you should stick to your protocol and code of ethics and convey each and everything as is.

In addition, it is the doctor's responsibility to handle that. If you do the opposite, you are immediately held accountable, in every possible aspect. And that jeopardizes your own credibility and even safety!
Sign up to our newsletter to receive the latest blogs and news.
What's Behind Interviews for Medical Interpreters?
Medical interpretation is an ethical role before all others. By that we mean that in an interview for you as a medical interpreter, you wouldn't get a once-over; in fact, you will get looked through very transparently.
Your employer will want to know your real understanding of the role, as an interpreter in the medical field, which is of great importance and effect, of course.
For that, we suggest you prepare your answers for these most influential frequently asked questions in interviews for medical interpreters: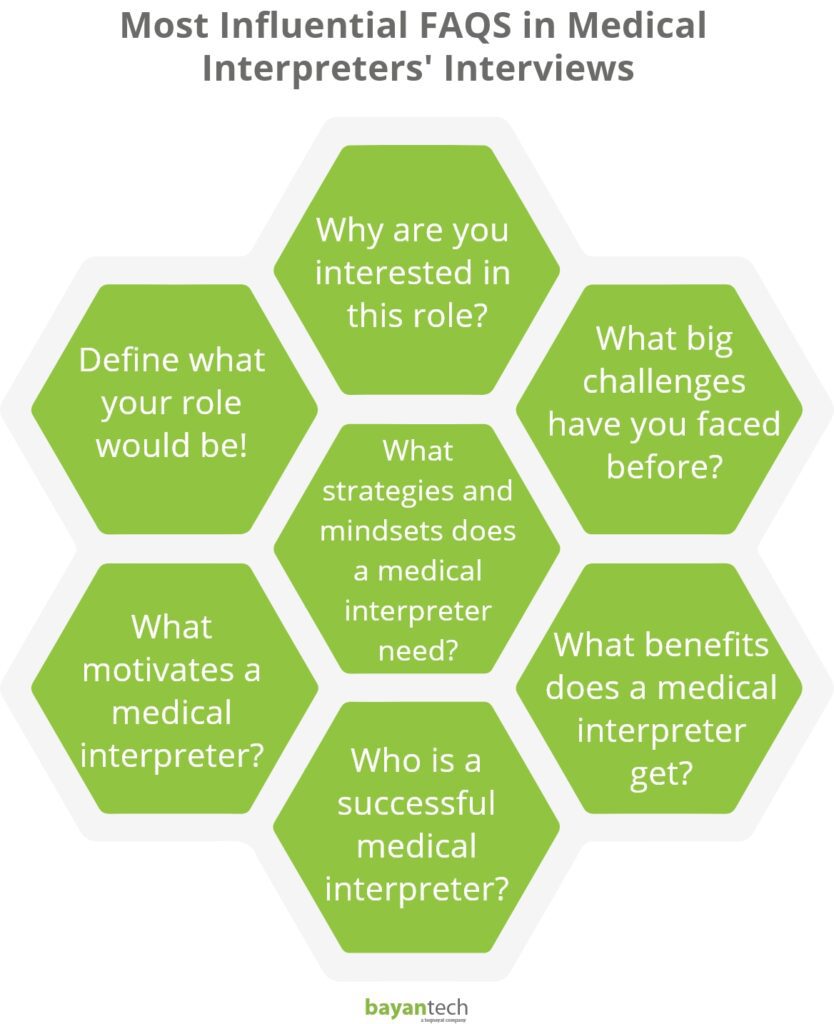 Medical Interpreters: 2 Real Life Stories
The One When the Interpreter Stepped in
In a pediatric clinic in the United States, a Spanish mother accompanies her little girl to receive a vaccine shot that she had never had before. By the time she had it, it was best she stayed a little while at the clinic just in case!
However, it was only a few minutes until the medical interpreter, Erin Rosales, would have her office door wide open. It was the mother rushing in, panicking as her daughter was getting obviously ill.
At this point in time, the interpreter wasted no time. She rushed into the doctors' and nurses' rooms to get the help the little girl needed, as well as her mother. And they all managed to save the day.
The One with the Korean Interpreter, Andy
During the CoronaVirus pandemic, people were appalled, psychologically even more. Via an Interactive Voice Response (IVR) interpretation, a medical interpreter tells the story of how she resorted to not only translating but also using the most compassionate tone and calmest reaction to help soothe the patient.
The interpreter could not believe the transformation the patient felt, that she, too, felt happy, lightening up the pressure at such a time. At the end of the day, such precious moments are what make it all worth it for a medical interpreter.
If you're interested in medical interpretation
or if you are even starting your way into it,this FREE mini-guide is for you!
Alicia Fernandez, a professor at the University of California, San Francisco School of Medicine says that prior studies in the United States indicate that patients with limited English proficiency are more likely to have longer hospital stays! They are also more often misdiagnosed and subjected to medical errors!
She continues: "you can imagine how difficult it is to get a cancer diagnosis when you're not really understanding."
It's even worse "when family members act as interpreters, […] make many mistakes and […] carry the anxiety of making a mistake." said Dr. Fernandez.
A professional interpreter in the medical field here would help A LOT. It's needless to say how communication from an expert medical interpreter helps relieve trauma and directs attention solely to the patient's treatment and satisfaction.
Professional interpreters in the medical field are not machines, to start with. They are human beings, after all! They assess the situation's seriousness and level of anxiety and then take the necessary steps and protocols towards the best-possible tonality even before translation.
They help patients understand medical terminology, diagnosis, and documents. Moreover, they guide them through the signing of consent forms, surgical procedures, discharge summaries, follow-ups and more.
In other words, your job as an interpreter helps the patients and their families trust the medical organization through a complete understanding of what is needed from them and through avoiding errors.
These, and many other reasons, are why healthcare providers, hospitals, and organizations all over the world need to partner with professional medical interpreters.
By doing so, they truly practice what they preach! They, primarily, improve medical outcomes for their patients and their establishment on an equal footing. Plus, they reduce the resulting dilemmas for all.
bayantech for All Your Medical Translation and Interpreting Needs
With almost two decades of experience and global exposure working in 120 languages, bayantech continues to support the healthcare sector through its highly qualified interpreters in the medical field, with their exceptional knowledge of the medical field and unparalleled work ethics.
Professionalism, accuracy, and speed are what set bayantech apart from others. With round-the-clock support, we offer a comprehensive set of medical interpreting services, including on-site interpreting, on-the-phone interpreting OPI, and video remote interpreting VRI.
With a professional team of medical interpreters, you will reduce liability for physicians and hospitals before the law, guarantee patients' safety, boost service quality, and place you in compliance with laws and regulations.
bayantech provides highly qualified medical interpretation services, and it is the translation partner you are seeking.
All that and more!
bayantech offers a full array of translation and localization services from A to Z, ensuring compliance with the international ISO standards, rigorous quality assurance, and all client security policies related.
Looking for standardized medical interpretation services worldwide,Contact us now.
Visit bayantech, explore all other services available, and even get a firsthand quote for translation services!