You are probably here because you need a legal translation agency or at least need to translate your business documents.
Whether you've dealt with legal translation before or you are new to the game, there's so much to know to make a decision and feel confident about it.
Globalization exists, but so do language barriers. And sooner or later, expanding businesses, like you, find themselves in need of quality legal translations, because they'll be operating in countries that don't share the same language, culture, or legal system. Ergo, they'll then need to translate their legal documents. In that case, language services aren't just a convenient "option". They are a necessity.
Translating legal documents is an intricate task that requires a highly qualified team of professional translators and legal experts, extensively knowledgeable on the subject nuances. Otherwise, a little mistake can cause legal disputes, serious delays, billion-dollar mistakes, or all of them combined.
This post discusses the importance of legal translation and why you have to consider, for your business, the aid of professional services for legal translations. Plus, we'll tell you where to translate legal documents and what you need to know before you hire a legal translation agency.
Let's get started.
What's So Challenging about Legal Translation?
Professional translations are required for a variety of reasons. You may need to sign a business partnership agreement or contract, get a local license, merge with another company, or hire an employee from abroad.
In fact, for these different reasons, there's a wide array of legal documents that require legal translation services, including:
Service Agreements.
License Agreements
Company by-laws
Deposition Records
But why is there so much fuss about legal translation? What's so special and challenging about translating legal documents?
Legal translation is obviously vital for both businesses and individuals, but it's also notoriously known for being one of the most demanding fields in the translation industry.
Here's an incident to put that in context. Several translation errors caused the EU-South Korea Free Trade Agreement to be delayed by several months in 2011. Due to more than 128 errors where words had been completely mistranslated, the trade minister had difficulty passing the bill through the National Assembly.
During the time the agreement was not in place, how many opportunities may Korean and European companies have lost? And how many opportunities are global and local businesses can afford to lose because of poor legal translation?
Keep scrolling for a breakdown of the top five challenges that your legal translation project should overcome.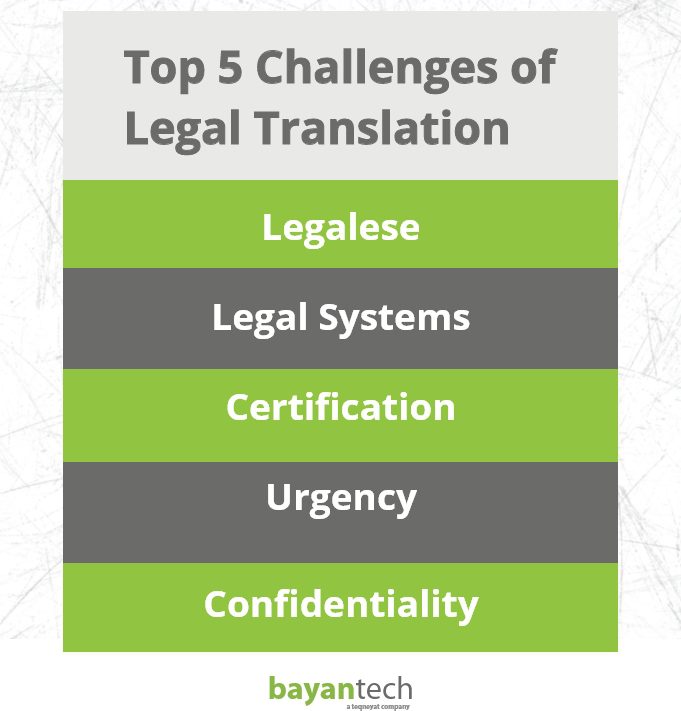 The legal language, known as 'legalese', is a linguistically complex language. It's peppered with intricate, industry-specific terminology and jargon and has peculiar syntax, tone of voice, and register.
A study by the Massachusetts Institute of Technology (MIT) revealed that legal language is very hard to read and understand. People, who are nonlawyers or have no legal background, can't decipher the legalese in legal documents, written in their own language.
Imagine translating them!
From nonstandard capitalization and the excessive use of passive voice and long compound sentence structures to borrowed, foreign terms and center embedding, legal documents aren't only hard to read but very challenging to translate.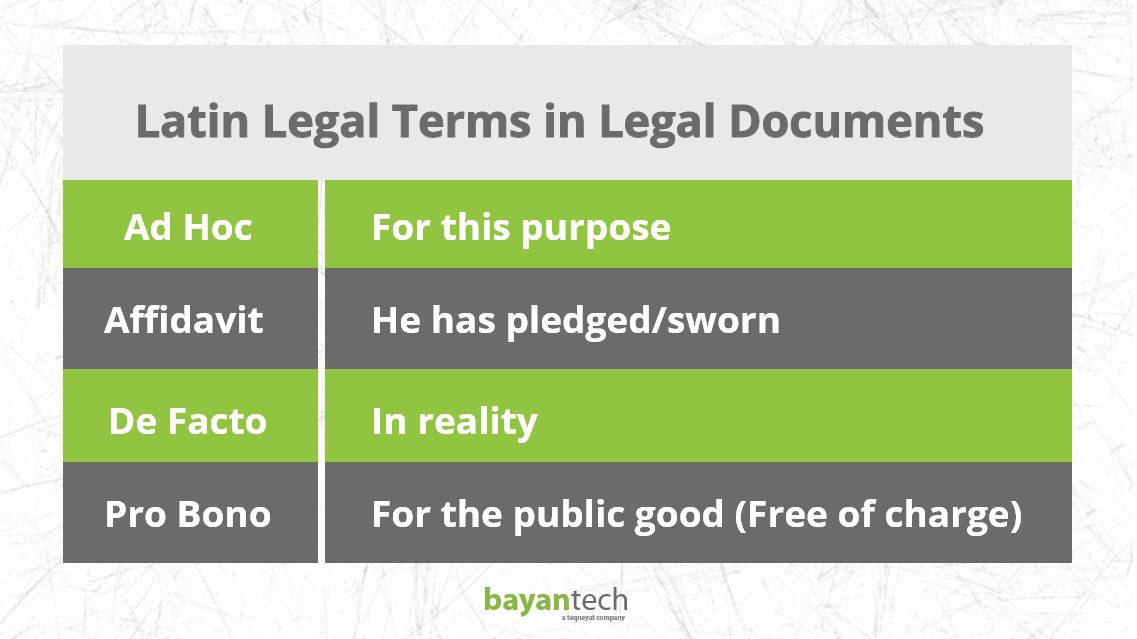 And with such complexity, accuracy is non-negotiable. It's why you should only entrust your legal document translations into the hands of professional translators who are legal experts in the first place. They are the only ones eligible to interpret and render your legal texts accurately.

In legal translation, there's no place for ambiguity, misinterpretation, or mistranslation. Your business can't afford it. Confusion in any kind of legal setting puts so much on the line, your business' reputation, your rights, and your money.
If you think that legal translation is as simple as conveying a word into a foreign language and you can call it a day, then you are off to a bad start. Beyond the linguistic aspect of legal translation, there are cultural and regional differences that should essentially be taken into account while translating.
Legal systems vary from one country to another. And your legal translation should conform to the standards, laws, and regulations of the court, institution, or organization within a country. Otherwise, your documents could be deemed void.
This redefines quality in legal translation, which becomes accuracy and compliance combined.
Differences in legal systems also mean differences in terminology and legal concepts. It's more common than you think that a legal term may exist in one country (legal system) but doesn't exist in another. A challenge that only a professional with deep knowledge of the legal systems involved can deal with.
It's worth mentioning that the variations in legal systems around the world can extend to exist within a country or a region. For instance, in the United States, each state has its own state legal system. Same country, same language, but different legal framework.
A similar case would be the Spanish language, which is spoken in about 20 countries. But, make no mistake, Spanish has ten major dialects. You can't just request a Spanish legal translation. Depending on the country you intend to operate in, your translation should consider the Spanish dialect and legal system in question.
The same goes for Arabic legal translation. Besides the fact that there are approximately 30 variations of Arabic, Arabic-speaking countries across the Middle East operate under different legal systems.
To sum it up, legal language isn't universal; it's shaped by the legal system and culture of a country.
In most cases, government and non-government agencies and/or courts may request certified translations of some legal documents. The American Translators Association defines a certified translation as a translation with a signed statement that attests to the accuracy and completeness of the translation.
Wondering why this can be challenging? Because in case you made that misjudgment and decided to translate your legal documents yourself, you aren't authorized to certify a translated document. Also, if you decide to hire a freelance translator, even a certified one, it's unlikely that they can certify a translation themselves, due to the hassle and expense of the paperwork of the certification process. 

The answer is a professional legal translation agency.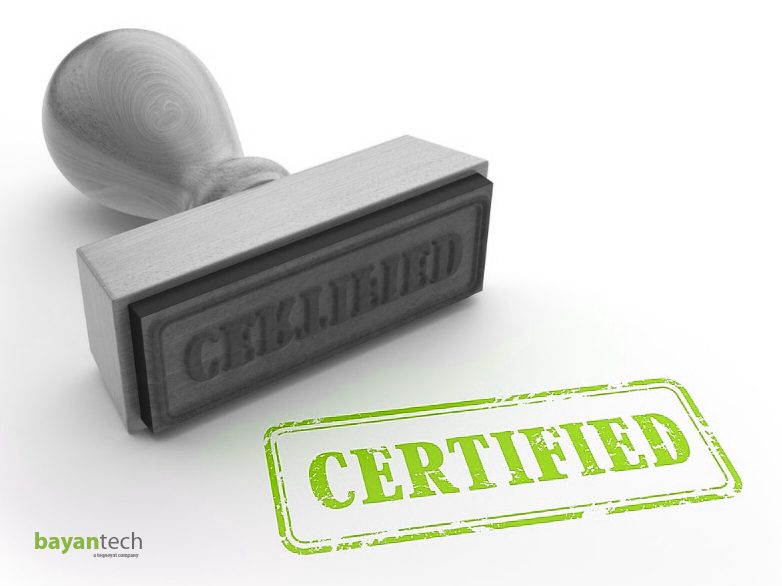 Unlike other types of translation, legal translation has a unique sense of urgency to it. With plenty of obligations, commitments, business plans, and penalties involved, time may not be on your side.
We understand that you don't just need professional, certified legal translation, you need it fast (preferably yesterday). And that's perhaps what makes legal translation problematic. Because this balance between quality and speed is delicate.
However, getting fast and professional legal translation isn't far-fetched, if you are relying on an experienced legal translation agency, equipped with large teams of professional legal translators.
Want to Know More About Legal
Contract Translation?
This quick guide was created just for clients like you.
That's probably self-explanatory. Legal documents can contain sensitive information and business data. And you'll always need to protect your privacy and keep your documents safe and confidential. This could also be a legal requirement, where your legal documents are bound by confidentiality agreements. Or, you might just need to keep your next business move or big break in a particular market under wraps.
The bottom line is your legal documents' confidentiality is imperative.
And it's completely understandable to find it hard to trust your legal documents to just anybody to translate them. You should make sure that whoever is going to help you provides a professional and secure way to receive, store, translate, and submit your legal documents, guaranteeing no unauthorized access or data breach whatsoever.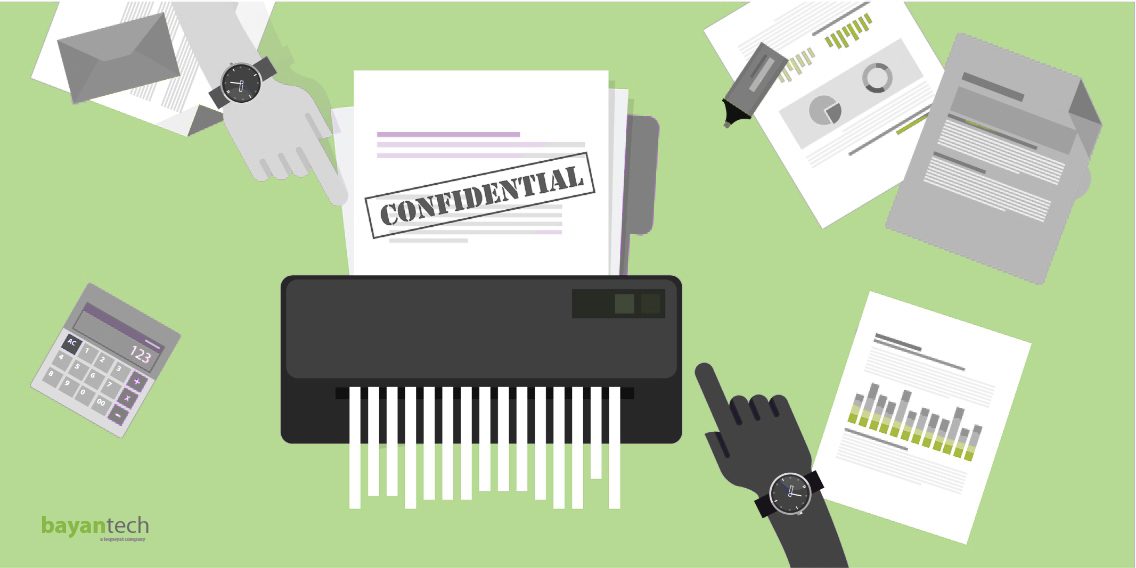 Sign up to our newsletter to receive the latest blogs and news.
How To Translate Your Legal Documents: 4 Answers, but One Right Answer
When it comes to legal documents translation, there are usually four options:

1. Rely on your company's bilingual team
2. Hire freelance translators
3. Use machine translation
4. Work with a translation company.
However, when it comes to a sensitive area such as law, your options shrink down to one: a language service provider or a legal translation agency.
But since we don't want to sound biased, we put together a simple and honest comparison between these options to help you decide for yourself.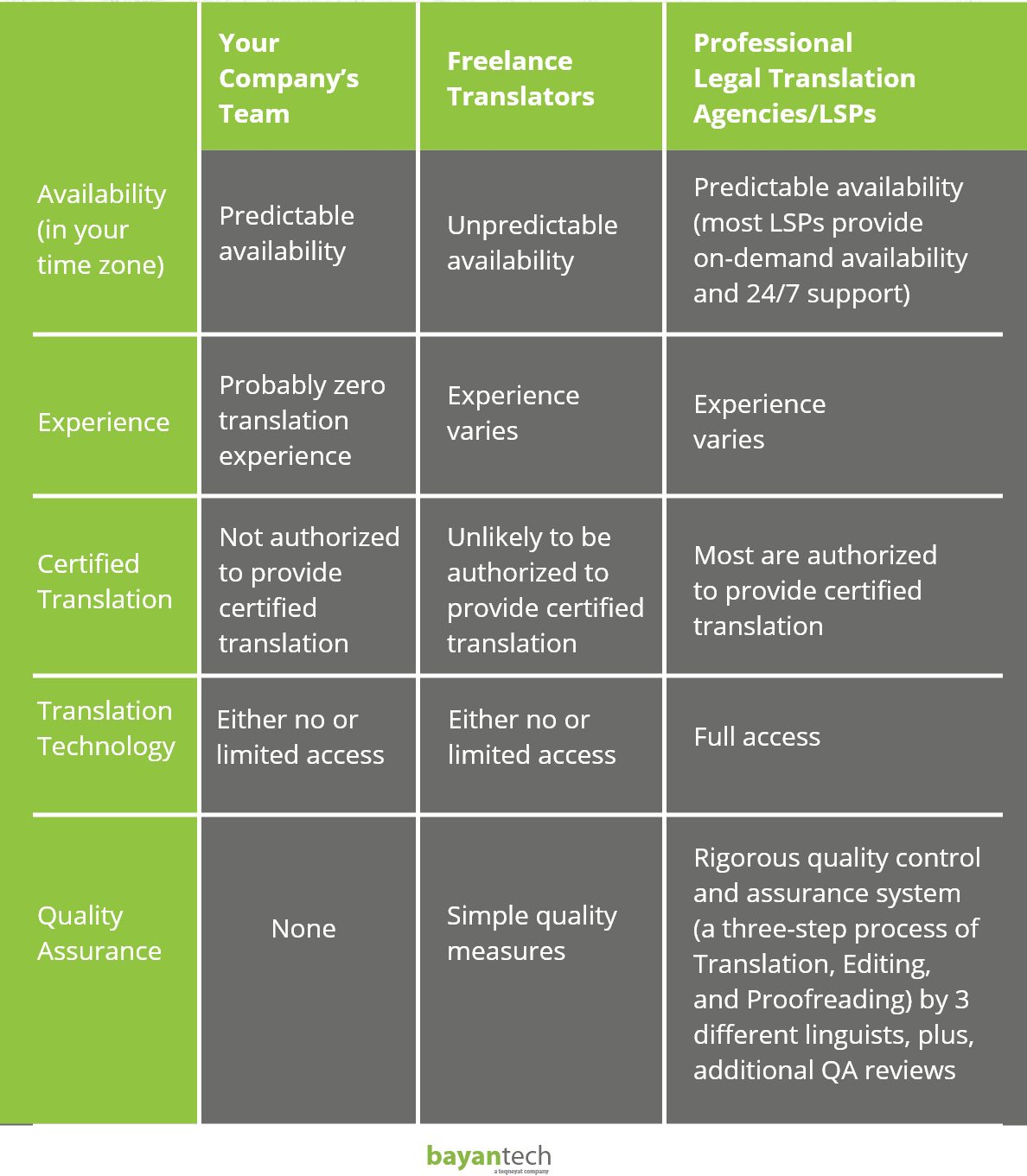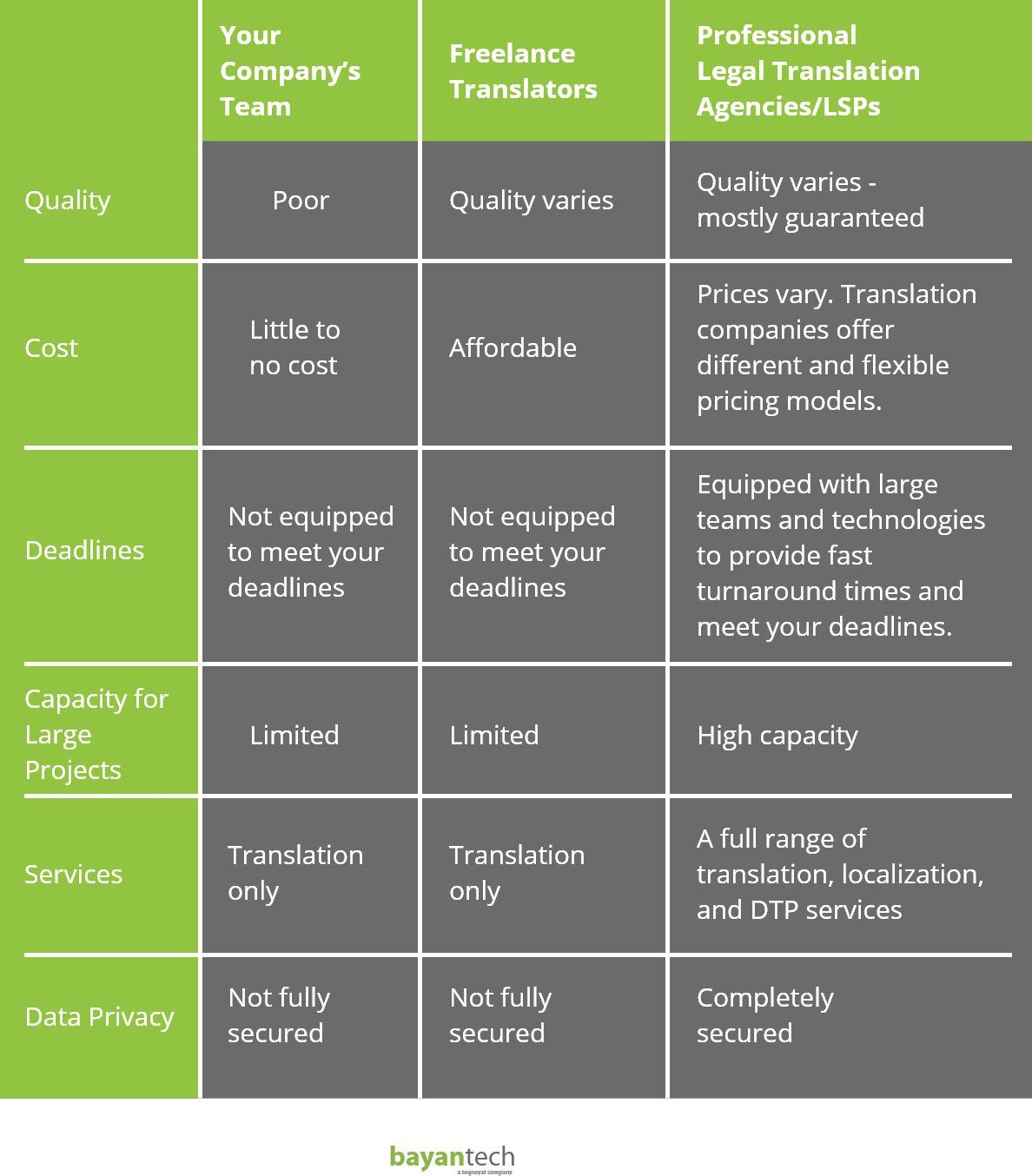 So, yes, your company's team is a definite no-no for obvious reasons. Hiring a freelance translator isn't your best option either. It's not because freelance translators aren't experienced. It's only because of the nature of freelancing with its long vetting and hiring process, negotiating, unpredictability in availability and delivery, besides the limited access to advanced translation tools and having someone do a more-than-one-man job.
But before we go into detail about how a legal translation agency can be your greatest ally, you must be wondering why we haven't included Machine Translation (MT). The thing is when it comes to Machine Translation, it's not all black and white.
It's true Machine Translation can be of great help to translate your legal documents at scale and speed. However, MT is still nowhere near as skilled as human translators. In fact, relying solely on MT can be problematic. Besides concerns over data security, the complex legal language, contextual nuances, and the need for certified translation require human translation.
And although MT and AI are striving to catch up to achieve human-like quality, they still have a long way before they do. Until then, there's still a way to optimize the speed and scale of MT, and that's Machine Translation Post-Editing. With MTPE, the raw MT output is edited, reviewed, and polished by a human expert, where linguistic, technical, and contextual accuracy is achieved, so your translated legal documents can properly serve their purpose.

Now, it's time to learn why you should work with a certified legal translation agency and how they can help.
5 Ways A Legal Translation Agency Can Help You & What to Look for Before Partnering with One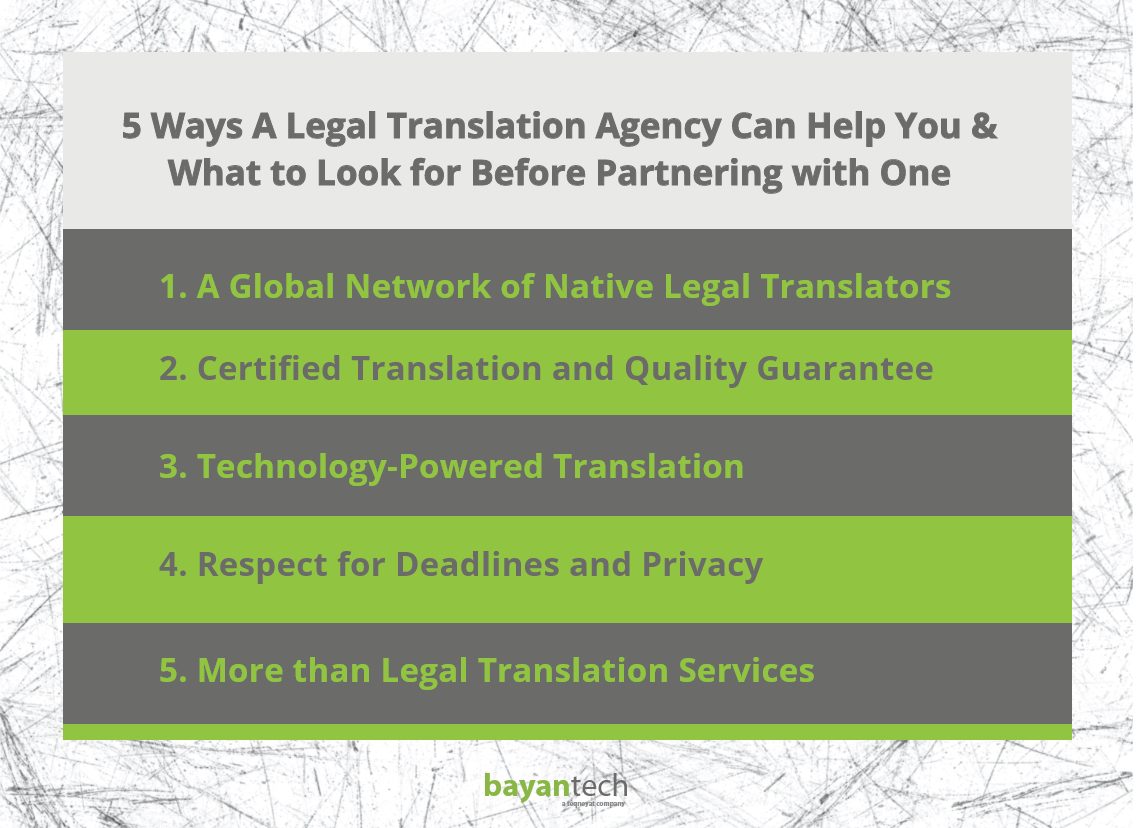 1. A Global Network of Native Legal Translators
In most cases than not, legal translation agencies hire only native-speaking translators and reviewers. And because professional agencies are used to managing multiple translation projects, you'll always have this access to huge teams of translators across languages and dialects.
Not only that, but specialized legal translation agencies have large networks of linguists with extensive legal backgrounds and legal translation expertise across a wide variety of legal specialities.  Besides their experience in the translation field, they have in-depth knowledge of the legal area, its terminology, and the relevant legal systems, which enables them to translate legal documents accurately, ensuring precision and consistency.
Quick tip: Double-check if a legal translation agency has a team of native speakers who have experience in translating legal documents and whether they have done the same type of work for other clients. Also, in case you need to translate legal documents into Arabic, for instance, you might want to work with an agency that's located in regions where Arabic is spoken to ensure that you get expert Arabic language translations.
2. Certified Translation and Quality Guarantee
High-quality, certified legal translation is one thing you won't have to worry about when working with an expert legal translation agency.

Most language services providers operate under the ISO 9001 and 17100 standards , making them qualified to offer certified translation for your legal documents. This way you can ensure that your legal translation documents aren't only up to the highest standards but are also in line with the official requirements of the relevant bodies.

You should also know that a certified translation ensures accuracy in both translation and 'procedure'. In other words, it ensures that a legal translation agency has a strict quality assurance and control system in place, from linguists' onboarding to a multitiered translation process (3-EYE Translation, Editing, and Proofreading), to provide quality translation services.
Quick tip: For your business and legal documents, never partner up with a legal translation agency that doesn't offer certified services. Especially, look for those that comply with the requirements of the international ISO 9001 and 17100 and inquire about their QA system.
We can use pictures for the ISO certifications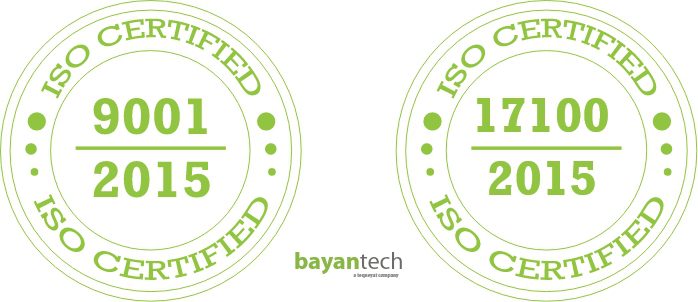 3. Technology-Powered Translation
As alluded to before, translating legal documents indeed requires the wit and intelligence of expert translators. Nonetheless, the use of advanced technology and tools in legal translation is crucial too, for getting the job done in a smarter and more streamlined manner. And no, it's not Machine Translation that we are talking about here (we already established using MT is a pure personal preference and business decision to make with your team and translation partner).
A best-in-class legal translation agency uses a set of cutting-edge translation tools that include mainly an efficient Translation Management System (TMS). A TMS helps streamline the full translation cycle, from submitting your legal documents to delivery, automate and optimize repetitive tasks, facilitate the collaboration between you and the translation team, and speed up the turnaround time.
They also leverage other valuable tools such as CAT tools, translation memories, legal terminology databases, glossaries, style guides, reference materials…etc., which don't only ensure accurate and consistent translations but also help significantly cut down on the legal translation's costs and time.
Quick tip: You don't want to hand your legal translation project to an agency that does translation the old-fashioned way, making the whole process time-consuming, resource-intensive, and cost-draining. Instead, make sure you choose a tech-driven translation agency that invests in translation and localization technology.
4. Respect for Deadlines and Privacy
Deadlines are no foreign concept to professional language services providers. It's because they understand the legal industry like the back of their hands, they know that legal document translation services should be carried out at high speed for the documents to be submitted to relevant entities right on time. And so, they are used to working under and meeting deadlines, no matter how tight they can be – while keeping the quality-speed balance intact, thanks to their huge network of teams, optimized workflows, and industry-leading tools.

Privacy of your project data is definitely another fundamental aspect of legal translation. In this regard, translation agencies respect the confidentiality of your business and legal documents. Oftentimes, translation agencies have a reliable security system in place and implement security measures that prevent information from being leaked.
For instance, we at bayantech, as a reputable legal translation company in Dubai, adhere to strict privacy policies. Our non-disclosure confidentiality agreements protect your data against security breaches.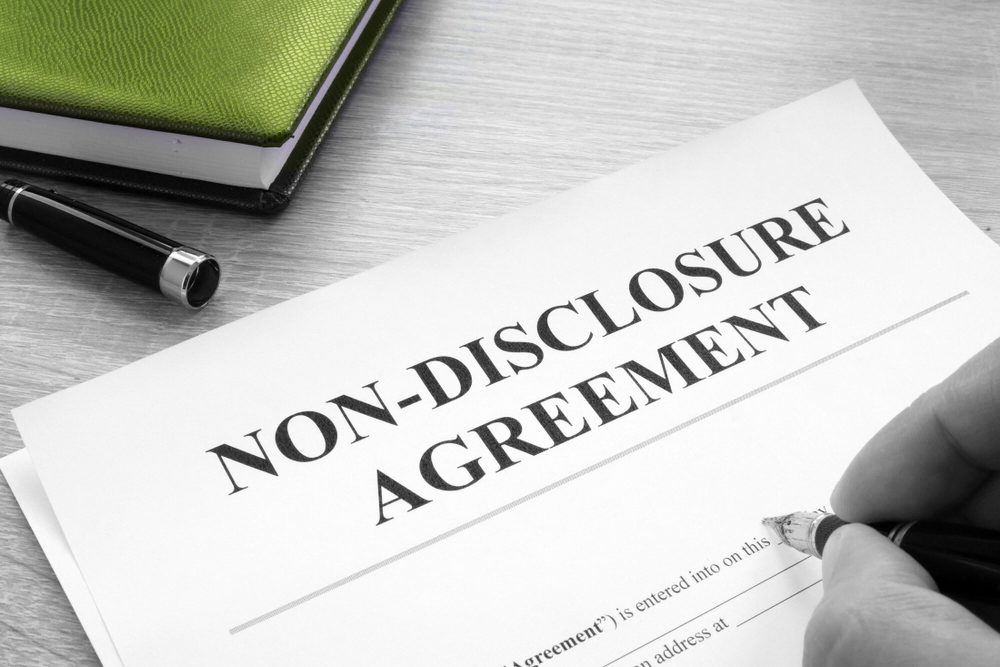 Quick tip: When choosing a translation agency, make sure they offer 24-hour availability and operate within your local time zone. It'll give you the assurance you need that your translation project will be completed and delivered as agreed and will be done with greater predictability. Also, always inquire about their privacy policy and what measures they take to protect your data and privacy.


5. More than Legal Translation Services
Your translation project is more than just a few company documents where the text needs to be translated –  and hence requires only translators. The truth is you'll need a full-fledged team of translators, reviewers, desktop publishing specialists, and specialized project managers. If you are wondering why, it's because your company documents should undergo translation and reviewing phases and a formatting, layout, and design phase, also known as Desktop Publishing (DTP).

With DTP, you can make sure your translated documents accommodate the target language writing system and characters, while they still mirror the format of the original documents. Without DTP, your legal documents layout might be cluttered, affecting its readability and compromising the quality of the documents, no matter how accurately translated they are.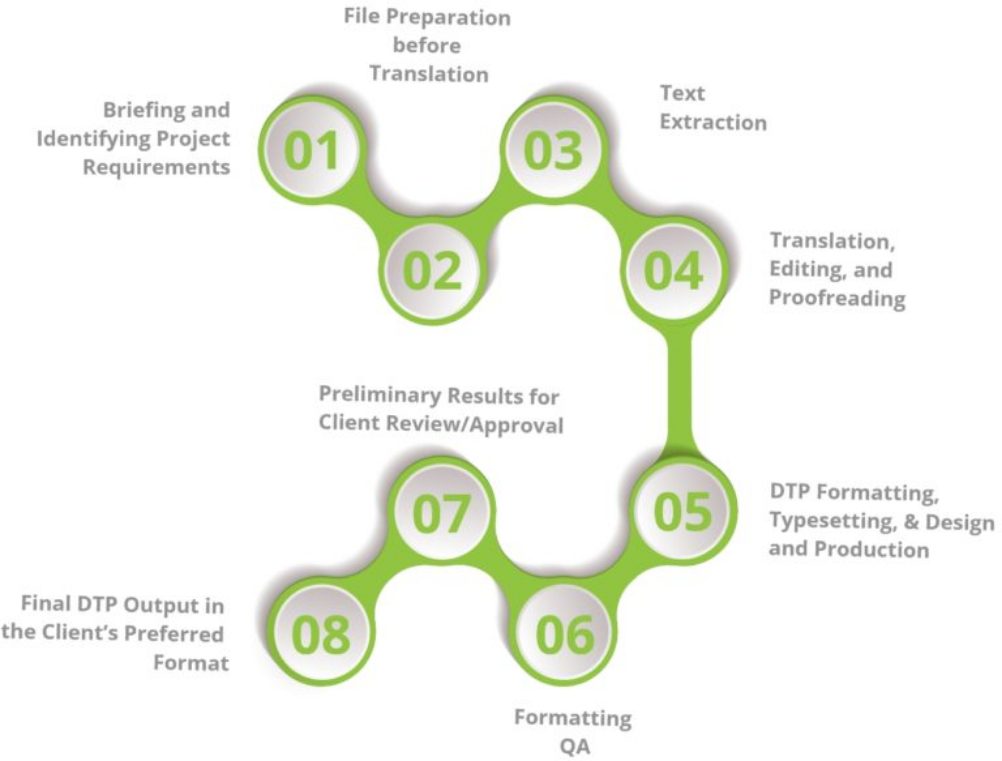 Unlike freelance translators, when working with a translation agency, you can benefit from a comprehensive set of translation and localization solutions to complement your business and legal documents as well as your entire business expansion strategy. From translation and DTP to website, app, and multimedia localization services as well as interpreting services. All in one place.

Quick tip: Go for a legal translation company that offers a full suite of translation and localization services. Ask about their team capabilities and request if they can provide samples of their previous work and references to double-check.
Work With A Highly-Qualified Legal Translation Company
Do you need professional legal translation services for your company? Look no further!
We at bayantech, work with a team of legal translation professionals, including native translators, editors, proofreaders, and project managers who are all specialists in their fields and draw on their expertise to deliver quality translation service to suit your needs.
As the best legal translation services in Dubai, for almost two decades, we have been providing quality legal translations in compliance with ISO certification standards and client security policies.
Let us know what you're working on.
Contact us or request a free quote today!