Localization is a real game changer for businesses venturing into multilingual markets. But it is also a high-stakes endeavor.

Mess it up, and you risk botched product launches, frustrated customers, and lasting reputational damage to your brand. Get it right, and you open up to new global markets ready to embrace your business with open arms. 
So what ensures you get it right?

It is Localization Quality Assurance (LQA) – it's the only way you can harness the true power of localization.
In this blog, we deliver a comprehensive understanding of this essential process and assist you in choosing the right localization support.
What Is Localization Quality Assurance (LQA)?
Localization Quality Assurance (LQA)
, also known as localization testing,
is the meticulous process that ensures your localized content is accurate, functional, and culturally appropriate. It is all about making sure that every aspect of your product or content is perfectly tailored for your audience in the target locale.
The process is typically carried out by a team of multidisciplinary professionals specializing in linguistics, localization, UI/UX, and quality assurance.
And through harmonious collaboration, these experts identify and rectify any issues that may arise during the localization process, from linguistic errors and formatting inconsistencies to functional glitches and cultural insensitivity.  
All of this aims to deliver a high-quality localized product that resonates with your target audience, maintains brand integrity, and drives positive user experience.
If you are wondering whether or not your product or content needs to go through this essential quality control process, here are the types of localization projects that a professional localization agency conducts thorough LQA for: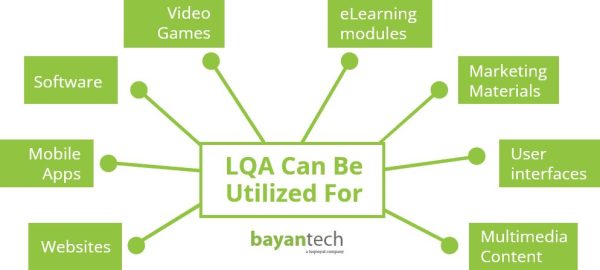 It's what makes working with a professional localization and translation company that adheres to robust quality processes paramount to ensure your products, services, or content are a success in the region they are localized for.
Why Localization Quality Assurance Matters
With each new global market your brand expands into, millions of new eyes see your content and try your products for the first time. And first impressions always matter – not just in English, but in every language you target.
That is why quality assurance is mission-critical for your localization endeavors. Without rigorous QA checks, even small translation inaccuracies can lead to major missteps in new regions. And consequently, brand credibility and user experience hang in the balance.
So what are the key benefits of localization quality assurance? Let us find out.
Through rigorous LQA, potential delays caused by inaccuracies, errors, or inconsistencies can be mitigated. This leads to a faster time to market for the localized product since time-consuming reworks are avoided.
LQA plays a vital role in guaranteeing cultural appropriateness, maintaining terminology consistency, and ensuring the functionality of your product. The thing that results in a user experience that is seamless, intuitive, and captivating for gamers, for example, in the case of game localization.

Localization testing ensures that the message, tone, and assets of your brand remain consistent and aligned with its identity across various languages and regions. 
This enables you to build your brand credibility, foster your audience's trust, and mitigate the risk of misrepresentation through inadequate localization practices.
Proactively identifying and fixing localization issues through LQA is more affordable than extensive corrections and reworking. When high quality is ensured at the outset through localization quality assurance processes, it will help you save additional costs, while also optimizing your return on investment (ROI). 
Since LQA focuses on ensuring high-quality localized content that meets audience expectations, it contributes to increased customer satisfaction, brand sentiment, and engagement in each market.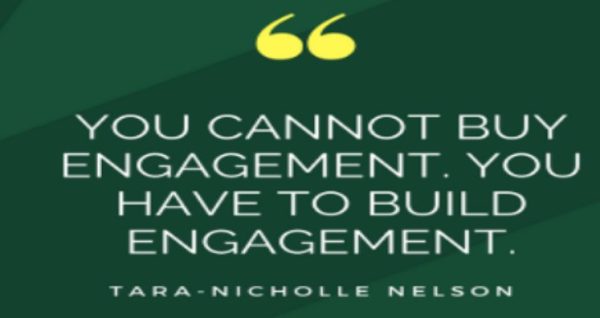 Localization quality assurance helps to catch errors that could lead to product recalls, penalties, offended users, compliance issues, and reputation damage if released in low quality. And hence, it helps you to steer clear of financial and legal complications.
What Does Localization Quality Assurance Testing Involve?
Once you recognize the immense value of localization quality assurance, the next logical question becomes: What does the QA process actually entail?
QA goes far beyond just proofreading for typos. It is a systematic methodology requiring technological prowess, human discernment, and a holistic view of the localized product.
From functional testing to linguistic reviewing and beyond, LQA examines all elements of the localized content and experience with one main goal—to identify and resolve any issues before the end user encounters them.
Let us explore together key aspects the rigorous process of localization quality assurance covers.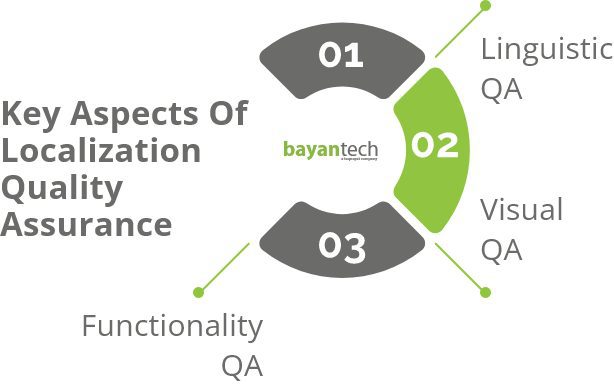 Linguistic differences arise even when localizing into the same language. American English, for instance, uses "localization" with a "z" while British English uses "localisation" with an "s."
The critical process of linguistic QA is conducted to carefully verify these regional language variations and ensure the translations sound natural to each local audience. It is typically a process that focuses entirely on validating the accuracy and fluency of translated content where professionals meticulously review: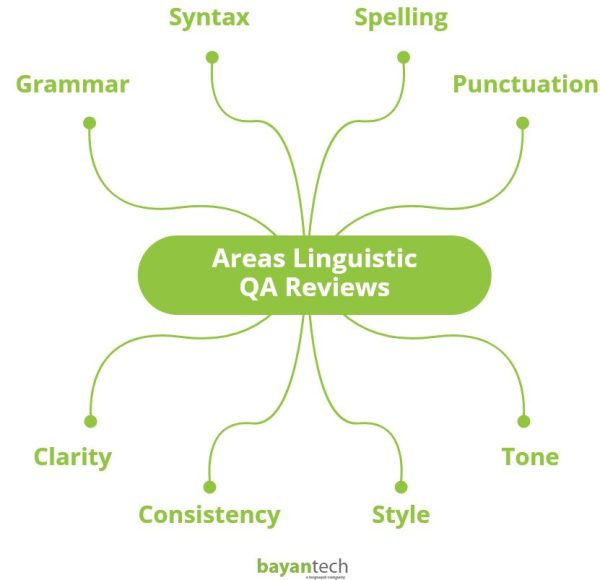 They compare the translated text with the source material, meticulously checking for any errors to ensure the localized materials accurately reflect the original meaning and effectively communicate with the target users.
Ensuring the visual integrity of localized content is also a paramount aspect of LQA. It is a process that requires meticulous quality assurance testing to address potential challenges associated with integrating translations into interfaces, graphics, and layouts across languages.
Challenges like text expansion due to longer translations need to be addressed dynamically. For example, longer target text must wrap appropriately within fixed UI widths to avoid truncation. 
Directionality also demands verification. For example, making sure text and interactive elements like buttons and menus properly accommodate left-to-right or right-to-left reading patterns is essential for visual consistency.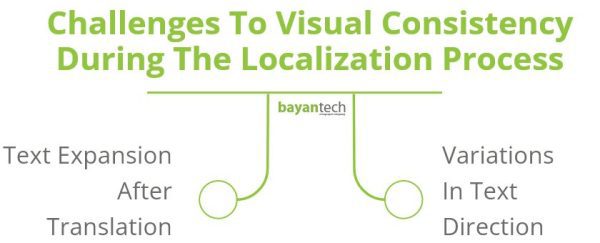 When checking the quality of your product's visual aspects, QA professionals conduct thorough visual assessments at multiple levels. They assess accurate formatting, proper character displays, and consistent brand style and validate correct font usage and symbol/character rendering specific to each target market.
They collaborate with developers and graphic designers to:
The end goal is localized content that smoothly fits designated spaces while preserving overall visual appeal —- a best practice for optimum user satisfaction and comprehension worldwide.
Functionality Quality Assurance is the most important aspect of localization QA, especially when it comes to software, mobile applications, or video games, employed to test the functionality and usability of such products after localization.
During this step, comprehensive tests are conducted to ensure that all features and functionalities work seamlessly in the target language and culture.
A team of QA experts assesses interactive elements such as buttons, menus, links, and navigation to confirm that they function correctly in the localized version. 
The process also includes checking for proper error handling and language-dependent input validation; all are meant to ensure the localized product provides a smooth and error-free user experience.
And for functionality testing to be done appropriately, QA testers may have to try the localized versions of the product as if they were the end-users to ensure that everything works as expected.
Localization testing in software testing, for example, usually involves:
How Quality Assurance Is Applied For Different Types of Products: A Quick Overview
Now that you have a general understanding of localization quality assurance, let us delve deeper into how it applies to specific products, such as websites and video games. 
This closer examination will provide you with a comprehensive overview of how the principles and practices of localization quality assurance are implemented in these contexts.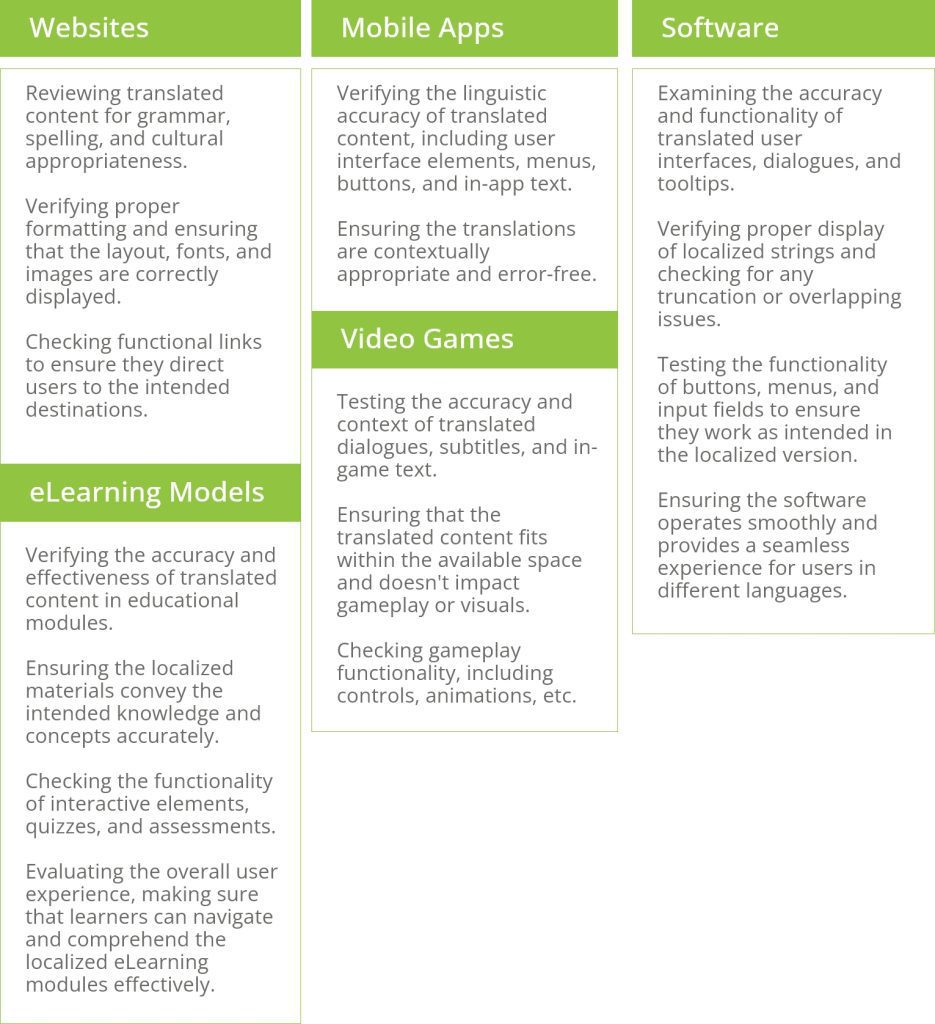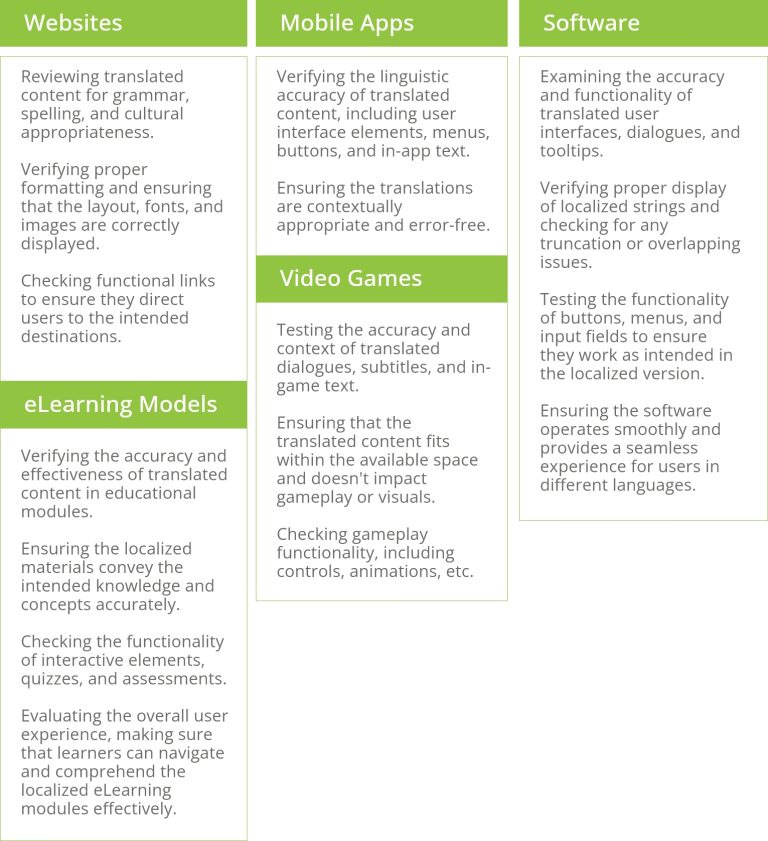 Tips & Tricks for Choosing the Best Localization Service Provider
We know selecting the best localization partner is a critical decision that can greatly impact the success of your products and services in global markets. So allow us to help you navigate this process with confidence and ease through the following tips and tricks.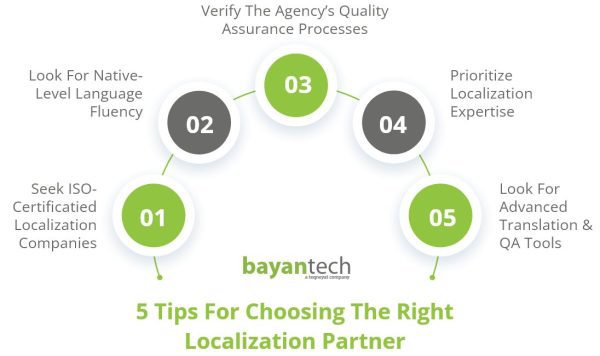 Look For Native-Level Language Fluency 
Quality localization requires more than just procedural accuracy – it necessitates true native language fluency and cultural insight. And that is why localization should be handled by in-country localization specialists and QA testers with a mastery of the linguistic nuances of the target market. 
Look for an agency that has native language teams that can intricately create a multilingual experience that hits a chord with your audience and makes them feel as if your product was originally created for them. 
Prioritize Localization Expertise
While linguistic proficiency is crucial for the success of any localization project, it is not enough unless coupled with exceptional localization expertise. You will need to thoroughly evaluate the agency's expertise in the field of localization by looking into its history of success across diverse projects.
Localization expertise lends profound comprehension of both localization complexities and tested solutions. So, when you make sure you choose a provider who is well-versed in overcoming common localization challenges, you can mitigate risks associated with low-quality localization and ensure a smoother localization process.
Look For An ISO-Certified Localization Company 
Being ISO-certified validates a localization company's commitment to consistent quality management processes and high standards. This is because ISO certifications like 17100 and 9001 require rigorous auditing and adherence to best practices for translation and localization services.

Verify The Agency's Quality Assurance Processes 
Also, looking for a provider that has a well-defined localization quality assurance process in place, including linguistic, visual, and functionality QA is highly important. 
A reliable partner will have a dedicated team of native-speaking linguists who meticulously review and refine the localized content to ensure accuracy and cultural competence for every localized project. 
They will also maximize their localization quality with automated quality assurance tools for the best end result.
Find An Agency That Uses Advanced Translation & QA Tools 
Partnering with a localization provider that utilizes advanced translation technology can have a significant impact on the quality of the multilingual experience your localized product offers.
While professional agencies work with highly qualified localization experts, the support advanced translation management systems and automatic QA tools provide is still indispensable.  
These tools streamline processes, centralize linguistic assets, and automate quality checks for greater consistency across markets which is crucial for maintaining your brand integrity globally.
Sign up to our newsletter to receive the latest blogs and news.
8 Steps Every Medical Interpreter Takes
Looking for a medical interpreter? Discover the career path of medical interpreters and qualifications they need to acquire to take on interpreting jobs.
Get The Most Professional Quality Assurance Practices For Your Project With bayantech
When it comes to ensuring high-quality localization, partnering with bayantech can make all the difference. 
Being ISO 17100 and 9001 certified and with our deep expertise in localization and thorough understanding of the challenges that arise during the process, we are well-equipped to deliver exceptional results.

Our work system brings a multidisciplinary team, including native-speaking translators and localization specialists as well as expert editors, designers, and project managers who spare no effort to ensure your localization project meets the highest quality standards.
We employ industry-leading quality assurance practices and leverage cutting-edge tools and technologies to guarantee linguistic precision, cultural sensitivity, and technical compatibility. 
In the past two decades, we have consistently made quality our highest priority. Contact us now and let us discuss your upcoming localization project.