Mobile app translation is the process of translating the text in a mobile app's user interface from one language into another. While it's essential for developers working to expand abroad, (along with other services, such as App Store Optimization) it's far from the end-all, be-all of mobile application expansion.
In this post, we'll explore the mobile app translation process, its priorities, its limitations, and how to make it a success.
Why Mobile App Translation Is a Key Business Need
As an expanding mobile app developer or publisher, you might wonder whether mobile app translation is right for you. At the end of the day, don't most people speak at least some English?

Let's check out some numbers:
According to Apptweak, in the first half of 2019, Indian users downloaded over 5 billion apps from the iOS Apple Store and Google Play/Android Appstore. US-based users downloaded over 3 billion mobile apps (this number includes both English-speaking and Spanish-speaking Americans), followed by Brazil, Indonesia, and Russia, three countries with very low English proficiency.
Meanwhile, a study by Distimo showed that mobile app translation can generate a 128% surge in mobile app downloads and a 26% increase in paid subscriptions.
By excluding yourself from foreign markets or only targeting those who speak English as a second language, by failing to translate your mobile app, you're missing out on potentially hundreds of thousands of monthly active users, and a substantial increase in revenue.
The thing about today's market is that there is a solution for everything, a mobile app for everything. If you thought about it, it probably already exists, which makes the environment incredibly competitive. What can you do to stand out from the crowd? Improve your user experience; make it flawless and fluid.
About user experience (UX), one thing that most people tend to take for granted is language. Communication throughout the interface is a key component when using a mobile app or navigating through a website. For instance, communicating with your users through their native languages will reinforce brand credibility and trust. They will feel like they're speaking with one of their own.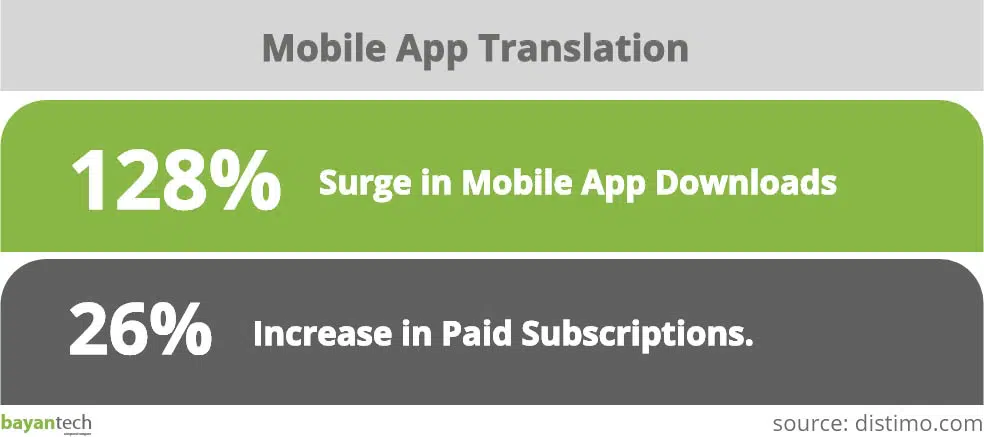 More than Translation, Mobile App Localization
While mobile app translation is an essential process, it's also an extremely limited one. Mobile app translation only covers the linguistic aspects of your digital product, resulting in a very limited type of cross-cultural adaptation.
Mobile app localization, on the other hand, involves a comprehensive review and adaptation of several dimensions of your product, such as:
The goal is the complete adaptation of the product to the demands of the new market, without losing its essence.
Instead of merely consisting of the integration of translated text into the original UI, localization involves adapting the UI and other functionality of a mobile application to make sure it serves its new users flawlessly. This process will take care of everything, from every aspect of the mobile app itself to mobile app store optimization localization.
A small example of localization is the replacement of payment gateways across locales to provide users with a payment method that adapts to their needs. For instance, the US version of your app could handle subscription payments via Stripe, but its Mexican counterpart should use Banwire or Mercado Pago.
The Mobile App Translation Process: A Step-by-Step Breakdown
Mobile app translation can open for developers incredible business opportunities  – and even more so, mobile app localization – but how does it work? Let's analyze the process, step-by-step.
Market research is perhaps the most important step in this process, second to translation itself. Before starting out a mobile app localization project, remember that the foundation of intelligent business expansion is in-depth research.
Ask yourself the following questions:
If you don't have multilingual international users yet, focus your research on your international competitors, and find a market that will welcome your mobile app with open arms.
Even in digital industries, geographic closeness has weight. Your neighboring countries are probably culturally close and economically similar. Start your expansion there to build up the processes to facilitate further growth.
Use your business data to craft reliable and actionable answers to the aforementioned questions. It's not advisable to simply translate your mobile app into a major language and call it a day. Your mobile app translation should be just one more process in a strategic international expansion plan.
Finding an Experienced LSP
Finding a Language Services Provider (LSP) is essential to getting a mobile app translation project done in relatively little time, at a reasonable cost, and with positive results.
While large developers with an international outreach can handle translation and localization in-house, it's not advisable to take the project into your own hands if you're a small actor.
An experienced agency offering high-quality translation and localization services will diligently help you bridge the linguistic, cultural, and functional gaps in your product to adapt to your target market. By delegating the project to a third party, you spare yourself of the costs of recruiting, training, and managing the project in-house, while guaranteeing a competitive quality baseline.
Looking for the right LSP?

Download our free client guide to mobile app translation service and optimize your search.
Once you know what markets you'll be targeting, you've designed a 360° market plan, and you've found the right translation services, and established clear terms for the project, a project manager will request the necessary files to start working.
Your translation team will first extract your app's translatable strings into a resources file, upon which they will perform the translation.
The project managers in charge of your success will probably request some extra insight on your part, to get a clear idea of how your app works and how your users interact with it, among other factors. The more context the team has, the higher the quality of the translation.
Now the translation itself will take place. Here are three actionable tips to simplify this process:
Quality Assurance & Delivery
Once everything has been translated and proofread, a strict quality assurance process takes place. Here, the app's translated version will be tested through a test environment. The idea is to test the new version on different devices and multiple screen sizes. In this way, you will be able to appreciate the final result and how the design was adapted to the translation. Then, one sees if arrangements or adjustments are necessary, reaching the final version of the app. If everything is flawless, the final version is delivered.
Sign up to our newsletter to receive the latest blogs and news.
FAQ: Can I just Google Translate my App?
Of course, you can, but you shouldn't . You must bear in mind that Google Translate, Microsoft Translator, or other MT engines use Machine Translation, which automates translation processes without including proofread or post-editing.

Although in recent times MT engines have advanced by leaps and bounds and today are a great help for translation companies, the outputs are quite raw and must be polished by the sharp eye of a professional human translator.
Machine translation does not have the cultural sensitivity and specific know-hows and detail-oriented approach that a human translator has accumulated over time and the results will always be machine-like.
How to Mitigate Risks and Secure ROI
Mobile app translation and localization demand time, resources, expertise, and strategic planning. The best way to mitigate the risks associated with international expansion (at least on this front), and get high-quality results is to hire a specialized LSP with considerable international experience.
bayantech is a language leader with a solid track record in the MENA region and beyond. With almost two decades of experience, we've partnered up with the world's greatest brands to deliver localized products, regionally targeted marketing campaigns, and more.
Thanks to a combination of native professional translators, ISO-certified processes, and the best technology, we guarantee culturally sound and linguistically flawless results, in every project.
Start your app translation project today, with the help of an expert mobile app translation agency.