In previous posts, we pointed out that localizing your mobile app is key to land in an international market with good fortune. Today we'll uncover some app localization tips to make that happen.  
It's no minor fact that in 2019, according to Statista, the global app revenue reached $461 billion, and it is expected to do over $935 billion in 2023. Considering these facts, if you localize your app, the doors of international markets will open to you, and an exponential revenue increase will definitely be in sight. 
In this post, we'll provide a quick guide to localizing your app. We'll also explain what high-quality app localization services can do to help.
Without further ado, let's begin. 
Quick Re-cap: What Is Mobile App Localization?
First things first, let's briefly recapitulate what mobile app localization is all about. 
Mobile app localization is the process of adapting your app to the native language of your foreign market. It doesn't only entail translating your product's on-page copy into one or multiple languages, but it also considers the general tone of your communications and products and the cultural nuances of your target audience. 
Plus, mobile app localization enhances the user experience by accordingly switching time zone, units measurements, currency, and even marketing strategies, among other factors. Thanks to the localization process, native speakers will perceive your product as if it were developed locally, and downloading your app will be more than appealing to them.
How App Localization Can Go Wrong
Before sharing some app localization tips, it's worth specifying what you should avoid when approaching a foreign market and, consequently, the outcomes you should look for in a localization process. 
When disembarking in a foreign market, you don't want to be perceived as an outsider. The goal is to blend in with the locals, so they feel comfortable and at ease with your product, which will inevitably cause them to stick to it. 
But there are hundreds of ways it could go wrong. Especially if you don't have a great translation partner to count on.
In this section, we'll share some mistakes you should avoid when localizing apps.
Approaching Localization as if it Were Translation
Localizing is not only about hiring professionals to translate your app perfectly. Although it is indeed a big part, there is way more to a good localization process than to simply translate, a few other things should be kept in mind, such as: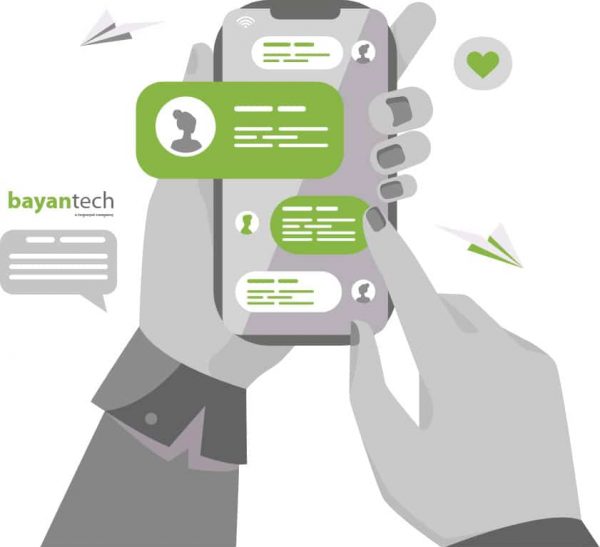 In other words, localization is a key business need, and translation is not enough, because your target market has a culture and context you should adapt to. 
Be eager to learn about and connect with your audience, and tailor your product so it can be understood and enjoyed as you originally intended. 
Beyond adapting to cultural factors, another convenient way to indulge your audience has to do with retailoring the user interfaces to support local linguistic and formatting conventions. For instance, if you're adapting your product from a right-to-left language to a left-to-right language, you'll have to mirror some interface components.
But even if this is not the case, your localization team will have to touch code to adapt elements outside your copy, such as:
You might be thinking, "Aren't those just small details?" They seemingly are, but they play a relevant role.   
Let's take, for example, the language keyboard case:
If your app includes an on-screen keyboard, you don't want your user wasting time, navigating the screen, to try to find where the right key is. And more importantly, you don't want them to commit accidental typos. The same applies when converting currency, measurements, and so on. Your user doesn't want to do the math when using an app, they want to use and interact with your app, and most importantly take an action or make a purchase, with ease. 
So, to sum things up, if aspects such as culture, context, or local variations, that go beyond translating the text, are not contemplated, dealing with your app will be tedious at best and impossible at worst. And either way, it will likely lead to users uninstalling your app or using it as little as possible. Making your user experience effortless should be vital. 
Developing for the Wrong Platform
Different regions have different user behavior trends and smartphone use is no exception to this. While Apple rules the USA, UK, and Japan markets, this is not the case for other parts of the world. Actually, according to 2019 research by Statista, Android has been the one taking over, by accumulating 87% of the global market share. In fact, Android adoption is expected to keep increasing in the coming years.
This information can give you a hint of whether you should prioritize localizing for one platform or the other. For example, if your target market resides in England, maybe it is wiser to begin unrolling your MVP (minimum viable product) as an iOS app and develop a localized version for Android to get some extra market dominance after a solid product has already been tested and rolled out on your majority-iOS audience. 
Failing to Build a Marketing Strategy Around the Product
What works in one locale won't necessarily perform similarly in another. As already stated, every new market entails its own set of cultural nuances to which you have to adapt. Consequently, you are forced to bring new marketing strategies to the table by default.
To do so -and succeed-, learning how native speakers behave, and what appeals to them, is mandatory. For instance, you might want to ask:
All these parameters will help to shape a strategy and criteria for you to properly market your product and reach your desired target audience.
Finding App localization a bit difficult to understand? 
Don't worry, we've got your back with the only 5 tips you'll ever need.
5 Mobile App Localization Tips for a Successful Product Launch
Now that we've covered what to avoid, let's dive into some mobile app localization tips that will help you master mobile app localization and have your product well received by your new target locale:
Know Your Target Market (or Conduct Market Research)
So you are new in town and want to be accepted by the community. To do so, you will have to do some homework: market research. 
It's worth repeating, and it's one of our most important app localization tips: 
Know your audience
Understanding who you're targeting is key for you to know how to properly engage them. The main goal here is to avoid misconceptions, due to either idiomatic or cultural nuances. Without proper cultural adaptation, your product could give the impression of being unclear, clumsy, or even inappropriate, causing it to be disliked and rejected. 
If you thoroughly study your target market and implement all that knowledge in your strategies, you are set to be welcomed with open arms by the locals.
Go for App Internationalization
The coding and design of your app need to be on point if you want it to be able to support all the possible versions of your localized product. This solid foundation is achieved through a process known as internationalization. 
This process needs to be planned and performed before localization even begins. Internationalization should be performed by a crew of technical experts, with the help of linguists with vast international experience, at an expert translation company.
Internationalization takes several software considerations into account to make sure that your app can have consistent performance in every language and device. For example, an internationalization team will make sure that your app can support the contraction or reduction of text due to translation, supporting non- Latin alphabets and bidirectional texts, etcetera.
Sign up to our newsletter to receive the latest blogs and news.
Keep a Clear Distinction Between On-Screen Content and Code
Resources (texts, images, tutorials, audio files… etcetera) should not be directly embedded into the code. If so, the localization team will have to fish for the translatable strings across your content base. And, without a clear idea of what code is and what isn't, the translator's work gets confusing and tedious, putting the translation's consistency at risk. A better solution is to have a decoupled approach, handling content and functionality separately and externalizing the resources in a translation management system, so they can be taken care of on the side. 
To put it simply, let coding and resources work together, but don't keep them in the same room.
Make App Store Optimization (ASO) a Top Priority
Among our app localization tips, we must include one that doesn't involve your app itself, but how it's marketed.
How does an app get higher chances to be downloaded? If you are thinking about app stores, you are on a good path.
iOS and Android stores are the counters where your product gets to be displayed and offered to the users. As these two are globally available in over 40 different languages, without a doubt, they are your gateway to hit the international market. This is why App Store Optimization should be a fundamental part of your marketing strategy.
Having said this, an ultimate app store optimization tip is to make good use of appealing keywords for each of your target markets. 
If used correctly, keywords will guarantee you a high spot in the app store rankings, thanks to making your app not only easy to find but also attractive to your public.
Code Matters
Another of our app localization tips has to do with project management rather than language.
Most app localization mistakes take place before localization is even a concern. Truth is that most of what makes an app localization project flop has to do with either lack of market research or bad coding practices. For example, a well-coded UI will be able to adapt to changing contents.
To avoid bad coding in your app development, you can:
Leave your App Localization Project in the Hands of Experts
s you can see, there are multiple variables to mobile app localization that need to be well-thought through. They might sound a bit intimidating, but 
don't worry, you don't have to face it all alone. 
bayantech is a leading language agency with almost 20 years of international experience in the field of localization and translation services, operating in the MENA region and beyond. 
Our teams are made up of experts, in both linguistic and technology fields, who can help you smoothly cross linguistic and cultural frontiers.