Mobile app localization is one of the most critical phases of building any successful mobile app and improving its user experience. An app available in multiple languages is more likely to get more downloads, engagement, and revenue. 
In the past, movies, TV shows, and websites were a few things that were localized. Now with everybody using a smartphone, the industry is growing bigger, with mobile app localization becoming a large part of the industry. 
People love to use apps with interfaces in their mother tongues, not just because that helps them understand everything, but because it also allows them to enjoy a more personalized experience. 

And that's why today, mobile app localization has become an ultimate priority for businesses with global ambitions. If you are considering your app's localization or planning for your localization strategy, this guide equips you with everything you need to get it off the ground.
What Is Mobile App Localization?
Just as anybody would basically understand, localization is all about making apps and software solutions available in multiple languages. If you wonder why it isn't mobile app translation instead of localization, that's simply due to the difference between the words translation and localization.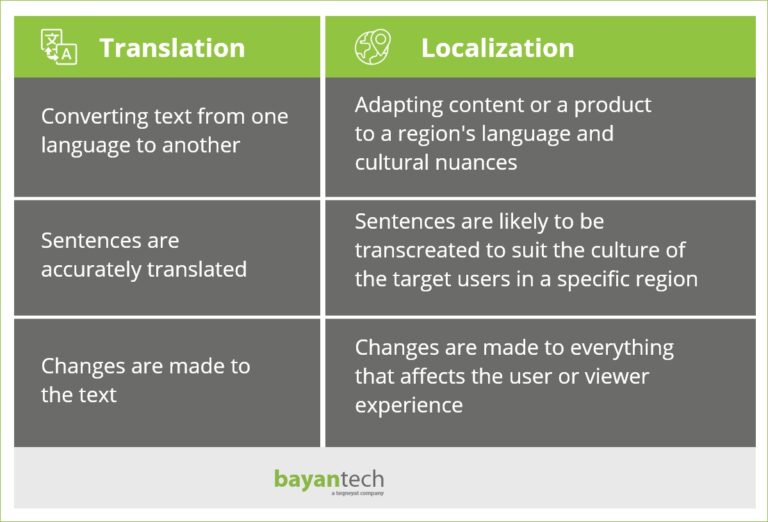 Localization is basically the translation of content or an entire product, while taking cultural aspects into consideration and optimizing the experience for the people in a specific region. 
So app content is translated, but apps themselves are localized, as their whole experiences are recreated in other languages. During localizing your apps, there are tweaks made to the textual content, audiovisual content, app design and User Interface (UI), technical and performance aspects, and the entire User Experience (UX) to suit the target users. 
Localization of apps usually considers different language variations and dialects, which are called locales. For example, English (United States) is one locale, while English (United Kingdom) is another. Locales are always denoted by the first two letters of a language, then the first two letters denoting a country: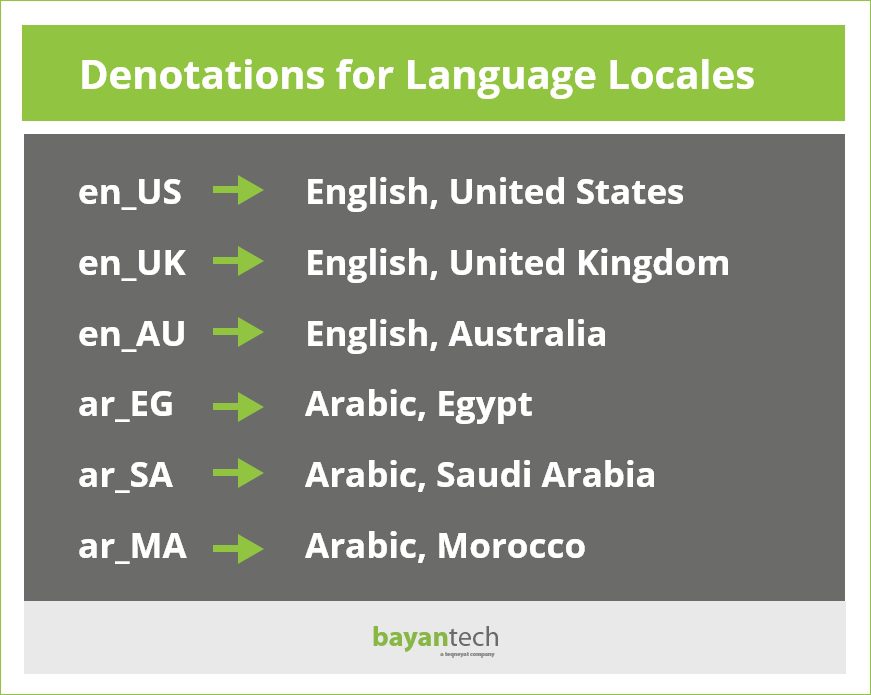 Why Consider Mobile App Localization?

In the first quarter of 2022, total app downloads reached 36.9 billion. This directly translates to the huge number of users around the world who are craving innovative and meaningful apps in their native language. With this in mind, staying focused on one market can't be the right strategy, as more app development companies turn their products into global apps. 
If you are delivering an app or a game that is enjoyed in one language, there are probably millions of people who would want to enjoy it in their languages as well. The cost of penetrating these new international markets is usually dependent just on localization, making it a high-return investment. 
This is typically why more apps are being localized to Arabic, as over 400 million speakers definitely look worthy for businesses developing apps and games to attract and make them download the apps to enjoy in their native language.
Delivering A More Engaging Experience

While some of your users might use your app in English, the majority enjoy the app in their native language. Research confirms that using software apps in native languages can lead to more engagement.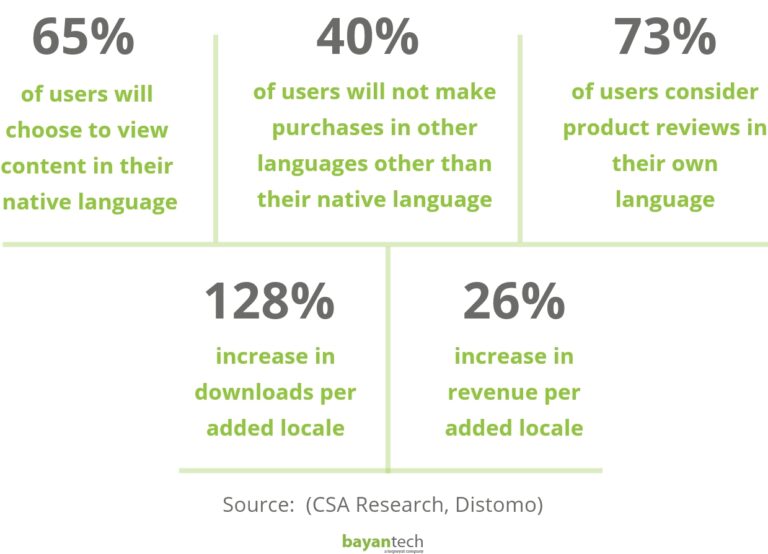 Additionally, as previously mentioned, localization goes beyond translating text and extends to taking the cultural nuances of the target audience seriously. Respecting the cultural and social norms of the users definitely personalizes their experience, making it all the more engaging.
More engaged users are more likely to make purchases. This is one reason behind the reality that localized apps generally make more revenue. Search algorithms on App Store and Google Play can also be rewarding for localized apps. Different researches show app rankings being enhanced when they are localized. 
Boosting app rankings can be an ultimate goal for boosting revenue, as huge daily traffic for apps comes from the direct search on Google Play and App store.
5 Key Challenges of Mobile App Localization

1- Translation Accuracy and Consistency
Translation accuracy is always one of the biggest localization challenges. There can be many translations for a sentence, each giving a different impression and message to the user. 
This makes it hard for non-experienced people to handle localization, as the main goal of translators working on localization projects is to transcreate and deliver the right message to the target audience. 
And while accuracy is a big challenge, consistency is another one.

Localization is an ongoing process, and you'll need to maintain the consistency of your translated content throughout. And by consistency, we refer to the choice of words that you adhere to while communicating your brand and its services and products. Without consistency, you might confuse your users.
2- Cultural Considerations
Some apps and games content can be acceptable in specific regions, while being irrelevant or offensive in other ones. Even for different locales, the same words can have different meanings and connotations. 
You should be aware of these aspects during mobile app localization to avoid frustrating users or giving them a bad impression of the app and your brand.
Professional translators working on each language or locale can help much with it, as they are usually familiar with both the cultures of the two languages they are translating from and into. 
Sign up to our newsletter to receive the latest blogs and news.
While localizing an app, spaces should be taken into account. This is simply because languages take different words and character counts to tell the same thing, and that can definitely mess up the design and UX. 
There are averages to take into consideration. For example, text expands up an average of 25% when translated from English to Arabic, while it shrinks by 10-25% when translated to Korean. 
Users in different regions can be used to various formats for writing numbers, dates, addresses, and others.
For example, the US standard of units will be useless in other countries. This means that units need to be changed to metric ones, as people won't be familiar with US units elsewhere. The same goes for dates and other aspects that should be all put into consideration during localization. 
5- Performance and Usability
Compelling multilingual content and easy-to-use, visually appealing UI are a great combo, but sluggish or poor app performance makes it all in vain.

One of the biggest challenges of localization is ensuring that it doesn't affect or compromise the app's performance, such as a mistakenly translated code snippet. This is also a major concern for every business. It's essential to make sure that the app delivers the same great performance and usability in every language version, including app responsiveness, load times, hyperlinks, error messages, and more. Otherwise, your new users might abandon the app or even worse jump to your competitors'.
5 Key Tips to Ensure Successful Mobile App Localization
1. Select Target Markets Carefully
One of the very first and most critical stages ahead of mobile app localization is deciding what languages and locales to select, based on the markets you need to consider or even prioritize. Here is what you need to 
.

Compare Regions By Interests:

Research what countries and regions are generally interested in what you offer. If you are offering a board game, you need to research which countries like the type of games you are offering more. If you offer a football app, you want to consider the countries that love football the most.
.

Use Your App Analytics:

Take advantage of your existing app analytics, if you have an already established app. Through your app analytics, you can learn where your users come from, which is a free insight on which languages to localize your app to.
.

Take Advantage Of Existing App Reviews:

This gives you an idea of which markets can bring loyal users to your app in the future and are worthy of localization.
.

Consider Competitor Strategies:

Competitor research is always a great trick whenever you have a digital product. The same goes for mobile app localization. You can simply check what languages your competitors have localized their app to and you may go for what they missed out on.
.

Put Easier Opportunities First:

Some localization projects can be easier than others. Typically, you can expect localization to languages sharing the same set of characters or geographical proximity to be easier. For example, an English app can be localized more easily to French, Spanish, German and other European languages.
.

Don't Localize To All Languages Simultaneously:

Instead of making one big investment localizing the app to all languages or a long list of languages, you can consider scaling gradually. Start with the most important languages, make a short list of 2-5 languages, measure the outcomes, then go with the next ones.

You can even opt to go with one language at a time, and it won't be a wrong decision if you are still testing things or don't have that huge budget for localization.
.

Consider Postponing Locales:

While locales can definitely help in delivering the best experience for every user of your app, they shouldn't be on the top of your priority list. Go first with localizing your app into the top spoken languages to be ready to invade more markets.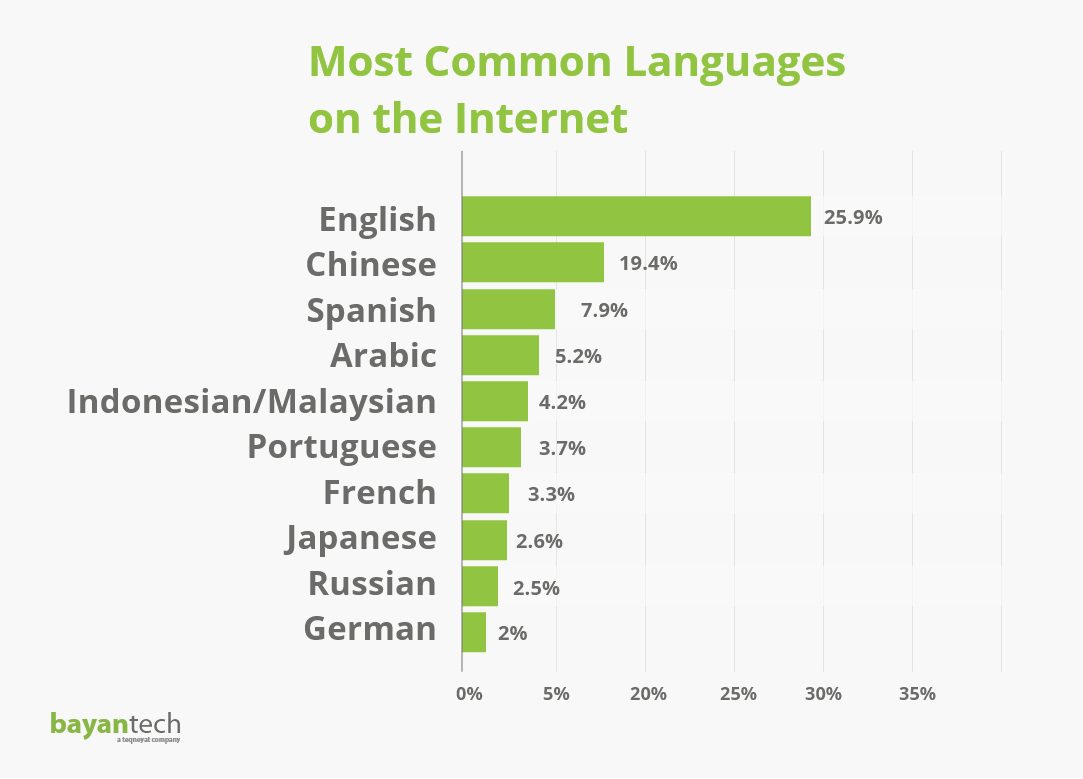 2- Rely on Native-Speaking Language Professionals
Who speaks and writes a language better than natives? And who knows a culture and its dynamics better than natives? Let us tell you: native language professionals. When it comes to mobile app localization, you should always make sure to hire an expert team of native-speaking translators who live in your target country or at least your target region.

It's quite simple really, these translators have the linguistic fluency and mastery that your audience needs and is expecting. They don't expect awkward, robotic translation that makes no sense to them. And they certainly don't expect your app content to have sloppy translations that could either be laughable or offensive and drive them away from your app.

Besides, as residents in the country, they are in touch with the culture and community, helping them weave that into your content so it resonates with your audience.
Looking for the right LSP?
Download our free client guide to mobile app translation service and optimize your search.
3- Invest In Translation Technology
Whether you are handling localization in-house or with the professional help of a translation agency, you need to rely on cutting-edge translation technology, and most prominently translation management systems. These systems typically do what their name suggests, managing translation and localization projects efficiently and with higher productivity and collaboration capabilities. 
These systems can also save you huge amounts of money, as they deliver game-changing features like CAT tools and translation memory, which show continuous translation suggestions based on a smart database, so that the translation is more accurate and consistent.
It also allows you to create a more effective termbase, which can be very useful for apps and games, as they usually have terms that have special meaning inside the product. 
They also help you take full advantage of machine translation, with the ability to integrate more than an API to help your translators become more productive. 
Some of these systems are all built in the cloud, meaning that you can immediately start to use them, without having to go through the hassle of data sharing, security, and in-efficient collaboration that is not available in real-time. 
4- Use Internationalization
Internationalization is a widely adopted process through which apps are optimized to be localized to different languages. In other words, internationalization ensures that your app is localization-ready.
This includes enabling Unicode and preparing your app to support Right-to-Left (RTL) languages, languages with vertical writing systems, or those with non-Latin characters, as well as separating localizable elements from source code.

Internationalization is best implemented in the design and development process of your app, not after. This way you can ensure that your app localization process is smoother, less time-consuming, and less resource-intensive.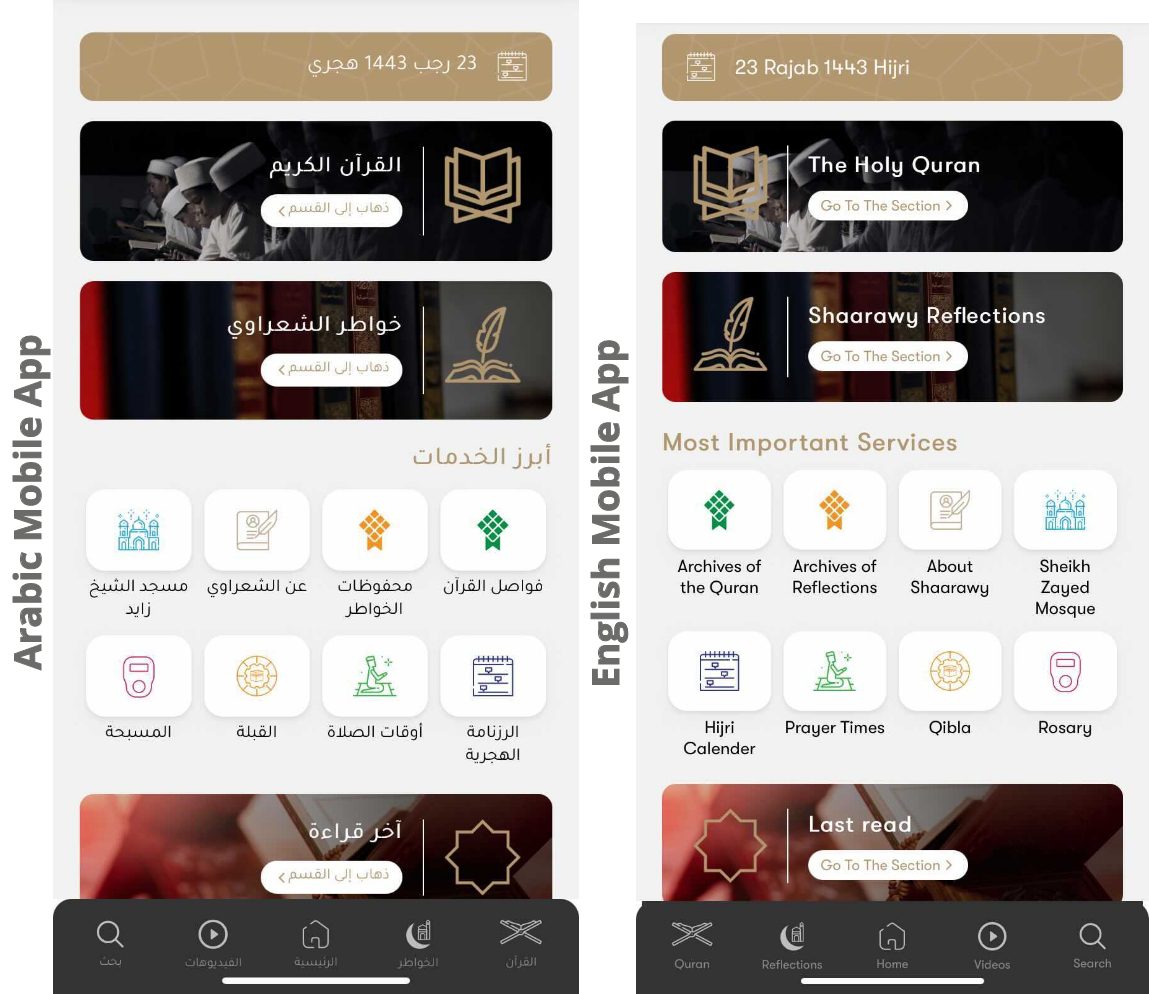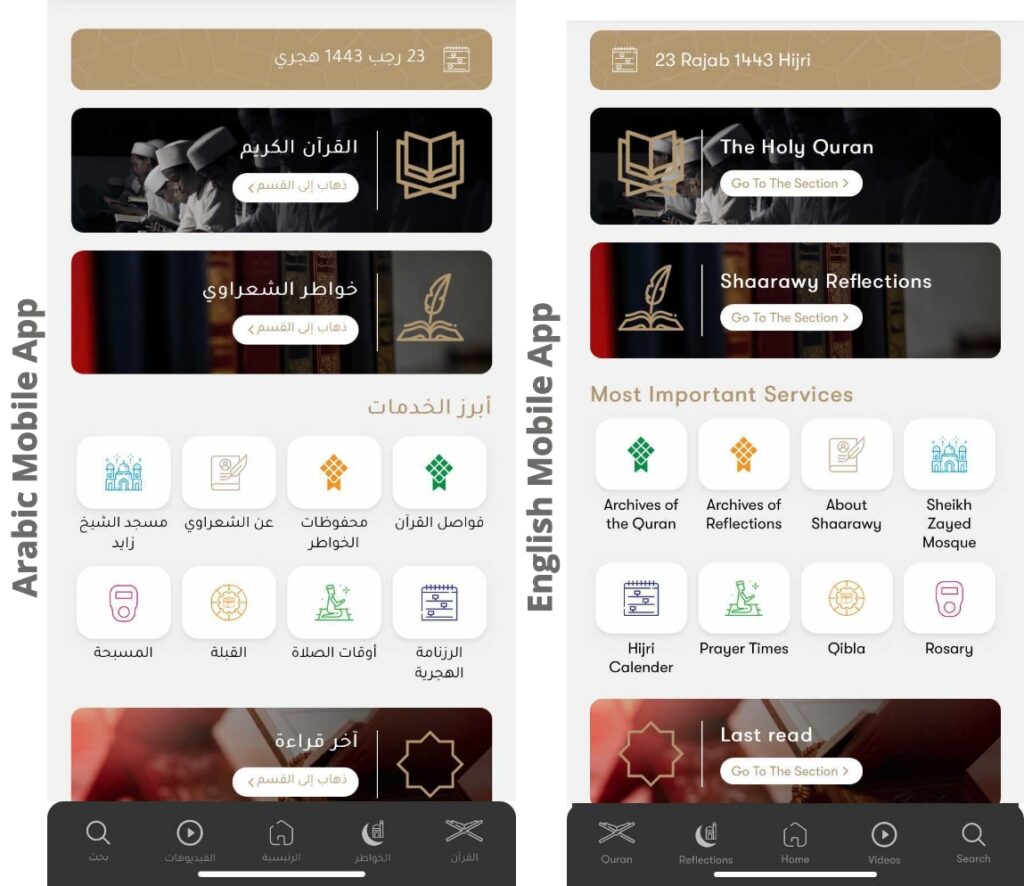 5- Apply Rigorous Localization Testing
Localization testing is a crucial, indispensable part of mobile app localization. It's the make-or-break moment for your app. This is because localization can change the app experience without comprising any app development practices, so testing is crucial to understand the changes and fix what doesn't work among them. 
Before releasing your localized app to your new foreign users, you'll need a strong QA team to assess and verify that the app is free of any linguistic, cultural, visual, or performance errors that can hurt your user experience.
Localization testing is a multi-layered process that evaluates your app on 3 different levels:
1. Linguistic Testing to identify language and translation mistakes, inaccuracies and inconsistencies, and missing translations and assess cultural appropriateness.
2. Visual Testing to identify design and layout issues, overlapping elements, and UI problems and assess cultural appropriateness across colors, images…etc.
3. Functional Testing to identify usability and performance drawbacks to ensure that the app functions properly and delivers the best possible experience for users in different regions.
The best localization testing practices include making the most of the available data and feedback, giving the process enough time and effort, and being culturally aware of users in different regions. This makes choosing the right partner for localization a crucial decision because it takes a skilled QA team, technology, and advanced testing practices for robust localization testing that puts quality front and center.
What's After Mobile App Localization: Post Localization Tips
After localizing your app to new languages, there are a few things that you need to put into consideration to take full advantage of this investment and deliver a truly global app. 
1- Localize And Optimize App Store Content
It is great to have your app localized to multiple languages, but you need to also consider localizing app pages on Google Play and App Store. An impeccably localized app can go unnoticed without effective App Store Optimization. It improves the visibility and performance of your app in app stores listing, ensuring that your users find your translated app in search results.
Let's say a user has found your app page while using Google Play in Spanish. If they find the app page in English (or worse in any other language), then they wouldn't bother even checking what languages the app is available in, even if your app is indeed translated into Spanish. 
Getting the app store page translated and optimized to different languages and regions won't be a huge task, but it can have a huge impact on the outcomes of your mobile app localization efforts and your ability to penetrate international markets.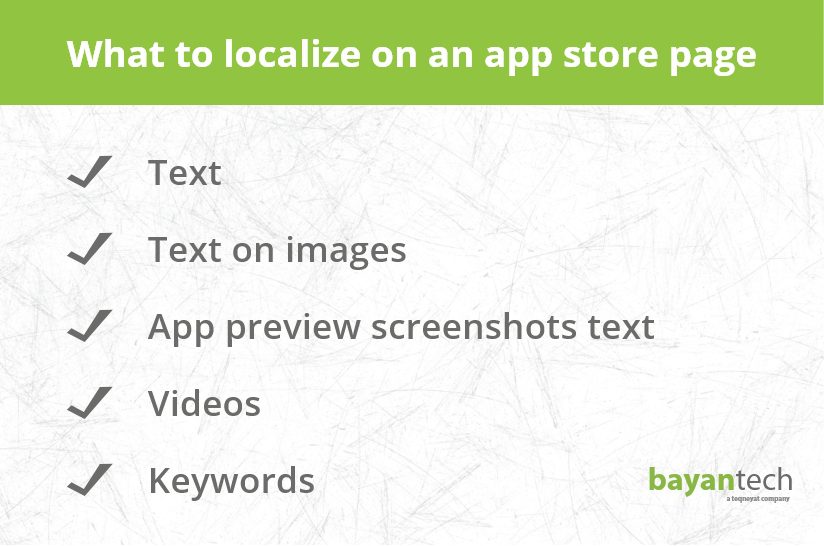 2- Localize Marketing Materials
Not only your software app pages should be localized to different languages. You need to consider localizing your marketing materials to different languages to boost the results of your marketing to international markets. 
This can take time, so it is normal to make it a gradual process and localize your marketing materials in the most important languages first. 
3- Get Feedback On Localization Quality And User Experience
Expanding to new markets with a global app means that you have a new opportunity for gathering feedback. You can gather feedback in the native language of the user, and you need to continuously take advantage of it. 
This feedback can be about the app experience, bugs or even the localization quality itself.
Kick Start Your Mobile App Localization with bayantech
Mobile app localization can indeed open the door to huge growth opportunities. However, this high-return investment strategy has its own share of challenges. But you don't have to face these challenges alone. bayantech is here to help.

bayantech is a professional language services provider, offering a full suite of end-to-end mobile app translation and localization services for Android and iOS in 120 languages. Thanks to our ISO 9001 and 17100 certifications, expert multidisciplinary linguistic and technical teams, and robust translation technology, we provide outstanding mobile app localization that engages and impresses your international audiences.
Get in touch with our experts to discuss your project or request your free, no-obligation quote now.