Anything you can think of doing on the internet, from meeting new people, to doing your taxes or making lifestyle changes -you name it- there is probably an app for it.
While reading this list of purposes, you could think of a globally known app for each one of them. But, how did these companies attain such worldwide success? And how can you achieve it too?
The first and obvious move to target international markets could be translating your app. You might think "well, we already have Google Translator to automate that job, that might be enough". It is not. 
This is why mobile app localization is needed. In this post, we'll uncover what mobile app localization is, its business role, and its importance, alongside some actionable tips. Let's begin.
What is Mobile App Localization?
Even though using a MT engine is fairly okay for short sentences or to occasionally check some vocabulary, the truth is that it falls short of the mark as a translation solution, since it cannot consider tone nor cultural norms. 
For instance, "latte" in Italian translates as "milk", not as the coffee-based beverage we all know. Or when it comes to Spanish, Colombia has the terms for lime and lemon inverted in comparison to the rest of Latin America. Over there, "limón" means lime, and lima is "lemon", whereas everywhere else, it's the other way around. These are only two examples of the hundreds of occasions in which an automated translation app could fail you.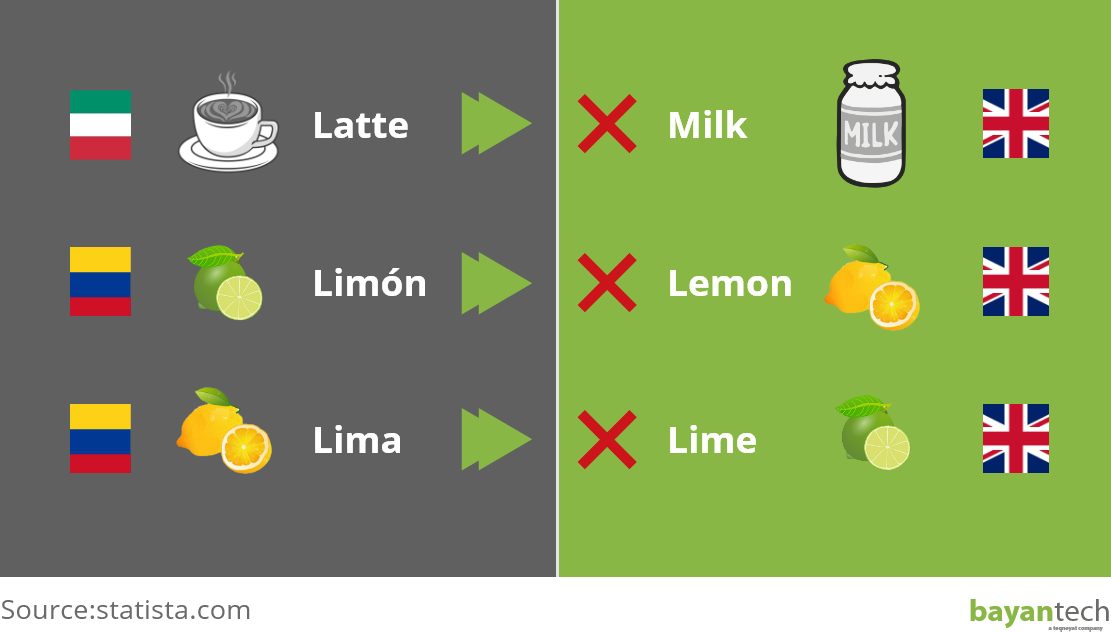 Having this in mind, MT won't serve the purpose of adapting your product to meet your audience's profile, nor will it help you make a good first impression. In fact, there are chances of your once flawless copy being made unclear, clumsy, or simply inappropriate by an automated translation solution.  
But linguistic aspects are not the only thing to contemplate and address for international app expansion. There are symbols, gestures, and even jokes or metaphors that can have a friendly meaning in one society, but be extremely offensive in another. Take, for instance, the peace sign in the US vs in the UK. Even though they are both English-speaking markets, the peace sign is seen as universally friendly in the United States, but it carries some offensive connotations on the other side of the Atlantic Ocean. 
Here's where application localization comes to relevance. It's the process of adapting your app to fit in linguistically and culturally in a certain geographic area (or locale). This is achieved not only by considering cultural sensibilities but also by improving the user experience (UX) to make it seem in the target markets as if the app was developed locally.
This is done by:
Proper translation into multiple languages, done by experts and checked by native speakers.

Changing the default currency and units of measurements. 

Setting the right language keyboard (when relevant).

Considering legal requirements of the region.

Setting the correct time zone and adjusting the UX accordingly.

Localized marketing strategies through app store optimization using the new options offered by the target language.





In other words, beyond making sure that your message is delivered in the native language the way it was designed to, a localized version of your app makes it feel specially tailored to new local audiences.
A Brief Guide to Mobile App Localization

Simplify your search for a reliable LSP & localization with this guide

Why You Should Localize your App
App store listings will be your best friends in terms of distributing your product on a global scale. The most popular ones are Android and IOS App Store. Ranking in their listings will definitely set you up for opportunities for growth in international markets, as these stores are available in about 40 different languages. 
According to Statista, in 2021, the amount of smartphone users worldwide has hit over 5 billion, with India, China, and the USA being the most present countries in this statistic. Plus, almost 90% of the activities on the phone involve apps rather than browsers.
It is also worth mentioning that in 2019 the global app revenue reached $461 billion, and it is expected to do over $935 billion in 2023. 
With all this data on the table, we invite you to do the math and estimate how much your revenue can raise by increasing your app downloads through mobile app localization.
How to Localize Your Mobile App (Or Some Mobile App Localization Best Practices)
Now that we have uncovered what mobile app localization is, we can divide this process into clear steps:
Put Together Your Resources
Everything that doesn't include coding is a resource: tutorials, pictures, audios, data, etc. Make sure to externalize them so a new translated version of each can be created and therefore localized.
Consider Layout (A.K.A. App Internalization)
A proper process of localization requires app internalization as a first step. 
But, what is it about? 
Internalization is basically related to the coding and design of your app, it's language-independent and makes the app adaptable to every desired target locale. It directly supports localization. For example, by making it easier to switch time zones, calendars, and currencies.
For various reasons, Internalization has to be well thought through before jumping to localization. The first one is that intending to modify coding after everything has been localized is complicated, messy, and not worth your time. Do it first and spare yourself the stress. If your code is not localization-ready, to begin with, your localization process will be built on an unreliable foundation, and replicating it for future expansion efforts will be more complex than it needs to be.
The second reason regards your app's layout design. Your app is likely to be displayed in multiple screen sizes, languages, and even alphabets, according to the preferences and profiles of your target markets. You have to make sure that it can smoothly adapt to every possible layout variation that could come along the way. 
Sign up to our newsletter to receive the latest blogs and news.
What does all of this mean? Well let's name some cases:
Expansion and Contraction of Texts
Different languages require different amounts of words to portray the same content. English shrinks by 15% when translated to Korean, and expands 25% when translated to Spanish. 
Moreover, this doesn't only apply to the number of words, but also how long they can possibly be. German is quite popular for having vocabulary as long as the length of a finger. The reason for it is that they like to spare time with prepositions and stick nouns together to formulate words, so instead of typing "Proof of health insurance" they will go for "Healthinsuranceproof" or, to be more specific ''Krankenversicherungsnachweis''.
Supporting Non-Latin Alphabets and Bidirectional Text
 There are languages such as Arabic that are written not only in a different character set but also from right to left, instead of left to right. The same applies to Japanese which is written from up to bottom.  
With this being said, you can already picture how all these language discrepancies can alter the looks of your product just by showing it in a different language. It is highly needed for the code to support all of these likely variations. 
And of course, don't be surprised if at one point a specific coding for a specific target needs to be developed, just because it got too complicated. 
Provide Context to your Translators
Whatever you are trying to communicate to your audience, let the translators know it in detail. Pass them as many notes and files so they can feed their translation management software with contextual information. The more they know, the better they can help you reach your goals – and help your users reach theirs. 
Test, Test, Test (Quality Assurance)
With a solid MVP and the information from the markets you intend to target gathered beforehand, you will have to run as many tests as possible to check that the user interface is working smoothly on every screen and device.
Nevertheless, it is also advisable to bring in some locals to give you feedback regarding their perception of the product. Be prepared to fix multiple issues with alignment, tone, text that didn't translate properly, and so on. The more you test and fix, the better the experience you'll offer your future users. 
You can check out our Quality Assurance policies to see how we work and what drives us to deliver flawless mobile app localization solutions.
App Store Optimization (ASO)
In order to get greater visibility in the app store, ASO is vital. With every new market comes a new set of relevant keywords appealing to that culture.
Make good use of them to engage with your audience, so your app is not only easy to find but also attractive to download. Proper keyword placement and optimization are the main keys to rank in the listings and increase your app downloads and sales.
the other hand, take into consideration the look of your logo in the stores. Here's just a tiny detail, among the many you'll find between iOS and Android app stores: Google Play logos have square edges, and App Store logos have rounded ones.
Work With a Professional Mobile App Localization Agency
As you already know, developing and launching an app is not an easy thing to get done. And since apps nowadays are essentially global, having your app localized isn't an option anymore, is a must.
Lucky for you, you don't have to face all the challenges of mobile app localization and mobile app internationalization on your own. bayantech is a leading localization agency operating in the MENA region and beyond and gathering almost two decades of international expertise.
We can offer you high-end localization solutions mixing the right mobile app localization tools, cutting-edge translation management systems, native speaker human translators, expert designers, and localization engineers. Don't matter the challenge, we design your ideal project to meet your budget, deadlines, and goals.