Launching a game into new markets can be challenging. Game makers want to ensure that all players from around the world have the best gaming experience, but how? The short answer is you should not only translate, but you also need to localize all game content including the in-game cinematics, in-game dialogues, and more. While game localization can help you tap into new markets and increase ROI, it also provides your gamers with a friendly, immersive gaming experience, regardless of the language they speak.
The long answer? In this article, we'll focus on everything you need to know about game localization, how it's different from translation, and what it takes to get the most of game localization – while avoiding costly blunders.
Using Mere Video Game Translation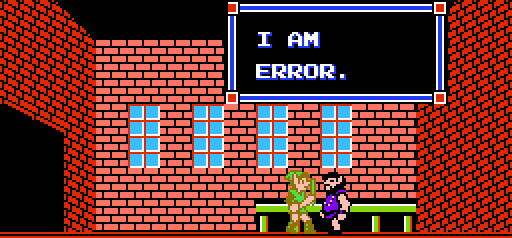 When a game is only translated without proper localization, the result could be very bizarre. Most of the classic video games in the 80s and 90s were designed in Japan and had a literal video game translation for the in-game texts and dialogues. One of the most known bad game translations, for example, was in NES' Pre-Wrestling. "The winner is you" was the text displayed on the game's screen after defeating an opponent. The sentence became well-known amongst players, who have kept using it as a way of joking to this day. In addition, other awkward video game translations include Ghost 'N Goblins' "this story is happy end", and Zelda II's "I am error".
Not only in text but also the scripts spoken within the video game can sound ridiculous when the players hear them. In X-Men, for instance, it is very odd to hear Magneto telling you "welcome to die". Moreover, in Aero Fighters 2 the "l" was replaced with an "r" in one of Spanky's sentences, so people were hearing a dolphin pilot say, "I never thought I'd be frying over a jungle." This shows that pursuing proper video game localization services, for texts and voice, can save your video game from being awkward or annoying to the players.
PUBG Game Localization: Threat or Asset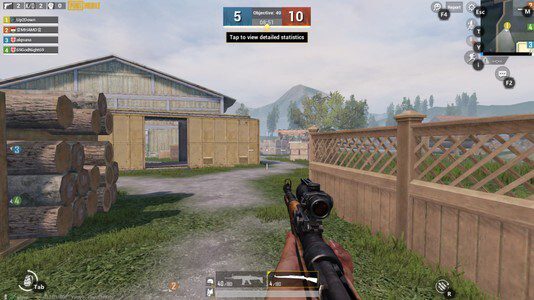 Despite the advanced technology available in the present time, some video game companies are still making localization mistakes that affect the popularity of the game among players. A few days ago, the internet went crazy over the PlayerUnknown's Battlegrounds (PUBG)'s latest version. The new version angered many Muslims due to the new idol worshiping feature in the game. The hashtag "Ihdhifou Lo'bat PUBG", the Arabic for "Uninstall PUBG" was trending for over 24 hours across the Arabic world.
Meanwhile, a year ago, PUBG had launched a localized version of the game in China. The new version, named "Game for Peace" is censored. In "Game for Peace", the players can still shoot people. However, instead of spilling blood, the victim waves goodbye and gets small green sparks on their bodies. This updated version comes in compliance with China's new law that does not approve of any game that has blood. With the right market search and localization, the PUBG game was able to compete in the Chinese market. In the first 72 hours after "Game for Peace" was launched, people spent over $14 million on the new game via in-app purchases.
Video game localization helps you enhance the users' experience, giving your players the feeling that they are important. It allows them to interact with the story in the game, feeling that it is their own. Moreover, localization means that your game adapts with the target players' culture, which saves you from public embarrassment or game boycotting. Thus, localizing your video game gives you opportunities while competing in the huge global market.
Video Game Localization matters
Localizing your video game helps you reach a wider scope of players, increasing the game's revenues. Optimizing online video games by creating different modes that suit all players has created a globally competitive and collaborative nature for the game. Thus, the number of Xbox Live registered users, for example, accounted for 30 million in 2011, according to Alberto Fernández Costales' paper.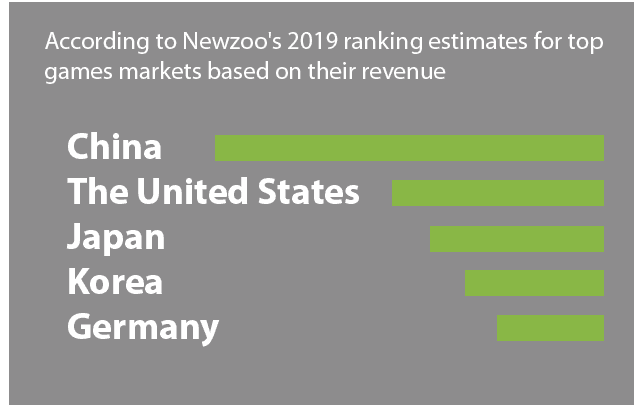 A Nimdzi 2020 report mentioned that the size of the games industry recorded $152.1 billion in 2019, which is around 29% of the global media industry. The report expected the game industry to increase to $196 billion. Meanwhile, Newzoo's 2019 ranking estimates for top games markets based on their revenue showed that China ranked at the first place. The United States came second in the ranking, followed by Japan, the Republic of Korea, then Germany. This order shows that localizing your game can help you reach different users in different countries.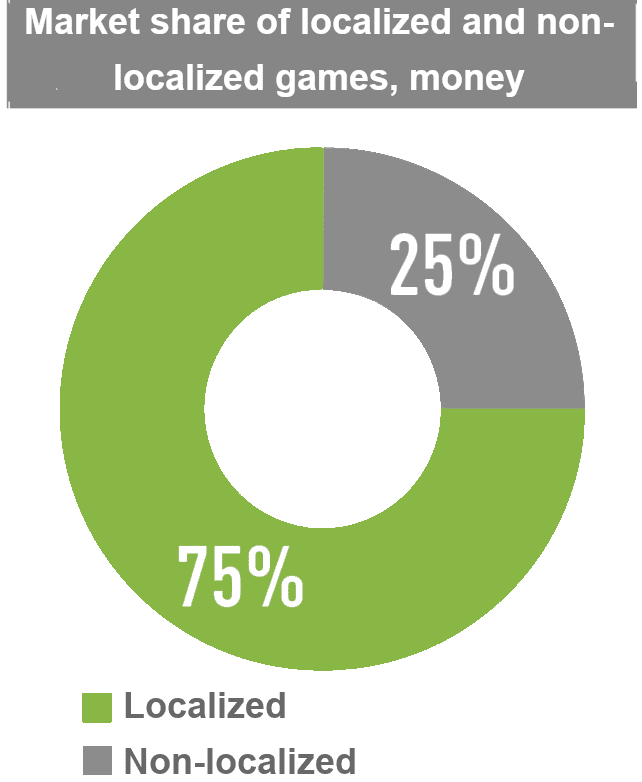 A study published by the Globalization and Localization Association (GALA) showed that game localization does not increase the installation number, yet it boasts the revenue to download ration. In Japan, for example, 75% of the money market share was earned by localized games. Hence, launching a game without localizing it provides a lower return of investment (ROI).
What Can Go Wrong in Game Localization
Cultural Challenges: Video game localization faces some cultural-specific challenges, including preferences and religious beliefs. Thus, choosing a video game localization provider who is well-aware of both the original and target cultures is a key factor to give your players a perfect culturally customized version of the game.
Hard-Coded Texts: Moreover, one of the mistakes that can make the video game localization process hard is using hard-coded text in the core files. It makes it hard and costly when you are trying to launch a version of the game in a new language.
Cutting Corners: Another problem is cutting corners on translation, which might lead to repeating the game localization process all over. In many cases, the game could have a limited amount of characters allowed to be displayed in a certain space. However, in some languages, the translation of the text could need more characters than the other, according to Dawid Czech's paper.
Technology and Tools Make All the Difference
To have a professional video game localization process, your language service provider needs to consider the proper tools. Smart video game translation tools a provider should consider include:
Computer-assisted translation (CAT) Tools: CAT tools improve the process' efficiency and speed.
Translation Management System (TMS): Another tool that can be best used in game localization is TMS, which helps manage the flow of the game localization process.
A Term-Base: The powerful tool is basically a glossary or a database of verified terms that help boost consistency.
 Quality Assurance (QA) Tools: The QA tools help maintain high-quality translation and design.
Bug-Tracking: To ensure an error-free translation, you need to confirm that your video game translation provider uses a bug tracking platform. This platform tracks all bugs and errors within the translation.
File-Sharing: Using a secure file sharing platform, like cloud, would be useful to smoothly share files with assigned team members, without risking any information security breach.
Multilingual Desktop Publishing Toole (DTP): Your localization provider needs to be using DTP tools to ensure the software is conveniently displaying the translated content of the game.
Voice over/ dubbing studios: Your game localization partner will further provide voice over and dubbing services to localize the in-game narration and dialogue.
Video Game Localization Considerations
Before starting the localization process, it is important to study the market in which you are launching your game. This will help the localizer to display the game's content in the best way and save you from any misunderstanding.
You also need to hire a localization services provider who knows the game well and can study it. When the translator studies the game, he/she will be aware of what is up in the next levels, and what gives a better feeling to the game. Also, to have a better translation for your game, you need to create a game with a flexible design. This way your localization provider will be able to alter the spacing if needed to fit the translation within the game's design.
Using only translation in games can lead to an unfriendly game experience and can sometimes lead to customer's dissatisfaction. Taking the targeted market and the game's needs into consideration leaves no room for launching a bad version of the game. Although video game localization can be challenging and tricky, using the right tools allows the game to get popular across many countries. Game localization makes your players feel appreciated, as they have a better experience of the game without any barriers. It helps you launch an adequate version of your game and boost your revenues. All that mentioned, only a professional game localization service can be the most efficient to introduce your game in new markets and achieve wild game success globally – as well as locally.
bayantech has the right tools to localize your video game. We carefully choose our native translators who are game-savvy and culture experts – exactly what you need for your video game localization.
Contact us today to discuss your video game localization project.