You have made it to this point, where your business is well-established and ready to go global! 
Now, it's time to plan a smart global digital marketing strategy, where SEO localization can help achieve remarkable business growth internationally. 
An effective international SEO strategy can be significant for your business' global expansion objectives.
According to Ahrefs, 68% of online experiences begin with a search engine!  Making your business 68% more accessible to global audiences just by implementing the right ISEO tactics to rank in global search engines. 
Research has also shown that 92.96% of global traffic comes from Google Search, Google Images, and Google Maps, with SEO leading to 1,000%+ more traffic than organic social media. 
What's more, 60% of marketers say that inbound (SEO, blog content, etc.) is their highest quality source of leads, according to HubSpot.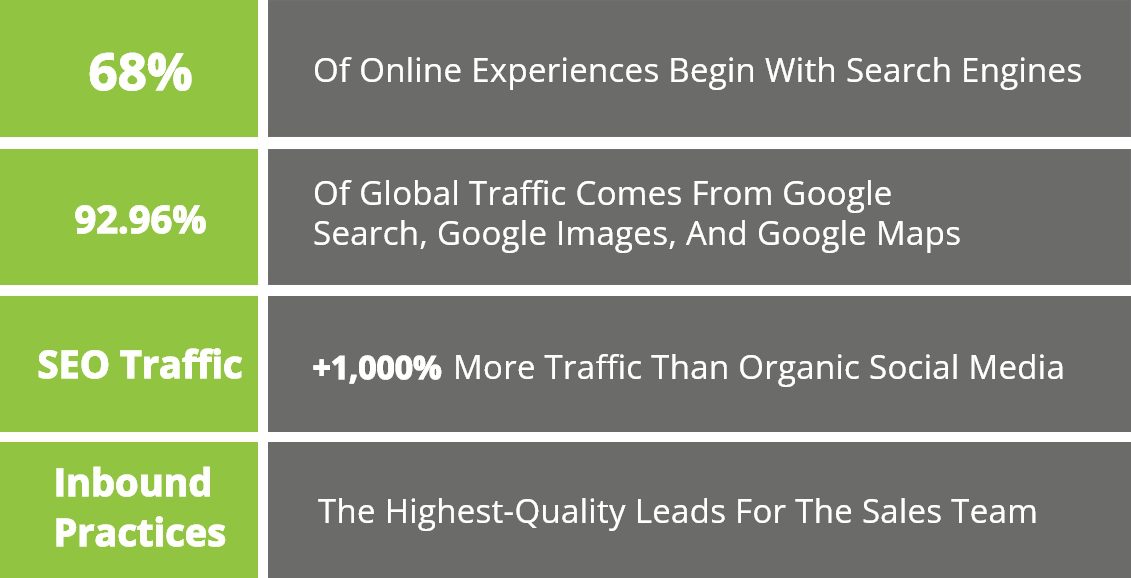 If SEO has this kind of power, just wait until you see the results of implementing SEO on a global level. But to make the most out of ISEO benefits, you need to obtain the right knowledge of its key practices.
In this article, we will tell you all about international SEO, what is it, how it is different from local SEO, why you need it in your marketing plan, and how to implement an effective strategy.
What Is International SEO?
ISEO, short for international SEO, is a practice that optimizes your website's technical setup, content relevance, and link popularity to target different customers across different regions and search engines. This way, your website is easier to find, with relevant content for the users. And accordingly, internet search engines help your rank better in different regions.
Global customers are constantly searching the internet for what they need. According to Statista's global desktop market share of search engines, online search engine Bing accounted for 8.85% of the global search market, while market leader Google had a share of around 84.69%. Meanwhile, Yahoo's market share was 2.59%.
International SEO services are employed by businesses that aspire to provide their products and services globally. With the help of ISEO, you will be able to connect your business with global audiences and make your website more user-friendly for consumers in other countries.
The bottom line is the goal of international SEO is to make it simple for both search engines to recognize the regions and languages you wish to target and for global users to find your website that speaks their language.
International SEO vs. Local SEO
Although local SEO and global SEO are both crucial for a website's visibility and ranking and might work in similar ways to achieve this, global SEO is different from local SEO and both require different approaches and techniques.
.Content needs in local SEO are very minimal as you're limiting your website to one region/language (local reach), however, in ISEO your content needs to adapt to the language for each country/region you are targeting for a wider reach across the globe.
.The implementation process for ISEO needs different keyword sets, a new website structure, different optimization strategies, and different targeting approaches.
.The cost of global SEO is higher than local SEO, as it requires management and optimization practices.
.ISEO is a lot broader than local SEO in targeting audiences.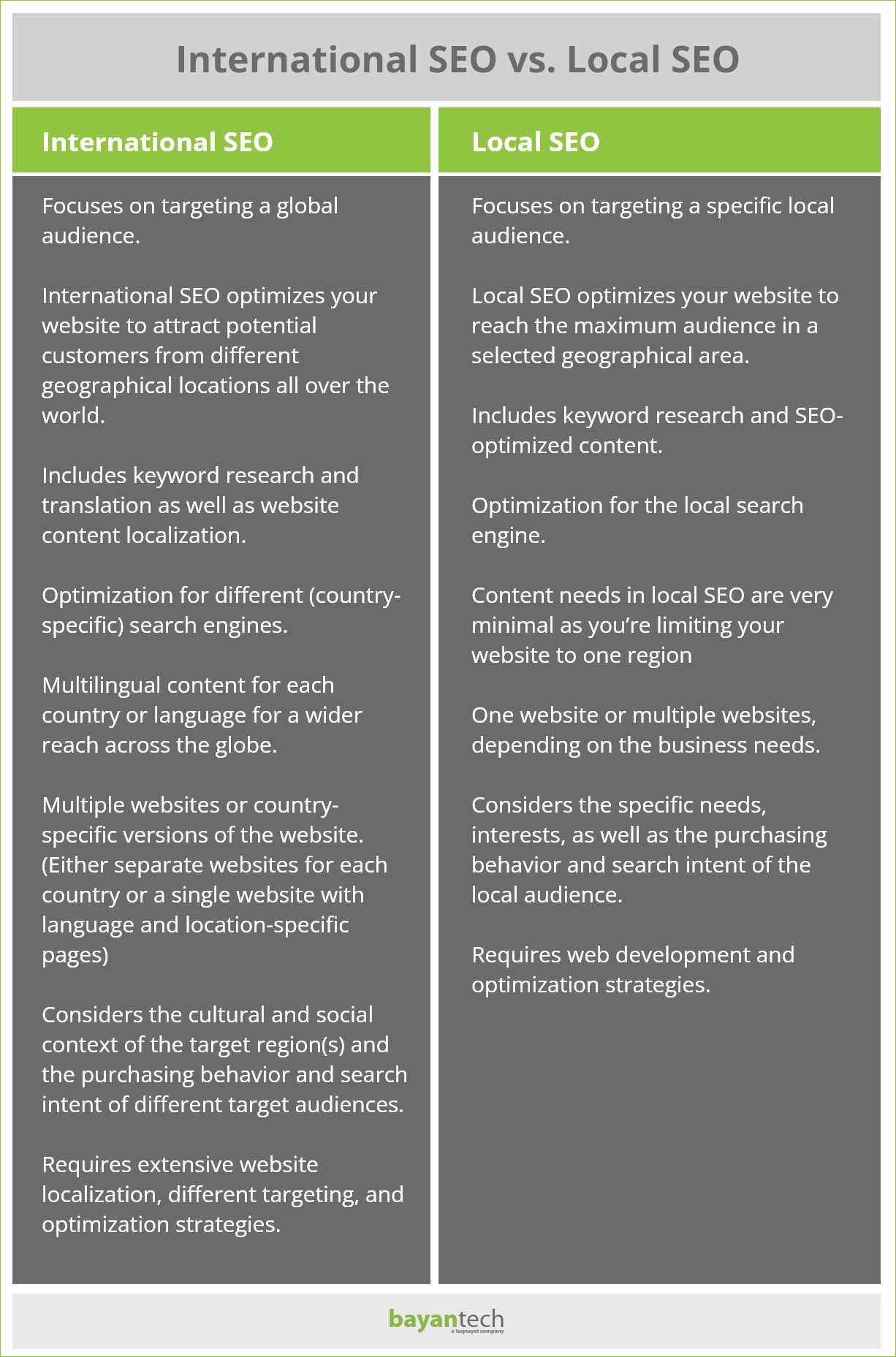 Does Your Business Really Need International SEO?
With nearly 8 billion people in the world, 5.3 billion of them are internet users in 2022, up from 4.9 billion in the previous year. This share represents 66% of the global population! This makes an effective international SEO a game changer for businesses with global aspirations.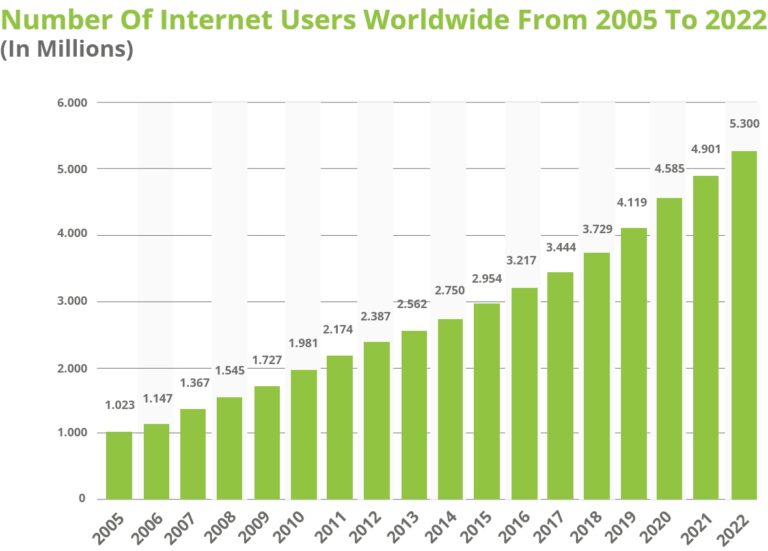 Local SEO is great, but choosing not to integrate international SEO for your new targeted regions limits your growth in these markets. The hard work and great efforts you have invested into your business's website must see the light. ISEO unlocks a whole new level of your business online success in these markets.
Your usual local marketing plan might make your business succeed in its own domestic market, but you shouldn't expect that applying the same strategy in other countries will get you the same results.
Change is a necessity in this matter, the implementation of a whole new international marketing strategy with the right international SEO company is key.
Sign up to our newsletter to receive the latest blogs and news.
5 Benefits of ISEO that Can Drive your Business Global Growth
ISEO has a significant impact on brand awareness. It helps you introduce and showcase your brand as well as your products and services to the world, targeting and attracting specific audiences, while building your brand reputation along the way.
By pursuing international search engine optimization, you simply increase your website visibility to ensure greater exposure to your company's products and services and make it easier for global customers to find you online.
When done correctly, multilingual SEO can connect your brand with users anywhere in the world. Not only that, but it can convert them. According to Gillian Muessig, the co-founder of MOZ, an SEO tool and the most trusted SEO authority: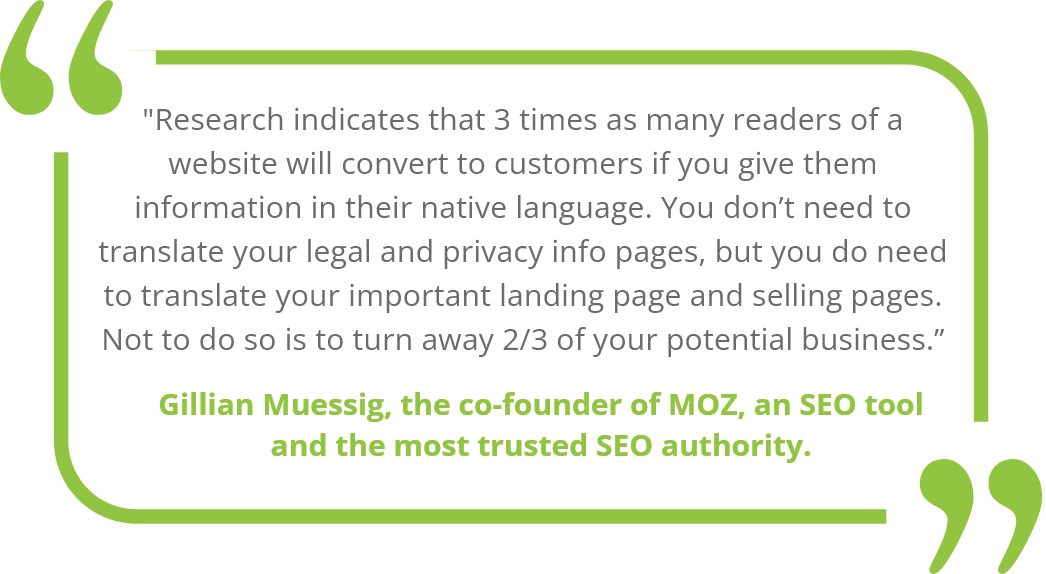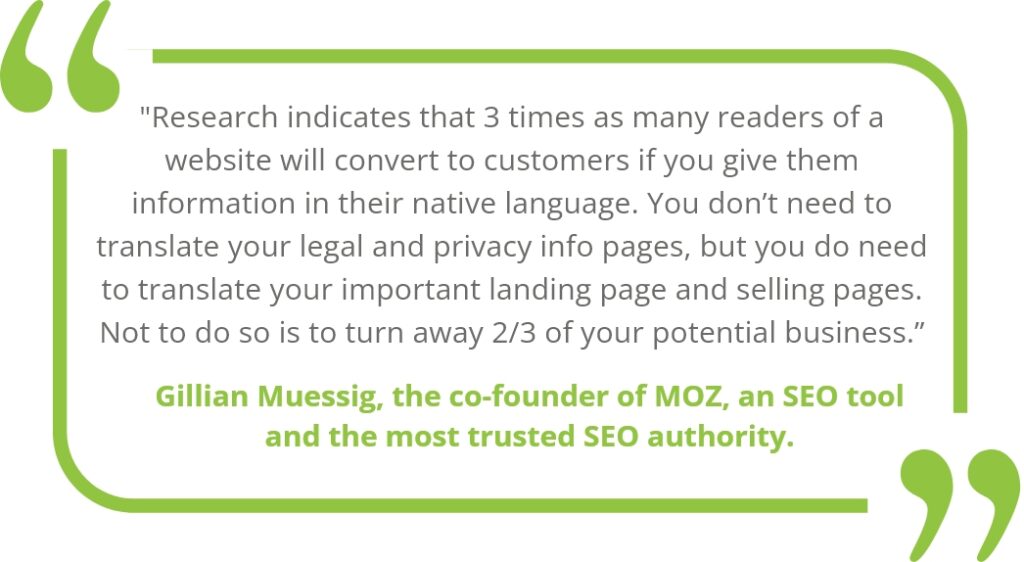 With an effective globalization strategy through SEO, you can discover what parts of your content are working, and what aren't. 
You can know precisely what stops your potential customers from proceeding to the sales cart, or if they do reach that stage, what stops your customers from making the purchase.
You can benefit from competitors' lack of language or country optimization and limited online presence by localizing your website content and structure to resonate with different target audiences.

With ISEO and creating personalized and relevant user experiences, you increase your global website traffic and build a broader customer base around the globe.
Think of it this way, more visibility equals more accessibility, which results in more sales and revenues! 
Take Airbnb for example. This business is now the most global among Silicon Valley's mega-unicorns, known for bridging the global-local gap worldwide.
Airbnb implemented an integrated localization strategy to grow global communities with hosts across more than 200 countries and 100,000 cities. In 2022, there were worldwide. 2.9 million hosts on Airbnb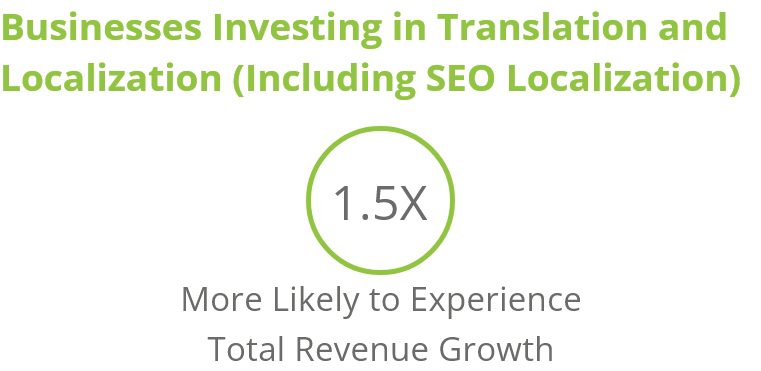 When you decide to take the leap and sell internationally, it might be challenging, but it also has great potential for growth.
International exposure opportunities are waiting for you if you're willing to take them. By building an ISEO strategy that focuses on answering users' questions and matching their needs and by investing in effective ISEO tools, you will be able to multiply your profits and increase your ROIs. 
How to Implement a Successful ISEO Strategy?
Before we dive into implementing the best international SEO strategy, here are the core elements of a winning SEO globalization strategy.

How do they work together? Let's get started.
ISEO works by letting search engines know that your site includes content appropriate for users who are searching for products or services similar to yours in a particular language or who are based in a different country. 
The languages you decide to approach are very significant when you build your ISEO strategy. If you are thinking English would be enough, it probably won't achieve the impact you are looking for. Although English is known to be the lingua franca, internet users who speak English makes only 25.9%, as of February 2022.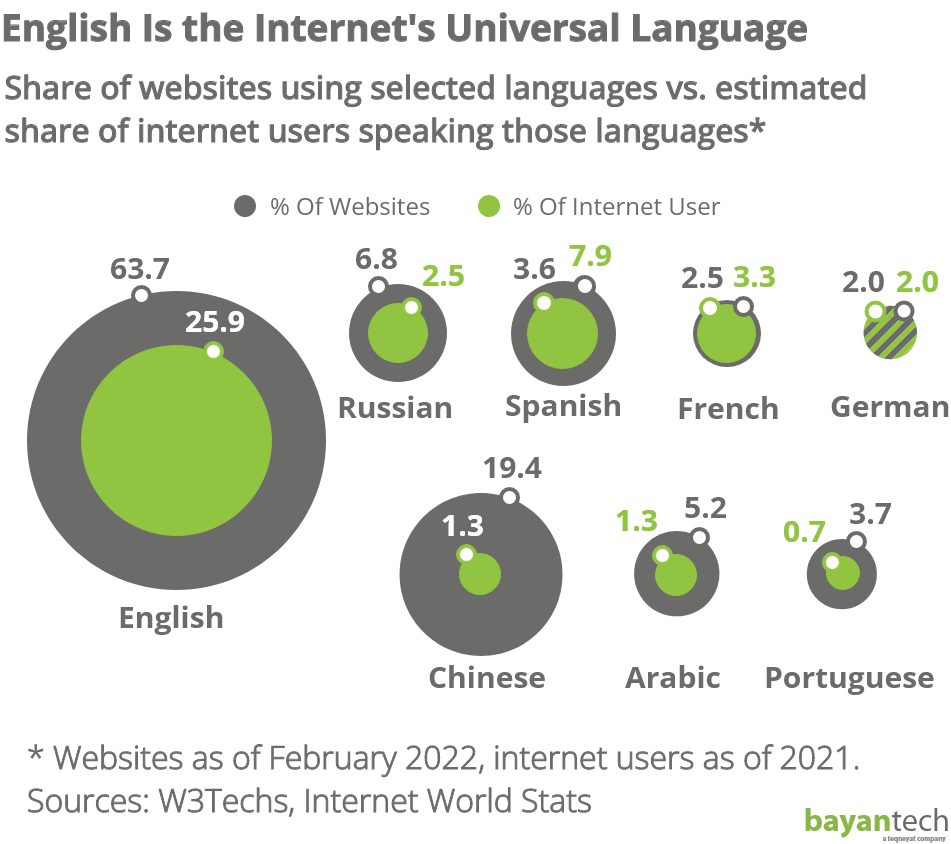 You'll also need to build country-specific SEO for one or multiple countries, and land on what market are you going to approach, and you'll need your team to find answers to those questions.

No two international SEO approaches are the same, and what works for your country's market won't work for the other. It all starts and depends on your brand, what you're offering, and who are you targeting. 
To help you analyze the next step in your website localization journey, you should always view your current international performance in Google Analytics by navigating to Audience > Geo > Location, to determine which market has more interested customers to being with.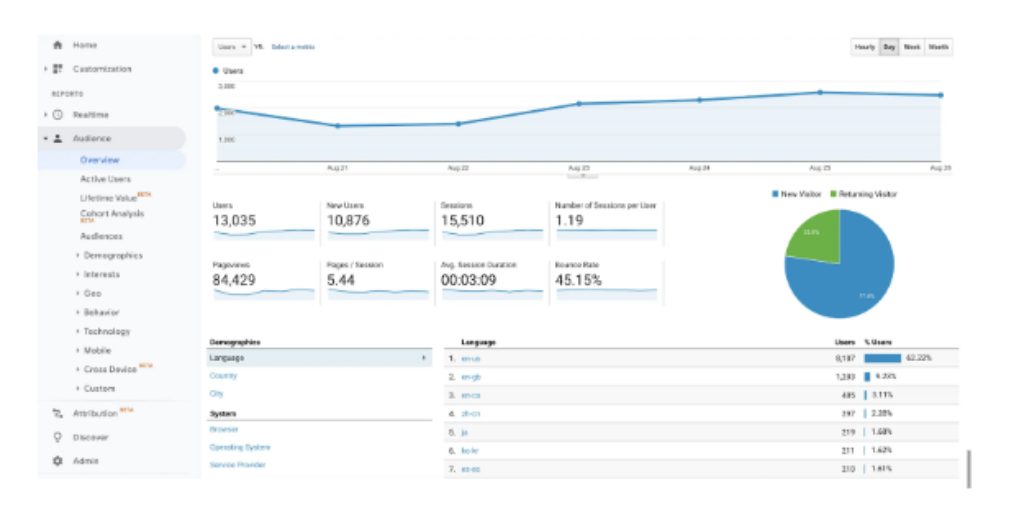 Research is your key to understanding your competitors, analyzing market expansion opportunities, and making smart decisions to successfully launch your business globally. 
Making such important decisions as going global based on assumptions and expectations, especially when crafting a multilingual SEO strategy, might compromise your new market entry. ISEO is a data-driven decision, which requires a thorough assessment of the market and your competitors.
By research here, we refer to two main categories: Market Research and Competitor Research.
Determine which consumers might be interested in your product or service. Learn what matters to them before kick-starting your website localization campaign. 
This can be accomplished by conducting some keyword research and learning how these audiences normally locate products or services. You'll know which audiences to appeal to and how, once you've done that.
Look into your potential competitors in these international markets. Evaluate their SEO, content marketing, and paid advertising results. 
In particular, if your competitor is not already localizing their material for specific markets or languages, global SEO research will assist you in discovering new prospects of possible growth and expansion.
Your Pocket Guide to A Winning International SEO Strategy
Get this compact FREE guide to implementing international SEO with ease and confidence.
Implementing relevant and fitting keywords of the language or country you are approaching is critical for the success of international search engine optimization. This is where keyword translation comes into play.

Keywords are a sensitive matter here, because people in different countries use different words or phrases for the same thing. Additionally, every country or region has its own cultural and social nuances that are embedded in its language. It's why literal translation might not be the way to achieve the results you aspire for. The wrong translation of a keyword may backfire, and your website won't appear in search engines for the local audience.
For instance, Black Friday, which is the day following Thanksgiving in the US, is regarded as the start of the Christmas shopping season. In the MENA region, Black Friday changes to become White Friday instead. This is due to the fact that Friday is one of the holiest days for Muslims and that white is a color associated with peace and purity. 
Once you have translated these keywords, now it's time to localize your website content – while integrating these keywords into it. You won't be only translating the text of your content into a new language and call it a day. Your entire website needs to be adapted to match the cultural, technical, and legal requirements of the market in question.

This means that you need to adjust your website's content, visual and multimedia content, layout and design, payment gateways, shipping options, and more, giving your target audience an experience that's familiar, relevant, and engaging. Only this way, you can connect and build trust with them.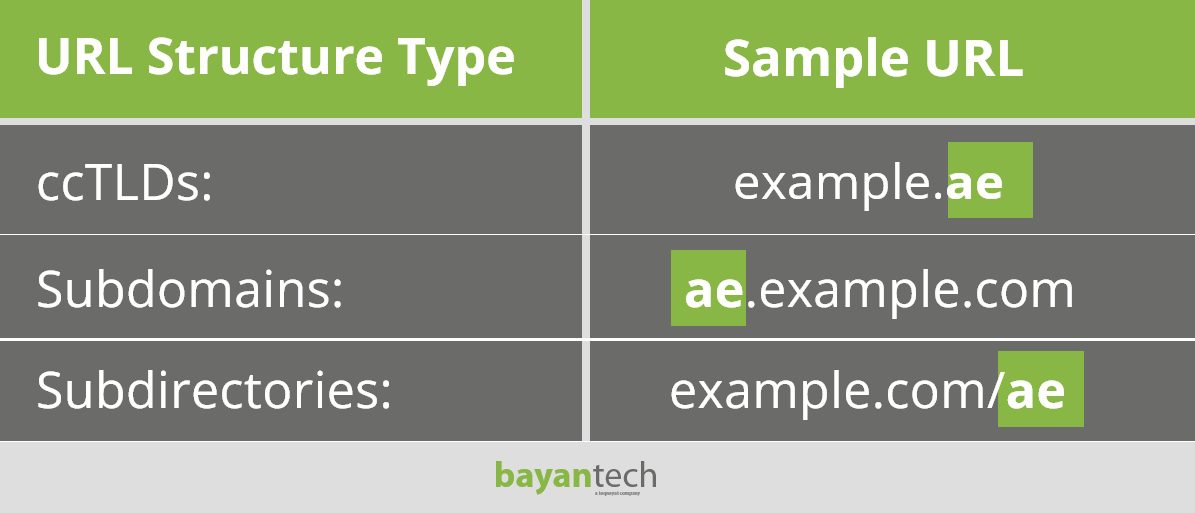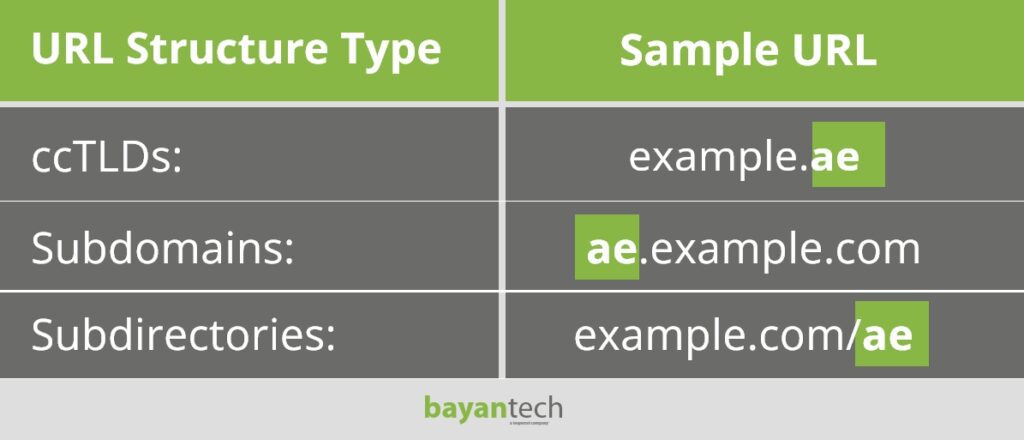 ccTLDs offer precise geo-targeting for a specific country. However, because it needs additional infrastructure and there's a chance your domain name is already registered elsewhere, this choice is frequently the most expensive.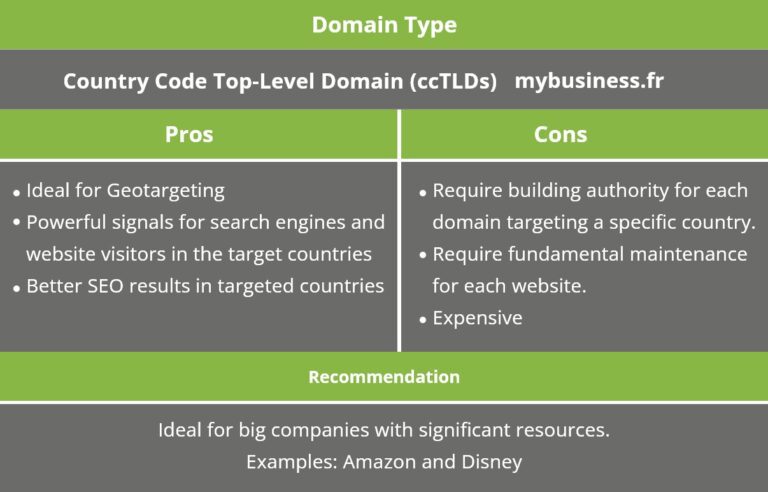 Subfolders are simple to put up. They utilize the architecture of your current website, so upkeep and maintenance are minimal. Subfolders are usually preferred because they preserve your existing domain authority and all the ties your company has established over the years.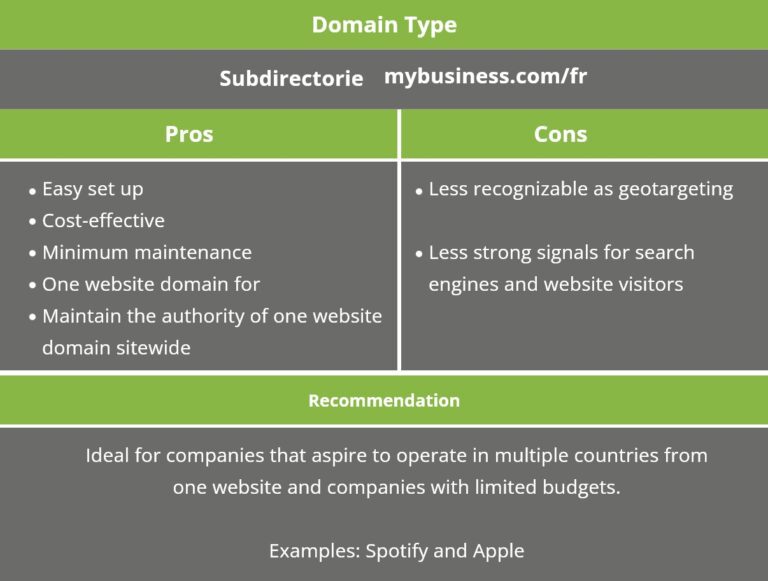 Subdomains are simple, easy, and fast to set up and give you the ability to geo-target in Google Search Console as well as effortlessly divide your sites avoiding the hassle of having many websites and the cost of buying new domains for each country.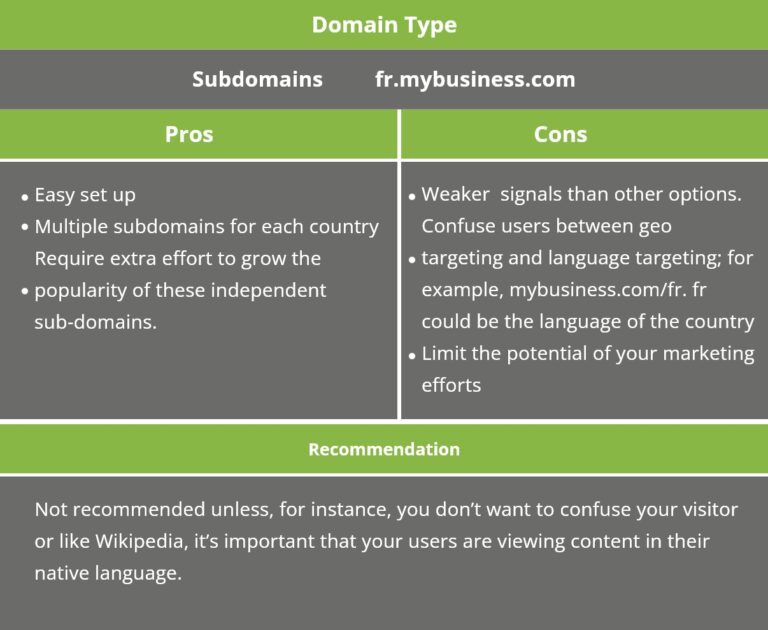 When establishing your multilingual website, hreflang tags are a very significant aspect of ISEO. 
With the help of google hreflang tags, you will be able to specify your URL with codes to direct search engines to show content in the language of the user.
Using hreflang tags can include: 
Language, using the ISO 639-1 codes (Required)

Country, using the ISO 3166-1 alpha-2 country codes (Optional)
Learn more about it, with Google guidelines on Hreflang tags 
bayantech: The Right ISEO Agency
With lots of technicalities that need to be acknowledged when planning your marketing translation and international SEO strategy, you need the help of an expert ISEO agency that can provide the 3 main pillars of successful multilingual campaigns: translation expertise, quality assurance, and solid knowledge of technical ISEO.
If you're looking for a translation company with global SEO experts, don't look further, you found the right one! With almost two decades of experience, bayantech is your go-to translation and ISEO partner to kick off a powerful ISEO strategy that serves your business objectives. 
It can never go wrong with a market leader like bayantech. Get to know bayantech Multilingual SEO Services. Contact us or request a free Translation Services Quote today!