Are you interested in building up a presence in the multilingual website landscape? 
Whether you are just beginning your multilingual SEO project or you are looking for more tools to perfect it, we'll show you how to meet search engines' requirements for indexing content so that you rank higher… in all languages.
Let's begin.
First Thing First: What's Exactly Multilingual SEO?
Search Engine Optimization (SEO) is what helps attract traffic to websites. In fact, today 68% of online experiences begin with a search engine. 
Search engine optimization involves optimizing your site to maximize its visibility in search engine results. You have a higher chance of ranking as a leader when your audience finds your website through search results.
Let's say you have an eCommerce site in the US with a great SEO strategy: you get a big audience, and great sales, so you want to explore foreign markets. Europe seems like a good option, so you translate your site into several major languages and get each its own domain: French, Italian, German, and Spanish.
But, is that all? Well, just translating your website is not enough to attract traffic: you need a multilingual website SEO strategy. 
Multilingual SEO involves optimizing content that is targeted at a variety of languages and regions.  Essentially, a multilingual SEO strategy is key to attracting international traffic and guiding international audiences to your website. 
But there's more.

It isn't just about directing your audiences to any language version of the website. You may want your audiences and search engines to find THE right version of your site. And that's the essence of multilingual SEO.
In that case, effective SEO strategies require translation and SEO localization.Curious? Read further.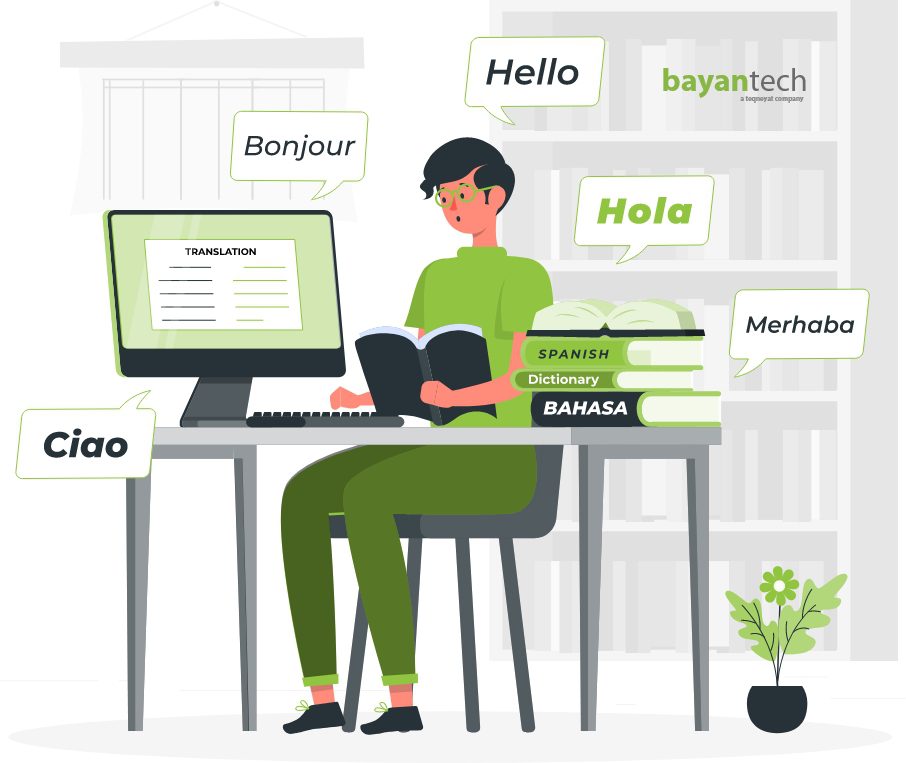 An In-Depth Look: The Vital Importance Of Multilingual SEO
Although we are used to seeing many websites in English, not all audiences are English speakers. A CSA research shows that consumers are more likely to return to the same brand if they receive after-sales service in their native language. If you want to reach the Arabic market, for instance, then you'll need to consider Arabic website translation and SEO localization. Your Arab users might speak English, but either not fluently or willingly, and speaking their language is your only way to ensure that they can find and communicate with your brand in a way that drives action.
There are 4.9 billion Internet users worldwide, so businesses have a lot of foreign room to grow. According to Statista, the most common languages on the internet are: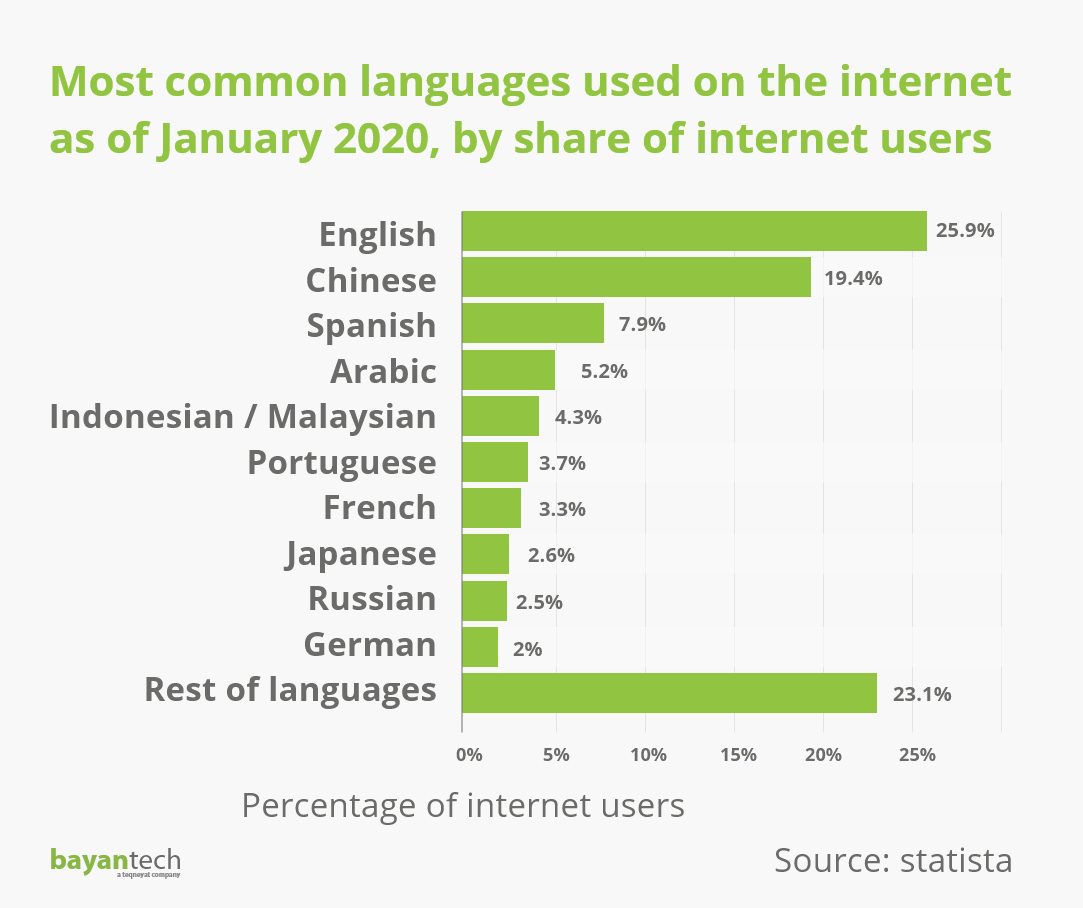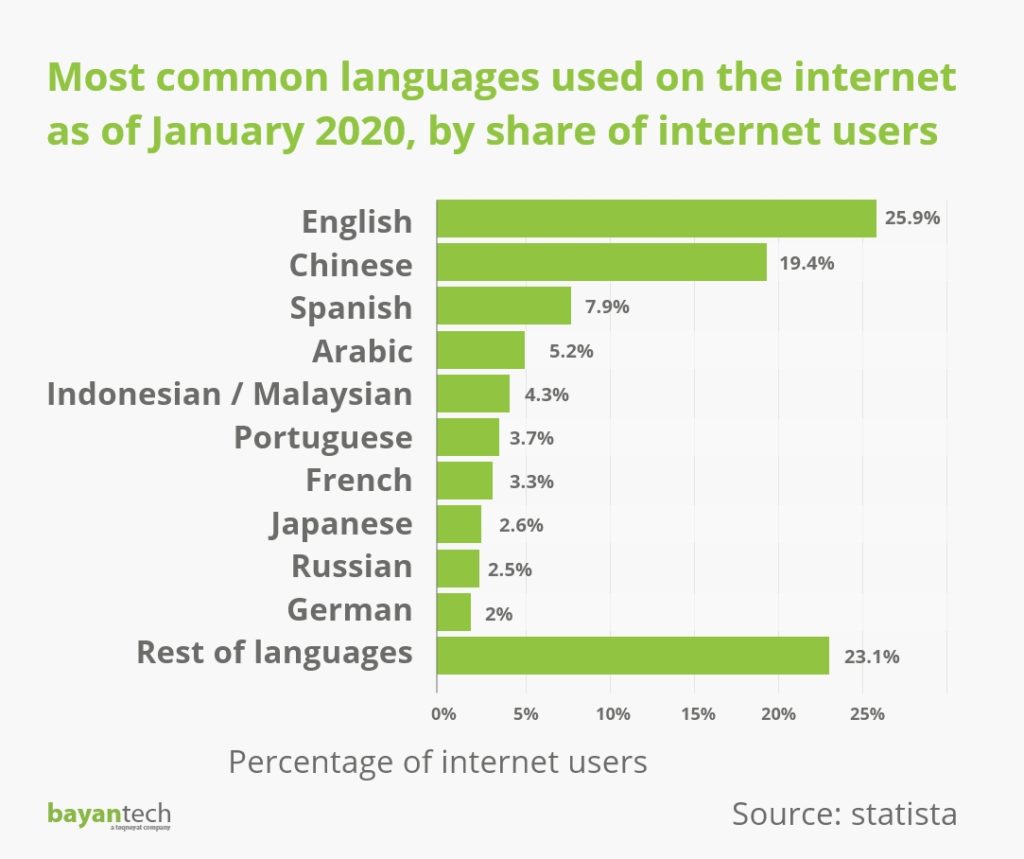 Considering this, a company with an inconsistent marketing translation and SEO strategy is likely to lose big clients.
So, the million-dollar question is: Why does having a multilingual search engine optimization SEO strategy matter? Today, more and more people want to get information in their native language online, and with multilingual SEO, you can position yourself in more than one language and a specific region.
Translating and localizing your website is a wise decision, but it won't realize its benefits unless it's aligned with a proper SEO localization strategy to generate traffic from target countries.
Multilingual SEO: 8 Essential Tips to Rank In All Languages
Performing multilingual SEO is quite complex, in the sense that, it takes into account the following:
Local Search Engines' Ranking Factors & Ever-evolving Algorithms

Target Audiences' Culture, Local References, and Search Terms

Competition within Your Industry
Without these 3 aspects integrated together, your multilingual SEO is set up for failure.
But that doesn't have to be your experience. With these next 8 actionable tips, your multilingual SEO is reflective of these above-mentioned aspects – and effective.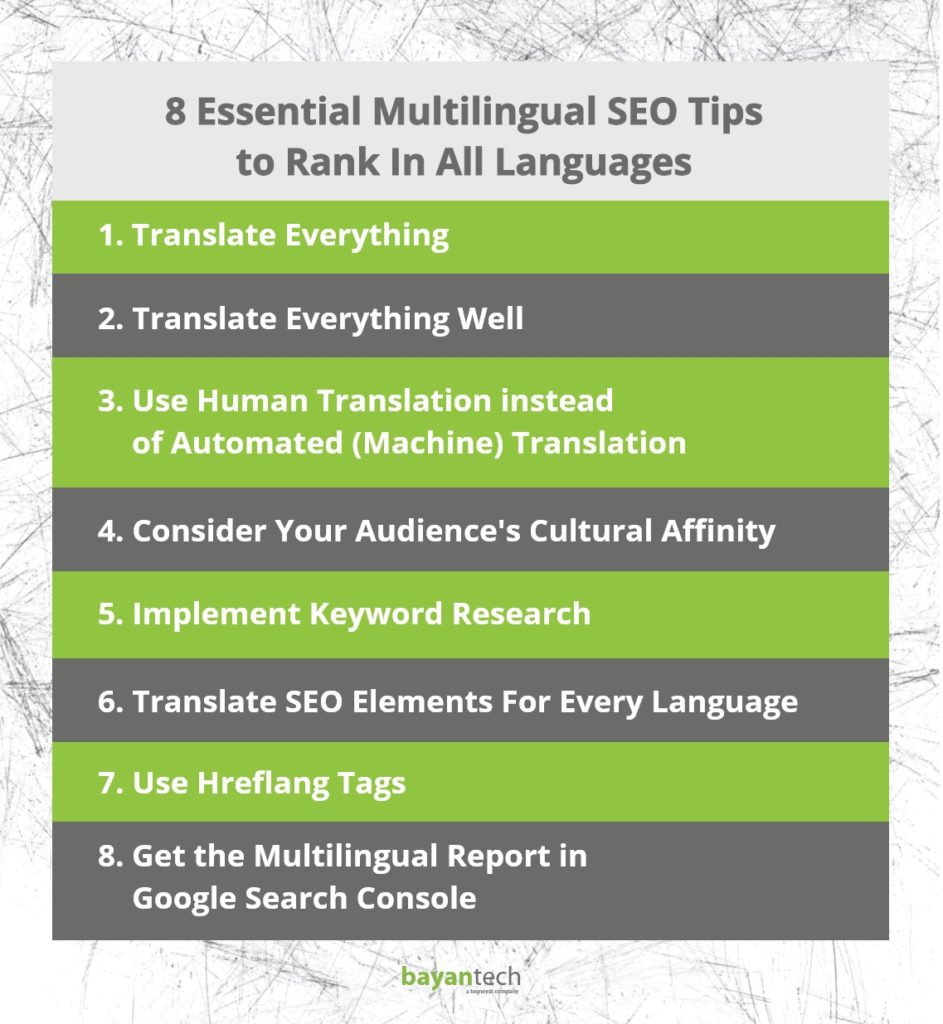 Yes, everything! And yes, it does sound overwhelming. But, ultimately, this will prove valuable to your website and your entire business.
For one thing, when it comes to ranking, Google doesn't like bilingual websites. Indeed, Google can determine the different languages of a website page, but Google also recommends that you use only one language per page and steer clear of side-by-side translations. You should use the same language for all your website content including headers, menus…etc.
If you want to have your website in different languages, you should create separate versions for each. But a mix-and-match of multiple languages within the same version of your website certainly hampers your multilingual SEO efforts. And any expert multilingual SEO agency knows this by heart.
2. Translate Everything Well
This may sound obvious, but only a few realize that your low-quality versions of your website can drag down your original, high-quality version. The overall site quality encompasses many different things; one of them is poor translation.
This is what Google's John Mueller confirmed!
As you are trying to build on the long-standing success of your original website that's doing so well in terms of SEO, search engines, particularly Google, may not appreciate your poorly translated versions.
Moreover, Mueller indicated that your original version will definitely suffer. It's double trouble.
While this can put extra stress on you, a professional team of translators and language specialists can be your best bet. And it goes without saying that machine translation isn't an option.
Sign up to our newsletter to receive the latest blogs and news.
3. Use Human Translation instead of Automated (Machine) Translation
Consider this an extension of the previous tip. We already established that for your multilingual website SEO to perform well, you must rely on experienced translators or a translation service provider that knows what's at stake.
But you should also probably know that if you want your translated content to get indexed, Google recommends avoiding machine translation. Automated translations are often inaccurate and sound mechanical, which confuses your users. Moreover, these translations can be perceived as spam, which degrades the user experience, and eventually traffic and conversion rates.
So if you want to rank well, it's typically tied to improving your users' experience by making sure the translated content is accurate. You'll then need to make sure that the translation and editing of your website content must undergo human translation and proofreading to meet SEO requirements and users' expectations.
Choose an SEO translation agency that also works with adept translators and subject-matter experts and that follows robust quality assurance practices at every step to ensure fluent and flawless translations that connect and resonate with your target audiences.

However, in the case that you opt for machine translation, professional language services providers are equipped to offer Machine Translation Post-Editing to polish and fine-tune your machine-generated translation and ensure the greatest degree of accuracy that matches a human translator's.
4. Consider Your Audience's Cultural Affinity
Those who are involved in SEO probably already know that high-quality content is the most important factor. And while the quality of the content is hard to define, there's one thing that industry experts can agree on, and that is the quality of the content boils down to users, which reflects on search engines.

Google, for instance, ranks websites based on their quality content, alongside other technical requirements including mobile responsiveness and page experience.

In other words, the trick is to build high-quality content that both your users and search engines love.

To help you build high-quality content, and accordingly obtain effective SEO results, you must first ask yourself: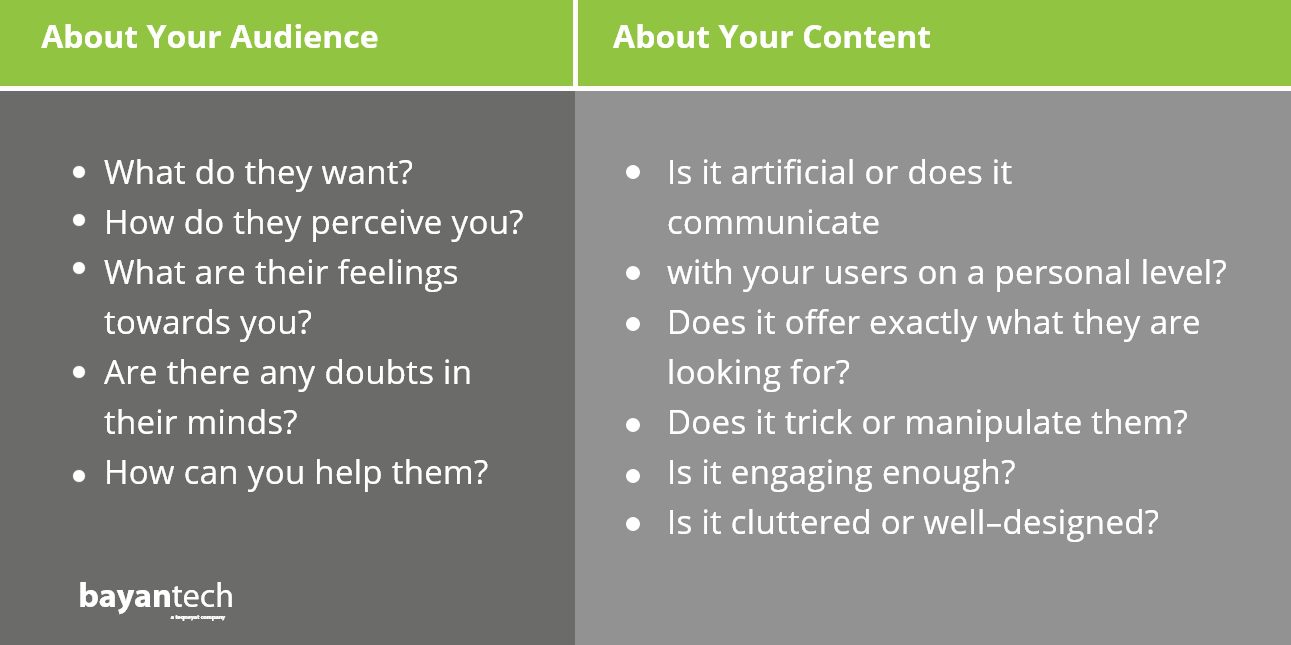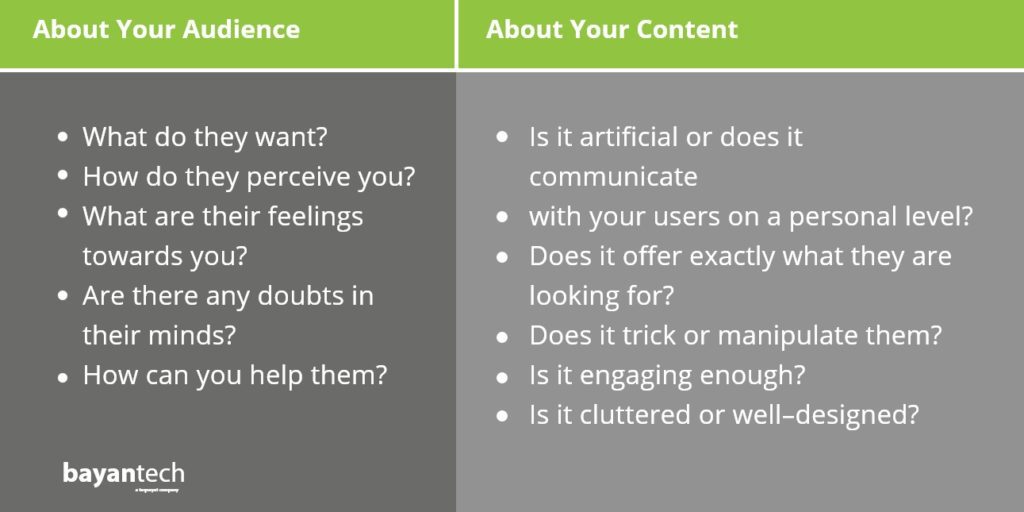 Bear in mind, that you already know the answers to these questions for your local audience, but you will have to do an enormous amount of research to find the answers for your target audiences and put them into action accordingly.

Is that all? Absolutely not.

In multilingual SEO, high-quality content is bound by regionally-focused SEO strategy, localization, and cultural adaptation. This means that your website content and keyword translation should be grounded in your target audience's culture, preferences, and behavior. This includes using the proper dialect, taking into account cultural references, trends, and pop culture, and considering contextual nuances, among others.

This is only possible if your team can deeply immerse themselves in the target culture, or better yet if you rely on a translation company that relies on local teams of native-speaking translators. As local experts, they can provide reliable and tangible cultural feedback and insights, helping craft multilingual communications that don't only make sense to your target users but most importantly entertain, entice, and engage them.

Now, if you can deliver high-quality, culturally-driven translated content to your foreign users, Google will definitely recognize it.

Multilingual SEO, or SEO for that matter, is focused on boosting your website ranking in Search Engine Results Pages (SERPs) and driving more traffic and visitors to your website. But, with valuable, engaging content, your SEO efforts help your visitors spend more time on your website, decrease bounce rate, and increase conversion rates.
So, technically, if you don't have quality content, you won't rank well.
5. Implement Keyword Research
For good SEO results in all the countries you want to target, you've got to do your keyword research. It's recommended that you come up with a list of keywords that you think are relevant or meaningful to your audience and match their search intent.
Those will be the words that will define your message in any language. Your translation team should inject these keywords into the translation, while avoiding literal translation or awkward keywords that can be irrelevant, meaningless, or even offensive to your audience. 
The country specifics will impact your keywords. You should identify the ones that work well as early as possible, considering your target audiences' local slang and colloquialisms.
Utilize keyword tools to the fullest extent. By using Google Trends or Moz's free SEO tools you'll be able to locate trending terms that may boost your ranking. Some paid options like SEMRush, Ahrefs, Spyfu, Ubersuggest, or Moz's can also be useful.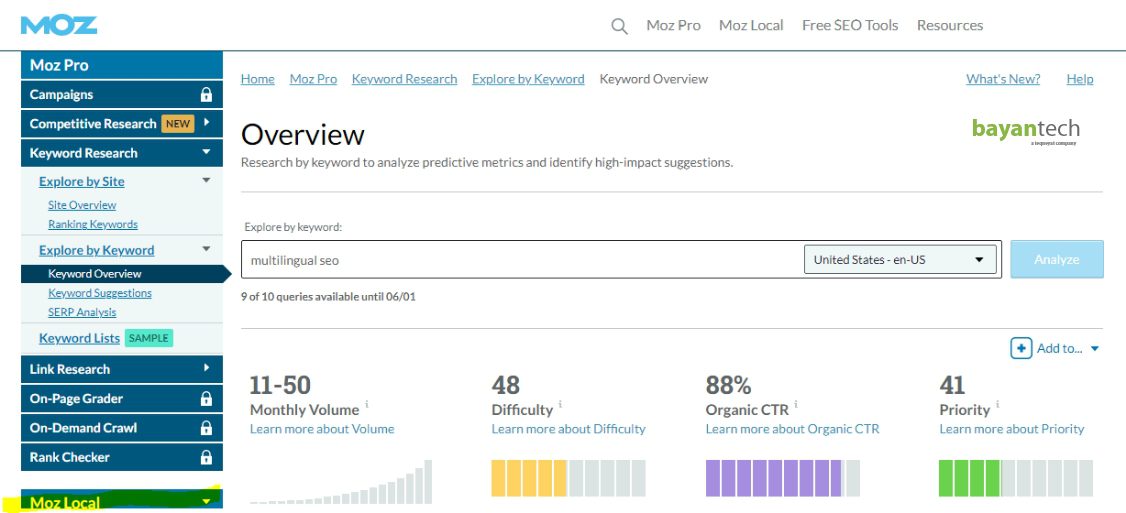 6. Translate SEO Elements For Every Language
Besides your website content translation, one of the best multilingual SEO practices is to translate these SEO elements:

1. Meta Data: Title and Meta Description, Tags, Image Alt Text
URL Slugs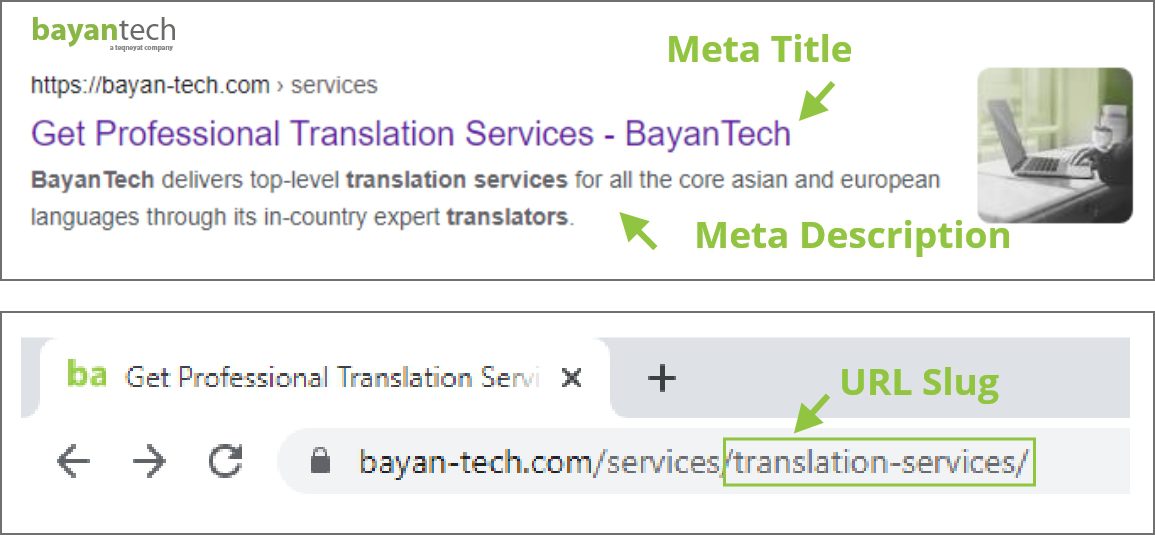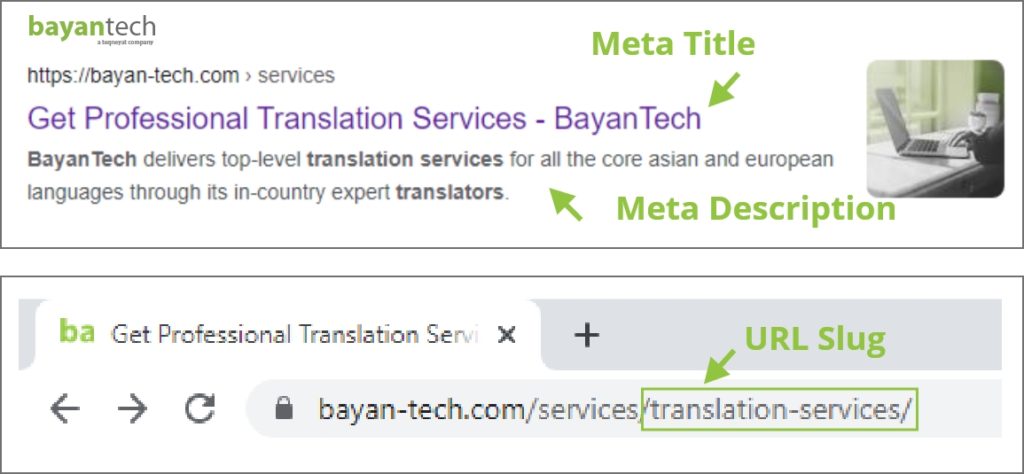 When translated accurately and with your focus keywords in your target languages included, you can improve your organic positioning and increase click-through rates.

For example, a website page "example.com/Best-Tips-Multilingual-SEO" should be translated into "example.com/Mejores-Consejos-Multilingual-SEO" when your users check your Argentine Spanish version of your website.
If your URL slugs aren't translated, you'll lose a huge search engine optimization opportunity.
Search engines use hreflang tags to determine the language used on a page. This does not affect the user experience, of course. However, Google will understand the different versions of your content and distinguish them. 
So, if you consider localizing your site for Spain and Germany, your hreflang should be as follows:


Hreflang is very useful in situations where multiple regional variations use the same language. For example, you could create a page for Spanish speakers from Spain and another for Spanish speakers from Argentina. The hreflang tags allow users to view the right localized version.
8. Get the Multilingual Report in Google Search Console

To track your website's ranking in Google searches, you can use this SEO tool to enable Google Analytics. Google Analytics will help you determine how your website is indexed by search engines on the Internet and improve its ranking. Additionally, a very useful tool in the Google Search Console is International Targeting Tool. It mainly helps you detect errors in your site's hreflang tags.
Choose the Right Language Service Provider for Your Multilingual SEO Success
Are you looking for an international SEO agency? Your search is over!
With almost twenty years of experience in this niche, bayantech is ready to support you with comprehensive multilingual SEO services. 
To achieve top-tier, efficient results, our multilingual SEO services are backed by the most effective quality assurance processes, language capabilities, and top-edge marketing translation services combined with technical SEO expertise, and state-of-the-art translation technology. 
Get to Know bayantech's Multilingual SEO Services. Contact us or request a free quote today!