Healthcare Translation Services
Certified healthcare translation services in over 260 languages
to bring your healthcare contributions to light.
Professional Medical Translations
We have been selecting and training the best professional translators in the world since 1999, supporting them with cutting-edge technologies to help over 175,154 clients in all industries.


Expert Life Sciences Translation Services
bayantech is a professional medical translation service provider and a recognized leader in the life sciences translation industry. We have the competencies and resources needed to render clear and concise translations of your life sciences and medical content, including expert knowledge, specialization, competent teams, and state-of-the-art technology. We translate all types of medical documents, records, reports, and devices into more than 260 languages.
Accurate Healthcare Translation
At bayantech, we believe that when it comes to healthcare language translation services, every word counts. The slightest mistake can end lives or hinder the success of medicine development and healthcare devices.  It is why we ensure to provide only accurate, flawless healthcare translation services for medical offices and organizations. Additionally, you can always rest assured that our medical language services come in compliance with global frameworks.
bayantech is a professional translation company that helps you deliver your healthcare projects across borders. We provide a range of medical translation services in over 260 languages, including Arabic, Spanish, English, Chinese, Italian, Polish, Russian, French, Portuguese, Japanese, and German.
Certified Medical Translation
If you are seeking the best medical translation service provider that can offer certified translation solutions, bayantech is the right choice for you. We deliver your projects breaking down every cultural and linguistic barrier and conforming to international quality standards, giving you peace of mind.
bayantech provides professional cohesive certified translation in the medical and pharmaceutical industries as we hold:
ISO 17100:2015 Certificate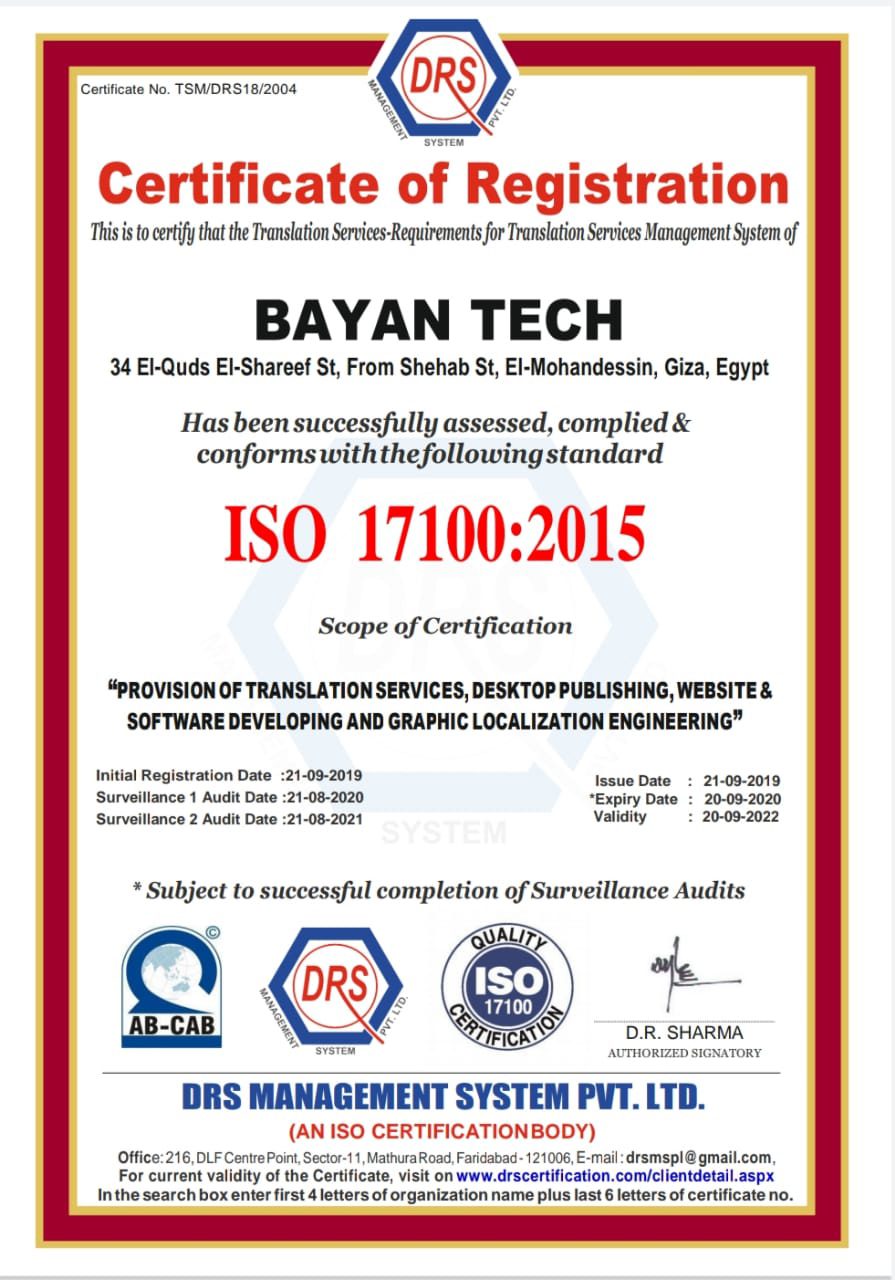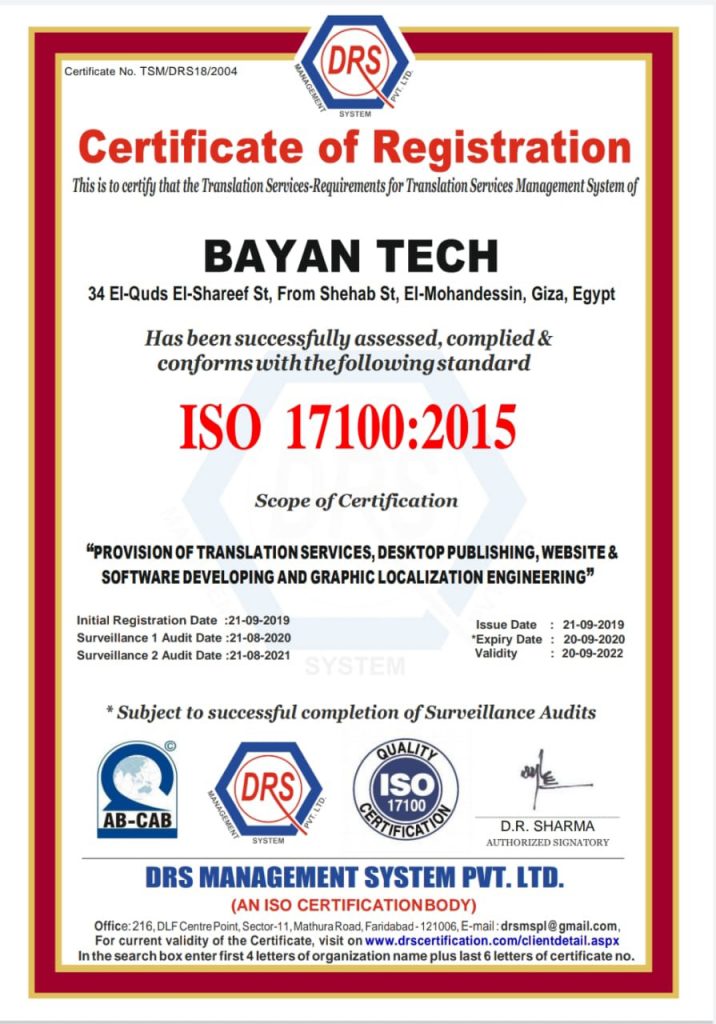 ISO 17100:2015 Certificate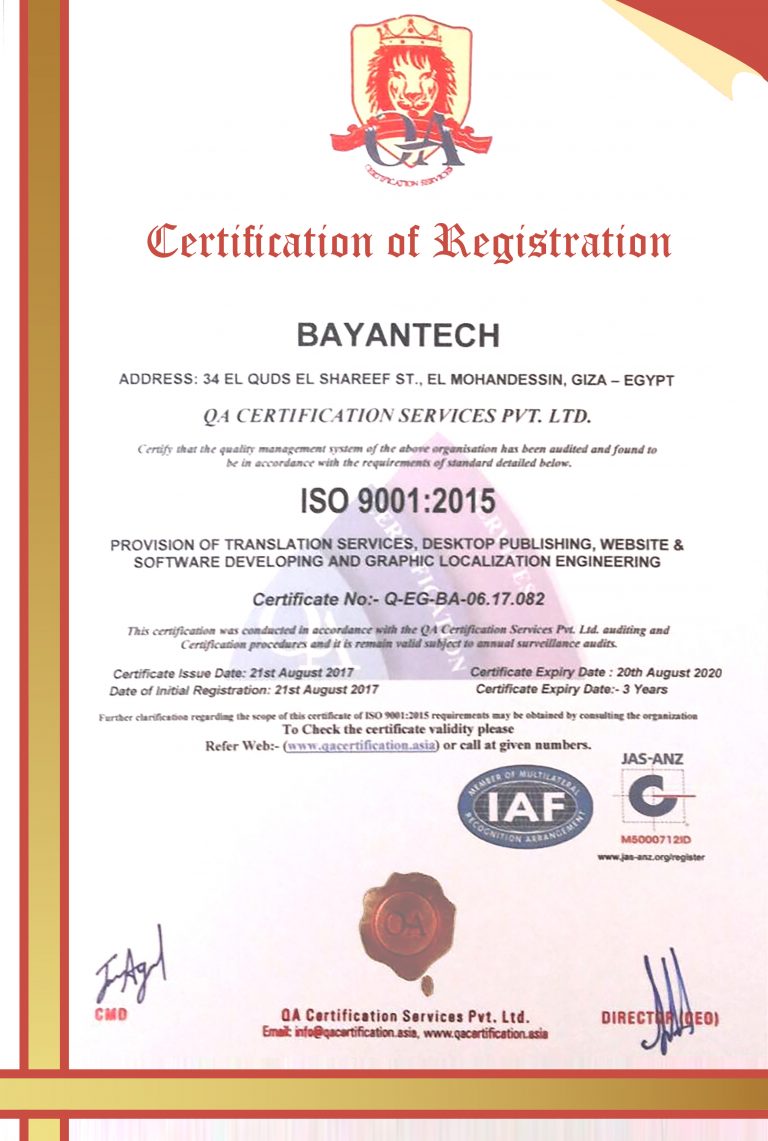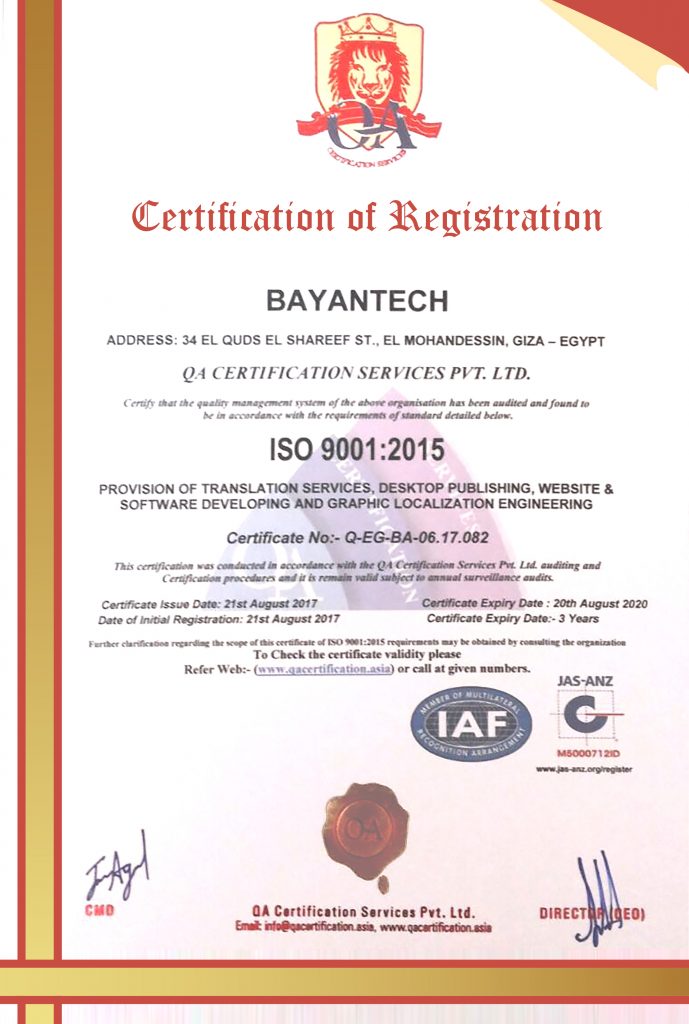 Highly Selected Medical Translators
With bayantech, you can trust that only carefully selected veteran medical translators will handle your medical translation project. We have very strict selection criteria in terms of qualifications and subject-matter expertise. All our medical translators are native speakers, certified, and locally-based linguists, who are also science gurus constantly in touch with the progressions and innovations of the medical field.
Out of our understanding of the information protection regulation in the medical field, bayantech protects your information and keeps your translation confidential. We safeguard the privacy of your medical projects, whether they are medical researches, patient medical records or marketing materials that need translation.
Medical Translation Projects
bayantech offers you healthcare translation services in the following areas:
Copyright 2020 – BayanTech. All rights reserved.